Netflix's Mindhunter, the serial killer drama that follows the creation of the FBI's behavioral science unit, recently wrapped its second season with a hefty dose of skepticism about the nascent department's effectiveness. The series is based on the book Mindhunter: Inside the FBI's Elite Serial Crime Unit, written by retired FBI agent John E. Douglas and Mark Olshaker, and it takes viewers on tense journeys inside prisons as agents Bill Tench (Holt McCallany) and Holden Ford (Jonathan Groff) interview imprisoned serial killers. 
Created by Joe Penhall (The Road) and produced by David Fincher (Fight Club, Gone Girl), the series was initially picked up at Netflix for two seasons and the chance of renewal. Meticulously directed and chilling in its ability to evoke the terror of the killers in its orbit, it's easily one of Netflix's best original series. While the series hasn't yet been picked up for a third season, given its critical acclaim it's a pretty good bet that Mindhunter will return. Here's everything we know about Mindhunter Season 3 so far.
Has Mindhunter been renewed for a third season?
Not just yet. While Mindhunter has received mostly positive reviews (and comes from prestige director David Fincher), Netflix notoriously does not release full viewership numbers, so the renewal process can be opaque. The OA recently got the axe despite two well-received seasons, and the cancelations of series like sitcom One Day At A Time and animated comedy Tuca & Bertie have been met with fan outrage.  
All of that being said, Mindhunter seems to be in a favorable position for renewal. Series actor Holt McCallany told The Hollywood Reporter that Fincher's been betting on five seasons since the get-go.
When will Mindhunter Season 3 premiere?
Given that the series hasn't been officially renewed, we can only speculate as to when we'll see Season 3 hit screens. There was nearly a two-year gap between Seasons 1 and 2, which premiered in October 2017 and August 2019, respectively. On top of that, David Fincher is currently working on another project (a biopic about Citizen Kane screenwriter Herman Mankiewicz) with Netflix that will likely take precedence. All things considered, we're probably looking at Mindhunter Season 3 arriving in late 2020 at the earliest, with 2021 being more likely. 
Who's returning for Mindhunter Season 3?
The show's major players -- Jonathan Groff, Holt McCallany, and Anna Torv -- will almost certainly return as Holden Ford, Bill Tench, and Wendy Carr, respectively. It's tough to imagine the show working without their dynamic.
It's also possible that we'll see characters from Season 2 returning for the third season as well. That would include Stacey Roca as Bill's wife Nancy, Joe Tuttle as Special Agent Greg Smith, Michael Cerveris as Ted Gunn, and Sonny Valicenti as Dennis Rader (the "BTK killer"). Other possibilities include Albert Jones as Special Agent Jim Barney and Cameron Britton as Ed Kemper. However, Netflix hasn't made any official casting announcements.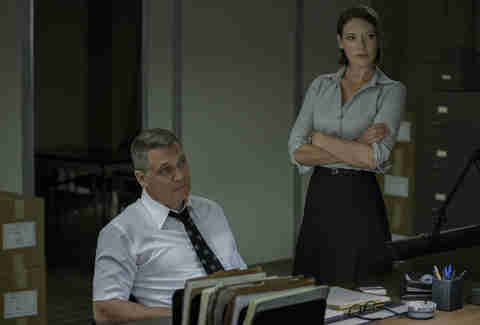 What's the plot of Mindhunter Season 3?
Mindhunter's first season took place in the late 1970s, with its second season picking up in the early 1980s. It's reasonable to expect that Season 3 will take place in the early to mid-1980s. That means that we could see any number of infamous serial killers on the show. We'll likely see more of the BTK killer -- Dennis Rader -- who's been seen in seemingly unrelated scenes throughout both seasons. Taking cues from the source material, it's also possible that Season 3 will feature appearances from the likes of Ted Bundy, John Wayne Gacy, or Jeffrey Dahmer.
Vulture speculates that based off of the real criminals that FBI agents John E. Douglas and Robert K. Ressler interviewed in the past, we could also see killers like John Joubert IV, Joseph Paul Franklin, Donald Harvey, and Gary Ridgway appear in Season 3.
Aside from the investigations, there's also plenty of story left regarding Bill's adopted son, Brian, who was involved in a murder during Season 2. More vaguely, McCallany hinted to The Hollywood Reporter that Season 3 could be "a complete reimagining of the show." After two seasons filming in Pittsburgh, the show may move to a new location should it be picked up for a third season.