Colleen Ballinger Lives '24/7' as Her YouTube and Netflix Alter Ego, Miranda Sings
"Don't try to make stuff up."
That's the advice Colleen Ballinger -- the brain, voice, and excessively coated lips behind internet sensation Miranda Sings -- got from the writers of her Netflix show, Haters Back Off. While the sitcom follows her manic alter ego, Ballinger never forgets the words of wisdom. Her ups and downs have become Miranda's ups and downs. At this point, even the 30-year-old actress finds it hard to separate herself from the caricature.
Ballinger created Miranda in 2007 to parody the self-important singers she studied with in college. But what started as an inside joke soon became a legit hit with younger viewers on YouTube. Championed by Jerry Seinfeld, the comedienne began a quest to broaden her audience and tell Miranda's origin story -- Haters takes place in 2009, following a modified version of Ballinger's own ascent to viral stardom. 
That's where Netflix came in. Thanks to the show, many more viewers are meeting Miranda for the first time. But the character's been 10 years in the making -- is it time for Ballinger to dig in or move on? We spoke to the actress about the future of Haters, impostors, and plans that don't involve Miranda Sings.
Cole Saladino/Thrillist
You've been Miranda for roughly a decade. How have your feelings about her changed?
Colleen Ballinger: When this all started, it was a joke for my friends. I never thought anyone would ever see the videos. I didn't put too much thought into it in the beginning, but then when they started going viral, I freaked out a bit and was stressing over, like, Oh my gosh, so many people are watching these! I was freaking out until I got the advice: Do what tickles you. If you're laughing and you like it, other people will like it. And if they don't, who cares? You're having fun. So I stopped worrying about what other people thought or what I thought they wanted to see.
The character herself has changed a lot, too. If you go back and watch my videos from the very beginning, she's nothing like that anymore. Miranda didn't have all the crazy lipstick. She actually could kind of sing on pitch -- a little. Depending on what people online said they hated, I would do more of in the beginning. But now, whatever the fans like, I do more [laughs].
Between your YouTube channels, the Netflix show, and your comedy tours, how much time a day would you say you spend with Miranda?
Ballinger: It's 24/7. I wake up and I'm either filming a video or checking stuff online or checking statistics or working on a new project or working on the tour. There's never a day where I'm not working. I don't take days off. Weekends are great for me because I feel like I get more done on the weekends for some reason. Those are the days I usually film, and I'm not getting emailed a bunch on weekends. So the weekends are usually when I work the most.
That's a lot. Are you tired of playing Miranda?
Ballinger: It's actually really exhilarating to play a character who says whatever she wants and does whatever she wants. She's very opposite of me in a lot of ways. Very confident. So I love playing the character. It would be really fun to play other characters, and I know that I will. But right now I'm really enjoying Miranda, and as long as people want to see her I'll keep doing her. Of course, there are lots of other projects and characters floating around in my brain that I want to do. But I'm not, like, itching to do those things or dying to do them. I'm not over it or ready to move on at all.
How have you avoided exhausting the character? And yourself?
Ballinger: I don't know. I feel like Miranda is so different than writing some random character just because she almost feels like a part of me now. Sure there are days when I'm like, Oh my God, I don't know how to write this, but keeping it fresh by writing what I know and relating it to situations and experiences I've been in help to make it work and go smoothly. I find that the hardest things to write are the things I'm making up completely out of thin air. It's like, write what you know and hopefully it'll come a little easier.
Do you test non-Miranda material on your comedy tours?
Ballinger: I definitely try out different material and different things, but it's all Miranda-based. It starts out as me talking to the audience, singing a couple songs, but then I transform into Miranda onstage and do the rest of the show in character. So I haven't tried out other characters just yet.
What are those other characters like?
Ballinger: The ones floating around my brain I don't see as online characters. I see them as characters that would live in the movie or TV worlds. I have a movie idea in my head that I'm super stoked on, and I really hope I can make happen soon. I can't give away too much information, but it's not Miranda! Which is news, I guess? The fact that I'm really passionate about a project that has nothing to do with the character that has built my career over the last decade?
Does doing something that isn't Miranda-based make you nervous?
Ballinger: I'm mostly excited about it. My fans are incredible and they're like friends to me -- so supportive of anything I do. If I'm passionate about it, they're passionate about it. And it goes back to what I said earlier: Do what you like and other people will like it. Until right now, when you brought it up, I hadn't even thought like, Oh, I'm moving away from Miranda -- will my fans not like it if I do that? I was just thinking I'm passionate about this and I want to do that. That's been my attitude my whole career.
How has your YouTube strategy changed since the show?
Ballinger: I try to stockpile videos now -- I never did that before. It was like, Oh, I have to post a video tomorrow! OK, I should think of an idea, film it, edit it, and kind of take my time with it. Now, it's like, OK, it's Saturday, I have to film eight videos today and edit them all tomorrow on Sunday, because the next two weeks are full and I post four videos a week. So now I have to schedule it out and be a little smarter with my time, which has been hard. But as far as strategy with how I post videos or when I post videos, that hasn't changed and I haven't catered it to the Netflix show.
Are the YouTube videos still canon?
Ballinger: We try really hard to make sure that the Netflix show goes along with what actually happened in my career. Each episode starts with a YouTube video, and I'd say half of them are actual videos that we're replicating -- ones that still exist online. So you can go watch a video I made eight years ago and compare it to the one we made on Netflix. We made sure that they match up: The show takes place in 2009, and we're trying really hard to stay on course with [the storyline that I have on the internet]. But who knows? If we get a Season 3, maybe we'll speed it up a little bit.
Cole Saladino/Thrillist
Why did you double down on the character relationships this season?
Ballinger: For Season 1 we focused on Miranda's rise to fame and her obsession with fame. But when the series came out last year, we noticed that fans were really excited about the relationships between Miranda and Patrick, [and] between Bethany and her love interest, Keith. So when we started writing Season 2, we were looking at the things the fans loved and one of the biggest was the Miranda-Patrick storyline. Also, I had been wanting Bethany and Uncle Jim to date since before we wrote Season 1 -- we just didn't have enough room to squeeze it in there.
That was a surprise. I couldn't remember, at first, how Uncle Jim was related to Miranda.
Ballinger: It was something we didn't reveal [until Season 2] -- we never really said how Uncle Jim was related. I think people assumed Bethany and Jim were brother and sister. I've said a few times in my [YouTube] videos that they're not related that way, but people didn't really catch on. So when they first started dating in Season 2, the reaction was like, Wait, I'm so confused! What is going on?
It was a fun twist because it meant we got to meet Miranda's awful dad, played by Matt Besser, who is great at playing awful. That final scene, especially, is so hard to watch.
Ballinger: He was great. I love him so much as a comedian, and I look up to him so much. It was important to me to find someone who could improv with us on set. A lot of times he goes to a pretty crude place, which we loved on set and was so funny, but we wanted to make sure that kids could watch the show, too. So some of his improv didn't make it in just because it was crude and crass, but it was hilarious -- I wish we could show another version of the show.
For his audition, he did the scene where he yells at Miranda. The first time he did it, he did it funny -- it was great, it made us laugh. But the producers were like, OK, now we want to see you be really mean. And he was like, Oh, you want me to be mean?! And we were like, Yeah, be really, really mean. Then he was so mean he made me tear up.
Where did the idea for his character come from?
Ballinger: Miranda's dad has changed a lot in my head over the years -- all these characters have lived in my brain for the past decade. Originally, Miranda's dad was just kind of quiet and didn't participate a lot in her life. But when we knew we wanted to bring Miranda's dad in, I wanted to pull from real experiences and things and emotions that I have felt that people would relate to. I think we've all known someone who isn't a nice person and tries to bring other people down.
It's interesting he comes from what sounds like such a grounded place because a lot of the characters feel so --
Ballinger: Insane?
But then the show is anchored by these very realistic, relatable moments. How do you achieve that balance without making the show feel like it's all over the place, tonally?
Ballinger: When we started writing it we were like, You know, these characters are insane -- Miranda has lipstick all over her face -- so my fans are going to watch it and hopefully will enjoy it, but how are we gonna get a new audience in and how are we gonna get people to watch for more than three minutes? How do you get someone to watch for a whole episode, let alone eight episodes?
The answer: to make them relatable somehow. The way to do that is to pull from real experiences. Something we say in the writers' room is write what you know. So a lot of the time we're just talking about our lives and seeing what we think could fit in the story. I talk a lot about my life and my childhood when I'm in the writers' room. And I talk about how it was for me when I first started out as Miranda -- every episode is based on something that actually happened to me in my career, and the relationships are based on situations I've been in.
Even the little girl impostor?
Ballinger: M-hmm.
What.
Ballinger: [Laughs.] Yeah! It was a long time ago. I'd say maybe four or five years ago. My videos had gone viral, but not to the extent that viral means today -- viral today means millions of views, but back then viral meant, like, 80,000 views. Anyway, I did not have a single video over 1 million views. And this girl -- a little girl, probably 11 -- uploaded a video with lipstick on her face, imitating Miranda. She said, "Hey guys, it's me, Miranda," and then did a full-on Adele song, sang the whole thing, and it got 2 million views. I hadn't even hit 1 million yet, so I was like, Who is this girl?! This girl is imitating me and is getting more views! I was so upset. But yeah, all of our stories are based on something real like that.
What happened to mini-Miranda?
Ballinger: Obviously, I never went and found her and, you know, tied her up. She just stopped, I guess. But she inspired me to keep hustling harder. I was like, Well, I have to get more views than my impostor. I can't let this little girl get more views than me! So I kept working harder and eventually, I think I just drowned her out with all my videos.
Season 1 felt pretty cliffhanger-y, and Season 2 feels like it has much more closure -- until your new Colleen character shows up. What happens if you get a Season 3?
Ballinger: We definitely tried to end Season 2 differently than Season 1. Because Season 1, if we didn't get a Season 2, would've been really sad [laughs]. So Season 2, we wanted to end it with a cliffhanger that wouldn't be too devastating if we didn't get picked up for Season 3. The idea of Season 3 is so exciting and terrifying to me. I would love to be able to explore the idea of what's going to happen when I have to play two main characters -- to show Colleen and Miranda in the same room, and how they would react to each other.
Who will Colleen be in this world? An antagonist?
Ballinger: I can't say quite yet what she'll be like, but I can say [Colleen]'s not what people think.
In 2014, before the show, Jerry Seinfeld said you were "bigger than television." Why do a TV show then?
Ballinger: Yeah, I told him I was writing a television show, and he was like, "Why are you doing that? You're on the internet. That's what everyone's trying to do and you've already figured that out. So why are you trying to go backwards?" He's totally right, but at the same time, I wanted to tell a longer-form story of Miranda, and I didn't really feel like that made sense on YouTube. I also wanted to broaden the audience. So to me, my goal was always to go to Netflix because it's the perfect combination of the internet and television. They've really figured out the system of how to incorporate the internet with mainstream Hollywood -- it's television but it's not. It's right at everyone's fingertips. So my fans can easily close their YouTube browser and pull up Netflix and they're right there, which is a much easier transition than turning off your computer and turning on the television and trying to figure out the time it airs. My audience doesn't do that anymore.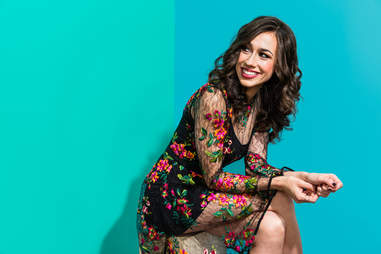 Cole Saladino/Thrillist
YouTuber Jake Paul recently said that social-media stars were getting to skip the line to make it in Hollywood. Do you feel like you did that with YouTube? And do you think social media is the best way to jumpstart a career now?
Ballinger: I think anyone who's ignoring social media is in for a big surprise. It's really changing the way of this industry, so I definitely think -- regardless of if you want to be a huge star or you just want your business to succeed -- it's something you should be paying attention to. I don't know that I would agree with everything Jake Paul says [laughs], but in this situation, I think maybe for some people, it's a way to cut the line.
For me, that's not what happened at all. I clawed my way to the top and worked very hard over the last decade, and even before then, to get to where I am. It was never a thing for me where I got on social media and suddenly I was popular. It was years and years and years of barking in the streets, begging people to come into a venue to watch my show, performing for 30 people -- and seeing half of them walk out. I've been through the ringer with it, and have spent every penny just to fly myself out for a meeting with someone or to get on a stage. You'll find success if you're passionate and you work your butt off.
Who's a must-watch today?
Ballinger: I'm very loyal to the OG YouTubers I came into fame with: Shane Dawson was really popular before I'd even known what YouTube was, and he's still crushing the game online. The Holy Trinity: Grace, Mamrie, and Hannah -- they're all people I really admire and respect. The people who I think are doing super well with it now, who I really love watching, are Lilly Singh and Nerdy Nummies (Rosanna Pansino).
There are so many incredible people in the YouTube community who work really hard. It's unfortunate there are a lot of other people in the community who get a lot of attention who are maybe not putting in the same work ethic and are kind of giving us a bad name. That happens a lot. Sometimes I go to meetings and I tell people I'm a YouTuber, and there's an instant like, Blech, you're a YouTuber, you're a lazy person who just makes three-minute videos and you get all this money! -- that couldn't be further from the truth. There are a lot of people on YouTube who are working their butts off, just trying to make it. Those are the people I respect the most.
Sign up here for our daily Thrillist email and subscribe here for our YouTube channel to get your fix of the best in food/drink/fun.
Sean Fitz-Gerald is a staff writer at Thrillist Entertainment. Find him on Twitter: @srkfitzgerald.