The Director of 'Miss Bala' Envisions Gina Rodriguez as a Female Jason Bourne
Catherine Hardwicke is one eclectic filmmaker. The director brought one of the biggest YA franchises of all time to the screen (Twilight), created a seminal teen drama (Thirteen), made an off-beat Blumhouse thriller (Plush), and showed the rise of skateboarders in the 70s (Lords of Dogtown). Now, the director can add a (loose) remake and action-thriller to her resume with Miss Bala, based on the 2011 Mexican film of the same name.
In Hardwicke's take, Gloria Meyer (Gina Rodriguez) is a makeup artist living in Los Angeles, on her way to visit her longtime friend Suzu (Cristina Rodlo) in Tijuana, Mexico. When the two go out for a night of partying and clubbing, cartel gunmen enter the club and fire upon their target, creating chaos, panic, and the separation of Gloria and Suzu. Suzu goes missing, and Gloria is kidnapped by a cartel. In Gloria's story of survival, she'll have to outsmart and outmaneuver the cartel who kidnapped her, the DEA who won't help her, and even navigate a beauty contest to regain her freedom and save her friend.
Hardwicke, who worked on movies such as Three Kings and Tombstone as a production designer, sees her eighth film as a filmmaker as more of a reimagining than a remake. "I really admire what the original film did, but it was made and written by men [Laughs]," she says. "Directed by men, produced by men, and made in 2009, and made for a specific person. That character kind of symbolized the helplessness the country of Mexico was feeling as they went through this violent drug war, but that's not what we were trying to do. We didn't want a passive character who allowed men to do everything. Our character is going to have a different kind of strength and fight back. It's 2019, and she's going to be active. She's not going to be a victim. So, that's a huge difference right there."
Another huge difference is a personal conflict that both Gloria and her main captor, Lino (Ismael Cruz Córdova) experience, which screenwriter Gareth Dunnet-Alcocer brought to the new Miss Bala. "He brought the idea of this identity issue," Hardwicke adds. "The two characters in our movie have lived on both sides of the border, and don't know if they're Mexican enough: too Mexican to be gringo, but too gringo to be Mexican. They're kind of caught in that space of a cultural identity that's very relevant now to many cultures. 'I go to Vietnam, but I don't speak Vietnamese fluently, but I don't really fit in here either.' So many people feel that way. Gina growing up in Chicago, she looked different than the other kids, but she's an American. Then she goes back to Puerto Rico, she's not fluent in Spanish. It's an interesting layer he added of straddling both sides of the border."
Hardwicke herself has spent a great deal of time on both sides of the border, having been raised very close to it. "I grew up in McCallen, Texas, now sort of famous because I guess [President Donald] Trump was there [recently]," she says. "My dad is a cotton farmer -- cotton, sugarcane -- and the land is right on the Rio Grande river. Literally, as a kid, I would jump in the Rio Grande river all the time, and then swim across to Mexico. Illegal entry into a foreign country. We illegally entered Mexico many times, and we'd run around in the fields and then swim back. I grew up really loving Mexico and the border towns, where you got a mixture of two cultures. Of course, in Mexico, it's a diverse, interesting culture, maybe mixed with our more bland American culture [Laughs]. I went to art school in Mexico in the summers, traveled all over, and studied a lot of art and architecture."
Sony Pictures
While most American movies depicting the drug war in Mexico often show the country as a living nightmare, Hardwicke wanted to capture the beauty of Mexico. "For me, this was a great chance to showcase a side of Mexico often not showcased," she says. "We often see dusty, crumbling buildings, but I wanted to show the architecture, and you see the cool modern architecture with that desert villa they go to, the hideaway. That's a really hip hotel in Guadalupe, in the wine country, and designed by a cutting edge architect."
She also got to show Rosarito beach, the coastline, and the valley of Tijuana, in all their arresting vibrancy. The locations are all tangible on the screen and provide quite an epic landscape for Gloria and Hardwicke's camera. "We went and did the whole movie in Tijuana, so from the moment we got greenlit, I was there for five months and just came back to the US for only one day for a meeting at Sony," she says. "That border takes a long time to cross, so you don't want to go back too much [Laughs]. Everybody on the movie, you know, we tried to cast everybody from Mexico, and the crew is from Mexico, and my driver had personally been involved in these crazy situations, so he took me to these different locations. We were really immersed in the area, the location, and a lot of people who worked on the film had firsthand experience."
Hardwicke's movies tend to capture a time and a place with an up close and personal feeling, whether we're talking about LA suburbs in Thirteen or Venice Beach in Lords of Dogtown. They're transportive movies. When Hardwicke wants to immerse an audience in another time or place, she first takes a deep dive into the world she's portraying. "The original film was made in 2009 and released in 2011, and it was kind of inspired by one story -- a beauty queen in Mexico, Laura Zúñiga," she says. "Since then, there's been quite a few prominent stories about these narcos novias [wives of drug cartel leaders], that are kind of in the Patty Hearst, Stockholm situation. How they get trapped in these violent situations, some of them have not survived. Of course, I try to read about all that and study all that. Our writer, Gareth, is from Mexico, and he did a lot of firsthand research with friends of his in the police force and in the government and connected with various aspects of the story."
The filmmaker often gets a sense of vastness on screen with Miss Bala, but she still maintains a closeness with Gloria as well. "I think I was trying to do that with this movie and with a lot of movies I've done -- Thirteen, Lords of Dogtown -- really try to get inside of it and really feel the location," she adds. "We were lucky enough to shoot in Tijuana and have great, beautiful locations. Often we thought, 'What would it feel like if this was happening to you? How does that feel? How do I convey that? Where do I put the camera?' I want that epic intimacy, where you're close and feeling what Gina is feeling, so her face is kind of close to the camera, but we also have an anamorphic lens, so you also feel the environment and the epic situation at the same time."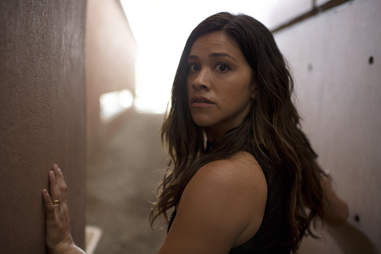 Sony Pictures
The Jane the Virgin and Annihilation star has a deeply expressive face, one that speaks volumes in those anamorphic shots. Rodriguez can communicate so much by doing so little as performer, but she brings more to a project than her undeniable on-screen charisma and talents. "She's so good," Hardwicke says. "She brings everything. The writer and I worked on the script to make sure this female character was strong, had agency, was active, and every chance to make a strong decision. We thought we had nailed it. Then, she gets the script and it's like, 'Oops.' 'What about right here? Couldn't she be stronger here? Wait, what about this? She lets the guys say this, but why can't she say that?' I'm like, 'Yes, excellent.' As much as we pushed that, she pushed it to another level. Of course, she's got that face that's very expressive but doesn't give too much away."
Gloria grows stronger, not weaker, throughout Miss Bala, leaving her in an entirely different place than when she started her journey of discovery. Her story is complete by the end of the film, but given her newly acquired skills, both physical and mental, the door is left open for what she could accomplish next. "Oh, hell yeah, I got many plans for her in my mind," Hardwicke says. "Now, she's realized some skills she didn't know she had. What's she going to do with them? Also, when you think about it, it's like a Latina Jason Bourne. She could go to so many countries around the world."
Jack Giroux is a longtime contributor to
Slash Film
and
Film School Rejects,
and is based in Los Angeles
.