The 11 Best Mobile Games of 2015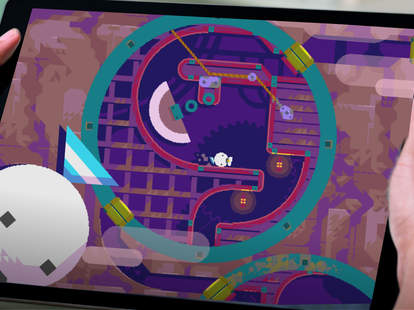 'Tis the season for monotonous holiday travel and long-winded stories that your uncle swears you've never heard before. Unless, of course, you have a Nintendo 3DS, PlayStation Vita, or smartphone. While we were wowed by the year's console experiences, 2015 was a brilliant year for mobile and hand-held gaming. Here's our rundown of the 11 best titles, for when you need a quick escape plan:
11. Fallout Shelter
Android & iOS
The announcement that the long-anticipated Fallout 4 would bow in 2015 was a surprise enough for gamers. The cherry on that sundae, however, was the immediate release of Fallout Shelter, a free mobile game in which players could build and manage their own post-apocalyptic Vault by gathering vital resources, assigning survivors to important tasks, constructing necessary rooms, and generally re-populating the Earth! With complex mechanics and '50s-era art, Fallout Shelter not only helped to tide players over for the six months in between, but continued its success well beyond the release of Fallout 4 itself.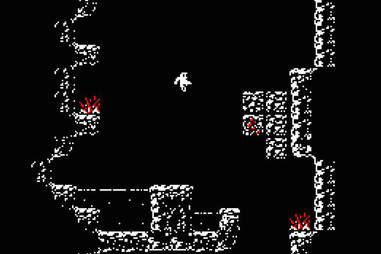 Moppin/Devolver Digital
10. Downwell
Android & iOS
"Retro" isn't even the word to describe this year's surprise mobile hit. With sub-8-bit, black-and-white graphics (and a liberal splash of red), Downwell lives up to its name, tossing players down a bottomless pit. As you fall, your gun-boots are the only way to slow yourself down. Blasting enemies, shattering walls, and trying not to splat on the rapidly rising ledges, your sole purpose is to keep airborne. Levels are procedurally generated with new enemy and item placement each time, so every descent is its own fast-paced, break-neck battle against gravity.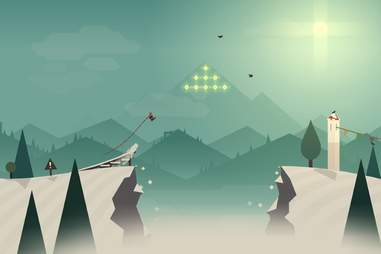 Snowman
9. Alto's Adventure
iOS
There's been no shortage of "endless runner" games for the mobile market, titles where you sprint ceaselessly in a single direction, running and jumping your way to a (hopefully) high score. Alto's Adventure isn't different. But a beautiful polish goes a long way. Players ski down a lush, snowy mountain with gorgeous graphics and captivating soundtrack. A wide assortment of trick moves keeps the momentum fast, furious, and -- most of all -- interesting for however long you can keep it going.
8. Legend of Zelda: Tri-Force Heroes and Majora's Mask
3DS
Nintendo 3DS owners received two major Zelda titles this year. The first was an updated reboot of the series' (arguably) most popular outing, Majora's Mask. The second was a team-based take on the kingdom of Hyrule. Both titles perfectly captured the Zelda universe, whether it's in newly polished 3D or keenly rendered, top-down 2D. Solo gamers or multi-players alike will have reason to revisit Link and friends -- especially since his latest adventure for the WiiU has vanished off the radar.
7. Shovel Knight
3DS & Vita
One of last year's finest console adventures finally made its way to the 3DS and Vita this year. An action-RPG styled after retro Mega Man titles, Shovel Knight takes a ridiculous premise -- a knight searching for his companion with only his trusty shovel -- and turns it into a beautiful, fun, hard-as-hell tribute to games gone by. Players gather equipment and level up in order to defeat a host of brilliantly conceived bosses. The game is a nonstop barrage of challenges, but each hard-fought victory proves more satisfying than the last. Nostalgics and new gamers alike will love this one.
Square Enix
6. Lara Croft GO
Android & iOS
Players who've cracked the last two Tomb Raider adventures have been treated to incredible worlds brimming with action and discovery. But by and large, Lara's an action hero now. Thankfully, GO offers a welcome return to old-school tomb raiding, featuring a Lara skinned in full 1996 attire with a host of brain-busting puzzles to solve. An evolution of last year's Hitman GO, this outing offers a fully animated, turn-based experience filled with well-crafted levels and clever puzzles. It's a nice reminder of the series' roots while casting the heroine in a new light.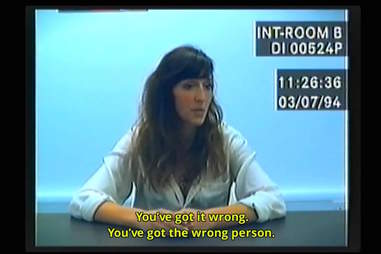 Sam Barlow
5. Her Story
iOS
Certainly not a one-size-fits-all game, Her Story is a remarkable achievement for players in search of story. Told completely in full-motion video, the game presents a kind of Discovery Channel murder mystery with hours of interview footage to wade through for clues and inconsistencies. Searching for these phrases and keywords will bring up new footage, leading to new evidence and a final revelation. Or lack thereof, if your detective skills aren't up to snuff. If you're looking for something that doesn't require you to run, jump, or shoot, this is the think piece for you.
4. Beneath the Lighthouse
Android & iOS
Beneath the Lighthouse is a sleek, colorful 2D platformer that isn't interested in giving you a pass. Its primary mechanic is simple enough: you're a ball in a ball, a wheel within a wheel, and you must navigate each circular level by spinning the edge with your finger. The move flings your hero in whatever direction physics or gravity dictates. With limited lives, a time clock, and some truly punishing level design, Beneath the Lighthouse is a hair-pulling challenge for those who aren't interested in paying for extra lives. "Free to play" is the ultimate provocation.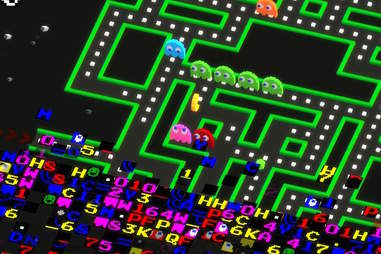 Hipster Whale
3. Pac-Man 256
Android & iOS
Every few years, somebody somewhere attempts to out-clever Pac-Man, as if there's a new spin left for such an old classic. Pac-Man 256 out-clevers Pac-Man. The game builds off the infamous "level 256 glitch," a crack in the original game that reduced maze walls to a strange alphanumeric jumble. Here, that glitch chases Pac-Man across the screen, devouring the map behind as even more maze un-scrolls in front of you. Part endless runner, but all Pac-Man, this is a fun, nonstop twist on an old formula.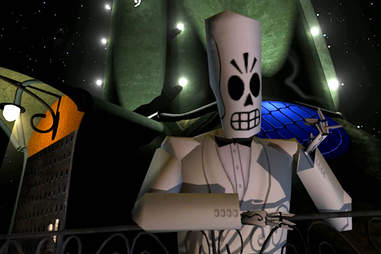 LucasArts
2. Grim Fandango Remastered
Android, iOS & Vita
Grim Fandango is one of the finest point-and-click adventure games ever. Period. End of story. And from the moment that remastering classics with HD graphics became a thing -- beginning with the Monkey Island back in 2009 -- fans have clamored for Grim Fandango. In its mobile port, the game's stylish, "Dia de los Muertos" art style is both updated and preserved; the film-noir story and madcap inventory puzzles are as entertaining (and challenging) as ever. But most importantly, the humor still makes us laugh even decades beyond the game's original release.
1. Child of Light
Vita
Child of Light is a beautifully designed and wonderfully animated riff on 2D, side-scrolling RPGs. Told as a kid-friendly fairy tale, the game features a complex RPG system and hugely explorable world. The story, combat, and gameplay each contribute to a wonderful sense of discovery, but the illustrated world wraps it in joy. Like something out of a hand-drawn Disney film, this unique world and its vivid characters leap vibrantly from the screen.
Sign up here for our daily Thrillist email, and get your fix of the best in food/drink/fun.
Christopher Monfette is a longtime entertainment journalist with an addiction to cellphone puzzle games. Follow him: @cwmonfette.