10 Amazing Adventures off the Blue Ridge Parkway
Think America's best wilderness adventures are all in the west? Think again. Off of one of America's great roads -- the Blue Ridge Parkway, spanning 470mi between Virginia and North Carolina -- there's a wild array of ways to get down and dirty with Mother Nature. From challenging hikes to epic climbs, world-class road bike loops to killer skinny-dip spots, the Parkway has it all. Here are the spots you should hit if you want to feel like you actually deserve all that beer and BBQ:
1. Summit the East's highest point
Mount Mitchell, Burnsville, NC
Yes, you could drive to the top of North Carolina's 6,684ft Mount Mitchell, but the best way to truly enjoy the beast of the east is knocking it off by foot. Opt for the 12.5 Black Mountain Crest Trail to experience a daisy chain of sweet views from over 6,000ft. Along the way you'll use trail ropes and traverse windy ridge lines, which will give you the feeling you've truly earned this summit.
2. Catch your dinner
Shenandoah National Park
The mountains of Shenandoah National Park create some of the greatest narrow fly-fishing streams in the mid-Atlantic. Many of the best are in the back country, so even on a midsummer Saturday, when trails are choked with foot traffic, you may find yourself alone with the fish in a forest straight out of Ranger Rick. To hone in on the best spots, book a guide from Hatchmatcher.
3. Fly over a mountain cove
Navitat, Barnardsville, NC
The longest, highest, and fastest zipline in the south -- running two-thirds of a mile -- is just one of 10 drops you'll take during Navitat's three-and-a-half-hour tour among the oak and poplar treetops, 350ft above the forest floor. If you think ziplines are corny or for kids, the nature-focused Navitat will change your mind (while rearranging your stomach organs).
4. Stand-up paddle to the bar
Asheville, NC
The French Broad is the third oldest river in existence, but you can experience it via one of the world's youngest sports: stand-up paddleboarding. Book an SUP through Asheville Adventure Rentals and you can make the Bywater your destination after a few hours of gettin swole in the sun on the river. Regardless of how well you kept your balance atop your board, you'll be able to treat yourself with some of the 18 craft brews on draft.
5. Climb North Carolina's Grand Canyon
Linville Gorge
If climbing's your thing, Linville Gorge has it all, from bouldering to top-roped to multi-pitch traditional routes. This is the real stuff: it ain't pulling plastic at the gym. It's a rugged, remote tract: book a Fox Mountain Guide for shortcuts and also not dying.
6. Pedal the byways
Nelson Scenic Loop, Roseland, VA
There's a reason some of the best cyclists in the US train on and around the Blue Ridge Mountains: the roads rock, with little traffic and a tough vertical challenge. To get a taste, take the Nelson Scenic Loop, a 50mi route that starts from the parking lot of Devil's Backbone brewery in Roseland, VA.
7. Explore the heavens... from your hotel
Primland, Meadows of Dan, VA
Other luxury retreats in these mountains offer golf, horseback adventures, even sporting clays, but Primland is the only we know of that capitalizes on the incredible stargazing in these parts through the use of a 14in telescope in an observatory dome. You can sign up for star tours nightly.
8. Cool off in a swimming hole
Sliding Rock, Pisgah National Forest, NC
Nothing cures a hangover like a cold dip in a mountain creek. One Appalacian classic: Sliding Rock, a smooth, 60ft rockslide where 11,000 gallons a minute stream towards a 6ft-deep pool. Sliding Rock is lifeguarded, and gets crowded during hot, sunny days; if you're looking for something a little more secluded, hunt down Skinny Dip Falls, a dipping site just off the Parkway.
9. Mountain Bike Carvin's Cove
Roanoke, VA
The second largest municipal park in the nation (13,000 acres) hides 40mi of flowing singletrack -- some of the Southeast's best. If you're not slowed by the steep climbs, you might be by the sight of snakes and blackbears, frequent visitors to the trail network. There's a 7mi fire road, too, if technical trails aren't your thing. Rent a rig from the nearby shop Just the Right Gear.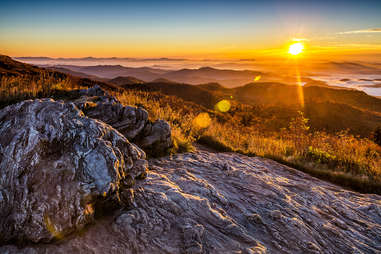 10. Backpack above the clouds
Art Loeb Trail, Pisgah National Forest, NC
This soaring 30mi romp along the ridgelines with several peaks 6,000ft and over is one of the East's most dramatic backpacking routes. Plan for an overnight somewhere in the Appalachian balds (treeless peaks) of section three, where the epic 360-degree sunrise and sunset views might rank among the best you'll ever see. Most folks take two to four days to complete the route: some knock it off in one more-than-a-marathon day.