The 16 Most Underrated Performances of 2015
The 2016 Golden Globes will once again herald the movie and TV industry's best, brightest, and Leonardo DiCaprio-est performers -- but what about those actors and actresses who didn't star in "prestige" dramas or didn't campaign in all the right corners of Hollywood? Because brilliance comes in many forms, here are a few underrated performances from the past year that we'd like to recognize.
Henry Cavill, The Man from U.N.C.L.E.
Was the movie too silly for the audience that flocks to Daniel Craig's gritty iterations of Bond, too serious to come off as more than a spy movie imitator, or was the title too confusing? Whatever the case, people didn't show up for The Man from U.N.C.L.E., Guy Ritchie's swinging adaptation of the 1960s TV series, and Henry Cavill's performance -- suave like Sean Connery's 007, but with a touch of Indiana Jones' prone-to-error goofiness -- went completely overlooked. Cavill, strangled by his stoic role as Superman, comes to life as Napoleon Solo, whose knack for planning and eye for style set a bar for franchise leading men. Dapper is the new tough. Take us to the mirror universe where this movie made $300 million, please. -- Matt Patches
ABC
Hayley Atwell, Agent Carter
Severely lacking in vibrant female characters, there was room for a woman to step in and make the Marvel Universe her own. Atwell kept up with Chris Evans in the first Captain America, then completely dominated in her ABC spinoff series. The British actress captures the glamour of a bygone era and the thrill of catching second-wave feminism as it first begins to surge. Atwell can dish out the comic book mumbo jumbo, but it's the physicality required to battle Hydra soldiers and work place sexism that makes her Peggy Carter one of the most essential, and watchable, characters currently on television. -- Matt Patches
Kristen Wiig, Welcome to Me
As Alice Klieg, a narcissist with borderline personality disorder who starts her own talkshow after winning the California lottery, Kristen Wiig perfects her signature brand of pathos-inflected humor. As Alice castrates dogs onscreen and re-enacts childhood traumas for a live studio audience, Wiig combines a devastatingly real portrait of mental illness with the zany comedic energy displayed previously on SNL. She elevates the bizarre -- Alice's choice to enter stage on a wheeled swan boat -- into thoughtful, laugh-out-loud moments. Few other actors could manage such a deft tonal tightrope act. -- Anna Silman
Universal Pictures
Viola Davis, Blackhat
Michael Mann's delicate blur of a cyber thriller certainly has its flaws -- Thor is not a convincing hacker, the romance doesn't work, and the title still makes me think of magicians -- but Viola Davis is a brilliant study in restraint throughout. In a film packed with men projecting macho intensity and firing guns at each other, her FBI agent Carol Barrett arrives on screen with something increasingly rare: genuine authority. While moments of vulnerability beam through her no-BS veneer, she creates a complex, nuanced character in her limited screen time, giving throwaway lines like "Am I being tangible?" a menacing touch. -- Dan Jackson
Michael McKean, Better Call Saul
As Chuck McGill, a formerly high-powered lawyer debilitated and left housebound by "electromagnetic hypersensitivity," comedic icon Michael McKean once again proves his versatility as a dramatic actor. Chuck's relationship with his brother Jimmy (protagonist Bob Odenkirk) is one of the most complex sibling dynamics on TV. In his shadow-shrouded scenes, McKean conveys layers of brotherly love, resentment, animosity and fear in a single withering glance or plaintive stare. His Chuck is a tragic figure crippled by weakness -- a shell of a man wrapped in a metallic cocoon -- and yet traces of his former strength and ruthlessness still glimmer. We never quite know what we're dealing with, but it's impossible to look away. -- Anna Silman
Rachel McAdams, Aloha
It's tough to defend Cameron Crowe's
Aloha
. From its
whitewashed casting
, clumsy musical montages, and nearly incomprehensible satellite plot, the movie simply doesn't work. But Rachel McAdams, all kind eyes and wistful head nods, doesn't know that. In her banter-filled scenes with Bradley Cooper and Jonathan Krasinski, she's starring in the more thoughtful, less frantic James L. Brooks movie Crowe is trying to make. Radiating empathy, she makes an underwritten character sing, much as she did in the similarly divisive
True Detective
season two. Hopefully in 2016 she'll get a role that won't require so much extra work to rise above the material.
-- Dan Jackson
STX Entertainment/Blumhouse
Jason Bateman, The Gift
Jason Bateman has a smarmy, sarcastic type that can be cranked down to irritated family keystone (Arrested Development), xeroxed for big budget comedies (Horrible Bosses), or fully weaponized into fascinating character work. In the beginning of The Gift, we think director Joel Edgerton asked Bateman to ride his Bateman-isms as horror movie prey. When the movie subverts conventions, flips each role on its head, Bateman delivers guttural, blistering work. The uncomfortable laughs we'd usually give turn to gasps. -- Matt Patches
Amazon Studios
Kathryn Hahn, Transparent
Transparent is full of great portrayals of obnoxious, self-absorbed jerks who we can't help but love in spite of themselves. And then there is Kathryn Hahn. As Rabbi Raquel, Josh's partner and the Pfefferman family's de facto spiritual guide, Hahn radiates warmth and goodness, proving that she's one of the most charismatic actresses in the game (and deserving of way better fare than her usual rote BFF roles). Imbuing Raquel's every word with sensitivity, Hahn turns Raquel into the BFF/life partner/moral compass we all need in her lives. Put her in everything, please. -- Anna Silman
Lionsgate
Kristen Stewart, American Ultra
Do not write Kristen Stewart off as "that girl from Twilight." On top of commanding actual awards attention for her role in Oliver Assayas' Clouds of Sils Maria, the so-called introverted actress turned in the romantic, ass-kicking performance of the year in this genre-bending action movie. Aimed directly at the hearts of idealistic college freshman, American Ultra turned Jesse Eisenberg into a confused Jason Bourne and Stewart into both his love interest and protector. It's a wild duality, amplified by shootouts and explosions, that Stewart tackles without stopping to catch her breath. -- Matt Patches
Cinemax
André Holland, The Knick
Holland's Dr. Algernon Edwards, a gifted African American surgeon at the dawn of the 20th century, isn't the star of The Knick. That would be Clive Owen's mustachioed Dr. Thackery, a self-destructive character cut from the same difficult man cloth as Tony Soprano, Walter White and countless other TV anti-heroes. Instead, Holland provides Steven Soderbergh's hyper-stylized medical horror show with heart, the emotional fulcrum that brings order to the chaos, grounding each scene with a combination of quiet dignity and simmering rage. It was no mistake that Holland was in the harrowing final shot of the show's forward-thinking finale: this man, right here, is the future. -- Dan Jackson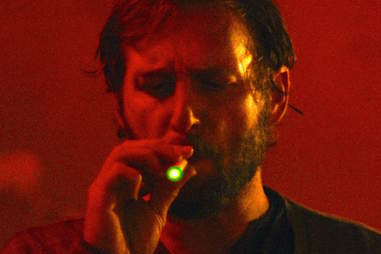 Moxie Pictures
Josh Lucas, The Mend
There's a moment in
The Mend
when Josh Lucas's character Mat wakes up coughing after an evening of heavy drinking. He rolls off his brother's couch, runs to the bathroom, discovers it's locked, and then pisses in the sink. Lucas performs all these little actions with a peculiar lumbering grace, like a rodeo-clown gone who joined a post-punk band. He looks smelly. He says heinous shit. He has no regard for basic human decency. And, yet, throughout writer-director John Magary's thrilling debut feature, the perfect
Netflix discovery
, you can't take your eyes of him. He's the brother you'd never want and it's the performance you didn't know you needed in your life till now.
-- Dan Jackson
Warner Bros. Pictures
Rory Cochrane, Black Mass
The murderous, maniacal mobster James 'Whitey' Bulger was such a scourge on Boston that even his thugs were left damaged and depleted by his criminal maneuvers. As Bulger's number two, Steve Flemmi, Rory Cochrane -- yes, that guy you still remember as Slater from Dazed and Confused -- remains mostly silent throughout Black Mass, an attentive watch dog. Years of seedy work take their toll, and eventually, Flemmi finds himself a victim. It's heartbreaking when the camera finally pushes in close on Cochrane, an entire career collapsing before his vacant eyes. -- Matt Patches
Nils Westblom and Holger Andersson, A Pigeon Sat on a Branch Reflecting on Existence
Westblom and Anderssson, two unknowns from Sweden, star in Roy Andersson's droll comedy as unaccomplished traveling salesmen. Unable to move a damn thing with their monotone pitches and hokey gag gifts -- including a horrifying mask dubbed "Uncle One-Tooth" -- the pair sink into the mundanity of life like quicksand. How they keep a straight face is anyone's guess. Steven Wright bows at the altar of Nils Westlom and Holger Andersson, who are likely unaware of their brilliance. -- Matt Patches
Universal Pictures
Jessica Chastain, Crimson Peak
In Guillermo del Toro's gothic romance, the Zero Dark Thirty actress masters the eye twitch. Is it perfected with CGI special effects? Maybe -- it's that subtle, that unnerving, that gleefully psychotic. Chastain's theatrical performance blossoms from there. No ghost can out-scare her Lucille Sharpe, a carnivorous, lusty, and impassioned killer. The actress summons her inner-Norma Desmond and lets it rip in this ecstatic romp. -- Matt Patches
Kevin Corrigan, Results
Kevin Corrigan built his career out of being "that guy" in big (Goodfellas and The Departed) and small (Buffalo '66 and Big Fan) movies. In former-mumblecore auteur Andrew Bujalski's stealth rom-com, set in the world of personal training and fitness, the Bronx born actor finally gets the chance to strut his leading man stuff. He plays the newly rich and freshly divorced Danny without sacrificing any of his gruff. He's Hugh Grant in a rumpled t-shirt, the prince charming you never knew you needed. -- Dan Jackson
Shaun, Shaun the Sheep Movie
Sheep are not particularly expressive animals. They eat, they shit, and they get haircuts. Yet, somehow, in the skilled hands of Aardman Animation, the folks behind claymation classics like
Wallace And Gromit
and
Chicken Run
, sheep become oddly poignant, capable of wringing laughter and tears from even the most hardened city folk. With his watchful eyes, floppy ears, and tuffs of white cotton, Shaun is cuter than any Minion. Plus, come on: he's the only character on this list with such a good theme song that it got its
own remix
.
-- Dan Jackson
Sign up here for our daily Thrillist email, and get your fix of the best in food/drink/fun.
Follow the Thrillist Editors on Twitter @ThrillistEnt.