The Most Underrated Movies of 2016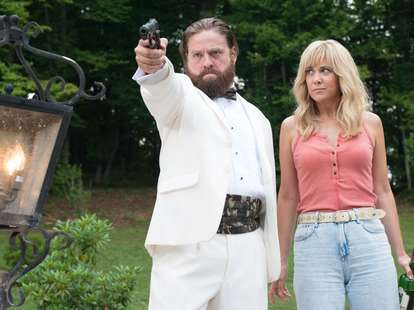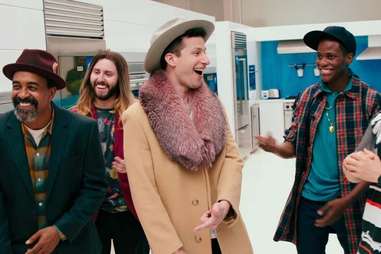 Popstar: Never Stop Never Stopping
In classic SNL Digital Shorts like "Lazy Sunday," "I'm on a Boat," and "Jizz in my Pants," Andy Samberg's silly-as-hell rap group the Lonely Island proved they could make you laugh in short three-minute bursts of profane absurdity, but stringing together enough gags to sustain a feature-length movie is a taller order. Luckily, the boys are up to the task. This playful satire of self-mythologizing music-industry docs like Justin Bieber's Never Say Never or Katy Perry's Part of Me is every bit as funny as their shorts and, surprisingly enough, delivers a little emotional oomph about the power of friendship towards the end. Like co-director (and Lonely Island member) Jorma Taccone'sMacGruber, Popstar didn't deliver at the box office but already feels like a comedy cult classic.
Where to watch it: Rent on iTunes, Amazon, and YouTube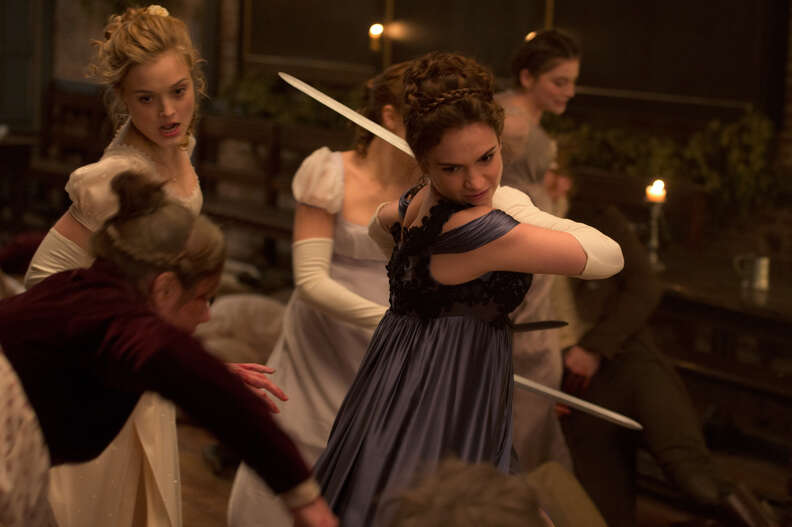 Pride and Prejudice and Zombies
Based on the best-selling mash-up novel, this terror-tinged action movie stars Cinderella's Lily James as Elizabeth Bennet, a 19th-century English girl schooled in etiquette, dance, and undead-slaying sword skills. Pride and Prejudice and Zombies is a total surprise, poised as both a faithful Jane Austen adaptation and a gory horror movie. James and Sam Riley, as her intractable love interest Mr. Darcy, make a great pair in a movie that's so much better than it should be.
Where to watch it: Rent on iTunes, Amazon, and YouTube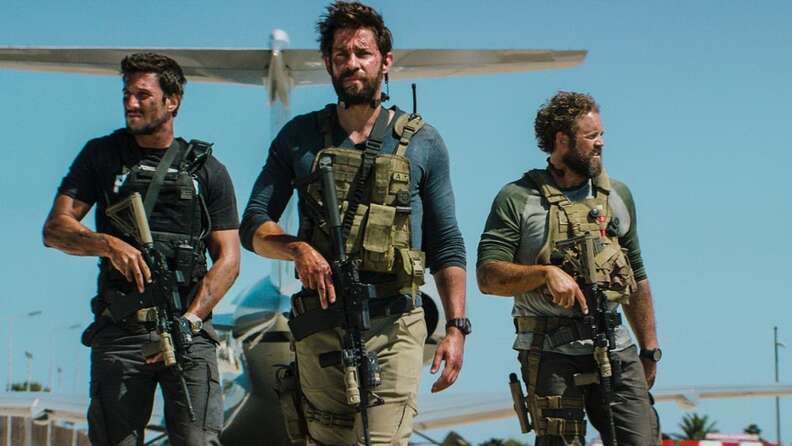 13 Hours: The Secret Soldiers of Benghazi
Take a deep breath and put your politics aside. Chronicling the September 11th, 2012 attack on an American diplomatic compound in Benghazi, Libya, an encounter still provoking and clogging political conversation four years later, 13 Hours is easily one of Michael Bay's best movies. While occasionally blowing the dog whistle for government critics, Bay's reenactment is stark and pressurized, picking up a ballistic fear that pulsed outside and inside the compound that night. 13 Hours owes everything to Black Hawk Down, which is fine -- the notch in military history deserved the treatment.
Where to watch it: Stream on EPIX
Nerve
Before they terrified you with Paranormal Activity 3 and 4, directors Henry Joost and Ariel Schulman made the social media paranoia doc Catfish, an essential document of pre-Tinder online dating. Their new movie Nerve, an Emma Roberts- and Dave Franco-starring techno thriller about a deadly mobile-gaming app, splits the difference between visceral scares and sly social commentary. It's the rare movie that attempts to mimic the aesthetics of the internet -- emojis, text messages, Skype -- and mostly gets the details of the Pokémon Go era right while still providing old-fashioned scares.
Where to watch it: Purchase on Amazon or iTunes
Masterminds
This long-delayed heist farce from director Jared Hess (Napoleon Dynamite) finally came out this year... and critics didn't go for it. But Masterminds is must-see for fans of Kate McKinnon, Kristen Wiig, and Zach Galifianakis, filled with no shortage of surreality and so-dumb-it's-fun humor to offset the unfortunate tale of David Ghantt, idiot bank supervisor. In other words: come for the robbery antics, stay for the bizarre turns, like these insane engagement pics.
Where to watch: In theaters
Nuts!
John Romulus Brinkley built an empire off goat testicles. At the turn of the 20th century, the "doctor" -- he had no medical qualification, despite selling himself as a medical authority -- implanted hundreds of glandular extracts into the scrotums of his male patients, claiming the slivers cured impotence. With his cash, he founded one of the world's most powerful radio stations. Somehow, Nuts! gets wilder and wilder as it goes, with director Penny Lane adding to Brinkley's bizarre history with amusing animation. It's like the best kind of This American Life episode come to illustrated life.
Where to watch it: Stream it for free on Amazon Prime; rent on iTunes and YouTube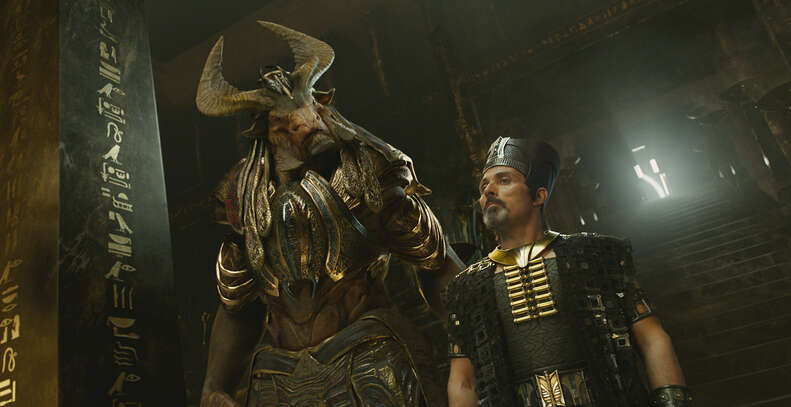 Gods of Egypt
A critical and commercial bomb of epic proportions, director Alex Proyas' Gods of Egypt is not a movie that you recommend to just anyone. There's a very specific type of fantasy nerd who will get a kick out of seeing gold robots soar through the sky, women ride fire-breathing cobras, talented actors sulk around hallucinatory green-screen sets, and Gerard Butler smirk like a proto-Trump dictator. If any of those things sound appealing, this movie is a mind-numbing, transcendentally dumb blast. Strap on your favorite bronze helmet and enjoy. If you don't own a bronze helmet -- stay away.
Where to watch it: Stream for free on HBO GO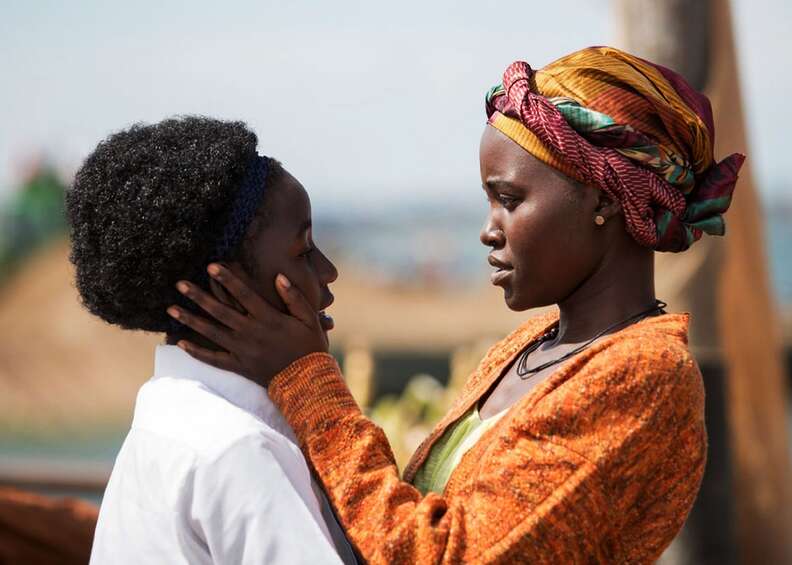 Queen of Katwe
The true story of 10-year-old chess prodigy Phiona's rise to fame was very close to director Mira Nair's heart: the filmmaker lives near the Ugandan village where the girl's story unfolded. Enlisting Oscar winner Lupita Nyong'o as Phiona's fiercely determined mother and assembling a chess team cast from real Katwe kids, Nair takes us to a vibrant, buzzing town crowded with bright colors and toe-tapping music. As Phiona, newcomer Madina Nalwanga works her way toward an improbable dream, learns the pluses and perils of confidence, and pulls off the impossible -- turning a chess competition into an electrifying event.
Where to watch: In theaters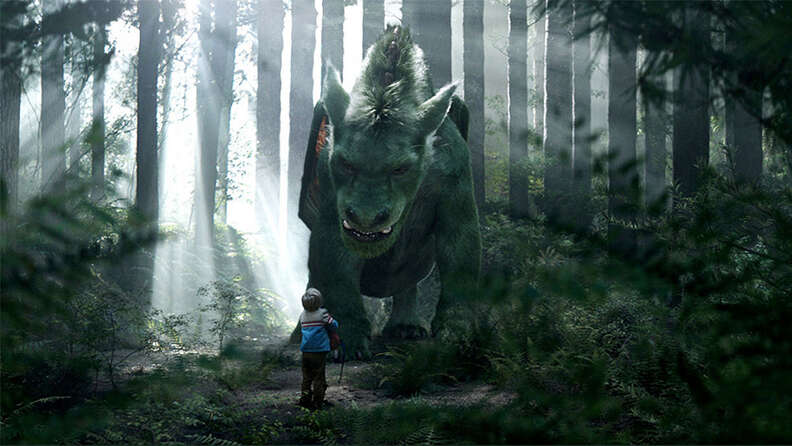 Pete's Dragon
Reverence for the 1977 original (or a clue that an original exists) is not required to fall hard for this adventure movie. Like King Kong, The Day the Earth Stood Still, and E.T., Lowery imagines a human-animal connection as a monstrous manhunt punctured by friendship. When we meet the 10-year-old main character, he's feral and afraid. So are those wandering the "sophisticated" world, as we learn when outsiders get a look at Pete's dragon, Elliott. Channeling Steven Spielberg's down-to-earth intrepidity, then soaring even higher, Pete's Dragon is the type of movie we're nostalgic for that doesn't indulge our nostalgia for a single second.
Where to watch: Rent on iTunes, Amazon Video, and VOD
Hello, My Name Is Doris
Wet Hot American Summer creator Michael Showalter's follow-up to the inverted rom-com The Baxter feels like a warm cup of tea, a comfy couch, and a deep breath. While the premise is prone to laughs -- hipster culture seduces a 60-something woman (Sally Field), who in turn tries to seduce her younger co-worker -- each one's laced with introspection and sadness. The common link between baby boomers, Gen Xers, and millennials? We're all getting older. Field helps us stomach that fact in the sweet, steady Hello, My Name Is Doris.
Where to watch it: Rent on iTunes, Amazon, and YouTube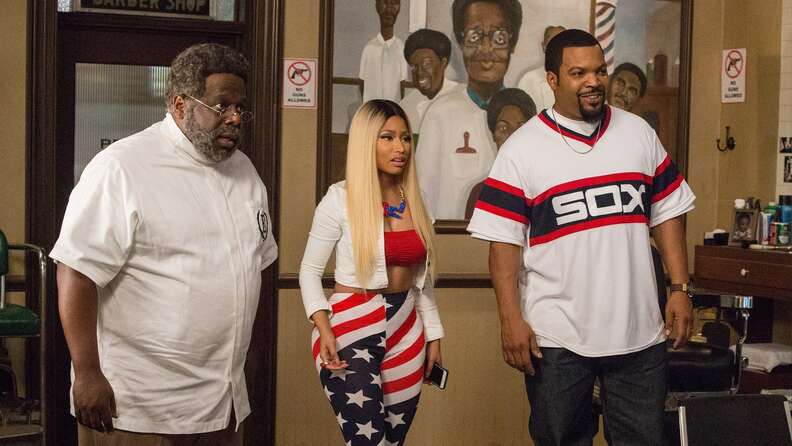 Barbershop: The Next Cut
Ice Cube revived his smack-talking franchise at a pivotal moment. More than a decade after the last movie, the gang's debates on relationships, gender, family, and age gaps are even wilder, thanks to the bro-heavy barbershop sharing floor space with Hall and Minaj's salon. And in the hands of Black-ish creator Kenya Barris and Tracy Oliver (Survivor's Remorse), they're crucial. The barbershop, always a safe haven, is embroiled in gang violence and city bureaucracy. Cube's Calvin, his staff, and his patrons find their usual fire silenced by tragedy. Names like Freddie Gray, Michael Brown, and Trayvon Martin are on the tips of these characters' tongues. They live in fear. The movie has the ambition to make it work, swinging from hard laughs -- Common, New Girl's Lamorne Morris, and the fiery Minaj steal the show -- to potent drama.
Where to watch it: Rent on iTunes, Amazon, and YouTube
Maggie's Plan
If anyone can save the romantic comedy, it's actress Greta Gerwig, whose resting screen presence is "screwball comedienne from the 1930s." Rebecca Miller's New York City tale of criss-crossed lovers and maddening relationship quirks takes full advantage. Maggie's Plan entangles Gerwig's serial bachelorette career woman with Ethan Hawke's struggling academic and his wife, a neurotic Swedish scholar played by Julianne Moore, in a game of who loves who. Even when Miller's intellectual adults act infuriatingly infantile, Maggie's Plan is an absolute joy, whip-smart and frank about the tribulations of love.
Where to watch it: Rent on DIRECTV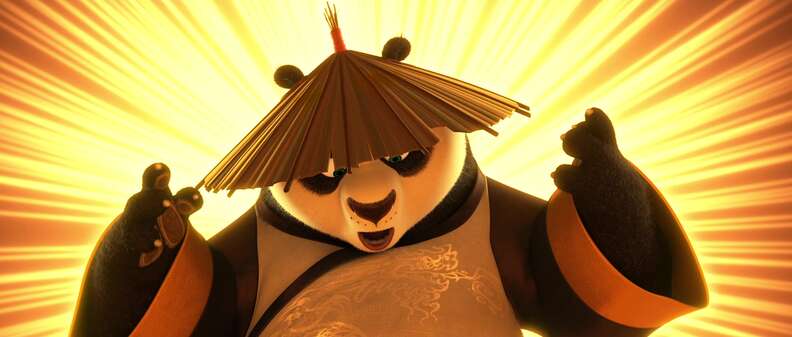 Kung Fu Panda 3
If you've written off the previous two installments of Jack Black's chopping, kicking, skidooshing animated franchise off as kiddie fare, take a hard look in the mirror and ask yourself: Do I really love fun? The Kung Fu Panda movies are among the best action movies today, achieving a zen balance of ecstatic motion and colorful composure, an antidote to the ocular chaos of, say, the Transformers movies. Black rocks out as the gleeful Po, and this second sequel adds a dozen more pandas, who roll and bounce and eat dumplings and bust up the villain, an ox voiced by J.K. Simmons.
Where to watch it: Rent on iTunes, Amazon, and YouTube
Rules Don't Apply
Hollywood legend Warren Beatty doesn't work very often -- his last directorial effort Bullworth came out in 1998 -- so this Howard Hughes-adjacent love story arrived with Spruce Goose-sized expectations. It crashed and burned at the box office, collecting a tiny fraction of its $25 million budget, and critics were mostly indifferent, comparing the film to Martin Scorsese's epic Hughes biopic The Aviator. That's too bad. With a charming performance from future Han Solo Alden Ehrenreich at its center, Rules Don't Apply is a feisty and low-flying aircraft, a playful sex comedy forced to battle award season clouds. Take it for a spin though clear skies and you'll find it might surprise you.
Teenage Mutant Ninja Turtles: Out of the Shadows
While the first entry in the TMNT series leaned hard on its gritty New York locale, leering teen-boy humor, and Transformers-lite action scenes, this critically dismissed (and less financially successful) sequel takes a goofier, more lighthearted approach. In addition to putting pants on the Turtles, director Dave Green (Earth to Echo) stages rollicking Fast and Furious-style set pieces, nails the fan-servicey introduction of Bebop and Rocksteady, and casts Tyler Perry as a mad scientist. Really, what more do you want from a Ninja Turtles movie?
Where to watch it: Rent on iTunes, Amazon, and YouTube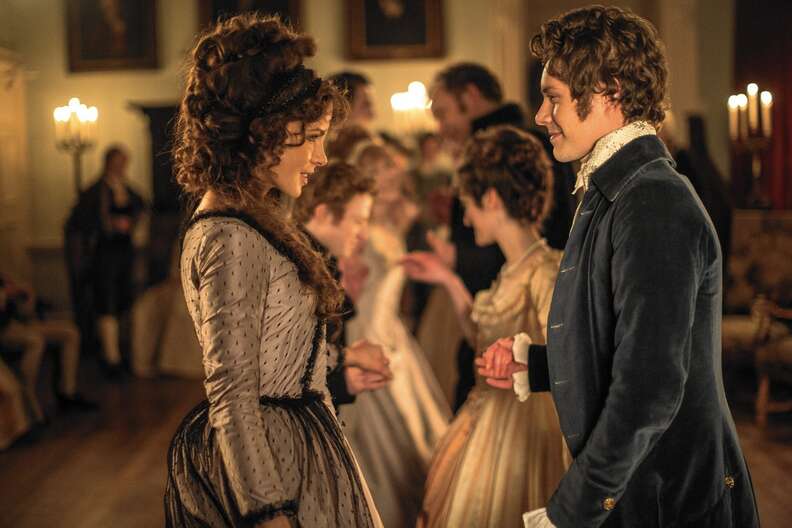 Love & Friendship
While Whit Stillman's fleet-footed adaptation of a Jane Austen epistolary novel was hardly a box-office flop or a critical failure -- it made around $19 million on a $3 million budget and holds a very fresh 98% rating on Rotten Tomatoes -- it's hard not to feel that this joyfully slight comedy of manners got overlooked this summer amidst all the blockbusters. Kate Beckinsale, long a prisoner of the dour Underworld series, gives perhaps the best performance of her career as Lady Susan Vernon, a tart-tongued troublemaker who fires off witty quips and conspires with her BFF Chloë Sevigny. Don't be intimidated by the stuffy (but impressive!) costumes: This is seriously funny stuff, more Broad City than Masterpiece Theater.
Where to watch it: Stream for free on Amazon Prime; rent on iTunes and YouTube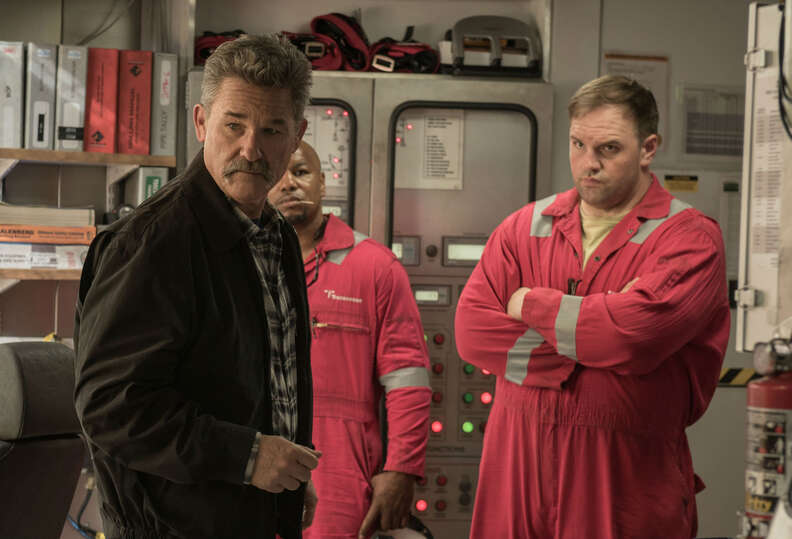 Deepwater Horizon
Staging 2010's disastrous BP oil spill as a white-knuckle disaster movie is a tricky proposition -- lean too hard into the San Andreas-style action and it fells like you're making light of a tragedy -- but director Peter Berg and frequent collaborator Mark Wahlberg find an effective tonal balance between gruff reverence and fireball-filled terror. It's Hollywood cheese with a dollop of righteous anger. With fun supporting turns from Gina Rodriguez, Kurt Russell, and a villainous John Malkovich, the movie's first half works as jargon-filled workplace comedy. When the characters have to make tough calls and take giant leaps, it morphs into one of the year's most gripping action films.
Where to watch: In theaters
Sign up here for our daily Thrillist email, and get your fix of the best in food/drink/fun.
Follow the Thrillist Entertainment editors on Twitter @ThrillistEnt.