Every year there are movies everyone hears about. Those are your Marvel films and your Oscar players. But what about the films that fly under the radar? The foreign favorites that never crack the mainstream? The studio releases that get written off? The indies that don't take over the box office? When you're looking for something that maybe hasn't been overly hyped, we've got you covered. We'll be updating this list throughout the year. 
Want even more movies? Read our list of the Best Movies of 2020.
Recommended Video
Art of the Meal: Chloe Rose Makes Super Mario Bros Art With Hot Sauces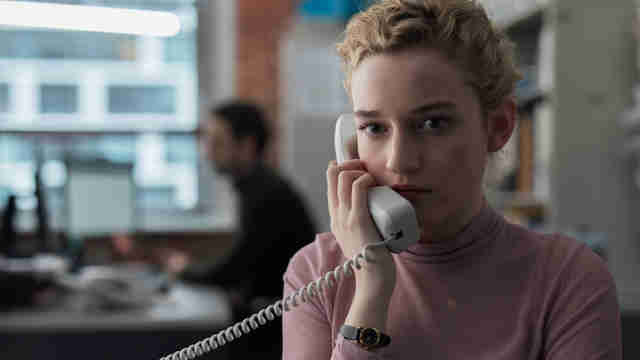 Release date: January 31
Director: Kitty Green (Casting JonBenet)
Cast: Julia Garner, Matthew Macfadyen, Kristine Froseeth 
Why it's worth seeing: Nothing much happens in The Assistant. A young woman (played by Ozark's Julia Garner) -- whose name is apparently Jane, although it's never said in the movie -- goes to work at the office of a high-powered Hollywood executive before the crack of dawn. She performs menial tasks. She takes calls. When the day is over, long after the sun is set, she heads home. But Green has made a silent scream of a film, which is so quietly unsettling it becomes hard to shake. Of course, you're probably aware of some version of this story. Jane's unseen boss is quite evidently a stand-in for Harvey Weinstein, and over the course of her otherwise monotonous day, Jane starts to realize something is amiss. There's an earring on the carpet. A new, very pretty woman arrives from Idaho with no experience and is put up in a fancy hotel. A meeting with an actress extends late into the night. But this is not a story about triumph over the evil that men like Weinstein perpetrate. Instead, it is about the systems in place that have allowed his behavior to go on for so long. When Jane reaches out to a smarmy HR person played by Succession's Matthew Macfadyen, she quickly realizes that speaking out is futile. The Assistant is a tale of disillusionment, and Garner wears the exhaustion, stress, and pain of that on her face. Her performance is agonizing as is the movie that surrounds it. But that's the point. (Watch the trailer.) - Esther Zuckerman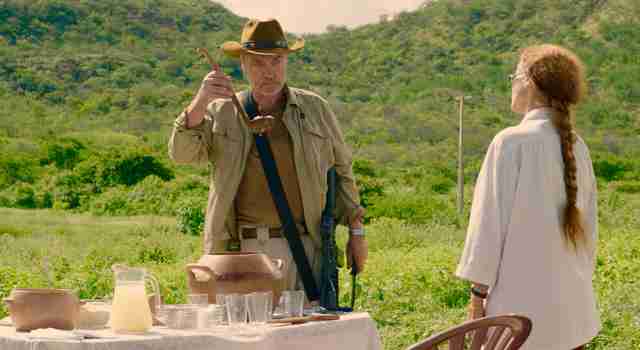 Bacurau
Release date: March 6
Cast: Sônia Braga, Udo Keir, Bárbara Colen, Thomas Aquino
Directors: Juliano Dornelles and Kleber Mendonça Filho
Why it's worth seeing: "What's going on in Bacurau?" holds dual meaning when discussing the new film by Brazilian directors Juliano Dornelles and Kleber Mendonça Filho. The mystery as to just who or what is besieging the tiny isolated town is the driving force behind the movie's narrative, but the question posed above also applies to the experience of watching Bacurau. You sit, hypnotized by the film while at the same time you wonder: What the hell is even happening? Is something supernatural or alien occurring? What about the hallucinogens that characters keep taking? Or is this just reality spun on its head? The quasi-western seems to exist in a world that is not quite our own, even as it offers an allegory for messy present-day Brazilian politics. To say too much about what is actually going on in Bacurau would ruin the experience of watching it. Dornelles and Mendonça Filho give the film a fuzzy B-movie feel that's only enhanced by the presence of B-movie hero Udo Kier as a threatening military figure. Bacurau holds its cards close to its chest, all building to an exuberantly bloody finale that's angry and hysterical. (Watch the trailer.) - EZ
Beanpole
Release date: January 19
Cast: Viktoria Miroshnichenko, Vasilisa Perelygina
Director: Kantemir Balagov
Why it's great: Beanpole opens with a woman frozen in place, twitching slightly. It's a disturbing image, but one that sets the tone for what's to follow: An unrelenting story about two women and their trauma in post-WWII Leningrad. Directed by the 28-year-old Kantemir Balagov, Beanpole is about the lasting effects of war and does so without varnish even as the cinematography pops with painterly composition. That woman unable to move is Iya Sergueeva, who is working as a nurse and taking care of a young child when the film opens. But old pains are further reignited when her friend Masha returns from service. It's a film that requires patience and endurance, but it's worth every second. (Watch the trailer.) - EZ
Release date: February 7
Cast: Margot Robbie, Rosie Perez, Mary Elizabeth Winstead, Jurnee Smollett-Bell, Ella Jay Basco
Director: Cathy Yan
Why it's worth seeing: We've had a string of pretty great DC Comics movies in the past few years -- Wonder Woman and Aquaman both breathed new life in what looked like a dead franchise -- but Birds of Prey, the Harley Quinn-centric girl gang team-up movie full of glitter and exploding sandbags, is the first one that seems to remember its characters' poppy, colorful origins. Oh, right, this movie seems to say, this is a comic book! It's a neon-lit zap in the pants, exactly the kind of thing we need in the dead of February with summer blockbuster season only a whisper on the horizon. Margot Robbie plays her motormouthed Quinn with even more manic panache than in the awful Suicide Squad; the new additions to the universe, including Mary Elizabeth Winstead, Jurnee Smollett-Bell, Rosie Perez, and Ella Jay Basco, provide endless fun; and the villainous duo of Ewan McGregor and bleach-blond Chris Messina are appropriately, unexpectedly terrifying. Plus, it also does everything it can to erase Suicide Squad from memory, which is something that we all wish we could do. If only more people went to see it. (Watch the trailer.) - Emma Stefansky
Blow the Man Down
Release date: March 20
Cast: Sophie Lowe, Morgan Saylor, Margo Martindale, June Squibb 
Directors: Bridget Savage Cole and and Danielle Krudy 
Why it's great: This indie is a sharp, pleasantly nasty tale about women and murder in a tiny Maine town. The movie, by Bridget Savage Cole and Danielle Krudy, opens with a chorus of burly fishermen singing the sea shanty that gives the film its title, but it quickly grows disinterested in any of the dudes. Sophie Lowe and Morgan Saylor, the latter of whom is best known as Dana Brody on Homeland, play the Connelly sisters. The day of their mother's funeral, Saylor's Mary Beth acts out, absconds to a bar, and takes up with a shady character who she ends up accidentally killing. That incident leads the siblings to discover a whole new seedy facet of their community. Blow the Man Down is constantly tense, and features wonderfully prickly performances from the likes of Margo Martindale, who plays the brothel owner next door. (Watch the trailer.) - EZ
Color Out of Space
Release date: January 24
Cast: Nicolas Cage, Joely Richardson, Tommy Chong
Director: Richard Stanley
Why it's worth seeing: It's hard to know what Nicolas Cage movies are worth seeking out these days. The eye-bulging, voice-modulating thespian has a tendency to select projects that are either surprisingly compelling (like 2018's brutal genre hybrid Mandy) or disappointingly lame (most of his other recent work). Luckily, Color Out of Space, a psychedelic adaptation of H.P. Lovecraft's short story from 1927, is one of the good recent Cage movies, mixing science-fiction intrigue and bursts horror movie excess to great effect. Cage's Nathan, a chatty farmer with a loving wife (Joely Richardson) and a pair of mildly rebellious kids, must contend with a meteoroid that crashes in his front yard, shooting purple light all over his property and infecting the local water supply. Inexplicably, alpacas are involved. Somehow, Cage makes it all work. (Watch the trailer.) - Dan Jackson
EMMA.
Release date: February 21
Cast: Anya Taylor-Joy, Johnny Flynn, Bill Nighy, Mia Goth
Director: Autumn De Wilde
Why it's worth seeing: Autumn De Wilde's Emma -- styled EMMA., period included -- is not a radical reinvention of its source material, Jane Austen's 1815 novel. (Leave that to Clueless.) This new version is a faithful interpretation that's nevertheless very funny, meticulously styled in hues that give it a marzipan-like aesthetic, and relies on music in a Peter and the Wolf-like way, each character getting their own sounds and theme, that feels appropriate to De Wilde's long career as the "rock and roll Martha Stewart" as a respected photographer for musicians like Jenny Lewis, Elliott Smith, and Beck. Anya Taylor-Joy, of The Witch fame, is de Wilde's "handsome, clever, and rich" heroine, the vain Miss Woodhouse who adores getting involved in other people's affairs, but refuses to deal with her own feelings. Her Mr. Knightley -- the tale's foil-slash-love interest -- is Johnny Flynn, a folk musician and actor familiar to Netflix viewers as the lead of the rom-com Lovesick. Together, they provide all the intense, longing glances you expect from a repressed Regency romance, making this Emma sexy as well. (Watch the trailer.) - EZ
Release date: February 7
Cast: Alison Brie, Molly Shannon, John Reynolds, Dylan Gelula
Director: Jeff Baena
Why it's worth seeing: The Netflix movie co-written by star Alison Brie defies the twee expectations set out by its title. Yes, Brie's protagonist is a woman who loves horses. No, she's not about to embark on some cutesy rom com and teach a man the meaning of life or whatever. Inspired by Brie's own family history of mental illness, Horse Girl is a surprising, surreal take on a woman's breakdown. Brie is excellent as Sarah, who works in a craft store and spends her nights watching a TV procedural and making lanyards. She's a lonely, solitary figure, who has a tenuous support system. But that all starts to slip away when her strange dreams intensify and she starts to believe she might have been abducted by aliens. There are certainly debates to be had as to just how well Horse Girl handles the balance between reality and fantasy with which it toys, but it's an engaging and disorienting ride nonetheless, anchored by some great acting. (Watch the trailer.) - EZ 
Never, Rarely, Sometimes, Always
Release date: March 13
Director: Eliza Hittman (Beach Rats)
Cast: Sidney Flanagan, Talia Ryder, Théodore Pellerin, Sharon Van Etten
Why it's worth seeing: There's a scene in Eliza Hittman's drama Never, Rarely, Sometimes, Always that is near impossible to shake. Teen Autumn (Flanagan) has traveled to New York with her cousin Skylar (Ryder) in order to have an abortion, prohibited in her home state of Pennsylvania. She sits in an office in a Manhattan Planned Parenthood as a counselor cycles through a series of mandatory questions. The camera holds on Autumn's face as the questions grow more and more personal. The young woman doesn't reveal much in her answers, but you can read the pain in the cracking of her voice and the glistening in her eyes. A lot goes unsaid in Hittman's follow-up to her 2017 story of burgeoning sexuality, Beach Rats. We never hear Autumn and Skylar hatch a plan to go to the city. They just pack an unnecessarily large suitcase and leave. Autumn never talks about her feelings with regards to terminating her pregnancy and Skylar never asks. But nothing ever seems missing in this silence. Hittman has made a film about the grim pacts women make with each other in a world that is hostile to them set in an unromantic vision of New York. Much of the action takes place in and around Port Authority, where Autumn and Skylar would otherwise be faceless commuters in pallid surroundings. Never, Rarely, Sometimes, Always is an unforgiving movie, and it's nevertheless stunning. (Watch the trailer.) -- EZ 
The Photograph
Release date: February 14
Cast: Issa Rae, Lakeith Stanfield, Y'lan Noel, Rob Morgan, Chanté Adams 
Director: Stella Meghie
Why it's worth seeing: The Photograph, writer and director Stella Meghie's time-shifting romance starring Issa Rae and Lakeith Stanfield, is the type of movie that smolders like an old Al Green song for its entire runtime. Whenever its plot, which follows the daughter of a famous photographer named Mae (Rae) falling in love with a commitment-phobic journalist (Stanfield), threatens to intensify or boil over, the movie finds a way to dial back the conflict. Occasionally, particularly in the flashback sections about Mae's mother, that skittishness towards melodrama can be frustrating. But in the scenes between Rae and Stanfield, who share a low-key chemistry, the film achieves a sweet balance between indie-movie naturalism and rom com sweetness that's all too rare on screen these days. (Watch the trailer.) - DJ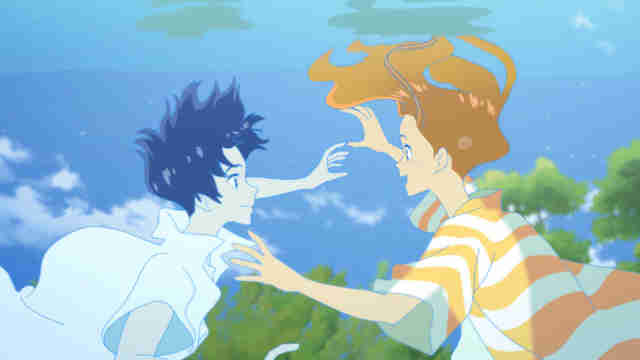 Ride Your Wave
Release date: February 19
Cast: Ryota Katayose, Rina Kawaei, Kentaro Ito, Honoka Matsumoto
Director: Masaaki Yuasa
Why it's great: Masaaki Yuasa has been a prolific force of trippy anime since the late '90s, with series like Tatami Galaxy, Ping Pong: The Animation, and Devilman Crybaby. But 2020 has the potential to be the director's breakout year in the United States with a huge slate of projects coming out, starting with the series Keep Your Hands Off Eizouken! in the winter anime season and followed by Ride Your Wave, a saccharine seaside love story that will break and rebuild your heart. Surfer Hinako Mukaimizu and firefighter Minato Hinageshi have a meet-cute on the roof of Hinako's burning apartment building, and after developing a deep, resonating affection for each other over the course of a year, Minato suddenly and tragically drowns in an accident. Hinako, left behind in shock, realizes that she can conjure Minato in water by singing a song (recorded by voice actor Ryota Katayose's band, Generations from Exile Tribe) they both loved. Of course, everyone thinks she's insane for talking to a water bottle and carrying around a water-filled blow-up finless porpoise, but Hinako holds firm until her hallucinations are validated in the quite literally explosive end. Yuasa's dramatic perspective-shifting animation style is beautiful in this water world, and the narrative seeds planted at the beginning come shooting up for an emotionally devastating end. (Watch the trailer.) - Leanne Butkovic
A Shaun the Sheep Movie: Farmageddon
Release date: February 14
Directors: Will Becher and Richard Phelan 
Cast: Justin Fletcher, John Sparkes, Amalia Vitale, Kate Harbour 
Why it's worth seeing: While it may not generate the same type of praise as the slightly droller Wallace and Gromit or a stop-motion blockbuster like Chicken Run, the kid-friendly Shaun the Sheep series, which chronicles the life of mischief-loving sheep named Shaun, is a reliable source of belly laughs. This sequel to 2015's equally charming Shaun the Sheep Movie has a science-fiction bent courtesy of an alien spacecraft that travels to the town of Mossingham, where Shaun and his animal friends live on a quiet farm with their buffoonish owner. (Obviously, Shaun is the real boss of the establishment.) The UFO plot allows the crack animation team at Aardman to deliver a number of referential sight-gags to genre classics like 2001: A Space Odyssey, Alien, Close Encounters of the Third Kind, E.T., and The X-Files. Still, the emphasis is rightfully on the type of playful slapstick comedy that all ages can enjoy, especially if you like cute clay farm animals. And, honestly, who doesn't? (Watch the trailer.) - DJ
Swallow
Release date: March 6
Cast: Haley Bennett, Austin Stowell, Elizabeth Marvel, Denis O'Hare 
Director: Carlo Mirabella-Davis
Why it's worth seeing: Carlo Mirabella-Davis' directorial debut will easily go down as one of the queasiest films of the year, but it's far more than its most upsetting moments. Swallow stars Haley Bennett as Hunter, a housewife tasked with maintaining a perfectly manicured life for her businessman husband. But Hunter suffers from pica, a rare condition which means she consumes items that are not food. When she learns she's pregnant, her eating disorder intensifies, and she starts putting everything from marbles to push pins in her mouth. Mirabella-Davis never shies away from the the gruesome reality of the effect Hunter's actions have on her body, but he pairs it with gorgeous visuals that look like something out of a 1950s Vogue editorial. It's a deeply unsettling marriage, enhanced by Bennett's astounding performance, and just when you think that Swallow might veer into more horror chaos, it swerves to a realistic, tender zone. (Watch the trailer.) - EZ
Need help finding something to watch? Sign up here for our weekly Streamail newsletter to get streaming recommendations delivered straight to your inbox.