The Most Underrated Movies of 2021 (So Far)
Fall in love with these movies.
These days it's never too difficult to find something to watch. Between all the streaming services, plus the options available to rent on demand, the possibilities are literally endless. But sometimes you don't want to watch the hot new TV show or the superhero movie everyone is talking about; sometimes you want to watch a film that feels like a discovery. Then you can go run to all your friends tell them that they simply have to see this amazing new work. That's why we have this list. These are the best movies of the year that just haven't gotten the attention we think they deserve. They aren't all arthouse picks (though some of them are)—these are simply cool selections that have somehow been overlooked and underhyped. Peruse and find your new favorite.
For more movie recommendations, read the Best Movies of 2021 (So Far), and our favorite underrated movies from last year.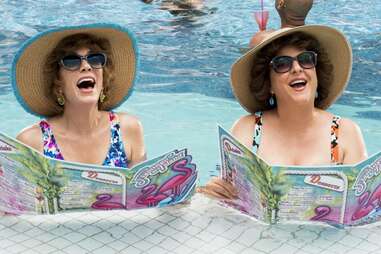 Release date: February 12
Director: Josh Greenbaum
Cast: Kristen Wiig, Annie Mumolo, Jamie Dornan, Damon Wayans Jr.
Barb & Star Go to Vista Del Mar took us by surprise like a benevolent water spirit, a reference you'll get if you watch this truly zany comedy from the minds of Kristen Wiig and Annie Mumolo, who also star as the titular Barb and Star, best friends who decide to leave their little Nebraska town for a vacation in the fictional Floridian paradise of Vista Del Mar. What they don't know is that a pale villain with a severe bob (also played by Wiig) is targeting that very spot because of a personal grievance. Barb & Star has multiple musical numbers, some wild cameos, and an infectiously goofy spirit largely thanks to the brilliant work of the pair of women at its center. It's hard to describe the specific lunacy of this film, so just go watch and be swept away by the good vibes.—Esther Zuckerman
Where to watch: Hulu, or rent or buy on Amazon Prime or iTunes (Watch the trailer)
Release date: January 29
Director: Lluís Quílez
Cast: Javier Gutiérrez, Isak Férriz
Prisoner transportation might be the task with the worst success-to-failure ratio in all of action movie-dom. Any time a group of incarcerated individuals get placed in a large vehicle (the more box-like and state-of-the-art the better), you can guarantee something unbearably tense is about to go down. Below Zero is a particularly gruesome example of what the "transfer-gone-wrong" genre has to offer, a close-quarters thriller that works best when it keeps its characters confined to the tightest possible space. From the first scene, the Spanish film's bleak and foreboding tone carries the action—centering on a police officer tasked with working alongside a new partner to oversee a "high-risk transfer" involving the deadly head of a Romanian gang across icy, barren terrain—even as the plot melts away to reveal a more conventional revenge movie slicked with brutal violence.—Dan Jackson
Where to watch: Netflix (Watch the trailer)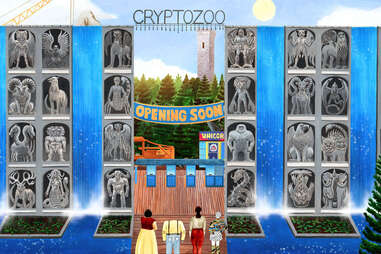 Release date: August 20
Director: Dash Shaw
Cast: Lake Bell, Michael Cera, Angeliki Papoulia, Louisa Crouse
Animator Dash Shaw has hand-crafted this gorgeous, hallucinatory film that looks like D'aulaires Book of Greek Myths come to life, and plays at times likeJurassic Parkset in the 1960s with mythological beasts instead of dinosaurs. If the story feels simplistic, the absolutely stunning artwork will suck you in. Lake Bell voices Lauren Gray, an army brat who grew up outside Okinawa following WWII and has a special connection to the Baku, the Japanese cryptid who consumes nightmares. The Baku ate hers as a child and she is indebted to its protection. As an adult, Lauren seeks out cryptids to deliver them to safety in a Cryptozoo, a haven-slash-theme park. But when the army also seeks to capture the Baku and use it as a weapon, chaos ensues.Cryptozoo is graphic and heartbreaking, essentially a children's story with adult visuals, and it's easy to get lost in the beauty of Shaw's art. — EZ
El Planeta
Release date: September 24
Director: Amalia Ulman
Cast: Amalia Ulman, Ale Ulman, Chen Zhou
The first feature from artist Amalia Ulman has shades ofGrey Gardensand Pedro Almodóvar. It's an often laugh-out-loud funny piece of absurdism about a mother and daughter living beyond their means. Ulman herself plays Leo, who has moved back in with her mother (portrayed by Amalia's own mother Ale) in the seaside town of Gijón in Spain after a stint in London. In their apartment, which they seem to be occupying illegally, her mother spends her days "freezing" the names of her enemies, while Leo considers escorting and sells her sewing machine. She's a stylist and fashion designer—or so it seems; it's occasionally hard to tell how much of what she and her mother are saying is true at any given time. In her conceptual work, Ulman has played with perception using Instagram, and she's working with the same themes here. Leo and her mother have their own sort of language that is indecipherable to outsiders. They eat tasting menus and go on shopping trips on other people's tabs. But it's their bizarrely sweet connection that make El Planeta heartwarming even in its strangeness. — EZ
Where to watch: In theaters (Watch the trailer)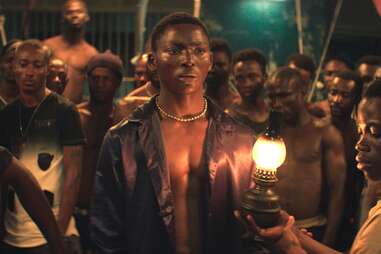 Night of the Kings
Release date: February 26
Director: Philippe Lacôte
Cast: Bakary Koné, Issaka Sawadogo, Steve Tientcheu
This film from Philippe Lacôte layers fables on top of fables to document a night inside a notorious prison in Côte d'Ivoire. The place known as MACA in Abidjan is very much real and the site of frequent violence, but there's a mystical quality that hangs over Night of the Kings' tale of warring factions and political upheaval. In Lacôte's telling, the correctional facility is lorded over by Blackbeard, the reigning "dangoro," whose power is being threatened by a group of his lackeys as he grows ill. As a last grasp at control, he anoints a new arrival the "Roman" and orders him to tell a story upon the appearance of the red moon. The terrified young man's life is at stake as he weaves the narrative of Zama King, the saga getting more fantastical as he continues. As Roman speaks, his rapt audience uses dance and song to act out Zama's trials. It's a hypnotic combination of magical realism, choreography, and true life terrors.—EZ
Where to watch: Hulu, or rent or buy on Amazon Prime or iTunes (Watch the trailer)
Release date: April 3
Director: Emma Seligman
Cast: Rachel Sennott, Molly Gordon, Polly Draper
Emma Seligman's comedy about shiva gone very wrong often plays more like a horror film, the chattering of bubbes turning downright maniacal as the score's strings intensify. We first meet Danielle (comedian Rachel Sennott) in the middle of sex with Max (Danny Deferrari), her sugar daddy, who shows a lecherous interest in her budding law career. Most of the movie, however, takes place at the post-funeral memorial for a distant family acquaintance Danielle is roped into attending with her parents (Polly Draper and Fred Melamed). It quickly becomes obvious that our protagonist is not, in actuality, pursuing a law career. She's an aimless college student who has made up her own major. If the agony of being barraged with countless questions about her future weren't bad enough, her high school ex (Molly Gordon) is a guest, as is—surprise!—Max. Jewish geography is indeed as much a curse as it is a blessing. Seligman's camera stays focused on Danielle as her anxiety skyrockets and she makes a series of increasingly rash decisions. At less than 90 minutes, Shiva Baby is both economical and a bit slight, but Seligman makes fascinating choices at every turn.—EZ
Where to watch: HBO Max, or rent or buy on Amazon Prime or iTunes (Watch the trailer)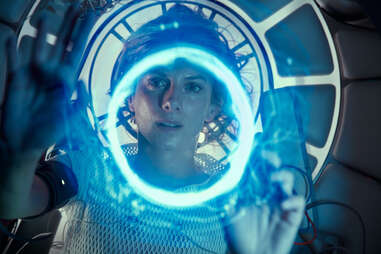 Release date: May 12
Director: Alexandre Aja
Cast: Mélanie Laurent, Mathieu Amalric
A woman (Mélanie Laurent) wakes up inside a malfunctioning medical pod (yes, this movie takes place in the future, but it's not specified how far in until you get to the four or five twists that make up the film's back half) with no memory of who she is or how she got there, aside from weird flashes of being in a hospital and of rats running around in mazes. The pod's artificial intelligence system MILO (voiced by Mathieu Amalric) informs her that she has less than half of her oxygen left due to an unspecified mechanical failure, and she only has about an hour and change ti figure out what happened, who put her there, and how to get out before she suffocates. In its best moments, Oxygen is a lean thriller that will hold your attention through all of its big reveals, using everything at its disposal to craft a story that's fun, tense, and never boring.—Emma Stefansky
Where to watch: Netflix (Watch the trailer)
Release date: February 5
Director: Jo Sung-Hee
Cast: Song Joong-Ki, Kim Tae-Ri, Jin Seon-Kyu, Yoo Hae-Jin
Right from its first electrifying sequence involving a bunch of bounty hunting spaceships chasing after a careering piece of garbage, Space Sweepers spins a far-future of multicultural, multilingual human life in space that's as exhilarating as it is crushingly dystopian. Tae-Ho is a pilot aboard the freighter Victory, along with Captain Jang, engineer Tiger Park, and loudmouthed robot Bubs, all of them part of an outer-space trash-collecting bounty-hunter guild known as the Space Sweepers, who capture space junk and sell it for parts. After a particularly harrowing chase, the crew finds a little girl hiding in a derelict spaceship, who just happens to be a nanobot-filled android that a group of space terrorists have fitted with a hydrogen bomb. At first the Victory crew plans to sell the "little girl" back to the terrorist group who lost her, before they realize that she's much more special than she seems.—ES
Where to watch:Netflix (Watch the trailer)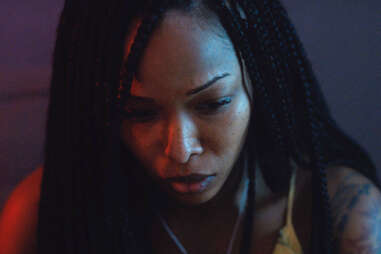 Test Pattern
Release date: February 12
Director: Shatara Michelle Ford
Cast: Brittany S. Hall, Will Brill, Gail Bean
The love story that dominates the first 15 minutes of Shatara Michelle Ford's tight and stunning feature-length directorial debut is seductive. Renesha (Brittany S. Hall) meets Evan (Will Brill) at a bar. When they run into one another at a grocery store sometime later, a romance starts to unfold. But Test Pattern is not about love. It's about bodily autonomy and what happens when a Black woman's is ripped from her, first by a predator and then by someone she loves. One night, well into her and Evan's relationship, Renesha goes out with a friend. They are targeted by two men and encouraged to drink and take weed gummies. Renesha ends up in a strange bed with no idea how she got there. In the aftermath, Evan drivers her to get a rape kit, a gesture that slowly becomes more and more oppressive as they realize how difficult it is to obtain one in Texas. Evan's insistence starts out with concern for Renesha's well-being, but turns into a violation—a white man having little regard for what his Black girlfriend is actually experiencing. Ford's use of music to shape tension is astounding, as is the way she films Renesha's trauma. Test Pattern is a tense, upsetting film, that is nonetheless utterly striking.—EZ
Where to watch: Rent or buy on Amazon Prime or iTunes (Watch the trailer)
Release date: February 26
Director: Keith Thomas
Cast: Dave Davis, Menashe Lustig, Lynn Cohen
Yakov (Dave Davis) has recently left his Hasidic community in Borough Park, Brooklyn and is struggling to make a living on the outside, slowly teaching himself how to use a smartphone and getting rejected from job after job. When Reb Shulem (Menashe Lustig), an old friend from the community, asks Yakov to act as a shoymer, watching over the body of a now-deceased Holocaust survivor for one night, Yakov, in need of cash to make rent, agrees. Spooky, but a dead body is just a body, right? But a parasitic mazzik attached itself to the old man while he experienced the atrocities of the Holocaust, and it plans to find a new host once the night is up. The movie expertly builds its best scares, crafting an effective horror movie out of elements from the Jewish faith, and its interpretation of the mazzik, reimagined as a man-like form with its head twisted backwards, is a potent visual metaphor for a trauma that can't simply be exorcised, a catharsis that is never fully reached.—ES
Where to watch: Hulu, or rent or buy on Amazon Prime or iTunes (Watch the trailer)