The Most Underrated Movies on Amazon Prime
You don't want to miss these.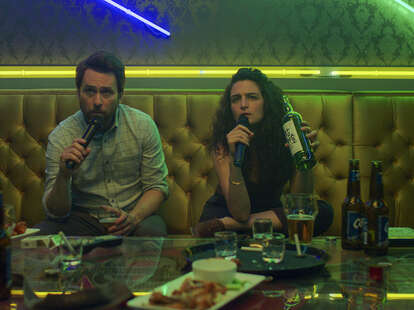 Tired of watching what everyone else is watching? Intrigued by hidden gems? Are you an Amazon Prime subscriber? If so, good news: We've curated this list of the best, most underrated movies available to stream on Amazon Prime right now, and we've got something for everyone—well, except maybe that one person who will literally only watch Bloodline. How are we definining "underrated" here? In the very scientific fashion of "we know it when we see it." But seriously, these are all underrated. Happy streaming!
ALSO READ: The Best Movies on Amazon Prime Right Now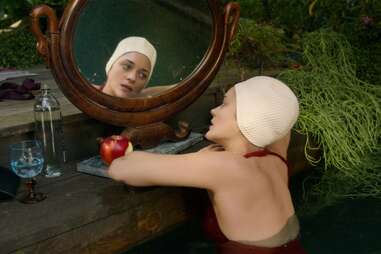 Annette (2021)
Annette is certainly one of the strangest movies you'll see all year. It's a rock musical composed by the band Sparks and directed by Leos Carax about an opera star (Marion Cotillard) who falls in love with and marries a stand-up comedian (Adam Driver). Driver's character is named Henry McHenry, and that's just the start of where things get weird. Eventually this couple has a baby, the eponymous Annette, played by an uncanny puppet. But lest you think Annette is just in it for the shock value, it's also a brilliant dissection of tropes gleaned from Hollywood, the opera, and tabloids. It takes formulas that are integral to storytelling and filters them through a funhouse mirror.
Blow the Man Down (2020)
In a remote fishing village on the coast of Maine, two sisters (Morgan Saylor and Sophie Lowe) cover up an accidental murder, the mystery of which begins to take over the rest of the town as local law enforcement works to solve it. This dark comedy, written and directed by Bridget Savage Cole and Danielle Krudy, was secretly one of the best reviewed movies of 2020 and largely overlooked, with all-around great performances and character actors June Squibb and Margo Martindale going head to head.
The City of Lost Children (1995)
Jean-Pierre Jeunet's film Amélie was a huge hit internationally, but you might have missed his even more fantastical previous film, which he co-directed with Marc Caro. A strange being lives in an abandoned oil rig and, aging fast due to his inability to dream, kidnaps children from the nearby port city on the coast and steals their dreams to prolong his life. Starring Ron Perlman and assisted by a chilling, atmospheric score from Twin Peaks' Angelo Badalamenti, The City of Lost Children is a singular fantasy that will stick in your brain long after you've finished watching it.
Eight longtime friends gather for a dinner party in a neighborhood in Northern California on the night a comet is predicted to pass visibly overhead. When the power on the street goes out, they find themselves in the middle of a coherence of parallel universes, with strange and unsettling things happening all around them. If you're a fan of The Invitation or Primer, you won't want to miss this.
The Electrical Life of Louis Wain (2021)
This biopic about the artist Louis Wain, best known for his whimsical paintings of cats, is often just as quirky as you might expect given Wain's beloved subject matter. But it's also a tender romance and a portrait of grief. Cumberbatch plays Louis, an eccentric who is captivated by the concept of electricity—not as a technological phenomenon, but as a philosophy of behavior. He finds love with his family's equally eccentric governess Emily (Claire Foy), and inspiration when they adopt a cat as she is dying of terminal breast cancer. It occasionally falls into all-too familiar tropes and hackneyed dialogue, but it remains charming all the way.
A Hero (2021)
Master Iranian director Asghar Farhadi's latest won the Grand Prix at the Cannes International Film Festival and was selected as Iran's entry to Best International Feature Film at the Academy Awards, and because Oscar—qualifying runs are what they are, it's fortunate that this movie is already available to stream. When Rahim (Amir Jadidi) is given a handbag full of money to use to repay his debts, he does the honorable thing and tracks down the bag's rightful owner. But when people start asking questions, Rahim has to figure out a way to defend himself for a crime he didn't commit.
I Want You Back (2022)
This rom-com mostly flew under the radar when it was released directly to Amazon Prime in early 2022, but it coasts on a charm, thanks to its cast. Jenny Slate and Charlie Day play two sad sacks who's respective partners recently broke up with them. After meeting and befriending each other, they make a plan: They are going to essentially do Strangers on a Train without the murder, convincing their exes to break up with their new flames. Slate and Day's energies meld well together, which keeps you watching, even when you know where the plot is headed.
I'm Your Woman (2020)
This film from Julia Hart (Fast Color) is a '70s gangster story that defies all of the tropes of what you expect when you read "'70s gangster story." The Marvelous Mrs. Maisel's Rachel Brosnahan plays Jean, a new mother and wife of a mobster. When she's told that her husband in in trouble and she needs to disappear in the middle of the night, Jean is forced into a life of isolation that forces her to reckon with her own ignorance. There's a deliberate slowness to the narrative—an almost carefulness, like someone tiptoeing around a room so as not to be heard—even as it is punctuated by bursts of action.
The Lost City of Z (2016)
Director James Gray's account of explorer Percy Fawcett's lush and perilous journey through the Amazon is the rare film to capture and channel nature's bewitching power. Charlie Hunnam, rousing and physical, stars as Percy, a turn-of-the-20th-century military man who embarks to South America to map Bolivia and cleanse his family name of scandal. Months of starvation, illness, piranha-infested waters, and encounters with natives end with the near-discovery of a hidden, advanced civilization.
The Neon Demon (2016)
Nicholas Winding Refn's psychological horror movie is set in the literally cutthroat fashion world of Los Angeles, focusing on a young up and coming model whose intense beauty and youth make everyone around her seethe with jealousy. Its violent delights and opaque storyline ultimately polarized audiences, but if you're down to watch something truly wild that looks absolutely amazing, you can't get much weirder than this.
Paterson (2016)
Adam Driver plays a bus driver named Paterson who lives in Paterson, New Jersey, in this twisting film directed by Jim Jarmusch. But he's also a poet! And a lover! And a human being trying to make it in the world. You've seen Driver as Jedi Kylo Ren and a divorced dad in Marriage Story, but his delicate, soulful performance in this movie proves he has the range.
Selah and the Spades (2019)
A Heathers for the modern era, Tayarisha Poe's debut feature is set at a private boarding school managed by factions of students. The Spades, led by the beautiful and powerful senior Selah, will be leaderless after Selah graduates, and as Selah grooms her possible successors, the rest of the operation teeters on the precipice of a backstabbing mess.
Suspiria (2018)
It takes a lot of bravery to remake what is arguably the finest horror film of Dario Argento's career—and fans of his 1977 film should be deeply grateful that a new rendition was handed to director Luca Guadagnino, who clearly knows and loves the original. What we have here is an epic horror film that follows the quiet but very ominous activities of an elite Berlin dance school faculty, and the unfortunate young women who begin to suspect the truth about the school. Even given the original movie's place in the horror film hall of fame, there's something truly, wildly, indelibly ambitious about this beautifully scary film. And that score by Thom Yorke!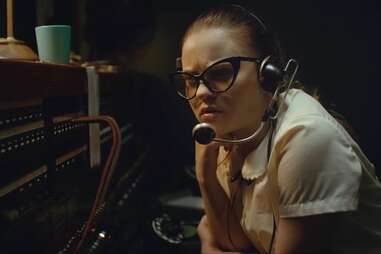 The Vast of Night (2019)
Equal parts would-be Twilight Zone episode and old-fashioned sci-fi radio drama, Andrew Patterson's debut feature takes us back in time to Cayuga, New Mexico, in the late 1950s, where two high school youngsters, switchboard operator Fay and late-night radio host Everett, stumble upon a strange interference one night that doesn't seem to be coming from any known source. When Everett asks his listeners to call in if they recognize the sound, the two uncover a global conspiracy involving the military, disappearances, and alien abduction.
The Voyeurs (2021)
There are hardly any new erotic thrillers these days, but this recent movie from Michael Mohan intends to bring the genre back. Taking cues from Hitchcock and genre classics like Brian De Palma's Body Double, the movie peers behind the blinds and into one alluring couple's sex life when another young couple, played by Justice Smith and Sydney Sweeney, moves into the building across the way. Obsession and intrigue, obviously, follow. With tantalizing sequences and a fair share of mind-boggling twists, the genre film dares to make a voyeur out of you.
What If (2014)
When everyone was asking where the rom-com went, this adorable example was right under their noses. Zoe Kazan and Daniel Radcliffe have crackling chemistry as the central pair who are friends but destined to be more, but Adam Driver and Mackenzie Davis steal the movie as their sidekicks.
You Were Never Really Here (2017)
One of the best and most overlooked movies in recent years features a powerful Joaquin Phoenix as a troubled hitman sent on a mission to retrieve a kidnapped teenage girl. The film from Scottish director Lynne Ramsay takes a turn when the job turns into a political conspiracy built around human trafficking and high-level politics. It's not your typical hitman film, though, with Phoenix giving a tender performance as a traumatized veteran, and Ramsay's intimate direction highlighting the isolation and disillusion of a modern urban landscape.