The Most Underrated Movies on Amazon Prime
You don't want to miss these.
Tired of watching what everyone else is watching? Intrigued by hidden gems? Are you an Amazon Prime subscriber? If so, good news: We've curated this list of the best, most underrated movies available to stream on Amazon Prime right now, and we've got something for everyone—well, except maybe that one person who will literally only watch Bloodline. How are we definining "underrated" here? In the very scientific fashion of "we know it when we see it." But seriously, these are all underrated. Happy streaming!
ALSO READ: The Best Movies on Amazon Prime Right Now
Blow the Man Down

(2020)
In a remote fishing village on the coast of Maine, two sisters (Morgan Saylor and Sophie Lowe) cover up an accidental murder, the mystery of which begins to take over the rest of the town as local law enforcement works to solve it. This dark comedy, written and directed by Bridget Savage Cole and Danielle Krudy, was secretly one of the best reviewed movies of 2020 and largely overlooked, with all-around great performances and character actors June Squibb and Margo Martindale going head to head.
Coherence

(2014)
Eight longtime friends gather for a dinner party in a neighborhood in Northern California on the night a comet is predicted to pass visibly overhead. When the power on the street goes out, they find themselves in the middle of a coherence of parallel universes, with strange and unsettling things happening all around them. If you're a fan of The Invitation or Primer, you won't want to miss this.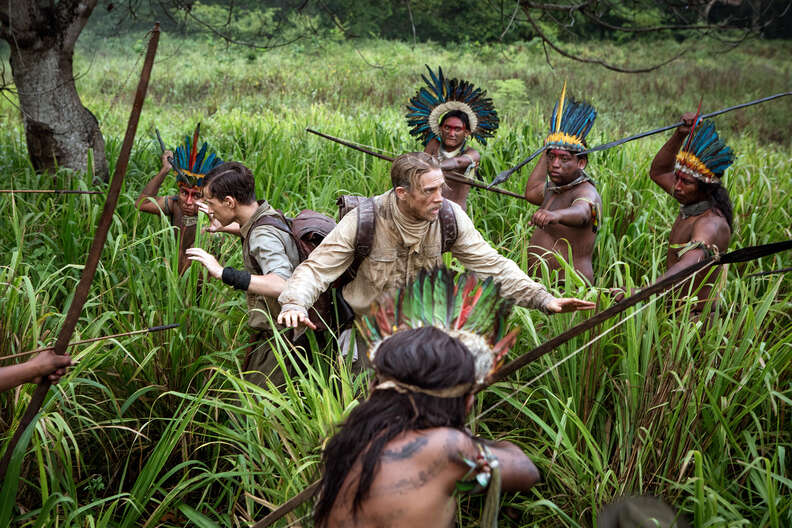 The Lost City of Z

(2016)
Director James Gray's account of explorer Percy Fawcett's lush and perilous journey through the Amazon is the rare film to capture and channel nature's bewitching power. Charlie Hunnam, rousing and physical, stars as Percy, a turn-of-the-20th-century military man who embarks to South America to map Bolivia and cleanse his family name of scandal. Months of starvation, illness, piranha-infested waters, and encounters with natives end with the near-discovery of a hidden, advanced civilization.
The Neon Demon

(2016)
Nicholas Winding Refn is crazy for this one, a psychological horror movie set in the literally cutthroat fashion world of Los Angeles, focusing on a young up and coming model whose intense beauty and youth make everyone around her seethe with jealousy. Its violent delights and opaque storyline ultimately polarized audiences, but if you're down to watch something truly wild that looks absolutely amazing, you can't get much weirder than this.
Only Lovers Left Alive

(2013)
Jim Jarmusch directs this languid, beautiful tale of two centuries-old vampires played by Tilda Swinton and Tom Hiddleston who reconnect after years apart after one suffers from artistic depression that makes him mildly suicidal. The two feast on blood popsicles and delight in the bohemian nightlife on the streets before the precarious world they've built comes crashing down around them.
Paterson

(2016)
Adam Driver plays a bus driver named Paterson who lives in Paterson, New Jersey, in this twisting film directed by Jim Jarmusch. But he's also a poet! And a lover! And a human being trying to make it in the world. You've seen Driver as Jedi Kylo Ren and a divorced dad in Marriage Story, but his delicate, soulful performance in this movie proves he has the range.
Phantasm

(1979)
A mortician known as the Tall Man works in a cemetery and secretly murders people, transforming their corpses into horrifying dwarf creatures he sends to work as slaves on his home planet. Don Coscarelli's independent horror-fantasy film wasn't a big hit in theaters, but has since become a cult classic, the Tall Man's stature and his floating spherical weapons now considered nothing short of iconic in the realm of horror cinema.
Selah and the Spades

(2019)
A Heathers for the modern era, Tayarisha Poe's debut feature is set at a private boarding school managed by factions of students. The Spades, led by the beautiful and powerful senior Selah, will be leaderless after Selah graduates, and as Selah grooms her possible successors, the rest of the operation teeters on the precipice of a backstabbing mess.
Suspiria

(2018)
It takes a lot of bravery to remake what is arguably the finest horror film of Dario Argento's career—and fans of his 1977 film should be deeply grateful that a new rendition was handed to director Luca Guadagnino, who clearly knows and loves the original. What we have here is an epic horror film that follows the quiet but very ominous activities of an elite Berlin dance school faculty, and the unfortunate young women who begin to suspect the truth about the school. Even given the original movie's place in the horror film hall of fame, there's something truly, wildly, indelibly ambitious about this beautifully scary film. And that score by Thom Yorke!
ALSO READ: The Best Horror Movies on Amazon Prime
Take Shelter

(2011)
Michael Shannon stars as a father and husband plagued by apocalyptic visions of a great oncoming storm that are impossible to prove, which cause him to question his own beliefs and whether he ought to save his family from the storm, or from himself. The movie, written and directed by Jeff Nichols (Midnight Special) and co-starring Jessica Chastain, is beautifully shot, with long, lingering takes of bird murmurations and wind blowing over grass, and a final shot that will stay with you for a long time.
ALSO READ: 20 Best Disaster Movies You Should Absolutely Watch
The Vast of Night

(2019)
Equal parts would-be Twilight Zone episode and old-fashioned sci-fi radio drama, Andrew Patterson's debut feature takes us back in time to Cayuga, New Mexico, in the late 1950s, where two high school youngsters, switchboard operator Fay and late-night radio host Everett, stumble upon a strange interference one night that doesn't seem to be coming from any known source. When Everett asks his listeners to call in if they recognize the sound, the two uncover a global conspiracy involving the military, disappearances, and alien abduction.
ALSO READ: The Best Sci-Fi Movies on Amazon Right Now
You Were Never Really Here

(2017)
One of the best and most overlooked movies in recent years features a powerful Joaquin Phoenix as a troubled hitman sent on a mission to retrieve a kidnapped teenage girl. The film from Scottish director Lynne Ramsay takes a turn when the job turns into a political conspiracy built around human trafficking and high-level politics. It's not your typical hitman film, though, with Phoenix giving an almost-tender performance as a traumatized veteran, and Ramsay's intimate direction highlighting the isolation and disillusion of a modern urban landscape.