There are plenty of excellently curated and expertly crafted articles on the internet that tell you about the best movies on Netflix, or the best TV shows on Netflix. Those will satisfy your streaming cravings in times of need, but every so often, you need to push yourself outside your comfort zones and try something off the popular radar. After all, there's a reason the playwright and aesthete Oscar Wilde is credited with saying, "Everything popular is wrong." Words to keep in the back of your mind at all times. 
So check out some of the more underrated titles on Netflix, and wow your friends and family with the breadth of your pop culture knowledge. 
Recommended Video
Here's Everything You Missed in the 'Deadpool 2' Trailer
Ash vs. Evil Dead (2015- )
If you're a fan of the original Evil Dead trilogy and haven't seen Ash vs. Evil Dead yet, what have you even been doing with your spare time? Set 30 years after Army of Darkness, when the Deadites were neutralized, the demon curse of the Necronomicon is back, baby, and it's up to our skeezy hero Ash Williams (still Bruce Campbell) to do the thing he does best, which is cutting up the possessed. Sam Raimi and crew bring the same dark humor and over-the-top gore to the revived series that's just entering its third season on Starz, but is thankfully also on a streaming service people actually use. 
The Birthday Boys (2013-2014)
A sketch comedy group that's been handpicked by Bob Odenkirk (Mr. Show, W/ Bob & David) to make a show and cosigned by Scott Aukermann (Comedy Bang! Bang!) should not be swept under the rug. But alas, The Birthday Boys lived for a short two seasons on IFC, but deserved way more attention for their alt-comedy than it received. Too weird for even premium cable, the show found a forever home on Netflix, where psychos can rewatch The Goofy Roofers an unhealthy number of times. You'll still find some of The Boys scattered across popular culture: Mike Mitchell plays Bertie's slacker boyfriend Randy on Love, and Mike Hanford makes many an appearance on Aukermann's show and podcast, most notably as John Lennon. You might as well catch them under one goofy roof. 
Dear White People (2017- )
Justin Simien's scorching send-up of post-racial America received the green light from Netflix for 10 30-minute episodes, with Logan Browning stepping in for Tessa Thompson. As in the movie, the streaming version follows a diverse group of students pushing back against discrimination at a mostly white Ivy League school. Contrary to what the trolls want you to believe, Simien's work is not white-genocide propaganda; it's an illuminating look at what equality means in the 21st century. As he's explained already, "I'm a storyteller. My job isn't to protect your feelings. It's to show you who you are. Sometimes that will be joyful. Sometimes it'll hurt."
Fauda (2015- )
Fauda, an action thriller about an elite team of undercover Israeli commandos working in Palestine, is perhaps the best of Netflix's recent foreign-language shows, a frantically paced and politically charged melodrama filled with sequences of white-knuckle suspense straight out of Homeland or 24. But unlike those spy dramas, Fauda spends nearly as much time on the private lives of Palestinians as it does on its gun-toting heroes. It's got a moral complexity that its more simplistic American counterparts often lack.
Halt and Catch Fire (2014-2017)
Man, if you like how pseudo-psychotic, bold, and impossibly ahead-of-the-game Tom Hardy is on Taboo, you'll love Lee Pace on Halt and Catch Fire. Christopher Cantwell and Christopher C. Rogers' period saga sends the actor to Texas in the '80s, where he plays a tech visionary hell-bent on disrupting the computer revolution. Along with a top engineer (Scoot McNairy), a prodigy (Mackenzie Davis), and his new employer -- Cardiff Electric -- Pace & Co. race to clone and tweak IBM's processor to make more efficient, portable PCs. Loosely inspired by Compaq's real-life IBM rivalry, Halt and Catch Fire delivers with complex character relationships and top-notch acting (shout-out to the always-underrated Toby Huss). Also, great music.
The Increasingly Poor Decisions of Todd Margaret (2010- )
There's a charming ridiculousness in this show, which chronicles the buffoonish titular character (David Cross) after he's inexplicably given control of a British company that sells an energy drink called Thunder Muscle. Sometimes the setups and jokes feel a little overworked, but nothing about this show asks you to take it seriously, especially since the story unfolds as though it's being recounted before a British court, where Todd stands accused of... basically everything humanly possible. You'll laugh out loud at least a few times per episode thanks to Cross's inept self-assuredness, a strategically utilized Will Arnett, and Sharon Horgan as Todd Margaret's decidedly uninterested love interest. It's a searing sendup of two stereotypes -- American overconfidence and British smugness -- and it's just plain fun. 
Lady Dynamite (2016-2017)
Maria Bamford's semi-autobiographical, surreal spin on mental illness in Hollywood was a sleeper hit for Netflix out of the gate, but the streaming service pulled the plug after the show's second season. Too bad: The comedian's self-aware hijinks share obvious DNA with Arrested Development: Mitch Hurwitz and Pam Brady are executive producers; there are sight gags, wordplay, and mockery of Los Angeles idiocy galore; and it features countless comedy-world cameos, extended fantasy sequences, and genuine self-introspection. It'll take you a few episodes to get invested, or even to wrap your head around WTF you're watching. But once you're hooked, you're hooked.
Mystery Science Theater 3000: The Return (2017- )
Could a new crew of comedians revive the effortless magic of public access-born Mystery Science Theater 3000. Absolutely. With the nerdy Jonah Ray (The Meltdown With Jonah and Kumail) locked in the new spaceship, once again backed by Crow and Tom Servo (but with new voices, Hampton Yount and Baron Vaughn), spearheaded by former Daily Show head writer Elliot Kalan, and produced by original host Joel Hodgson, the new incarnation pelts jokes at late-night schlock and half-assed blockbusters with relentless force. There's a musicality to the jokes in MST3K: The Return, punctuating every bit of dead air in the godforsaken movie choices, and everyone is at the top of their game. Cry Wilderness, about a little kid who pals around with Bigfoot, stands up to any of the classic episodes.
Nobel (2016- )
Amid the Homelands and Zero Dark Thirtys of the world, it's easy to forget that the United States decades-long global war on terror is just that: global. The coalition of nations that fought with America in Afghanistan included Norway, and it's in a foreign camp that the show begins with a tense military operation to take out a suspected suicide bomber. Make no mistake, though: This is not a war series, but a political one, focusing on the treacherous ripples terrorism sets off through national politics. In this case, the political implications are told through the lives Erling Riiser (Aksel Hennie), who served in Afghanistan, and his wife, Johanne (Tuva Novotny), a government worker who must navigate the business interests related to Norway's involvement in the region.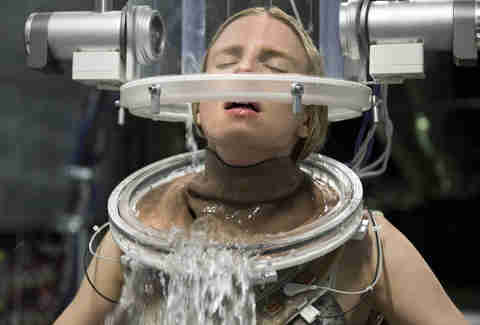 The OA (2016- )
The OA is goofy as hell. Created by Brit Marling and Zal Batmanglij, the filmmakers behind mind-bending thrillers like The Sound of My Voice and The East, the show follows a young blind woman named Prairie Johnson (Marling) who returns to her sleepy hometown with her eyesight mysteriously restored after she disappeared for seven years. Things only get stranger as we ping pong between her story in the present, which finds her mentoring a group of rowdy teenagers, and flashbacks to her time away, which involves an underground prison run by Jason Isaacs's evil Dr. Hap. Yes, there's interpretive dancing, too. Most of this shouldn't work -- and some of it, like Emory Cohen's bizarre trip to Cuba, really doesn't -- but Marling and Batmanglij attack this wonky material with so much passion and sincerity that it's hard not to get swept up in their brain-scrambling vision. Bring on the next Movement. 
She's Gotta Have It (2017- )
Nola Darling is an artist, an activist, a Brooklynite, and a sex-positive polyamorous pansexual with three emotionally volatile boyfriends. But who is she? Spike Lee made his directorial debut with 1986's She's Gotta Have It, and 30 years later, expands the character study (with the help of a writer's room including his sister Joie Lee, and Pulitzer Prize-winning playwright Lynn Nottage) into his first TV series, a rhythmic exploration of sex, Brooklyn, and black life. Lee's signature, syncopated style -- bright colors, up-close-and-personal confessionals, jolts of pop music and album art, Bruce Hornsby's melancholy piano filling the gaps -- is intact, tracking Nola through the gentrifying brownstone labyrinth of Fort Greene like an epistolary novel. The joy of the series is in the updated casting, DeWanda Wise's Nola beams with wisdom, fear, artistic knowledge, and carnal desire, while the men and women in her life are fleshed out and… fleshed out, allowing the many sex scenes to play to the senses while reaching for something deeper.
Sign up here for our daily Thrillist email and subscribe here for our YouTube channel to get your fix of the best in food/drink/fun.