The 16 Most Underrated Performances of 2016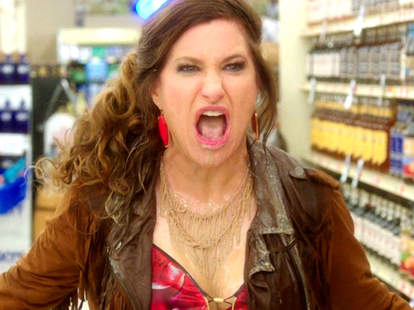 Not everyone gets a trophy. As the year in television and movies comes to a close, a consensus tends to build around the actors and actresses who will be appearing on critics' lists, sharing anecdotes during back-patting round tables, and walking red carpets. For example, you don't need someone to tell you Emma Stone is good in La La Land. (Yes: She is very good. We get it.)
So, in the spirit of giving, this is a list of gifted performers who maybe didn't get as much attention as their glitzier or more acclaimed peers. We're taking a look at the stars who shined in otherwise unworthy blockbusters, the newcomers who stole scenes with youthful vigor, and the veterans who discovered some new tricks this year. Because the underdogs deserve some love too.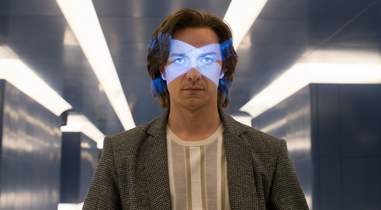 20th Century Fox
James McAvoy, X-Men: Apocalypse
If the Avengers movie phenomenon wasn't sucking up all the praise into a swirling blue sky portal, blockbuster audiences would fully appreciate 20th Century Fox's prequelized X-Men franchise and the gravitas within. Michael Fassbender could earn a place on this list, delivering his most baroque Magneto performance in Apocalypse, but it's McAvoy who impresses as the heroic Professor X, a wise teacher who becomes a godlike tyrant's greatest weapon. The Scotsman shares a superpower with his character: the ability to get into anyone's mind. He does so with fury in Apocalypse, turning comic-book gobbledygook into Shakespearean tragedy. -- Matt Patches
A24 Pictures
Craig Robinson, Morris from America
In this story of expatriatism and groove, the actor best known for his role on The Office finally gets the dramatic material most of us never knew he deserved. I admit it: Robinson turned on my waterworks twice throughout Morris from America, as a single dad caring for his hip-hop-obsessed son in small German town they're struggling to call home. Robinson's comedic style imbues his fatherly speeches with rhythm and realism -- he doesn't know exactly what to say when his 13-year-old stows away with the older kids for a smoke-filled excursion to the big city, but he can improvise. -- Matt Patches
STX Entertainment
Kathryn Hahn, Bad Moms
Like most movies with negative qualifiers in their titles, Bad Moms was not great. At the hands of two male writers, it flattened out one of the most overburdened roles in human history to astounding effect -- but not even a stereotype-cleaving script can keep Kathryn Hahn down. As the baddest mom in the bunch, Hahn's character Carla was allowed to do what no one else in her cohort could: have fun. With the weirdest kid and the funniest lines, Hahn's Carla rises above a thankless job and gives Bad Moms a much-needed punch in the tits. -- Lauren Leibowitz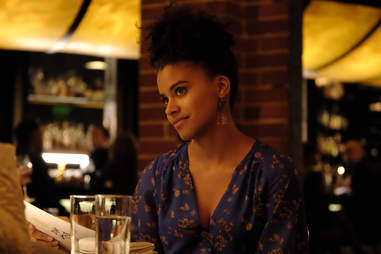 FX
Zazie Beetz, Atlanta
More than any new show this year, FX's Atlanta was overflowing with brilliant performances -- I fully expect Brian Tyree Henry to collect awards for his turn as Paper Boi for years to come -- but Zazie Beetz had the hardest task on the show. In the first couple episodes, her character Van was presented as a marginal figure, a foil to Donald Glover's Earn and his free-wheeling friends. Then we saw "Value," the sitcom equivalent of a solo album, and Van was revealed as a determined, complex woman with her own dreams, struggles, and, in a scene where she funnels baby urine into a condom, secret skills. -- Dan Jackson
A24
Anton Yelchin, Green Room
If Leonardo DiCaprio earned an Oscar for dragging himself through the mud in The Revenant, Yelchin deserves the Nobel Peace Prize. In Green Room, the actor's punk band frontman fights his way through a battalion of machete-wielding white supremacists who want his head on the wall. Yelchin resists John McClane mode -- he's a scrawny headbanger without a clue how to shoot a gun. He's screwed, and Green Room roughs him up accordingly, his ravaged mental and physical state becoming the key to the movie's terrors. Sadly, Yelchin tragically died earlier this year, leaving Green Room as one of his final performances. I'm certain we'll be talking about it for years and years to come. -- Matt Patches
Netflix
Angela Kinsey, Haters Back Off!
Fans of The Office must have been thrilled when they learned that their beloved Angela was going to have a more front-seat role in Colleen Ballinger's maiden Netflix voyage. As Bethany, Kinsey plays Miranda Sings' single mom who sports a new hair color, works at a grocery store, and complains about fake ailments. Armed with a not-so-subtle wrist brace, the actress nails her poignant part as a flawed parent, one who wants to be the No. 1 Mirfanda of all time, but who does all the wrong things at all the wrong times. Kinsey shines in her ability to elicit genuine laughter and sadness; she deserves more of these sizable opportunities to do so. -- Sean Fitz-Gerald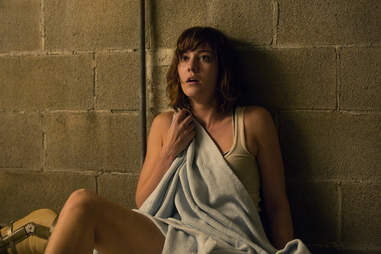 Paramount Pictures
Mary Elizabeth Winstead, 10 Cloverfield Lane
After Winstead's performance, "scream queen" is officially a regal title. The actress is both predator and prey in the spiritual Cloverfield sequel, the captive of a psychopathic scientist (John Goodman) who isn't afraid to risk her life on the perfect trap. The actress steps into the movie with a life behind her -- a breakup drives her, literally, into Goodman's grasp -- and walks out with a worst-case scenario reflected in her eyes. Winstead has been called upon over the years to alchemize fear into empowerment. 10 Cloverfield Lane is her greatest transformation yet. -- Matt Patches
The CW
Donna Lynne Champlin, Crazy Ex-Girlfriend
Rachel Bloom and Aline Brosh McKenna's delightfully bonkers musical comedy is an accomplishment on many levels, most notably for upending sitcom character conventions. No performance better encapsulates this than Donna Lynne Champlin as Paula, the oft-overlooked, decidedly unglamorous middle-aged paralegal who enabled Rebecca's ex obsession through Season 1. Instead of letting Paula languish in a flat supporting role, the show gave her an earth-shaking, self-asserting solo to belt, and in Season 2, she's finally giving credence to her own dreams at the expense of her BFF's. Female friendship is never easy -- least of all when it's between two mentally unstable schemers -- and watching Paula and Rebecca parse their complicated relationship has lent a pang of reality to a series often set up in the clouds. -- Lauren Leibowitz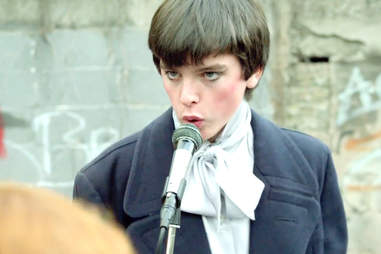 The Weinstein Company
Ferdia Walsh-Peelo, Sing Street  
The only way you buy this Irish musical comedy's big number, "Drive It Like You Stole It," is if the kid belting the tune lives up to the title. Walsh-Peelo, who had never acted in a movie before Sing Street, commits the crime. As Conor, a soul-searching teenager falling down the '80s-rock rabbit hole, the newcomer offers no-bullshit sensitivity and freak-flying passion. We are all this kid, or deserve to be. -- Matt Patches
HBO
Thomas Haden Church, Divorce
That fucking mustache, man. Thomas Haden Church, the former Wings star and Oscar nominee, returned to television sporting facial hair that made me giggle every time he showed up on screen in HBO's barbed, downright wicked Sarah Jessica Parker sitcom. But, as selfish boob Robert Dufresne, he was more than wisps on an upper lip. Whether he was shitting in a coffee can, returning items to a sporting goods store, or saying "pleased to meet you" at Christmas mass instead of "peace be with you," Robert was the funniest jerk on TV this year. No contest. -- Dan Jackson
FX
Adina Porter, American Horror Story: Roanoke
During a season packed with stars and twists, Porter broke through as Roanoke's true MVP. The actress' portrayal of Lee Harris, a police officer-turned-media sensation, felt like a two-sided coin, one stamped with terrifying ferocity on one end and a beautiful tenderness on the other. Porter's ability to play both sides so convincingly imbued her performances with an addicting sense of intrigue that kept viewers guessing at her character's innocence every week. (Did she really murder her husband? Was she really willing to do anything for her daughter?) That Porter was able to make the audience sympathize with such an extreme maternal figure, even at the end of all of Ryan Murphy's bloody mayhem, is a testament to her underappreciated abilities -- it's no wonder she's a new fan-favorite. -- Sean Fitz-Gerald
Netflix
Fred Melamed, Lady Dynamite
Dynamite is so stuffed with comedy-world cameos and stunt casting (what's up, Mark McGrath!) that Maria's downtrodden agent, Bruce Ben-Bacharach, fades into her background. Yet through Bruce's many, many blunders, Melamed shows off a gift for physical comedy that meshes well with Dynamite's bizarre surreality. Whether Bruce is inadvertently outfitting a child army, high out of his mind at a Curves-style women's gym, or shattering obscenely expensive glass furniture, Melamed keeps us questioning the show's reality and redefines the concept of "scene-stealing" on a set full of hammy performers. Rarely is incompetence this endearing. -- Lauren Leibowitz
HBO
Bill Camp, The Night Of
There's so much to praise about Riz Ahmed and John Turturro's impressive lead turns in HBO's procedural, but we want to stick up for Camp's Detective Box before he's overshadowed. In the pilot, we see Box navigate the icy waters of a New York City murder scene. Without a single sinister glance, he pushes Ahmed's Naz toward confession. The subtlety is no surprise -- Camp's a seasoned stage veteran and go-to character actor (see: 12 Years a Slave, Midnight Special, and Jason Bourne). His take on Box is the right balance of crime-fiction gruff and blue-collar earthiness. He's a pal who could throw you away for life, which is the American criminal justice system in a nutshell. -- Matt Patches
NBC
Loretta Devine, The Carmichael Show
Loretta Devine is no stranger to accolades -- she won an Emmy for her guest spot on Grey's Anatomy in 2011 and multiple NAACP Image Awards for work on Boston Public -- but the ideological gladiator battle of The Carmichael Show gives her a chance to flex some new muscles. Surrounded by comedic heavyweights like David Alan Grier, Tiffany Haddish, and star/creator Jerrod Carmichael, she's going for the championship belt here. Season 2 standout "The Blues" focused on her character Cynthia's struggle with depression, mining big laughs from dark subject matter, but Devine is effective in the show's quieter moments, too. She makes the show's family-room-as-battlefield conceit work. You want her in the foxhole with you. -- Dan Jackson
MTV
Manu Bennett, The Shannara Chronicles
The down days between Game of Thrones seasons can be as dark as Alaskan winters. Manu Bennett makes it a little easier, anchoring MTV's confectionary fantasy The Shannara Chronicles with brute strength and whispered wisdom. Woken from self-induced hibernation decades after his last battle, Bennett's Allanon finds himself the protector of two elvish dorks -- and the last of his magical race. Ridiculous? Not when Bennett pumps his fist to cast spells, or screams in agony as demon forces suck his life force dry. He's the best TV warrior since Xena. -- John Sellers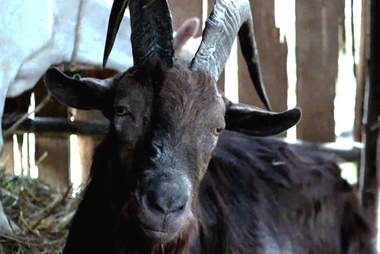 A24
The goat, The Witch
With their irritating bleats, flapping tongues, and threatening horns, goats aren't exactly cute. In fact, they can be scary as hell, which is what writer and director Robert Eggers must've known when he created the character of Black Phillip for his indie-horror hit The Witch. According to the Hollywood Reporter, Charlie was not the easiest actor to work with. "If we wanted him to be doing something violent, he wanted to go to sleep," says Eggers in the article. "If he was supposed to be standing still, he was running around like a madman." Whatever, haters: Black Phillip is a legend, an icon, and the G.O.A.T. among goats. -- Dan Jackson
Sign up here for our daily Thrillist email, and get your fix of the best in food/drink/fun.
Follow the Thrillist Entertainment editors on Twitter @ThrillistEnt.