The Most Underrated TV Shows of 2019
There are so many TV shows on so many streaming platforms, websites, and cable channels that it's impossible to comb through even the best TV shows of the year in a reasonable amount of time. To make matters more complicated, not every great series receives the attention and respect it deserves, which means you could be missing out on quality television without even knowing it. A tragedy!
So we've compiled a list of excellent shows that haven't received either the critical love or popular attention we think they should. These underrated gems warrant your attention, so why not go off the beaten path and give them a shot?
Want more good stuff to watch? Check out the best TV shows of 2019, the best movies of 2019, and 2018's underrated shows.
Adult Swim
Black Jesus (Adult Swim)
I was sure I'd never see another season of Black Jesus again. Since the second season wrapped in 2015, Adult Swim didn't immediately announce the series, about, well, Black Jesus (Gerald 'Slink' Johnson) in present-day Compton, was being picked up again. Charlie Murphy, who played the militaristic hard-ass landlord Vic -- arguably the funniest character on the show -- tragically passed away after a battle with leukemia in 2017, and it truly seemed like the show, created by and starring much of the same crew who made The Boondocks, was done for. And then, like a miracle from Jesus himself, Black Jesus returned in the back half of 2019. Though Murphy is sorely missed, the show still delivers on its hilarious premise and boundary-pushing jokes. In Season 3, there's a rival faction of "yoga bitches" vying for weed-selling territory; Vatican goons show up to Compton on a mission to take Jesus out; and the perpetually drunk Lloyd (John Witherspoon) gets divinely sober. It's all enough to turn you into a believer. -- Leanne Butkovic
Amazon Studios
Our cup runneth over with shows and movies about superheroes behaving badly, and
The Boys
, based on the darkly comedic comic by Garth Ennis and Darick Robertson and developed for TV by
Supernatural
's Eric Kripke, is one of the better ones, introducing an eclectic cast of high-powered humans and swiftly revealing how awful they all are.
The Boys
creates a world where superheroes are commodified into action figures and heroic publicity stunts so that giant corporations can make buckets of money -- why does this sound so familiar? It's biting social commentary with an extra-mean streak, and it's a lot of bloody fun.
-- Emma Stefansky
Netflix
Dark (Netflix)
A German-language TV show about the complexities of time travel might sound like an exhausting way to spend a Tuesday night, but I promise you,
Dark
is well worth the mindmelt of trying to understand the intricacies of dimension-hopping while words like Zeitreise and Umwelt are washing over your brain. The show follows Jonas Kahnwald, a boy living in the fictional town of Winden, who finds his family and his hometown wrapped up in a mystery that spans three generations, involving multiple disappearances and a spooky cave containing a wormhole that, depending on how you go through it, can transport you to the past or to the future. The complexities of the show hit you in layers, and the
end of its second season
introduces a twist that completely changes the game for every character and time period in it.
-- ES
Paul Schiraldi/HBO
The Deuce (HBO)
David Simon has a knack for creating literally underrated shows:
The Wire
struggled to find an audience during its time on the air, ditto for
Treme
, and
Show Me a Hero
registered as a small blip on the HBO home screen. With
The Deuce
wrapping after three seasons of porn, sex work, organized crime, drugs, and gentrification in New York City, the showrunner unleashed an
acerbically self-aware tweet
that threatened a show about a university botany department for viewers who couldn't bother to tune into such a vice-filled show. Yes,
The Deuce
is about porn, drugs, and New York's grimiest era as the city transitioned Times Square from peep show capital to Bubba Gump Shrimp Co. HQ, but like all of Simon's shows, it's really about the complex human ecosystem on which all cities are built. A-list talent like Maggie Gyllenhaal and James Franco anchor a cast that depicts the real-world costs of industries undergoing sea changes, and the writing thankfully eschews sentimentality even as it focuses on an era when New York was
real, man
. All that to say: Get on board with the show about porn and sex and drugs and booze and the mob! What's not to like?!
--Anthony Schneck
Jennifer Clasen/HBO
Los Espookys (HBO)
If telenovelas, horror movies, and sketch comedies had a love child, the result would be the HBO comedy
Los Espookys
. Set in a nameless Latin American country, the mostly Spanish-language show follows a group of friends and scary movie lovers who come up with a business to execute elaborate horror shows for hire -- including but not limited to sea monster sightings and alien dissections. Written by cast members Ana Fabrega, Julio Torres, and Fred Armisen, the series is joyfully campy and kitschy as it takes you to a world that's not exactly magical, but certainly doesn't lack a kind of DIY magic.
-- SB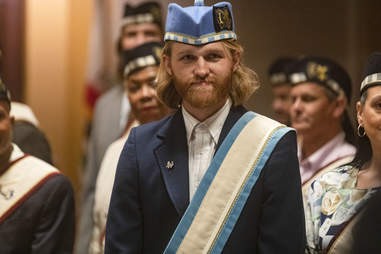 AMC
Lodge 49 (AMC)
In this era of Netflix and cutting the cord, the cable network AMC has sometimes struggled to break through the noise with series that aren't about zombies. That especially applies to Lodge 49, a seemingly low-stakes dramedy that's as perpetually laidback as its protagonist, Dud (played charmingly by Wyatt Russell), an aimless Southern California beach bum who joins an old-school fraternal club after the death of his father. But the show's small, cultish army of faithful viewers know that Lodge 49 has steathily built out a vibrant world populated by quirky characters solving tantalizing mysteries about the secretive organization and, well, life, man. AMC has yet to renew the show for a third season, but TV needs more programs that can accurately be described as "Northern Exposure meets Inherent Vice" and that feature killer comedic turns by Paul Giamatti (as a frenetic writer); especially ones that ended Season 2 on a cliffhanger. -- John Sellers
Netflix
At first conceived as David Fincher's homage to the 1981 adult animation cult classic
Heavy Metal
, Netflix's
Love, Death + Robots
is an anthology of sci-fi short films, each one tackling its own wild, wonderful idea. The title pretty much says it all: Every episode has elements of love (read: sex -- the show is very rated R), death, and/or robots, and sometimes a combination of all three. From a tourist party of androids traipsing through a post-apocalyptic Earth, to a monster-fighting ring where the creatures are powered by human minds, to an ancient civilization thriving in a couple's refrigerator, to a beautiful fable about an artist in the future who only paints using one shade of blue,
Love Death + Robots
is a multifaceted collection of some of the most exhilarating and inventive storytelling out there.
-- ES
Showtime
"Multi-level marketing companies," aka pyramid schemes, are surprisingly underutilized in movies and TV storytelling. No matter, because Showtime's Kirsten Dunst-starring pitch-black comedy
On Becoming a God in Central Florida
might be the only TV show that needs to exist on the topic. Set in the '90s, around the corner from Disney World, Dunst's Krystal Stubbs learns just how deep a hole her late husband Travis (Alexander Skarsgård) dug for her family by buying into the cult-like pyramid scheme for home goods, FAM, headed by the unraveling figurehead Obie Garbeau II (Ted Levine). A natural saleswoman, Krystal schemes her way into the FAM-ily by manipulating Travis's youthful upline, Cody Bonar (Théodore Pellerin), getting swallowed into the belly of the beast and working with a pill-addicted reporter Mirta Herrera (Melissa De Sousa) to expose FAM for the scam it is. Dunst is absorbing as Krystal, with her Southern-tinged accent and '80s beauty-queen wardrobe, as the 10 episodes of the first season twist and turn to totally unexpected places.
-- LB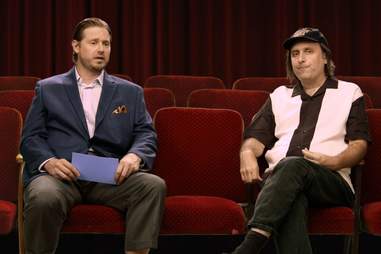 Adult Swim
On Cinema at the Cinema (Adult Swim)
Tim Heidecker and Gregg Turkington have been making
On Cinema at the Cinema
for a long, long time -- Adult Swim is airing the 11th season, where Tim is now the President and CEO of "On Cinema Industries," got religious, and is doing "unpaid advertising" for the loan site MoneyZap.com, while Gregg just wants his pre-filmed segments to air. Only recently has it started making a dent in the mainstream, which is to say:
On Cinema
is maybe the most perpetually underrated show of the decade. The pair's movie review series that barely spends time "reviewing" movies (although they do award five bags of popcorn) is more about the increasingly antagonistic relationship between "Tim" and "Gregg" and the show's ever-expanding universe, which recently released
the first movie
that ties into the overall arc of
On Cinema
. It certainly doesn't peddle in easily accessible humor, but those who "get it" will be rewarded in MoneyZap.com riches.
-- LB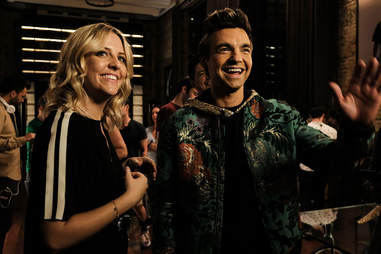 Comedy Central
The debut installment of
The Other Two
is essentially a perfect season of TV. Chris Kelly and Sarah Schneider's comedy came out of the gate with its voice fully formed and its gags finely tuned. The concept is fairly high: The series follows Cary and Brooke Dubek (Drew Tarver and Heléne York), 30-something siblings living in New York and belatedly trying to figure their shit out. Cary's a wannabe actor; Brooke is an unemployed former dancer with a doofus hanger-on of an on-again-off-again boyfriend. But their lives are upended when their little brother, Chase Dreams, becomes a national phenomenon thanks to a viral, Justin Bieber-esque song, and their mother, Pat (Molly Shannon), moves to New York and into Justin Theroux's empty apartment.
The Other Two
is instantly quotable, but also secretly a melancholy portrait of a loving family.
-- Esther Zuckerman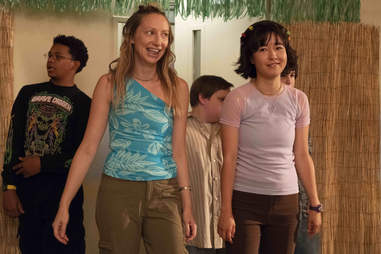 Alex Lombardi/Hulu
Middle school is hell, but middle school is also funny as hell. And now that millennials who walked the halls of junior high in the aughts are, if not over the trauma, definitely old enough to laugh about it, we're lucky enough to see the genius of
PEN15
. Executive produced by The Lonely Island, the series stars co-creators and adult comedians Anna Konkle and Maya Erskine as seventh grade versions of themselves... while the rest of the cast are played by literal children. What results is a lot of extremely cringe-worthy moments, but so many hilarious bits that'll hit especially hard if you grew up on AIM, renting rated-R movies from Blockbuster, and making home movies on your parents' camcorder. You'll laugh and feel second-hand embarrassment, and if you feel too awkward, you can write about it in your diary later.
-- SB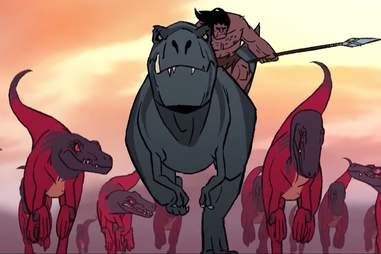 Adult Swim
Primal (Adult Swim)
Primal
is unlike anything that's been on TV this year, but critically speaking, it's hard to classify
Genndy Tartakovsky's Primal
as "underrated" when it's been
submitted for Oscar contention
in the Animated Feature Film category. Still: I can probably guarantee you haven't watched it yet! Just five 20-minute episodes,
Primal
aired as a nightly event for a week in early October on Adult Swim, home of Tartakovsky's other major series,
Dexter's Laboratory
and
Samurai Jac
k
. But
Primal
is an entirely different beast than either of those shows: It's a dialogue-free show set in a prehistoric era that bends the evolutionary timeline to put cavemen, dinosaurs, and mammoths on the same plane.
Primal
tells the story of Spear, the Caveman, who teams up with Fang, the Dinosaur, after both of their families are eaten by a giant T. rex. With just its score and bone-crunching sound effects to aide the visual spectacle, the show is brutally violent, raw, and profoundly sad -- meaning, probably don't watch this with kids! -- and masterfully paced, giving space to breathe between monster action sequences and melancholic moments.
-- LB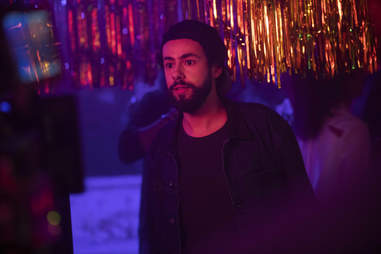 Craig Blankenhorn/Hulu
Ramy (Hulu)
Created by and starring rising comic Ramy Youssef, Ramy is a glimpse into life as a millennial Muslim. The series is very much a snapshot of young adult life -- you know, the whole trying-to-get-your-shit-together-in-life-and-love thing -- through Youssef's perspective as a practicing Muslim. The show focuses on his effort to commit to his faith, and what that means for him as a young man in New Jersey who doesn't drink or do drugs, but definitely has premarital sex and isn't looking to settle down any time soon. Ramy also works to depict the varied experience of everyone in his family, and each episode tells stories about microaggressions, fetishization, and stereotyping. It is a comedy, though, about the laughable tests God might be giving us, and it's a refreshing take on the age-old struggle of finding meaning in a world controlled by forces you don't always understand. -- SB
Showtime
Shangri-La (Showtime)
Superproducer and unofficial music industry spirit guide Rick Rubin has an aura about him. Maybe it's the beard. The bare feet. The soothing, encouraging voice. The meditation. The incredibly popular, award-winning work with LL Cool J, the Beastie Boys, Red Hot Chili Peppers, Johnny Cash, Jay-Z, and many, many more. Rubin harnesses his mystical presence to maximum effect in this unconventional docuseries about a place with its own aura: Shangri-La, a recording studio in Southern California that first became famous thanks to Martin Scorsese's The Last Waltz, which centered on The Band's final concert. Part music documentary, part biopic, part spiritual quest, and part exploration of the power of place, Shangri-La takes you to the updated version of the eponymous house and studio, which has been updated from The Band's time to be what Rubin sees as the platonic ideal of a creative space. Along with recording sessions featuring familiar faces like Flea as studio musicians, you'll also get meandering conversations about meditation with David Lynch, a history of the Shangri-La concept, and an otherworldly foray into the creative process. -- AS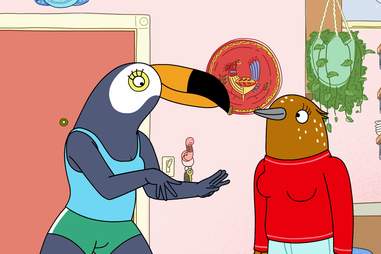 Netflix
Tuca & Bertie
, which fell victim to Netflix's cutthroat algorithm after only one season, was one of the best new series of 2019. The series kicks off when Tuca (Tiffany Haddish) is moving out of her and Bertie's (Ali Wong) shared apartment so that Bertie's boyfriend Speckle (Steven Yeun) can move in. It's the first major change in their relationship, and one that culminates in the major growing pains that plague friendships as people transition to adulthood. While the series handles concepts like sexual harassment, trauma, and sexuality in a way that feels authentic, it's also delightfully surreal and funny: Bertie fights for a promotion at her workplace, Condé Nest; Tuca tries to befriend her cool neighbor, who is actually an anthropomorphic plant; one of Bertie's boobs decides to take a day off after getting fed up with being sexually harassed at work. With a bright color palette and beautifully expressive character designs, it's a visual standout as well. While there's no shortage of adult animated comedies (whose humor frequently comes at the expense of women and their bodies),
Tuca & Bertie
was a rare gem that was not only surreal, and stupid, and hilarious -- it was made by and for women, and it's a treat for all.
-- Palmer Haasch
Amazon
It's rare to see Rotoscope animation outside of a handful of Richard Linklater movies, and Amazon's
Undone
is the first episodic TV series to utilize the surreal and trippy technique. It's more than a technological feat, though; the Kate Purdy and Raphael Bob-Waksberg-created series also tells a wildly compelling, funny, and heartbreaking mystery-box, reality-questioning story. After a horrible car accident puts Alma Winograd-Diaz (Rosa Salazar) into a coma, she wakes with the ability to communicate with her quantum physicist father, Jacob (Bob Odenkirk), who says he was murdered because of his research into time travel. Alma's younger sister Becca (Angelique Cabral), mother Camila (Constance Marie), and boyfriend Sam (Siddharth Dhananjay) all think she's losing it while she secretly experiments with bending time and dimension under her dad's guidance. Each 20-something minute episode is stuffed with an emotional spectrum that's draining, but
Undone
is so good that it's hard to stop watching until the very end.
-- LB
Showtime
Wu-Tang Clan: Of Mics and Men (Showtime)
In a crowded year for music documentaries, this four-part examination of the Wu-Tang Clan stands out for the way it tells a sprawling, complicated hip-hop success story in such granular, empathetic detail. For super fans of the 10-man group, there are narrative omissions to quibble over, like the way director Sacha Jenkins glides over the creation of certain pivotal solo albums from the '90s in favor of following the group's overall rise-and-fall-and-rise-again trajectory. But the time you spend with each member in archival footage and contemporary interviews, settling old scores and sharing painful memories, is enlightening enough to make you wish the already lengthy miniseries was even longer. You know the names: RZA, GZA, Ol' Dirty Bastard, Method Man, Inspectah Deck, Raekwon, Ghostface Killah, U-God, Masta Killa and Cappadonna. But Of Mics and Men allows you to know these trail-blazing artists on an even deeper level. -- Dan Jackson