These Are YouTube's 15 Most Popular Music Videos Ever
The videos for these earworms have billions upon billions of views.
You might think viral clips rule YouTube -- the "Keyboard Cats" and "Charlie bit my fingers" of the world. Sure, they spread across the web like wildfire, dominating your feeds and hijacking your attention.
But earworm-y pop songs? Those hits you end up wanting to wipe from your memory forever? Their visuals are the real Scrooge McDucks of the site, gleefully swimming in millions upon millions upon millions of Vevo views. In fact, Psy's "Gangnam Style," long-reigning king until recently, became so pervasive in 2014 it forced YouTube to rewrite the code for its play counter.
Now the site boasts an expanded metric for chronic popularity and an ever-changing batch of insanely popular music vids. Check out the current reigning top 15* below.
*View counts are estimates from June 2020. Totals and ranks will change, and we will continue to update this post, over time.
15. Alan Walker - "Faded"
Views: 2.77 billion
English-Norweigen DJ Alan Walker is a big deal in the EDM world. Well, obviously, considering the the music video for his breakthrough hit, "Faded," is the 15th most-watched music video on YouTube. Despite all of the dance elements, it's a somber song with a bleak video to match, featuring a lost, young renegade moping in abandoned buildings as he searches for home.
14. Katy Perry - "Dark Horse" (Official) ft. Juicy J
Views: 2.79 billion
In 2013, a Na'vi warrior sneezed on Katy Perry and said, "My bad. But also, next year, you're going to try Hot Cheetos while appropriating the hell out of my world AND Ancient Egypt." A bleak prophecy, but as seen by this music video, an accurate one.
13. Major Lazer - "Lean On"
Views: 2.44 billion
The sets, background choreography, and cinematography here are all beautiful. All of the artists on the track, Danish singer-songwriter MØ, DJ Snake, and Major Lazer, join Bollywood dancers in immaculate palace-like locales in India. Diplo's dad-like dancing aside, it all looks fit for a major Bollywood feature film, which makes sense given this song's global success.
12. Enrique Iglesias - "Bailando" (Español) ft. Descemer Bueno, Gente De Zona
Views: 2.86 billion
One of the best things about Latin music is its power to make you want to do nothing but dance. "Bailando" may translate to being about one lover Iglesias wishes he could dance with forever, but the video is a joyful ode to the mainstay art of dance in Latin culture. You may not be able to move like those flamenco dancers, but the video will make you wish you could!
11. Taylor Swift - "Shake It Off"
Views: 2.68 billion
Man, this goes down as smooth as a Gap ad. Taylor Swift may never really become a great dancer, no matter what style she tries to get her hand in -- and she tries quite a few styles in this video -- but she sure can deliver a damn good pop hit.
10. OneRepublic - "Counting Stars"
Views: 2.98 billion
Almost a decade after it arrived, OneRepublic's hit has still cracked the top 15 of all time, which means the soft rockers will be etched in our public consciousness forever. Like OneRepublic the band, this music video does little to leave an initial impression, yet somehow creeps its way into your brain until you'd be willing to spend your life savings to Eternal Sunshine it out. But apparently few people share this opinion, or at the very least, nearly 3 billion people disagree with it!
9. Ed Sheeran - "Thinking Out Loud"
Views: 3.01 billion
Ed Sheeran, the shape-shifting Irishman who's wormed his way to the top of the charts, is a force in the music video department, with two videos on this list. Meaning, he's had almost as many views for two hits as there are human beings on Earth. He's known to make many fans swoon with his soft, romantic hits like this one, and here, he makes them fall even harder by showing off his ballroom dance skills.
8. Katy Perry - "Roar" (Official)
Views: 3.09 billion
"Roar" deserves major style points -- it boasts lush colors; tells a quick story with a clear beginning, middle, and end; and incorporates deliciously cheesy special effects. Unfolding like a kitschy '50s adventure film, and even fit with a troupe of live animals, it's peak quirky Katy.
7. Maroon 5 - "Sugar"
Views: 3.21 billion
Maroon 5 sure has drifted a long way from their Songs About Jane days. Now, Adam Levine and co. are the type with gimmicky videos like this one where they (kinda) terrorize as many weddings in LA as they can. Because this is a band that insists on making us all say the same thing as the woman at 3:20.
6. Justin Bieber - "Sorry" (PURPOSE : The Movement)
Views: 3.3 billion
Props to the ladies of ReQuest and the Royal Family -- these New Zealanders slay. No need for any Bieberflips here. Sometimes the best music videos really are just the ones that hone back to classic dance vids.
5. PSY - "GANGNAM STYLE(강남스타일) M/V"
Views: 3.65 billion
This T-Pain-endorsed piece of art is close to impossible to summarize, so instead, here's a quick list of the batshit stuff you'll see Psy do: He sunbathes, more or less, fully clothed. He dances for a bunch of horses. He makes two women walk with him through a garbage tornado. He rests his head on the shoulder of Sauna Man. He makes two people explode. He rides a carousel. While dancing. He crashes a yoga class. And he yells at a butt...?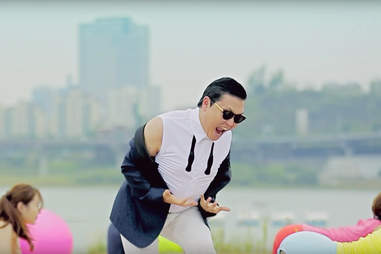 officialpsy/YouTube
Why did this cheesy descent into madness, directed by Cho Soo-hyun, bust YouTube's play counter and reign as the site's most popular video for almost five years? Maybe it has something to do with one of the things listed above. Or maybe it's because, as The Atlantic and countless others have dutifully pointed out over the years, "Gangnam Style" is a carefully crafted satire of South Korea's 1%. The song, and the visuals above, call out the country -- specifically, Seoul's posh Gangnam District -- for its unhealthy materialism. It's a smart, potent message, one not just applicable to South Korea. The way it's depicted is all mostly insane, and a little bit beautiful.
4. Mark Ronson feat. Bruno Mars - "Uptown Funk"
Views: 3.86 billion
The best part of this video is when Mark Ronson walks out of the pawn shop and finds Bruno Mars singing and doing a casual dance with his friends. At first, Ronson is curious, like, Hey, you guys dancing? I like to dance. Actually, I LOVE TO DANCE. Maybe I'll jump in here. But then Bruno Mars says, "Got Chucks on with Saint Laurent / Gotta kiss myself, I'm so pretty," and Gray Suit Guy, who probably just exchanged his Chucks for that dumb pair of brown dress shoes at the pawn shop, is like, Are you kidding me? It's a quick, subtle crisis, but a good one.

It may not be the most exciting vid, but it's kind of impossible to make it through this entire thing without tapping your foot or bopping your head. At least once. We recommend chasing this with Alex Boye's send-up, which comes with dancing grannies and a mobility scooter, if you bopped more than once.
3. Wiz Khalifa - "See You Again" ft. Charlie Puth [Official Video] Furious 7 Soundtrack
Views: 4.59 billion
This Paul Walker tribute, which briefly held the top spot, features an appropriate number of cars and nostalgic Brian O'Conner snippets. In other words, it is touching as hell. Have the tissue box handy, and consider dropping everything you have planned today so you can rewatch Brick Mansions and the entire Fast franchise as a proper show of respect. If you aren't choking up by the time Drake Bell and Andy Samberg's long-lost love child sings, "Let the light guide your way," while Paul, laughing and holding a beer, flashes across the screen, you are Miranda Priestly. You do not deserve this.
2. Ed Sheeran - "Shape of You" [Official Video]
Views: 4.82 billion
Punch! Punch, punch. Punch! Punch, punch. Punch! Punch, punch. Punch! Punch, punch. Before Ed Sheeran was a Game of Thrones guy, he got to live out every boxer's secret fantasy. That is, he found his soulmate, did a Rocky impression, and got his ass beat by a sumo wrestler. Good video.
1. Luis Fonsi - "Despacito" ft. Daddy Yankee
Views: 6.80 billion
Upon its January 2017 arrival, Fonsi's dance-inducing song quickly began breaking Vevo records, with Billboard pointing to the increasing popularity of streaming, especially in Latin America, as a major eyeball driver. It was simply bound to be king. In less than seven months, "Despacito" broke the 3 billion mark, a feat that took the old viral titan "Gangnam Style" seemingly forever to accomplish by comparison. In the process, "Despacito" showed off a number of arresting visual wonders that still have the power to make you say, Whoa!, today, including beautiful waves, colorful buildings, and the fact that Daddy Yankee stopped aging after "Gasolina."
Need help finding something to watch? Sign up here for our weekly Streamail newsletter to get streaming recommendations delivered straight to your inbox.