Shows and Movies to Watch if You Love 'American Horror Story' Season 6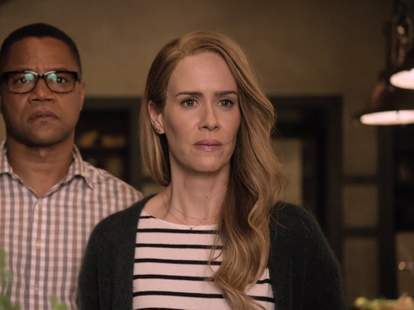 As this season of American Horror Story unfolds, more and more of Ryan Murphy's horror influences come into the sepia-toned light. And because we know you're always looking for more to watch, we're compiling recommendations inspired by Season 6 as a kind of rolling "continued reading" list. Here's what to check out if you want to scare yourself silly in the spirit of Roanoke.
Nightmare Next Door
American Horror Story's format draws from 30-plus years of true-crime documentary series, and the sensationalized reenactments of the genre are easy to parody. Investigation Discovery is the heir to the the talking-head murder-story throne. With shows like Disappeared, Deadly Woman, Unusual Suspects, Obsession: Dark Desires, and a pillar, Nightmare Next Door, which uncovers the "evil that can lurk just under the surface or in the heart of any tight-knit small-town community," ID's programming indulges the most morbid of curiosities. 
Where to watch: Stream all of ID's shows on Hulu
The [REC] series
There are moments of AHS Season 6 that are almost directly lifted from The Blair Witch Project, from an infestation of stick figures to Shelby's run through the woods to the "found footage" of Denis O'Hare wandering through an abandoned house. Recommending The Blair Witch Project is too obvious -- so check out the [REC] movies, first-person horror about characters quarantined in an infested apartment building. We recently named [REC] 2 one of the best horror movies of all time, so don't doubt us.
Where to watch: Rent on iTunes, Amazon, YouTube, and VOD
Deliverance
The city-folk-tormented-by-disgruntled-mountain-folk genre peaked in 1972, with The Exorcist II director John Boorman's grisly "vacation" movie. Jon Voight, Burt Reynolds, Ned Beatty, and Ronny Cox venture to rural Georgia for a canoe trip, only to find themselves plagued by nature and nature-dwellers.
Where to watch: Stream on Netflix; rent on iTunes, Amazon, YouTube, and VOD
The Witch
Will Kathy Bates turn out to be a cosplaying hillbilly or a puritanical psycho transported from the Lost Colony of Roanoke? We'll have to wait and see, but in the meantime, watch this moody slow-burn horror movie set in the early 17th century, when oppressive religion and witchcraft went hand in hand. If you think the animal-headed freaks on this season of AHS are spooky, wait until you meet Black Phillip, a Puritan family's goat who may or may not be the physical manifestation of Satan.
Where to watch: Stream on Amazon Video; rent on iTunes, Amazon, YouTube, and VOD
Jug Face
Isn't it the worst when you're born into a backwoods community that worships a pit in the ground, and one day they decide to sacrifice you to said pit? We've all been there. Jug Face stretches out American Horror Story's people-burning rituals into an entire movie, following a pregnant woman trying to escape such a sacrificial situation. The "Jug Faces" are creepy pots that bear a resemblance to people, and they will give you nightmares.
Where to watch: Stream on Shudder; rent on iTunes, Amazon, YouTube, and VOD
Helter Skelter
The Charles Manson narrative was a rumored theme for American Horror Story Season 6, though in Episode 2, Denis O'Hare's professor character name-checks Helter Skelter, the 1974 true-crime book chronicling the Mason Family murders, as a source of inspiration for his own investigation into the Roanoke house. So it may be a good idea to freshen up on Manson history by taking in the popular TV-movie adaptation from 1976. The movie is frighteningly accurate at times; sequences were filmed at actual crime scenes, and most of the dialogue in the court room material was taken from actual transcripts.
Where to watch: Rent on iTunes, Amazon Video
Motel Hell
If a B-movie madman adapted Grant Wood's American Gothic into a Texas Chainsaw Massacre-style thriller, it'd look something like Motel Hell, a 1980 horror movie so shlocky, they eventually slapped it with a "horror comedy" label. Farmer Vincent and his sister Ida live at a motel called "Motel Hello." The "O" doesn't work so well -- get it?? -- and neither do their social skills; anyone who rides up to the motel is stalked and planted in Vincent and Ida's garden. A scene where the farmer wields a chainsaw while dressed in a pig's head seems directly transported to Roanoke. 
Where to watch: Rent on iTunes, Amazon Video
Sign up here for our daily Thrillist email, and get your fix of the best in food/drink/fun.
Matt Patches is Thrillist's Entertainment editor. He previously wrote for Grantland, Esquire.com, Vulture,
The Hollywood Reporter
, and
The Guardian
. Find him on Twitter @misterpatches.