Book lovers have a lot to look forward to in 2018, as beloved titles from every aisle of the library are set to make a big impression on the box office and awards season. Franchises like The Maze Runner and Fifty Shades will wrap up, classics like Peter Rabbit and A Wrinkle In Time will make their mark, and a whole slew of biographies will craft this year's cinematic narrative.
Here's a rundown of every direct big-screen book adaptation hitting theaters this year. We're omitting comic book movies, films based merely on characters and not whole books, and TV movies -- although we can't wait for HBO's Fahrenheit 451 and PBS's Little Women.
Recommended Video
Here's Everything You Missed in the 'Deadpool 2' Trailer
Maze Runner: The Death Cure
Release date: January 26
Based on: The Maze Runner series, by James Dashner
This conclusion to the Maze Runner franchise will finally hit theaters on January 26; the production was delayed last year when actor Dylan O'Brien was severely injured on set, almost fatally so. The plot follows Thomas (O'Brien) and his group of "Gladers" as they break into the famed Last City, the final and most complicated maze yet.
Fifty Shades Freed
Release date: February 9
Based on: Fifty Shades Freed, by E.L. James
This final chapter in the Fifty Shades of Grey story is centered on Anastasia "Ana" Steele (Dakota Johnson) and Christian Grey (Jamie Dornan), who married in the last installment and must now contend with Ana's jealous boss and Christian's ex-lover Elena. James Foley returns as director.
Peter Rabbit
Release date: February 9
Based on: The Tale of Peter Rabbit, by Beatrix Potter
This CGI take on Potter's classic children's story stars Domhnall Gleeson as Thomas McGregor, an irritable farmer attempting to rid his vegetable garden of the troublemaking titular character and his critter friends. The film boasts an impressive cadre of voice actors, including Daisy Ridley, Margot Robbie, and James Corden as Peter.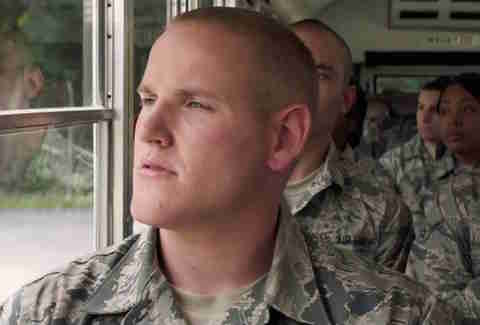 The 15:17 to Paris
Release date: February 9
Based on: The 15:17 to Paris: The True Story of a Terrorist, a Train, and Three American Heroes, by Jeffrey E. Stern, Spencer Stone, Anthony Sadler, and Alek Skarlatos
This story -- based on an autobiography about the 2015 Thalys train attack -- is directed by Clint Eastwood and stars Stone, Sadler, and Skarlatos in their real-life roles. For those unfamiliar, the attack happened on a train traveling from Amsterdam to Paris; near Belgium, a perpetrator opened fire on passengers, and stabbed one of them. (No one was killed, but four people, including the assailant, were injured.)
Every Day
Release date: February 23
Based on: Every Day, by David Levithan
Levithan's critically acclaimed 2012 YA novel follows 16-year-old Rhiannon and a soul named "A" who wakes each morning in a different body. The screenplay is by Jesse Andrews, who broke onto the scene with his novel Me and Earl and the Dying Girl, for which he also wrote the script. If that film is any indication, expect a quirky, touching story about the fragility of existence.
The War With Grandpa
Release date: February 23
Based on: The War With Grandpa, by Robert Kimmel Smith
This is not a follow-up to Dirty Grandpa; Robert De Niro gets into family mode with an adaptation of Kimmel Smith's children's novel, about a young boy who's forced to give up his bedroom to his grandfather and devises a series of pranks to get him to leave. But grandpa isn't so soft, and plots his own revenge. Tim Hill, known for his work on CGI animated films like Garfield: A Tale of Two Kitties and Alvin and the Chipmunks, will direct.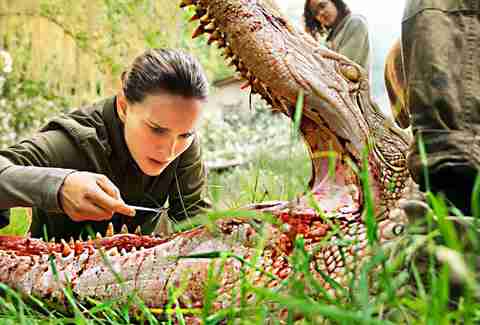 Annihilation
Release date: February 28
Based on: Annihilation, by Jeff VanderMeer
Alex Garland will follow up his android fable Ex Machina with this adaptation of VanderMeer's strange and speculative science-fiction novel, about a team of female scientists (led by Natalie Portman) who enter an environmental disaster area that exhibits several natural anomalies. The production made headlines in December when a clash between producers Scott Rudin and David Ellison arose after a poor test screening. Is the film actually bad, or was the test audience merely confused by what is admittedly a complicated, unusual story? That remains to be seen, but the speculation makes this one especially anticipated, especially given that it's the first of VanderMeer's lauded Southern Reach trilogy. 
Red Sparrow
Release date: March 2
Based on: Red Sparrow, by Jason Matthews
No, this isn't a Black Widow movie, although we can't blame you for seeing the similarities. The film focuses on a Russian ballerina and spy (Jennifer Lawrence) who falls for a CIA officer (Joel Edgerton) and considers becoming a double agent. Francis Lawrence -- who directed the last three Hunger Games flicks -- will reunite with that franchise's star for what looks like a sleek, sexy action film entry.
Death Wish
Release date: March 2
Based on: Death Wish, by Brian Garfield
Eli Roth directs this remake of the 1974 Charles Bronson-starring film, both of which are based on Garfield's 1972 novel. The story centers on a Chicago doctor (Bruce Willis) who becomes a vigilante after his wife is murdered and his daughter is attacked. Roth is best known for his gory horror films, so this is brand-new territory for him.
A Wrinkle in Time
Release date: March 9
Based on: A Wrinkle in Time, by Madeleine L'Engle
L'Engle's science fantasy novel is beloved, and expectations are high for this Ava DuVernay-directed YA film, which boasts an impressive cast that includes Oprah Winfrey, Reese Witherspoon, Mindy Kaling, and Chris Pine. The story follows a young girl (Storm Reid) who travels to a distant planet to retrieve her astrophysicist father, who's being held captive by a malevolent evil. If it's a hit, expect DuVernay to explode into franchise fare she's long deserved to helm.
Love, Simon
Release date: March 16
Based on: Simon vs. the Homo Sapiens Agenda, by Becky Albertalli
Love, Simon tells the story of a closeted high school boy's attempt to balance his life and reconcile with a fellow student who threatens to reveal his sexuality. Director Greg Berlanti is known for his television work on teen shows like Dawson's Creek, Supergirl, and Riverdale, so the property seems in good hands.
Ready Player One
Release date: March 30
Based on: Ready Player One, by Ernest Cline
Steven Spielberg is fresh off the critical success of The Post, but this follow-up project couldn't be more different. Based on Cline's dystopian sci-fi novel -- set primarily in a virtual reality game full of 1980s pop culture touchstones -- the film will unite the famed director with the era that made him famous. Cline's novel is controversial for its reliance on nostalgia, so it will be interesting to see how Spielberg mines his own influence on the material. If done deftly, this could be a major meta commentary on how we process the past.
The House of Tomorrow
Release date: April 8
Based on: The House of Tomorrow, by Peter Bognanni
Asa Butterfield stars as a young man who grew up in the protective enclave of a glass dome, who must enter the real world after his grandmother (Ellen Burstyn) suffers a stroke. The film -- which co-stars Alex Wolff and Judd Apatow's daughter, Maude -- premiered at festivals in 2017, but will go wide this spring.
Guernsey
Release date: April 20
Based on: The Guernsey Literary and Potato Peel Pie Society, by Mary Ann Shaffer and Annie Barrows
The original title of the novel is a mouthful, but at its center is the sweet story of a WWII-era author named Juliet who begins a correspondence with a man she's never met from the island of Guernsey. Through their letters, Juliet learns about the island, its inhabitants, and a secret society still reeling from the aftermath of German occupation. Lily James and Game of Thrones' Michiel Huisman star.
Where'd You Go, Bernadette
Release date: May 11
Based on: Where'd You Go, Bernadette, by Maria Semple
Richard Linklater directs this adaptation of Semple's bestselling novel of the same name, told from the POV of a teenage girl whose agoraphobic mother goes missing prior to a family trip to Antarctica. The film boasts an all-star cast, including Cate Blanchett as the titular mother, Kristen Wiig, Judy Greer, Billy Crudup, and Laurence Fishburne.
Crazy Rich Asians
Release date: August 17
Based on: Crazy Rich Asians, by Kevin Kwan
Fresh Off the Boat's Constance Wu stars as an American-born Chinese economics professor who accompanies her wealthy boyfriend to Singapore for his best friend's wedding and gets wrapped up in Asian high society. Kwan's novel was a smash hit, and the mostly Asian cast and director (Jon M. Chu) will make for a welcomely diverse awards contender this fall.
The Little Stranger
Release date: August 31
Based on: The Little Stranger, by Sarah Waters
Director Lenny Abrahamson will follow up his award-winning Room with this spooky ghost story. Domhnall Gleeson plays a doctor in 1947 England who treats a wealthy family living in a haunted country manor. The last film based on a Waters novel -- Park Chan-wook's The Handmaiden -- was a grand-slam, so expectations are high for this one.
The Darkest Minds
Release date: September 14
Based on: The Darkest Minds, by Alexandra Bracken
This live-action sci-fi thriller starring Amandla Stenberg, Mandy Moore, and Gwendoline Christie will be directed by Jennifer Yuh Nelson, who made her debut with Kung Fu Panda 2. The story follows a young girl named Ruby (Stenberg), one of the few American children to survive a mysterious disease, who emerges from a rehabilitation camp with super powers.
The House With a Clock in Its Walls
Release date: September 21
Based on: The House With a Clock in Its Walls, by John Bellairs
After March's Death Wish, Eli Roth comes out with this adaption of the famously spooky children's book written by Bellairs and illustrated by Edward Gorey. After a young boy moves into a strange house with an eternally ticking clock in its walls, he learns -- via his warlock uncle and witch neighbor -- that its cosmic alignment could ignite doomsday. Jack Black, Kyle MacLachlan, and Cate Blanchett star.
Boy Erased
Release date: September 28
Based on: Boy Erased: A Memoir, by Garrard Conley
Lucas Hedges is set to star in this adaptation of Conley's memoir, about a young gay man who's outed to his religious parents (Russell Crowe and Nicole Kidman) and is forced to attend a conversion program. Joel Edgerton directs and stars as the program's lead therapist. The rights to Conley's story led to a major bidding war between studios, with Focus Features ultimately winning out, so expect something pretty damn harrowing.  
First Man
Release date: October 12
Based on: First Man: The Life of Neil A. Armstrong, by James R. Hansen
Damien Chazelle won Best Director at last year's Oscars for La La Land; he'll reunite with that film's lead actor, Ryan Gosling, for this adaptation of Hansen's Neil Armstrong biography of the same name. Gosling stars as Armstrong, with The Crown actress Claire Foy as his wife Janet. It will follow Armstrong from 1961 to 1969, and depict his NASA mission to the moon, obviously. It remains to be seen how much jazz will be on the soundtrack.
The Girl in the Spider's Web
Release date: October 19
Based on: The Girl in the Spider's Web, by David Lagercrantz
Speaking of Claire Foy, she's set to take on the iconic role of Lisbeth Salander in this adaptation of Lagercrantz's novel, which is a continuation of late author Stieg Larsson's bestselling Millennium series. Fede Álvarez, best known for the Evil Dead remake and the horror flick Don't Breathe, will direct. Álvarez is Uruguayan, Foy is British, and the subject material is Swedish, so expect an excitingly unique take on a property previously tackled by David Fincher.
Mary Queen of Scots
Release date: November 2
Based on: Queen of Scots: The True Life of Mary Stuart, by John Guy
Saoirse Ronan and Margot Robbie are currently duking it out at awards for their respective roles in Lady Bird and I, Tonya, but they'll unite for this story about Scotland's infamous queen, who was beheaded at age 44 for attempting to assassinate rival Queen Elizabeth I. Ronan will play Mary and Robbie will play Elizabeth in the adaptation of Guy's biography. Let's hope award campaigns don't imitate art.
The Grinch
Release date: November 9
Based on: How the Grinch Stole Christmas!, by Dr. Seuss
This CGI adaptation of Seuss's famous children's book -- about the grumpy green Grinch and his hatred of Christmas -- will hit theaters this holiday season. Benedict Cumberbatch voices the titular goon, and the teaser poster recalls other Universal CGI flicks like Despicable Me. Who knows if that's a good thing, but Danny Elfman is scoring, so at least there's that.
Mortal Engines
Release date: December 14
Based on: Mortal Engines, by Philip Reeve
Christian Rivers will make his directorial debut with this adaptation of Reeve's sci-fi steampunk novel, about a futuristic London that functions as a giant machine. Rivers got his start as a storyboard artist on the Lord of the Rings films, and Peter Jackson and his writing team of Fran Walsh and Philippa Boyens are penning the screenplay, so expect a lot of New Zealand creativity going into this one.
Ophelia
Release date: TBD (premiered at Sundance)
Based on: Ophelia, by Lisa Klein
Daisy Ridley takes her first live-action leading role outside of the Star Wars franchise in this adaptation of Lisa Klein's novel, itself a reimagining of Shakespeare's Hamlet through the eyes of its tragic female lead. As a lady-in-waiting who enters a forbidden love affair with Hamlet, the Prince of Denmark, Ophelia follows its eponymous character's descent into madness after the kingdom begins to unravel.  
Monster
Release date: TBD (premiered at Sundance)
Based on: Monster, by Walter Dean Meyers
Walter Dean Meyers' acclaimed YA novel, about a young black man on trial for murder, is long overdue for a film version. The novel is even written in screenplay format. It's heavy subject mater that in the era of Black Lives Matter feels more potent than ever. Famed music director Anthony Mandler will make his feature film debut, with Kelvin Harrison Jr. in the lead role, and supporting turns from Jennifer Hudson, Jennifer Ehle, and Jeffrey Wright.
Sign up here for our daily Thrillist email and subscribe here for our YouTube channel to get your fix of the best in food/drink/fun.