Movies You'll Never Believe Were Based on Books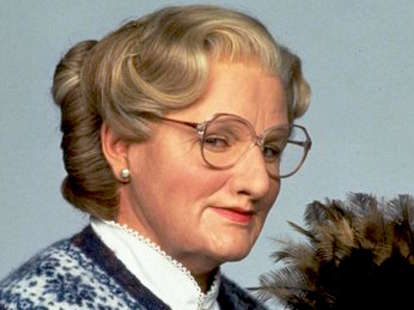 20th Century Fox
20th Century Fox
You've seen it on book covers, libraries, and CVS counter displays: "Now a Major Motion Picture!" In Hollywood, fiction and non-fiction books are the kindling that stokes production slates, acting as source material for everything from blockbuster franchises to indie darlings. You know this about your Hunger Games and your 007s, but many of the industry's ideas started on the bound page, even when it doesn't seem possible. Here are a few book-to-film adaptations that might surprise you.
Drive (2011)
Given that its screenplay has about sixty-two words, it might be hard to believe that Drive is based on a 2005 novel of the same name by James Sallis. Moreover, Drive was actually the first in a series. So you never know: the book's unimaginatively-titled 2012 sequel, Driven, might one day see the screen, Baby Gos zipping up his yellow jacket and picking up the hammer one more time. We can hope.
Pirates of the Caribbean: On Stranger Tides (2011)
Considering that the first entry of the franchise was based on an amusement park ride, it's even odder that Pirates 4 took its cues from an acclaimed novel. Tim Powers' On Stranger Tides is a cornerstone of pirate fiction and a book that has been nominated for multiple fantasy awards since it saw print in 1987. Sadly, all the sirens and Fountain of Youth shenanigans couldn't help the adaptation launch a new trilogy for ol' Jack 'Supporting-Character-Run-Amok' Sparrow. Disney went back to the drawing board for Pirates of the Caribbean: Dead Men Tell No Tales, due out in 2017.
Pitch Perfect (2012)
Aca-scuse me? That's right. Once you're done picking up the fragile remains of your psyche from the floor, you might want to check out Pitch Perfect: The Quest for Collegiate A Cappella Glory. This one isn't even a fictional; GQ Editor Mickey Rapkin investigated college singing competitions to cobble together his 2008 non-fiction book. However, please note that The Cup Song is a wholly fictional invention, which goes to show that Hollywood intervention sometimes makes things infinitely, magically, better.
Mrs. Doubtfire (1993)
Even this wacky sitcom story has its roots in literature. Written by Anne Fine, an English YA author, Alias Madame Doubtfire saw print six years prior to its classic, 1993 Robin Williams interpretation. And while the movie is heartwarming in all the right ways, we maintain that disgruntled-divorced-father-employs-extensive-cosmetics-to-fool-his-ex-wife-and-circumvent-the-law could also work as a gritty remake, à la Enough or The Boy Next Door, in which Jennifer Lopez ends up kicking his ass.

Jackie Brown (1997)
Tarantino's most underrated film was adapted from Rum Punch, a 1992 novel by pulp master Elmore Leonard. While Leonard isn't known for stretching beyond his established palette of double-crossings, shrewd female characters, and crooked lowlifes, Rum Punch is one of the author's tightest narratives. The dialogue sings on paper and on screen, as many of the the book's original exchanges remain intact. What more can a pulp/crime author hope for beyond Tarantino's seal of approval?
Sex Drive (2008)
If you don't remember Sex Drive, imagine your run-of-the-mill sex comedy... then stop there. Despite having the depth premise of a basement frat poster, the gross-out teen comedy is, in fact, a literary adaptation. Andy Behrens' All the Way served as an inspiration for this American Pie-ish coming of age story. Thanks to marketing wizards, you can pick up a copy of the book in rebranded, Sex Drive form.
The Birds (1963)
The original angry birds were not an over-referenced game app, but the villains of a novella by Daphe Du Maurier. Set on a farm, the inspiration for Alfred Hitchcock's masterpiece is very much a siege story, with the feathery onslaught being a nationwide phenomenon, attacking in waves. It's a fantastic piece of fiction, with even higher stakes given that these birds are strongly suggested to also feed on human flesh.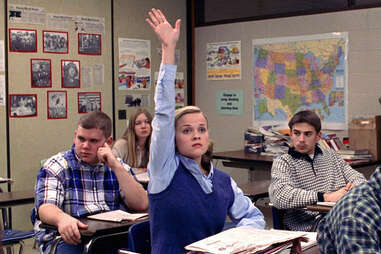 Election (1999)
The next time someone proclaims this comedy as the height of satire, you now have permission to one-up them with a condescending "I prefer the book." Tom Perrotta, whose novels also served as the basis for Little Children and HBO's The Leftovers, published Election in 1998. Although, it is hard to imagine that any amount of text could do justice to Tracy Flick as effectively as Reese Witherspoon's raised chin.
The Poseidon Adventure (1972)
Some concepts are so inherently visual and cinematic that it's hard to imagine them starting on a typewriter. But that was the case for The Poseidon Adventure, a novel by Paul Gallico that has been adapted no less than four times since its first edition printing in 1969. Yes, there was a disaster book about a capsized ocean liner and we were forced to read The Grapes of Wrath in school.
Sign up here for our daily Thrillist email, and get your fix of the best in food/drink/fun.

Ben Philippe is a writer and comic who splits his time between NYC and Montreal. He also got all the arguments for his A+ college paper on Wide Sargasso Sea from Sparknotes. (Sorry, Professor MacAdam.)