What to Watch if You Liked HBO's Slender Man Documentary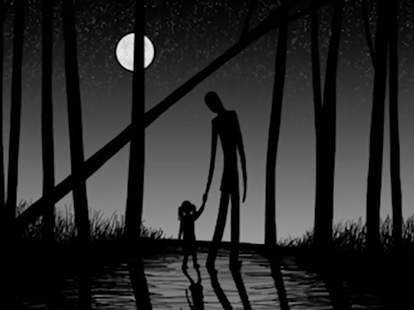 While it was appropriately fascinating and chilling, HBO's Beware the Slenderman is just one of the many urban legend- and true crime-inspired titles available for your viewing pleasure. What's a good chaser for Irene Taylor Brodsky's doc about the internet's worst nightmare? Try these other surreal and accessible options next.
Channel Zero: Candle Cove
Nick Antosca's Syfy anthology series is going to be a little bit like
American Horror Story
, just with more internet horror: Season 1, based on Kris Straub's
Candle Cove forum thread
, turned a local children's TV show into a nefarious force that exercised control over its viewers. Season 2,
set for sometime this year
, will tackle Brian Russell's "
NoEnd House
."
Where to watch:
Stream on Syfy.com
Cropsey
Directors Barbara Brancaccio and Joshua Zeman grew up terrified of an enduring Staten Island legend: an escaped mental patient said to kidnap careless kids and teens. In 1987, when a homeless man named
Andre Rand
(born Frank Rushan), who had worked as a janitor at the borough's
infamous Willowbrook State School
, was
seized
for the abduction of a 12-year-old girl with Down syndrome, the duo's bogeyman had apparently sprung to life. Join the filmmakers as they unravel the truth about "Cropsey" in this impressive -- yet unnerving -- venture to the past.
Where to watch:
Netflix
Eyes of the Mothman
"Glowing red eyes." "Tremendously big wingspan." "Some thought it might be the devil." This is how Matthew J. Pellowski's subjects describe the Mothman, a birdlike creature said to have been spotted throughout the 20th century in Point Pleasant, West Virginia. The doc clocks in at 155 minutes, cut into segments that include the curse of Chief Cornstalk, UFOs, Indrid Cold, and the collapse of the Silver Bridge -- in addition to the titular beast. Sounds like a lot, but
Eyes
earns its length with an admirable dedication to thoroughness, historical accuracy, and what the film critic Dan Schneider
praised
as "real investigative journalism."
Where to watch:
Rent on Amazon Video, YouTube, iTunes
The Imposter
Nicholas Barclay disappeared from his Texas home when he was 13 years old. Three years later, he resurfaced in Spain -- with a new eye color and accent to boot. Bart Layton's dramatized doc, a bizarre and haunting concoction, paints the portrait of an unbelievable con artist who nearly duped the world.
Where to watch: Netflix
Killer Legends
Urban legends "are really just warnings for something much more dangerous: the reality that may have started it all." So says Zeman in this Cropsey follow-up, filled with vignettes that pull back the curtains mystifying "The Hookman," "The Candyman," "The Babysitter and the Man Upstairs," and "The Killer Clown."
Where to watch: Netflix
Lizzie Borden Took an Ax
In 1892, Abby and Andrew Borden were found brutally slain in their Massachusetts home. Some claim the couple's killer was never identified; others believe Andrew's daughter, Lizzie, was to blame. In 2014, Lifetime took creative liberty with the still-unsolved case, enlisting Christina Ricci as the title character who's tried and acquitted of murder. If you enjoy the actress' twisted turn, Lifetime followed the movie with one season of
The Lizzie Borden Chronicles
, complete with eight more episodes of deliciously wicked speculative fiction. If not, Chloë Sevigny next takes a swing at the enduring mystery in Craig William Macneill's
Lizzie
.
Where to watch:
Netflix
Marble Hornets
Created by Troy Wagner and Joseph DeLage in 2009, this Slender Man-inspired web series boasts 446,370 subscribers and spans 92 snackable episodes. The saga begins with the found footage of a film student -- who abandoned a feature project three years earlier after encountering a mysterious humanoid dubbed "The Operator" -- but quickly morphs into an immersive marathon of paranoia. If you can't get enough,
Amazon
and
YouTube
tout a bigger-screen iteration.
Where to watch:
Stream on
YouTube
The Nightmare
Rodney Ascher's most recent essay documentary follows eight people, all coping with sleep paralysis. Their interviews seek to shed light on the very common and very freaky phenomenon, which immobilizes victims and causes some to have visual and auditory hallucinations. But shit gets beyond freaky when different subjects start describing similar visions: shadows with glowing red eyes, invading their bedrooms.
Where to watch: Netflix
Rats
Don't let the seemingly innocuous title fool you. Complete with larger-than-life interviewees, jaw-dropping close-ups, and facts you just don't want to hear, this Morgan Spurlock doc is as unsettling as any of the other entries on this list -- really, you'll never look at trash bags the same way again.
Where to watch: Netflix
Talhotblond
Not to be confused with Courteney Cox's TV movie of the same name, Barbara Schroeder's film recounts
the true story
of a 2000s-era cyber affair-turned-love triangle. It's a classic catfish doc, one whose tale gets grisly when the users behind the screen names "marinesniper" and "talhotblond" reveal their true identities.
Where to watch:
Rent on Amazon Video, YouTube, iTunes
Sign up here for our daily Thrillist email, and get your fix of the best in food/drink/fun.