10 Movies and TV Shows to Stream After 'Narcos'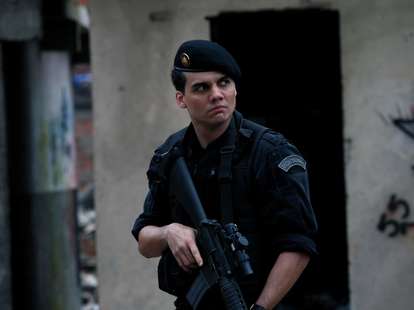 Wagner Moura in 'Elite Squad'

| The Weinstein Company
Wagner Moura in 'Elite Squad'

| The Weinstein Company
Still feeling down about the death of Pablo Escobar at the end of Narcos Season 2? We're here for you. Lucky for you, the best way to grieve Wagner Moura's departure from the show (which will come back for a new, Pablo-less season sometime next year) is to stream his likeness in something else.
Below, learn more about Moura's similarly minded film Elite Squad, plus nine more movies and TV series centered around drug cartels, commanding antiheroes, smarmy voice-overs, and in some cases all three. The best part? They're all available to stream ahora.
Beasts of No Nation (2015)
True Detective Season 1 director Cary Fukunaga's wartime drama is not a movie you put on in the background. Adapted from Uzodinma Iweala's novel of the same name, this visceral character study tracks a preadolescent Agu (Abraham Attah) after he's recruited to be a child soldier in an African civil war (its specifics are left purposely ambiguous). Lorded over by a gruff commander (Idris Elba), the movie is loud, tender, and violent -- a coming-of-age story in which the characters may not live to come of age.
Stream it on: Netflix
Bloodline
Coach Taylor's misadventures in the Florida Keys have received mixed reactions since their 2015 debut. If you can get past the on-the-nose bits of narration, you'll enjoy two seasons of fucked-up family drama that unspool like gripping slow-burns. Come for Season 1's trafficking subplot; stay for Ben Mendelsohn's tremendous acting.
Stream it on: Netflix
Cartel Land (2015)
Produced by The Hurt Locker and Zero Dark Thirty director Kathryn Bigelow, this cinematic documentary is like a real-life Sicario. Documentarian Matthew Heineman embedded himself in both a group of Arizona border-control vigilantes and a band of Mexican "Autodefensas," armed with only a camera and his instincts. The run-and-gun style and Heineman's jaw-dropping access will keep your heart pounding through this examination of the current War on Drugs.
Stream it on: Netflix
Close Range (2015)
In Scott Adkins we trust. Close Range is not a reasoned look at cartel activity, but its star is one of the toughest action heroes we have today, taking down AK-wielding bad guys and the corrupt American sheriff who enables them in a hunt for his kidnapped daughter. Adkins can often be found stampeding through the East in Americanized kung-fu movies. Here, he's busting up guys in cowboy hats -- our kind of Western.
Stream it on: Netflix
Elite Squad (2007)
Before spearheading Narcos, José Padilha directed Wagner Moura in this gritty police drama. Moura stars as the captain of Rio's Batalhão de Operações Policiais Especiais unit, a paramilitary force assigned to snuff out the growing gang population. Elite Squad's in-the-trenches action is so immersive, instinctual, and intense that we forgive Padilha for the big Hollywood break that came after; he's the guy behind the 2014 RoboCop remake (also on Netflix, if you're done with Narcos and our list and really have nothing to watch).
Stream it on: Netflix
Queen of the South (2016) and La Reina del Sur (2011)
If it's good enough for El Chapo, it's good enough for a post-Narcos binge: the Mexican telenovela that begat USA Network's dark English-language update is the real-life fugitive druglord's favorite. Seriously. In both versions, the series tracks Teresa Mendoza from dealer's girlfriend to queenpin in her own right after his sudden death; depending on whether you like your drug dramas soapy (the original) or gritty (the remake), one of these series will fit the bill. Both are frighteningly bloody and violent, feature Narcos-style voice-over narration, and allow lead actresses Kate del Castillo (Reina) and Alice Braga (Queen) to go from scared to scary in record time.
Stream it on: The last five episodes of Queen stream free on USANetwork.com; Reina is on Netflix in its entirety.
Scarface (1983)
Brian De Palma's Miami gangster epic isn't exactly aiming for realism. A wild-eyed Al Pacino plays Tony Montana, an ambitious Cuban immigrant with an affection for pinstriped suits, tommy guns, and large piles of cocaine, and the movie swirls around his excesses for almost three hours. With a script from Oliver Stone and a score by Italian synth innovator Giorgio Moroder, the movie is every bit as over-the-top and opulent as its dorm-room-poster reputation suggests, but Pacino manages to ground everything in "say hello to my little friend" swagger.
Stream it on: HBO Go
Traffic (2000)
Looking back, director Steven Soderbergh's ensemble drama about the drug war feels like it could be a Netflix show or an HBO limited series. With its multiple plot threads, impressive cast of movie stars, and ripped-from-the-headlines subject matter, the movie resembles many of the prestige TV standouts of the last few years. Like The Night Of, the movie itself was based on a British miniseries. But despite those small-screen trappings, it still works as a movie: Soderbergh bathes each section in a distinct color palette, Benicio Del Toro steals scenes with glee, and, perhaps most important, it's all over in a relatively crisp 147 minutes.
Stream it on: Amazon Prime
The Two Escobars (2010)
Pablo and Andrés: those are the two Escobars to whom the title refers. You already know the former pretty well; the latter was the (unrelated) leader of Colombia's national soccer team in the late '80s and early '90s. One of the better 30 for 30 documentaries, this ESPN original boasts stellar access, shedding light on Andrés' sketchy death, as well as the rise and fall of narco-fútbol, with impressive archival footage and interviews.
Stream it on: Netflix
Sign up here for our daily Thrillist email, and get your fix of the best in food/drink/fun.
Follow the Thrillist Entertainment editors on Twitter: @ThrillistEnt.