What the Premiere of 'Mr. Robot' Season 4 Means for the Show's End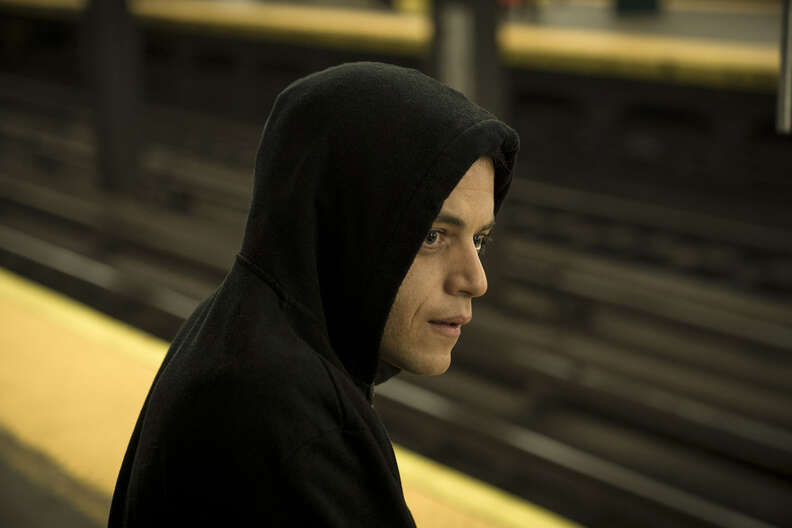 This story contains spoilers for the Season 4 premiere of Mr. Robot.
It's been two long years since the last season of Mr. Robot aired on USA, but if Sam Esmail's show has taught us anything, it's that patience is a virtue. The fourth and final season, which is set around Christmastime, begins with little holiday cheer in favor of more doom and gloom. Would you expect anything less from the almost gleefully bleak Mr. Robot?
The show returns with one of its most chilling openings to date, concretely establishing (with the death of a major character) that all bets are off. What does it all mean for the end of one of TV's most mind-bending shows?
The Season 4 premiere, "E for Vendetta," suggests that things aren't exactly looking up. The episode begins with the death of Angela Moss (Portia Doubleday), who's killed by the Dark Army immediately following Season 3's "Luke, I am your father" moment between her and E-Corp's CEO, Richard Price (Michael Cristofer). In the two-month time jump that brings the show into the holiday season, Elliot and Mr. Robot learn of her death, but Elliot keeps her sister, Darlene (Carly Chaikin), in the dark as she continues a drug-fueled search for Angela, hopelessly believing she's alive.
Elliot can't find it in himself to tell her the truth in her current state, but on Mr. Robot, death isn't always the end. The big twist at the end of the Season 4 premiere comes when Elliot apparently dies, only to be revived by Price and his goons -- a shock that teases an unexpected team-up for the rest of the final season. What these two mad geniuses could accomplish together should be entertaining as hell to witness.
They'll both want their revenge, but then again, we never truly know what game Price is playing. He's a drastically changed man at the start of Season 4; never before have we seen him so full of rage. What if Whiterose and her project can bring Angela back from the dead? Highly unlikely, but this show is nothing if not unpredictable -- and how exactly did Whiterose convince Angela it could be done?
Considering Sam Esmail and Mr. Robot try to avoid answering every question, we may never know. And while Angela's left the world of the living, she may not have left the show for good. Remember when Elliot's old friend and Allsafe's Gideon Goddard bit the bullet? Well, Gideon -- the nicest guy ever to grace the show with his presence -- has appeared numerous times on the series since his death. Even in "E for Vendetta," Joanna remains a presence who's actually missed, a surprise considering how diabolical she was.
While the question of how Price, Elliot, and Mr. Robot will or won't work together to go after Whiterose will likely dominate the narrative of Season 4, it's far from the only question dominating the final season. One broader conflict that remains: Save yourself or save the world? The whole idea of Elliot or F-Society fixing the world was tossed out the window, as Mr. Robot begrudgingly points out. So far, Elliot's mind is fighting a war against Whiterose, one fueled by a personal desire for revenge. Like the first and third seasons, the final installment already has a sense of urgency.
This "self vs. collective" theme plays out in FBI's Dominique DiPierro (Grace Gummer), a once honest and righteous field agent now in the palm of the Dark Army, who have destroyed her and forced her capitulation. In Dom's introductory shot this season, she looks like she's living in hell. She's on a sabbatical and living with her mom after the events of last season's finale, in which she was forced to become a pawn for the Dark Army. Soon, Dom will return to the FBI with a promotion, more power, and orders from the Dark Army. One of the many questions for Season 4, then, is: Will she succumb to their power? Will she flush all her beliefs and morals down the toilet in order to protect her family from death? Considering Mr. Robot is a show in which "the good guys" rarely come out on top, Dom's future doesn't look so hot. Then again, nobody on the show really has much reason for optimism.
Still, the final season of Mr. Robot will be all about what the odd couple of Elliot and Price can achieve, which is set up in dramatic fashion. After the credits roll and we think for a brief second Elliot might join Angela six feet under, he awakens to Price standing above him. The E-Corp CEO's motivation isn't crystal clear yet, but after the death of his daughter and Elliot's childhood friend, which sent Price out of control, maybe he really is finished kneeling before Whiterose. With his support, perhaps Elliot and Mr. Robot stand a fighting chance against Whiterose's Dark Army. Whoever wins the David vs. Goliath battle, one thing is for certain about the final season of Mr. Robot: It's going to be a bloody Christmas.