Two decades ago today, the first episode of Mr. Show with Bob and David premiered on HBO, kicking off America's love affair -- if only on a cult level -- with the comedy stylings of Bob Odenkirk and David Cross. But fans know that several other talented comedians whose names weren't in the title did fine work on the series. In an effort to help turn the tide on this comedic injustice, we've spotlighted five faces from the Mr. Show cast -- all of whom are back in the fold for Odenkirk and Cross's W/ Bob and David, which debuts Nov. 13th on Netflix -- whose work you've seen elsewhere since the HBO series wrapped in 1998, cherry-picked each actor's most overlooked film and TV roles, and spoke with a few of them about their favorite gigs between Mr. Show and W/ Bob and David. 
Recommended Video
'Last Week Tonight' Writer Josh Gondelman Takes Shots, Talks About Working For John Oliver
The Show vet: John Ennis
Most-beloved Show sketches: "Coupon: The Movie";"Burgundy Loaf / Frenchie Delivers"
Since Show went off the air... Depending on how much TV you watch nowadays, you may know Ennis best for the series of commercials he's been doing for Smith & Forge Hard Cider and Pur Water Filters, but his most high-profile motion-picture role was in David Fincher's Zodiac as handwriting-expert's apprentice Terry Pascoe, a part he scored after chatting up Fincher at the birthday party of Pixies frontman Frank Black (true story). But mostly, he's spent time on the small screen, including a recurring role on Malcolm in the Middle, regular voice-work gigs on Father of the Pride and Video Game High School, and a memorable appearance on Frasier. 
Post-Show role most worth checking out: From 2006-'07, Ennis was one of many actors who did time within the ensemble of Studio 60 on the Sunset Strip, Aaron Sorkin's much-vaunted follow-up to The West Wing that failed to find sufficiently steady footing. This is particularly unfortunate for fans of Ennis's alter-ego Denny, one of the fictional series' writers, as sophomore would have been quite a year for him.
"I thought Studio 60 was brilliant at the time," Ennis laments. "And I was looking forward to the second season that didn't happen. They'd said that there was going to be a flashback where I'd actually been the head writer, and they were going to explore that. But I walked away really impressed with Aaron Sorkin and the way he went about working with actors." 
The Show vet: Jay Johnston
Most-beloved Show sketches: "Vaunnie's Mustardayonnaise";"The Story of Everest"
Since Show went off the air... Johnston has become very much a "that guy" over the years, having turned up briefly in such high profile films as Bicentennial Man, Men in Black II, and Anchorman: The Legend of Ron Burgundy while splitting his TV time between acting, writing, and voiceover work, including stints on Moral Orel, Arrested Development, and Bob's Burgers.
Post-Show role most worth checking out: From 2007-'10, Johnston played the conveniently named Officer Jay on The Sarah Silverman Program, which is a pretty good run for a character who didn't even exist in the Comedy Central series'  original pitch.  "They had the character of Laura Silverman's boyfriend in the pilot as just sort of a one-off, a simple part, and they thought it would be funny if it was a cop, to make it the stereotype of the nurse and the cop, the perfect little couple," Johnston recants. "When I auditioned for the part, they kind of figured, 'Oh, we need somebody as the voice of reason, who goes, "Wait a minute, you can't say that shit!''' And it ended up being a very vital part of the show, as far as feeling like you're watching something that isn't completely cartoonish. Everybody else would be, like, 'Oh, Sarah,' or they'd kind of be in accordance with her, so it was good to have somebody say, 'Hey, you can't do that!'"
The Show vet: Jerry Minor
Most-beloved Show sketch: "Lifeboat"
Since Show went off the air... Minor may well have worked harder than any Mr. Show alumnus over the ensuing 20 years, yet he has somehow managed to remain under the radar, albeit one with some remarkable credits. In addition to writing for and performing on Saturday Night Live for a season, Minor was a series regular on ABC's Carpoolers and has made repeat appearances on Adult Swim's SuperNews!, Hulu's Hotwives of Orlando, and Netflix's Unbreakable Kimmy Schmidt, not to mention Arrested Development, Brickleberry, Community, Delocated, and Eastbound & Down.
Post-Show role most worth checking out: In 2006, Minor played Walter on Louis C.K.'s HBO series Lucky Louie, a warped, would-be conventional sitcom filmed before a live studio audience but featuring premium-cable language and content. Minor's role might not have been major, but as Louie's neighbor, he featured prominently in several storylines and earned his fair share of laughs on a series which seemed to be hitting its stride just as it was halted in its tracks.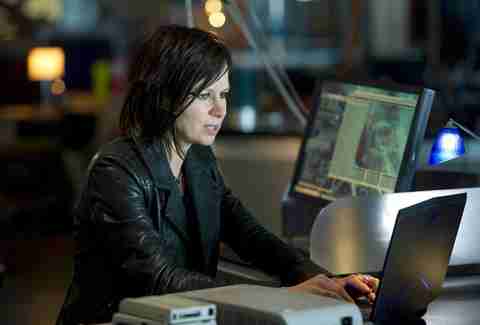 The Show vet: Mary Lynn Rajskub
Most-beloved Show sketches: "Rap: The Musical";"Sulu the Iguana"
Since Show went off the air... Rajskub's greatest post-Show success has been her work as Chloe O'Brien on FOX's 24, yet Rajskub has consistently kept at least a toe, if not full appendage, dipped into more eccentric projects, earning acclaim for her work in Todd Solondz's Storytelling and shocking a few folks with her portrayal of Manson family member and would-be presidential assassin Lynette "Squeaky" Fromme in the 2004 TV-movie adaptation of Helter Skelter.
Post-Show role most worth checking out: In 2002, Rajskub followed up on a small voice contribution to Paul Thomas Anderson's Magnolia by playing Adam Sandler's sister in Punch-Drunk Love. Although the film wasn't a major commercial success by Anderson's standards, let alone Sandler's, it remains a critical favorite.
The Show vet: Jill Talley
Most-beloved Show sketch: "Thrilling Miracles!"
Since Show went off the air... Of late, the majority of Talley's work has been in voice acting, including significant roles on American Dad!, Camp Lazlo, Trip Tank, and SpongeBob SquarePants, where she gets the added bonus of being able to work with her husband -- and fellow Mr. Show alumnus -- Tom Kenny, who voices the titular character himself. Meanwhile, on the live-action front, they may have been minor roles, but Talley and Kenny also appeared together in two of Bobcat Goldthwait's writer/director efforts: 2009's World's Greatest Dad (with the late Robin Williams) and '11's God Bless America.
Post-Show role most worth checking out: From 2005 through '14, Talley voiced Sarah Dubois (not to mention a few dozen other characters) on The Boondocks, which despite lengthy breaks between seasons, offered enough brilliance in its early seasons (i.e. when Aaron Magruder, mind behind the same-named comic strip Boondocks adapted, was still involved) to make the delays semi-palatable. 
"I got to do everything on that show," Talley recalls. "I had to play black women, and when you're the Caucasian in the room…" [Laughs] "It's tricky, because there's a part of me as an actor -- and as someone who's lost jobs now and then to a celebrity, like all actors do -- where you're really mindful of taking a job from someone else. And it is one of those things where you're, like, 'Gee, maybe somebody else should be doing this part. But I've worked with a lot of very talented black actors who play white people all the time on shows. It's one of the nice things about voiceover: You're totally not limited by your size, by your color, by anything."
Sign up here for our daily Thrillist email, and get your fix of the best in food/drink/fun.
Will Harris is a freelance pop culture journalist living in Chesapeake, Virginia. His favorite sketch comedy series don't always have the names "Bob" and "David" in the title, but it's certainly a plus. Follow him at @NonStopPop.