Watch Taylor Swift's Crazy, Zombie-Filled New Music Video From the MTV VMAs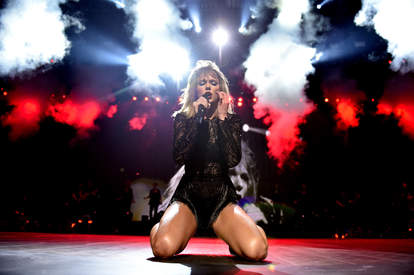 John Shearer/Getty Images
It's here. During tonight's VMAs, MTV debuted the music video for "Look What You Made Me Do," the first single off Taylor Swift's next album, Reputation. And while T-Swift and host Katy Perry didn't spill any bad blood on site -- Swift never showed -- the visuals featured plenty of material to irk KatyCats and other haters.
As you watch, you'll see:
Zombie Swift
Nils Sjoberg's tombstone
a $1 bill
a Run the Jewels nod
tea
papparazzi 
cat imagery (a Perry hallmark)
a shot of Swift sporting a distinctly Katy-esque hairstyle while crashing a luxury car
references to Kanye's still-happening fashion career
I <3 TS shirts
and... lots of different Taylors
Since its release a few days ago, "Look What You Made Me Do" has been dissected as the latest entry in at least two long-running beefs: Swift versus Kimye; and Swift versus Perry. Some see "I don't like your little games / Don't like your tilted stage" as a reference to the stage Yeezy used on his Saint Pablo tour. Others wonder if it's an allusion to the back-up dancer drama that started the rift between Swift and Perry in 2013. So on and so forth with multiple of the song's open-ended lyrics (see also: "You asked me for a place to sleep / Locked me out and threw a feast"; "The world moves on, another day, another drama, drama / But not for me, not for me, all I think about is karma"; and "I don't like your perfect crime / How you laugh when you lie").
Outside the words, Swift teased "LWYMMD" with snake imagery, her way of weaponizing the #TaylorSwiftIsASnake hashtag that became popular after the singer-songwriter claimed credit for Calvin Harris' hit "This Is What You Came For," and then, in an unrelated turn of events, got into a public spat with Kanye and Kim Kardashian West for denying approval of the rapper's infamous lyrics in "Famous."
"You cannot 'approve' a song you haven't heard," Swift said at the time. "Being falsely painted as a liar when I was never given the full story or played any part of the song is character assassination. I would very much like to be excluded from this narrative, one that I have never asked to be a part of, since 2009."
The Kanye drama started that year after he stormed the stage at the VMAs and interrupted Swift's acceptance speech for Best Female Video. By picking the VMAs as the venue for her music vid premiere, Swift has winked at her history with the award show and poured salt in the wounds of her other rival, this year's host, Katy Perry.
Recently, that feud -- which will hopefully be turned into a season of TV on FX when Ryan Murphy has a chance -- has seen Perry drop the music video for "Swish Swish," only to be one-upped by Swift's surprise album-release announcement and record-breaking single drop. 
(For the record: Perry has confirmed that her song, the third single off Witness, was a response to "Bad Blood." "[Taylor] writes a song about me," she told James Corden during a recent "Carpool Karaoke" segment. "I'm like, OK, cool, cool, cool -- that's how you wanna deal with it? Karma!")
It's clear the former country singer is doubling down on the darker, more vindictive persona she conjured with "Blank Space." As the telephone skit near the end of "LWYMMD" explains:
"I'm sorry, the old Taylor can't come to the phone right now. Why? Oh, 'cause she's dead!"
Think of this vid, with all its undead imagery, as a step toward character resuscitation. Or some sort of reinvention. If the final scene of the "LWYMMD" video is any indication, with T-Swift's personae standing in a line arguing with each other, the "new" Taylor wants you to know she's more self-aware.
Sign up here for our daily Thrillist email and subscribe here for our YouTube channel to get your fix of the best in food/drink/fun.