Weird Musical Theater Compilations on YouTube Are My Therapy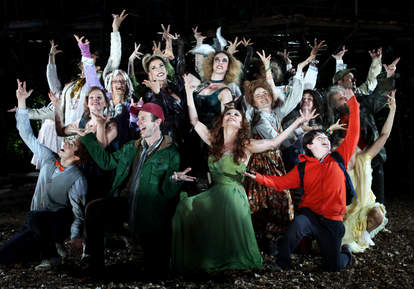 Look, we're in weird times, where people are desperate for comfort. For some (like my colleague Emma Stefansky) comfort looks like YouTube videos of people building elaborate aquariums. For me, it's videos of people screeching very specific lines from showtunes. I'm not even sure how to easily define these videos, which began cropping up sometime around 2017. The easiest way to search for them is "musical theater compilation," but that doesn't even really begin to define their strange delights.
The best versions focus on idiosyncratic moments from songs that performers are at will to interpret in a number of different ways. The clips contained within are pure, unhinged theatricality. Some come from professional productions, others from amateur or high school performances. Occasionally the choices are deranged, but the videos aren't mocking in intent. The pleasure of watching them is knowing that every single theater kid -- myself included -- has at some point in time made an aggressively overenthusiastic decision on stage.
The most iconic entry into this canon, the one that I believe started it all and ignited the Broadway World message board, goes by the name "Courtney, Take Your Break." That command is a lyric from "Omigod You Guys," the (already incredibly silly) opening number of Legally Blonde The Musical. In context, Elle Woods has gone to a store to look for a dress to wear to a date that she's sure will end in a proposal. One salesgirl attempts to up-sell her on a dress, but being the savvy soon-to-be lawyer she is, Elle sees right through that. (Mind you, everything is being sung.) Soon another salesgirl swoops in to show Elle the perfect ensemble and demand of her colleague, "Courtney, take your break." Look, it's a hard moment to make work even if you're a seasoned chorus member. The whole bit is a mouthful! Still, it's both hilarious and almost downright inspiring to watch girls try to make the most of their big moment. They are trying so hard. (Side note: A great SNL sketch was inspired by one of these junior Legally Blonde productions, but its been scrubbed from the show's official YouTube.)
But this is just a starting point. One that hits close to home is this complication of women doing the "Star to Be" solo from the Annie number "NYC." (I played Lily St. Regis in my middle school production of the show. It is to this day one of my proudest moments and I shudder to think about how it could have been memorialized on YouTube if YouTube had existed back then.) The "Star to Be" is an odd part in that it necessitates impressive vocals -- Sutton Foster played her on Broadway at one point -- but is a tiny part so sometimes the, uh, skill level of the performer doesn't match what is required of her. But once again the video is most charming when it's just about people making do with what they have. The "Star to Be" is supposed to sing, "NYC/Just got here this morning/Three bucks, two bags, one me." So what do you do when you only have one bag at your disposal? Watch this video to find out.
There are two perfect compilations inspired by Stephen Sondheim's Into the Woods. In one, actresses playing the Baker's Wife belt out the pun "it justifies the beans" from "Maybe They're Magic," while a parade of misshapen cow props or people in cow costumes stand watch. In the other, a series of witches scream their way through the "boom crunch" at the end end of "Last Midnight." (Props to that uploader for adding in footage of Meryl Streep in the movie version and the goddess Bernadette Peters from the original production.) 
More examples? A gaggle of girls playing Sally Brown in the Peanuts musical You're a Good Man, Charlie Brown putting their spins on, "Oh yeah? That's what you think!" A bunch of Jo Marchs from the musical version of Little Women exclaiming "Christopher Columbus" with varying degrees of enthusiasm. A coterie of Maureens in Rent asking with vigor, "Don't you want your girl hot?" And there are even more if you go visit this delightful Facebook page.
As someone who has been steeped in musical theater for basically the entirety of my life, these little bits of dialogue mean a lot to me, and I'm sure some of you reading this who are maybe not as obsessed are, frankly, confused. But just give these compilations a try. They are almost like ASMR. And while it would be easy to assume that they highlight the worst of musical theater, they actually highlight the best. Sure, not all of the singing is technically "good," but who really cares? And until I can back into an actual theater and see a show, these (plus repeated viewings of my favorite Tony performances) will have to do.
Need help finding something to watch? Sign up here for our weekly Streamail newsletter to get streaming recommendations delivered straight to your inbox.