I Want to See You Be Brave: Musicians Who Played Over the Critics
The music industry isn't exactly known for taking risks. Critics often shoot down unfamiliar sounds and labels constantly err on the side of caution to defend profits. Luckily for us, the actual music fans, the musicians themselves are often more free thinking. Obviously, artists who go against the grain musically end up making the most original music. But it's more than that. Plenty of creators upend both critical opinion and the business of making music, sticking to their principles both onstage and off. These are some of the musicians who refused to cave to the critics and changed the industry as a result.
Amanda Palmer blows up Kickstarter
It makes sense that starting out as a "living statue" street performer set Amanda Palmer up for a career spent maintaining her position. Her first band, the Dresden Dolls, made a cult following out of doing public shows, asking local performers to join the shows, and couch surfing with fans.
Despite this grassroots success, her record label was critical of their musical style, a quirky blend of punk and cabaret sounds. After their first album sold 25,000 copies and the label made some unwelcome suggestions about Palmer's body, the relationship became strained. Palmer penned a song about a perceived lack of promotion, "Please Drop Me," and got her wish.
She then decided to use her dedicated fan base to her advantage, raising money for a new album exclusively on Kickstarter. Asking for $100k, she received an outpouring of support, reaching almost $1.2 million in funding. At the time, it was the largest musical project funded on the platform, and set a new business model for how bands could make money. Theatre Is Evil debuted at the ten spot on the Billboard 200, and earned exorbitantly high praise from critics and other musicians, such as Ben Folds, who said "This record is as good as it gets. You're going to s--- when you hear it. It's going to be around for ages."
Advertisement
Courtesy of Bai
Bai brings flavor to your taste buds without compromise. And now Bai's celebrating musicians who make magic happen in your earbuds -- without compromise. Here are the stories of three artists who always stay true to themselves and refuse to sacrifice.
INDUSTRY INNOVATORS
Radiohead puts its trust in fans
Despite being one of the world's most successful bands, Radiohead was free of any major label constraints while creating the album In Rainbows. The band saw it as an opportunity to experiment with their sound… but also their distribution. They created a website where customers could pay what they wanted, even $0. The decision was mocked by music journalists, and Forbes named the saga one of the "101 Dumbest Moments in Business."
Was it, though? In Rainbows entered the Billboard charts at #1, sold millions worldwide, and made more money from just the online release than their previous album. Physical sales of the album still reached #1 the week of its debut. Although Radiohead never repeated the direct sales method, it proved to the industry that "pay what you want" could be profitable, and several artists use the model on sites such as Bandcamp.
Andrea Friedrich / Getty
Vulfpeck copyrights silence
New technology allows bands to monetize their music in new ways, but what about monetizing… nothing? This was minimalist funk band Vulfpeck's solution to "The Spotify Problem" -- being paid a fraction of a penny for each play of a song. As a tongue-in-cheek counter to Spotify's business model, Vulfpeck decided to put out the most avant-garde album they could: 10 tracks of pure silence, that fans could stream while they slept. Each track was just over 30 seconds in length, crossing the threshold for Spotify to count it as one played song.
By the time Spotify took the "album" down, the band had made more than $20k in royalties and attracted plenty of media attention. This money was then used to play a tour of free shows across the country, which (along with their new press) allowed them to grow their fanbase organically.
Matt Winkelmeyer / Getty
UNCOMPROMISING VISIONARIES
Sara Bareilles isn't going to write you a "Love Song"
Is there any better example of industry rebellion-turned-success than Sara Bareilles' "Love Song"? After a series of bad co-writing sessions organized by her record label, Bareilles felt at a creative standstill. Feeling inauthentic and seeing her songs repeatedly rejected by the label, she returned to the rehearsal studio and penned "Love Song," a rejection of mass-produced pop. Pouring her frustrations out in the studio, she told MTV the song "basically wrote itself. It's totally honest, and I'm very lucky the label liked it as well." The song was a sleeper hit, eventually reaching over 4 million sales and making Bareilles a newfound star. After producing two more successful albums, Bareilles parlayed her talent into other areas, writing a book about her life as a songwriter and scoring the musical Waitress, which she would eventually go on to star in.
Spose can't get there from here
The Maine-based rapper was an unlikely hit, breaking through with his 2010 track "I'm Awesome." Getting signed to a label was his dream, but he soon found out they had separate visions for his music. The label was pushing him in a more commercial direction, while Spose (real name Ryan Peters) wanted to keep his quirky, comedic-yet-serious persona alive. After producing an entire album for Universal records, they declined to release it completely. Rather than compromise, he returned to Maine and became more creative than ever. One of his experiments was to gather 50 musicians and producers in a studio to create an album (that didn't suck) from scratch in 24 hours. His most recent album was released in advance as a mobile game where you travel through Maine, unlock songs, and eventually fight the governor.
Chance the Rapper makes Grammy history
What do you do when Kanye West asks you to sign to his label? If it's 2016, and you say anything other than "immediately accept," you might just be Chance the Rapper. He turned down a chance to sign on with West's GOOD Music label, preferring to stay independent. (Bet that decision would be looking pretty good in 2018 even if his career had stopped right there.) Chance's rise to stardom took an unconventional path, as he would only release music through free mix tapes, rather than selling albums. This approach was considered unsustainable for a variety of reasons, one of which being that non-physical albums were not eligible for Grammy consideration. But by the release of Chance's 3rd mixtape, Coloring Book, his talent (and the direction of the industry) was undeniable, and Coloring Book won three Grammys, the first streaming-only album to ever do so.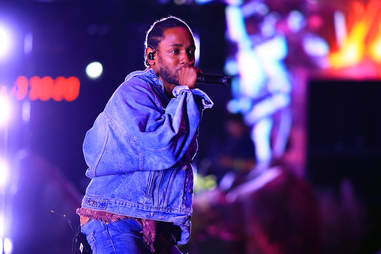 Christopher Polk / Getty
Kendrick Lamar wins a Pulitzer -- DAMN.
In 2014, Kendrick Lamar was nominated for seven Grammys. By the end of the night, he had won exactly zero. The Best Rap Album award going to Macklemore felt like a particularly egregious snub, with commentators calling it a win for radio-friendly pop rap. (Not for nothing, Macklemore posted a message saying he felt that Lamar had been snubbed.)
While he could've embraced the commercial-friendly route, Lamar returned to the studio and emerged with To Pimp A Butterfly, an unapologetically political album with elements of jazz and funk. Winning two Grammys with TPAB, he followed it up with 2017's DAMN., another conscious album that specifically addressed the weight and nuance of African-American experiences. In addition to five Grammy wins, it was announced this year that DAMN. had won the Pulitzer Prize for music, vindicating his creative vision of addressing real issues in his songs.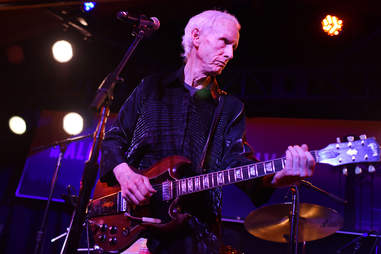 ROBYN BECK / Getty
DEFIANT PRANKSTERS
The Doors on Ed Sullivan
Of course, sticking to your vision can come in more creative ways, such as during The Doors' performance on Ed Sullivan in 1967. At the time, a good late-night appearance could make or break a band, so the stakes were high. After rehearsal for the night, Sullivan appeared in the band's dressing room and told them, "You ought to smile a little more," which didn't sit well with Jim Morrison. When a producer asked them to change the chorus of "Light My Fire" to "Girl, we couldn't get much better," it was too much for Morrison.
The Doors appeared, stone-faced and unsmiling, and sang the lyrics as they were originally written. The producers were not amused, and refused to book the band again on the show. Morrison's response? "Hey, man, we just did the Sullivan show."
Muse Swapping Instruments
While changing lyrics for TV might be bad, lip synching is a true musical sin. That's why in 2009, after being asked to lip-synch for an Italian TV appearance, Muse decided to swap instruments, putting frontman Matt Bellamy on drums and drummer Dominic Howard on guitar. They pretended to play their instruments, albeit poorly, with Bellamy missing beats to wave to the audience. Although the interviewer and audience seemed unaware that anything had taken place, Muse had the last laugh when true fans watched the prank on air.