'My Big Fat Greek Wedding' Was the Biggest Rom-Com Ever. Then What?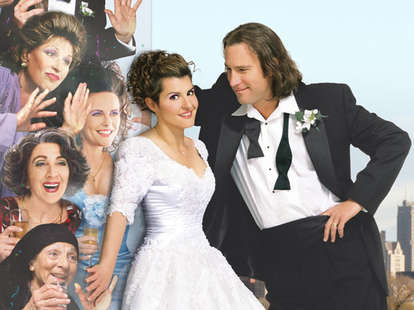 Playtone
Playtone
It's unlikely that my My Big Fat Greek Wedding 2 will defeat Batman v Superman at the box office this weekend. But if the power of Windex, feta, and family eventually triumphs over our favorite dueling superheroes, I wouldn't be surprised, because almost nothing about My Big Fat Greek Wedding has followed the standard Hollywood script.
Despite being made for a meager $5 million with a largely unknown cast and none of the traditional blockbuster hallmarks (violence, special effects, caped crusaders), 2002's My Big Fat Greek Wedding went on to earn $360 million domestically, making it -- by some metrics -- both the most successful rom-com ever and the most successful independent movie of all time. In terms of return on investment, it is also one of the most profitable movies ever.
So why didn't it leave a more lasting legacy? Here's a look at what happened after Nia Vardalos' little indie became a big fat phenomenon.
How in Aristotle's name did it get so big?
As FiveThirtyEight points out, My Big Fat Greek Wedding went "viral" before virality was even a thing. While most Hollywood movies' trajectories appear as a steep climb followed by a plateau when graphed, the success of MBFGW looks like "the front half of a boa constrictor that swallowed an elephant."
While most films last in theaters for about 12 weekends, MBFGW stuck around for a whopping 50, thanks to good old word-of-mouth momentum. Much like earlier sleeper hits Life Is Beautiful and The Blair Witch Project and successor Napoleon Dynamite, no big marketing budget was necessary: people simply liked the movie and told their friends about it.

Did it change anything?
Other than spiking Windex sales, not exactly. My Big Fat Greek Wedding's showcase of strong female characters and niche immigrant experiences are hardly typical for blockbusters, even 14 years later. Vardalos struggled to get the project green-lit, with Hollywood execs imploring her to cast a big-name actress or make the characters Italian. And despite her minority success story, the movie landscape remains overwhelmingly homogenous (read: white and male).
However, as Vanity Fair points out, at least the film heralded the end of the big studio rom-com (starring A-listers like Tom Hanks or Julia Roberts) and ushered in the age of the indie rom-com. Wrote Kate Erbland, "what might have looked like an outlier in 2002 was instead a harbinger of things to come, as the romantic comedy no longer belongs to the studio system -- it's gone indie, and it's threatening to stay that way."
Remember Nia Vardalos' other movies?
After MBFGW's runaway success, Vardalos wrote and starred in a number of other comedies, including Connie and Carla with Toni Collette; a rom-com set amid the Greek ruins, aptly named My Life in Ruins; and I Hate Valentine's Day, which reunited Vardalos with Wedding beau John Corbett. If you don't exactly have fond memories of these films, it's not your fault -- every post-MBFGW film project has been a critical and financial flop, with not a single one of Vardalos's follow-ups garnering a "fresh" rating on Rotten Tomatoes.

What about John Corbett?
Corbett has kept up a steady career since My Big Fat Greek Wedding, including reprising his role as Aidan in Sex and the City 2, recurring roles on shows like United States of Tara and Parenthood, and a number of feature films -- although none even came close to MBFGW's success. Most recently, he was seen in romantic thriller The Boy Next Door, opposite Jennifer Lopez.
And what happened to the TV show?
In 2003, Vardalos, along with My Big Fat Greek Wedding producers Tom Hanks and his wife, Rita Wilson, executive-produced a CBS sitcom called My Big Fat Greek Life. Vardalos starred (though her character's name was changed to Nia) and Steven Eckholdt subbed in for Corbett. Alas, the show's trajectory turned out to be the opposite of the film's: despite having the highest-rated network premiere of any sitcom in the five years that preceded it, ratings quickly tanked and the show was canceled. Smart move staying out of this one, Corbett.

Did people make a bunch of Big Fat knockoffs?
You betcha! Greek Wedding kicked off a trend of putting "My Big Fat" in front of many titles, mostly a bunch of bad reality-TV shows (My Big Fat Asian Wedding, My Big Fat Obnoxious Fiancé, My Big Fat Gypsy Wedding, My Big Fat Geek Wedding, My Big Fat Fabulous Life, My Big Fat Revenge, My Big Fat Independent Movie, et al.).
Why did it take 14 years to make a sequel?
While there was obvious interest in one back in 2002, Nia Vardalos wanted to wait until she had a baby herself to depict what motherhood was like onscreen. Unfortunately, Vardalos was unable to conceive and struggled through 13 IVF treatments and a number of miscarriages, which she detailed in the book Instant Mom. "It would have been impossible for me to write a story about motherhood without having experienced it," she explained to Britain's You Magazine. In 2008, she and her husband adopted a 3-year-old girl named Ilaria.
Is the new film any good?
With a 21% approval rating on Rotten Tomatoes, it looks like Vardalos is slated for another critical disappointment. Then again, the original only got middling reviews and still broke the box office, so the film may still get plenty of butts in seats this weekend. Batman v Superman v Toula Portokalos? It's on!

Sign up here for our daily Thrillist email, and get your fix of the best in food/drink/fun.
Anna Silman is a staff writer at Thrillist Entertainment, and she still thinks Carrie should have picked Aidan over Big. Find her on Twitter: @annaesilman.