How Ferrante Fever Has Spread Via HBO's 'My Brilliant Friend' Adaptation
The HBO series has created a new set of fans for Ferrante's bestselling novels.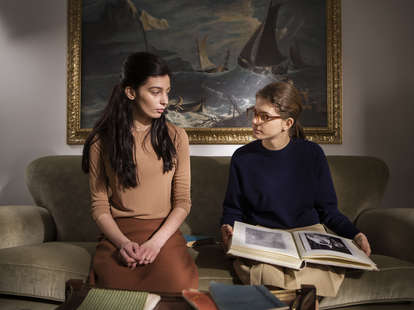 'My Brilliant Friend: The Story of a New Name'

| Eduardo Castaldo/HBO
'My Brilliant Friend: The Story of a New Name'

| Eduardo Castaldo/HBO
When people become fans of Elena Ferrante's work, it's classically been because of her books. More commonly known as The Neapolitan Novels, the four-part series was first published in Italy between 2012 and 2015, written by "Elena Ferrante," a controversial pseudonym -- the author's identity has never been officially revealed, though that hasn't stopped sleuths from trying. The books have been so popular they've earned their own fanatic moniker: Ferrante Fever.
But a different kind of Ferrante Fever has recently captured fans: those who haven't found her stories by page but by screen. The series is called My Brilliant Friend, named for and categorically following the eponymous first novel of the book series, premiering in 2018 on RAI (Radiotelevisione italiana) in Italy and HBO a month later. Its second season, which just aired its US finale on May 4, is more dynamic and arguably more exciting -- specifically for those who haven't read the books. However, the second season premiered at an interesting time: February 2020 on RAI and March 2020 on HBO, in tandem with coronavirus quarantines across the world.
Some fans toe the line of both fandoms, coming to the books first then the show. Others discovered the series first and have been strict followers of the series and only the series, while some -- including cast members of the show -- were series first and books second or books even simultaneously. There are no boundaries for spreading Ferrante Fever.
Caleb Potts, who's 23 and lives in Montana, says he didn't know about the books until he started watching the series, which he discovered in a trailer online. "Once I finished the first season, I looked into the books, but ultimately decided not to read them because I didn't want to spoil the future seasons of the show for myself, because I really like the way the TV series portrays the story," he says.
Meanwhile, Sonam Khan, who's 35 and lives in Hyderabad, India, but got stuck in Dubai during quarantine, says it's been ages since she liked a show this month and that she can't wait to read the books so she can find out what happens next.
The fandom over the show is akin to the fandom over the novels -- and with good reason. Though many subscribe to a books-are-better-than-almost-every-adaptation mentality, My Brilliant Friend brings to screen what rarely happens with adaptations, whether in show or film form. The novels' essence on page is captured in the series in big and small details, for which we have writer and director Saverio Costanzo to thank. Costanzo, who directs the series with Alice Rohrwacher, has a long history with Ferrante. He tried to buy the rights for her third book, The Lost Daughter, which was published in 2006. "She offered me the rights for free and just said, 'Try to write a film out of the book and we'll see,'" Costanzo says. But after working on a script, he couldn't find a way to make it work so he wrote Ferrante and thanked her for being open to working with him. Then she disappeared.
"We know that Elena Ferrante likes to disappear, and after 8 or 9 years, I received a phone call from the publisher that she pointed to me among other names to be the director and writer of My Brilliant Friend," he says. "I've been a big fan of her work since her first book and by that time, I'd read My Brilliant Friend. I thought it was a huge project that was very hard. But I was very much in love with the story and the characters so I said, 'I'll do it.'"
Though Costanzo felt close to the material, he knew it'd have to change to be adapted into a new medium. He works closely with Ferrante, who's a credited writer on the show, along with Laura Paolucci and Francesco Piccolo to create the screenplay from the books.
"The way we work is actually to follow the book as much as possible, so we use everything we have," he says. "As a writer and director in this case, I try to save the heart of the book but knowing that something for sure has to change and accepting that."
The show's stars approached the series differently. Gaia Girace, who plays Lila Cerullo, wasn't aware of the books before joining the project. "During the course of the auditions, I read the first book and before shooting Season 2, I read the second one. Alba Rohrwacher [who narrates the series] advised me to do so," Girace says. "Many people stressed the differences, which need to exist for film purposes, but all confirmed the loyalty to the books. The story was not distorted."
Margherita Mazzucco, who plays Elena Greco, had a similar experience. "I didn't know Ferrante's books before My Brilliant Friend but I started reading them after my second audition," she says. "I liked them so much that I finished them all in a week!"
On set, Mazzucco says, the cast would often read passages of the book that referred to the scene of the day, which helped the actors get a more complete idea of ​​what they were about to interpret.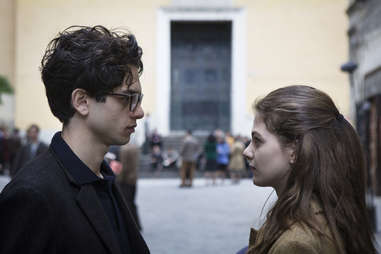 Francesco Serpico, who plays heartthrob and heartbreaker Nino Sarratore, heard of the books before the audition but hadn't read them. Before his callback audition he called his grandmother Giovina, who'd read the series, for her opinion on the character. While he approached the book in some ways, he didn't read them fully and used the book only to help with his specific role.
"I preferred to leave many parts of the book that did not concern my character unknown, in order to enjoy the airing of the series even as an 'unsuspecting spectator," he says. "But especially during the most complex scenes I relied on the book, trying to consider them before and after each step. As Saverio says: 'for each scene you have to understand where you come from and where you are going.'"
The dedication the actors, writers and directors have put into the series shows, even more so to those familiar with Italian and Neapolitan culture. Tiago Pedro, who's 31 and lives in Nadadouro, Portugal, lived in Naples last year, where he picked up some of the dialect spoken and often referenced in the show (and books). "I need subtitles but sometimes I recognize some Neapolitan and I smile and say, 'I know that word,'" he says.
Danielle Oteri, a 42-year-old Italian American who lives in New York City, founded a five-day Ferrante-inspired tour of Naples and published a book about it. She's found the series incredibly rewarding as an extension of the novels.
"When the books came along and people became so curious about Naples, it was like: finally, you've arrived! And I felt like knowing Naples, I had a deeper understanding of the books," she says. Oteri adds the series is almost like an annotated version of the book, highlighting things that can get lost in the thousand-plus pages of text, which she says can be really dense.
"One example is the way they linger on a shot in Season 2 of Lila dropping a letter in the mail the same way they linger on a shot in Season 1 when they drop the dolls down the slot," Oteri says. "There's something in the series where it's all smoothed out, like an extra treat where there's a clearer line drawn through the stories."
It's easy to forget the story is a mystery, as the details are so nuanced and intricate over the course of four books and the two seasons we've seen so far. But the books and series begin the same way: The main characters are in their 60s, Lila's disappeared and Elena tells the story of their friendship from childhood. The mystery will be solved on screen, as HBO and RAI recently announced the third season's renewal. This has only furthered fans' excitement and speculation about how the adaptation will move forward.
Through fan pages on Reddit and Facebook, many are posting that they ordered all four books, which total more than 1,000 pages depending on which version and language they're in (they've been published in 40 countries). "THEY CAME!!!!" one Redditor shared of her box set, similar to Facebook posts where fans are inspiring others to read them.
Costanzo says he'd been writing the third season, even prior to its renewal because he had a lot of time in quarantine. An outstanding question is how the cast will be affected.
"What we think is that for sure we have to change the actors, but we don't know exactly when it would happen. It could be in the third season or in the fourth season, but for sure we'd have to recast because they're getting to be 60-year-old women," he says.
Another pending question is, of course, when? When will the script be done, sure, but when will Italy be ready to start production as the world continues to move through and beyond the pandemic.
"What's going to happen after coronavirus? We have to rebuild a country," Costanzo says. "And there's a kind of enthusiasm in the air, so life is coming."
Need help finding something to watch? Sign up here for our weekly Streamail newsletter to get streaming recommendations delivered straight to your inbox.
Ashley Ross is a contributor to Thrillist.