Getaway Guide: Sailing in style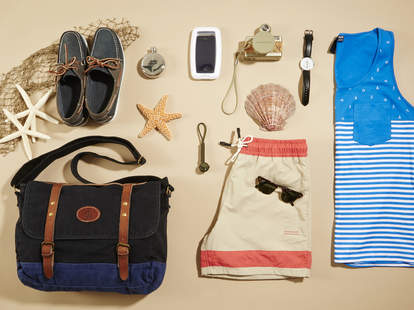 You don't have to be on a boat, by a boat, or even near a body of water to rock nautical style. For instance, you can absolutely rock a bucket hat like Gilligan's around the city. We've made getting the rest of the look easy with this curation of maritime-inspired apparel and accessories that'll do the trick from ship to shore. Check out these boat shoes, nautical stripes and prints, waterproof gear, and the right shades for yachtsmen and landlubbers alike.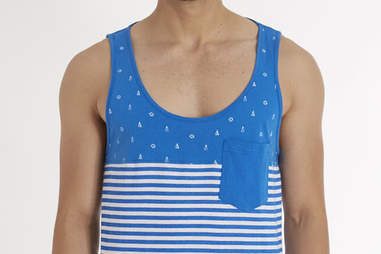 If you wear stripes like a sailor, you're welcome to swear like one.
This nautical flag print will come in handy if your ship goes down.
Stylish boat shoes hold their own on deck or on the boardwalk.
Contrast trim on the waistband, thigh, and back pocket add style to these swim shorts.
M.A.
In case your ship runs aground on a deserted island, this survival knot will come in handy — it unwinds to over 5ft and holds up to 550lbs. While you wait to be rescued, snap stylized pics with this lomography fish-eye camera. Or, you know, call for help on your phone, which is safely sheathed in a waterproof phone case.
Swim with sharks and take pictures of them too.
Quite a bit more useful than an anchor tattoo.

 
Contrast cuffs are great for pairing with boat shoes at the yacht club.
The classic Ray-Ban Wayfarer in dark tortoise. 'Nuff said.