I Am a Functional Adult Obsessed with a Japanese Cat-Collecting iPhone Game
As the kind of person who doesn't own a cat but derails outings to coddle every mangy tabby that crosses my path, I am the target demographic for a virtual game about collecting digital felines. So perhaps it's not all that surprising that I instantly took to the iPhone game Neko Atsume: Kitty Collector, the hottest Japanese import since tuna nigiri.
What is surprising is how obsessed other people are. My boyfriend, a bearded man who drinks whiskey, watches hockey, and will defend dogs over cats any day, regularly messages me to show me the mementos his cats (aka Nekos) have left him. In the New York Times recently, writer Ryan Bradley interrogated his own obsession with the game in a piece called "Why Am I Obsessed With a Cellphone Game About Collecting Cats?" which devoted 1,400 words to his subsequent soul-searching expedition. "Neko Atsume was my bridge to a better life," opined a writer in Polygon, suggesting that for some, the experience of collecting virtual kitties isn't merely enjoyable but life-changing.
So, should you claw your way onto the bandwagon? Let's investigate.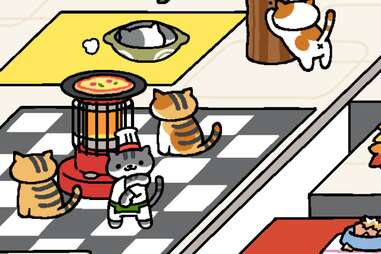 What is Neko Atsume?
The goal of Neko Atsume is simple: to lure virtual cats to your yard by leaving out food, toys, and comfy objects. After the cats stop by, they will leave you gold or silver fish to buy more treats, which you in turn put out to attract more cats, and on and on, ad infinitum.
If you put out certain items, rare cats (one that looks like Anna Wintour, a little chef named Guy Furry, a cowboy named Billy the Kitten) will grace you with their presence. If you're in the app when the cats come, you can take a picture of them to preserve for posterity in your "Cat Book." You can level up, sort of, in the form of adding better toys, getting new rare cats, expanding and remodeling your yard, and receiving "mementos" from your cats (a "damp matchbox" or a "cicada skin," the sort of weird flotsam a real cat might drag in through the flap), but mostly, the game just involves waiting for the cats to come and then delighting in their ephemeral presence. It's like bird-watching, except more adorable, and done from the comfort of your smartphone screen.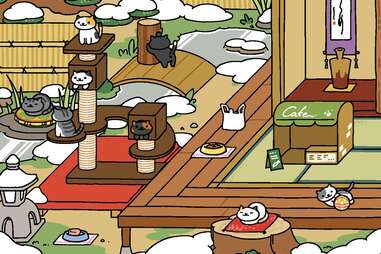 How popular is it?
Pretty damn popular! Neko Atsume's star has been rising for a while. It's already a phenomenon in Japan, and the English-language version has garnered a huge response since launching in October 2015. By the end of the year, the game had been downloaded a total of 10 million times, spawning BuzzFeed listicles (23 Signs You're Obsessed With Cat Collecting), countless think pieces, joke pieces, Tumblrs, its own subreddit, vocal factions that either love or hate Tubbs the cat, tips and tricks sites, memes, and real-life merchandise. Even the game's developer, Yutaka Takasaki, doesn't really understand it, telling CNN, "I do not know why this game is so popular."
So… why is it that popular?
In the Times, Bradley suggests that the game plays into the Western obsession with kawaii, Japanese cuteness, and certainly, the toys -- a mochi cushion, a temari ball -- seem designed to appeal to that well-worn fetishization of Japanese culture. That, and the fact that the internet loves cute cats as much as it loves pointless apps (lest we forget that Kimoji made $1 million a minute).
For me, Neko Atsume also evokes nostalgia for the digital games I grew up playing. It's like a Tamagotchi I don't have to care for, Pokémon I don't have to do battle with, Sims that don't have bodily needs, or Petz that don't make me cry (Did anyone else have Petz!? Email me, let's commiserate). In that way, Neko Atsume takes the artificially nurturing, stimulus-response environment of these old-school games and turns down the engagement level to match the way that people use their phones nowadays: as constant sources of low-intensity distraction.
Just as I scroll through Instagram and Snapchat during daily lulls, I've come to incorporate checking in on my Nekos as part of my digital routine. It's takes little to no effort, yet seeing a rare cat playing in my yard (as well as the tantalizing gold rectangle that says "gifts await" every time the Nekos leave you something) provides a burst of dopamine much like a Facebook "like" or a Twitter retweet, tiny injections of excitement that I can take hits of over the course of the day. Much like Snapchat, the app of the moment, Neko Atsume is transient, fleeting. You can't hold onto your cats or control their behaviors, you must merely revel in their presence.
And it's better with friends
I asked my friend who doesn't like real cats ("Only Nekos," as she put it) why she finds the game so enthralling. "I like it mostly because we've made it a big deal," she replied, which struck me as remarkably on point. It's true that ever since my friends got the game, we've texted each other constantly about it, sharing our feline conquests and coveted mementos with the committed self-seriousness reserved only for the best inside jokes. And based on the number of Instagram and Twitter posts devoted to Neko networking, other people have been engaging with the game's idiosyncrasies in the exact same way.
Not to get too philosophical about an iPhone cat game, but so much of contemporary online communication is structured around pointless fluff: silly tweets and shareable GIFs that are designed not so much to communicate a serious point but more to act as a digital fist-bump with others. Neko Atsume's innate quirkiness and mild amusements make it a perfect artifact for the age of meme culture.
Competing with my friends over who got Chairman Meow to visit their yard first or boasting about being bequeathed a "damaged spoon" or "scuffed dime" facilitates the sort of shared virtual experience that delivers joy simply because it was shared. Or did I just go way too deep? Have I spent too much time feeding pixelated felines on my phone?
Please excuse me while you ponder these deep existential questions, because I have to go check on my yard. Gifts await.
Sign up here for our daily Thrillist email, and get your fix of the best in food/drink/fun.
Anna Silman is a staff writer at Thrillist Entertainment. Her favorite Neko is Conductor Whiskers. Find her on Twitter: @annaesilman.