'Neo Yokio: Pink Christmas' Is the Perfect, Weird Millennial Holiday Special
Neo Yokio has got to be one of Netflix's strangest investments. The show, which began with a six-episode season last year, feels like one big inside joke. Created by Vampire Weekend frontman Ezra Koenig, it's an English-language anime-style series about a dystopian New York (hence, Neo Yokio) occupied by demon-fighting magistocrats. But exorcising comes second to a winking satire of cosmopolitanism, like Gossip Girl but somehow even more insider. For seemingly no reason at all -- Netflix has yet to greenlight Neo Yokio for a second season -- the show just came out with one of the best Christmas specials in recent memory. Neo Yokio: Pink Christmas is bizarre and hilarious, a holiday tale for people who appreciate jokes about streetwear and ironic critiques of capitalism.
Pink Christmas opens with our pink-haired hero Kaz Kaan, Neo Yokio's number two bachelor voiced by Jaden Smith, sick in bed on Christmas Eve. Bored, he has his mecha butler Charles (the very proper-sounding Jude Law) weave a yarn for him, with Kaz as the main character ("Not an ego thing. Just so I can identify with it, y'know?"). "I do love original content," Kaz says, a line that could be taken as a dig at Netflix itself. Charles' tale starts off by following a Bergdorf Goodman salesclerk named Herbert (British comedian Richard Ayoade), who lives to sell finery to Neo Yokio's upper crust. Thus, he takes on the task of finding Kaz's Secret Santa gift for his nemesis, Arcangelo Corelli (a perfectly wry Jason Schwartzman). You see, in Neo Yokio, Secret Santa is serious business. The top bachelors in the city -- Arcangelo is number one -- exchange lavish gifts in a ceremony that takes place in a sort of war room that gets broadcast on television narrated by color commentating announcers. Give the most expensive and rarified gift, and you win the adoration of the public.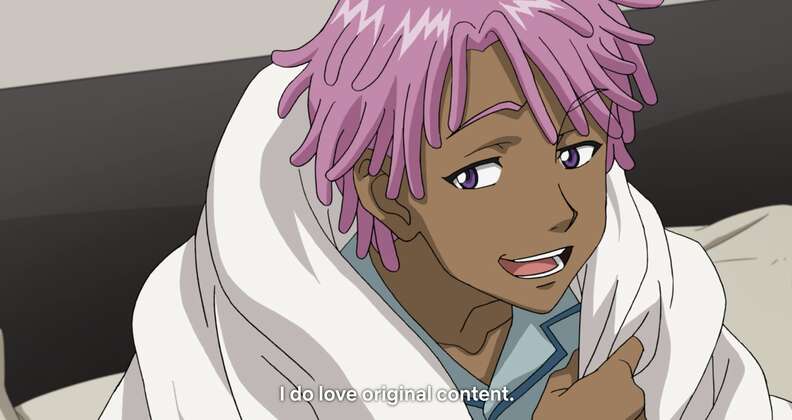 Still, the multi-layered plot of Pink Christmas is so haphazard and meta I would look like an insane person trying to describe it in full here. The pleasure of watching Neo Yokio is not necessarily in coherent storytelling; it's in the absurdism with which it approaches its set pieces. For example, at the Secret Santa showdown, Arcangelo shows up Kaz by suddenly reproaching material goods, calling for everyone to stop buying things, and sings Kaz a "goddamn song" as his present. Called "Friend Like U," it's a bass-driven ode to friendship written by Koenig -- whetting the appetite of those that have been waiting five years for a new Vampire Weekend album -- along with iLoveMakonnen (remember "Tuesday"?) and producer BloodPop. Arcangelo doesn't truly believe a song is worth more than a fancy, one-of-a-kind watch with a demonic sensor, but it's a way to turn himself into a monetized hashtag (#ACC, for the Arcangelo Christmas Challenge).
Meanwhile, there's an entire other thread unfolding in Kaz's home given the arrival of his Aunt Angelique, a memoirist played by the legendary West African musician Angélique Kidjo. She comes carrying a giant Toblerone -- one of the show's signature props -- and an anti-establishment attitude that grates with his other aunt, Agatha (Susan Sarandon). They end up battling with magic, Dragon Ball Z style, over a large Christmas goose.
In a delightful C-plot, Kaz's friends Lexy and Gottlieb (the talk show duo Desus Nice and The Kid Mero) are dreaming up ways to further their Caprese Boy brand, invented during the first season. (A Caprese Martini is a martini with tomato, basil, olive oil, and mozzarella flavors, like, yes, a Caprese salad.) Lexy and Gottlieb experiment with canned cocktails, which fail; streetwear, which fails after Arcangelo's Secret Santa "Fuck material goods" proclamation; and eventually settling on an "activation" that does absolutely nothing. "At the end of the day, people just want to engage with a logo," Lexy says.
It's these kinds of aphorisms that are Neo Yokio's bread and butter, each a witticism on our hyper-connected, hypebeast culture, delivered with a totally straight face by the excellent voice cast, which also inexplicably includes the likes of Alexa Chung, Rashida Jones, and Jamie Foxx. Neo Yokio finds monied society profoundly ridiculous and thinks it's awesome, and that's what makes it so perfect for the holiday season, typically plagued with consumerism debates. In Neo Yokio, buying things is both a very dumb pursuit and the most important activity in the world; look no further than "The Boys" (Kaz, Lexy, and Gottleib) fretting over which several-thousand dollar sweater to buy for a Gorgeous Christmas Sweater Party. You can love Bergdorf's even when brands are maybe evil.
Perhaps the best way to sum up the mixed messaging of Neo Yokio is by looking at one of its bits of marketing. On Twitter, the show's official account tempts with the promise of real-life Caprese Boy merchandise, and yet if you click the link to the online store, you're met with a skull and Arcangelo's rally cry, "Fuck Material Goods." C'mon, Netflix, if Neo Yokio proves anything, it's that you can covet items and think capitalistic structures are garbage. I just want a sick sweatshirt.
Sign up here for our daily Thrillist email and subscribe here for our YouTube channel to get your fix of the best in food/drink/fun.