Martha Higareda's Kristin Is the Breakout Star of Netflix's 'Altered Carbon'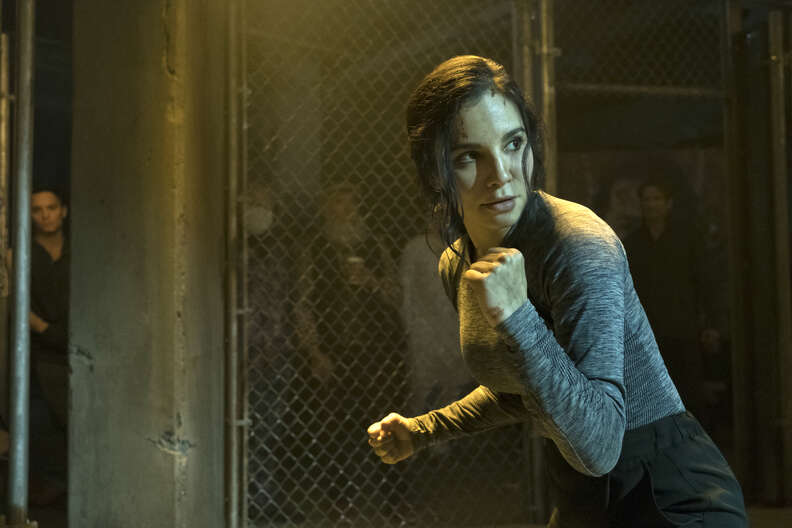 As flashy and dizzying and jargon-y as Netflix's new sci-fi show Altered Carbon can be, it has its constants. One of the best: Martha Higareda. The Mexican actress plays Kristin Ortega, a no-bullshit Bay City cop who's inextricably linked to Joel Kinnaman's 22nd-century mercenary and who looks poised to become a series favorite.
Whenever she's onscreen, Higareda's reliable for foul-mouthed laughs and badass surprises. Though Altered Carbon will be an introduction to her for some, this 34-year-old star has been on the international scene for almost two decades. If you're wondering where you've seen her before -- or why you haven't -- consult our cheat sheet:
Higareda broke out with Mexico's Amar te duele
After seeing the actors in Alejandro González Iñárritu's 2000 thriller, Amores perros, a young Higareda got inspired to seek out a career of her own. Her big-screen debut came soon after, in 2002, with Amar te duele, Fernando Sariñana and Carolina Rivera's modernized take on a Romeo and Juliet-esque romance. The movie quickly exploded in Mexico. Higareda, playing a rich family's pampered daughter, won audiences' hearts, earning a best newcomer award from the Mexican Cinema Journalists and a favorite actress honor at the MTV Latino Movie Awards.
Borderland and Street Kings launched her U.S. Career
Though Higareda appeared in John Sayles's 2003 indie Casa de los babys, it wouldn't be until a few years later, with Zev Berman's Borderland and David Ayer's Street Kings, that she truly began her Stateside crossover. Street Kings memorably put her alongside Keanu Reeves, while Berman's slasher flick had her holding her own as Valeria, a generous bartender who helps a couple dumb foreigners track down a killer cult. "It takes its time, for sure, but Borderland ultimately descends into a brutal orgy of torture and mutilation that's harrowing to watch, because it's played completely real," wrote one critic. "This is Wolf Creek–style, true-story-inspired horror, and makes the Hostel movies look like cartoons by comparison."
She became a huge deal in Mexico
The main reason you might not have heard of Higareda is because she's more of a megastar in Mexico. With her diverse skillset, she's slipped into horror flicks (Hasta el viento tiene miedo), thrillers (Fuera del cielo), and comedies there with ease. Until now, it's been that last genre where she's made the most noise -- and not just in front of the camera. She wrote, produced, and starred in the 2010 romcom Te presento a Laura. In 2014, she did the same with Cásese quien pueda, Mexico's highest-grossing comedy that year. And in 2016, she produced and starred in No Manches Frida, a funny Fack ju Göhte remake that scored the third best opening for a Mexican movie in Mexico ever. (Though she clearly excels in the comedy realm, she's no joke.)
Now she's a star in both countries
Higareda's box-office glory in Mexico has helped fuel a more permanent shift to Hollywood, where she's capitalized on a wide range of opportunities, including: Smokin' Aces 2: Assassins' Ball; the TV movie Lies in Plain Sight; the TV show Royal Pains; Kevin Costner's McFarland, USA; the toon Steven Universe; and the forthcoming horror-comedy DeadTectives. While Higareda's successfully balanced a career in Mexico and in the U.S., Altered Carbon marks her biggest international gig to date. In other words, keep your eyes peeled for more of her.
Sign up here for our daily Thrillist email and subscribe here for our YouTube channel to get your fix of the best in food/drink/fun.

Sean Fitz-Gerald is a staff writer at Thrillist Entertainment. Find him on Twitter: @srkfitzgerald.