Netflix Does Not Care if You Hate the Auto-Play Trailer Feature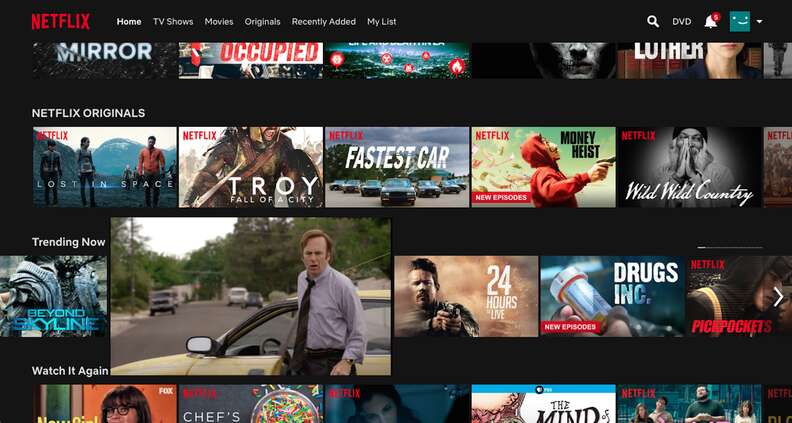 Netflix
Netflix
If scrolling through Netflix is like floating down a river, then the waters have gotten choppier in recent years. When the company introduced the first iteration of its streaming product, called "Watch Now" in 2007, the interface attempted to get your attention on specific movies with a simple, unobtrusive thumbnail image of a DVD cover. Was tonight a "re-watch The Hunt for Red October" night or a "finally check out The Sum of All Fears" night? The site wasn't going to twist your arm either way. Whatever Tom Clancy movie you wanted to watch was OK.
A decade later, Jack Ryan -- or, more likely, a Marvel character or whatever action hero the site is peddling this week -- would be kicking ass from a little pop-up window on your TV or computer screen. No longer silent and static, marketing now arrives guns blazing.
As the amount of original programming on the platform has ballooned, with the company planning to release 80 original films and hit 700 original shows in 2018, the battle for your eyeballs has intensified. It's not enough to tease you with old artwork for a film; the company now entices you with striking pictures selected by an increasingly sophisticated algorithm that spits out images tailored to your recent viewing habits. Depending on what you just watched, a movie like Good Will Hunting could be sold to you as a knee-slapping comedy starring Robin Williams or a tear-jerking romance featuring Matt Damon and Minnie Driver. The algorithm knows your taste.
On top of that, the auto-playing trailers, which begin after you've rested on a particular title for a few seconds, are now constantly making a play for your precious click. For a Netflix original series like Jessica Jones or an original movie The Cloverfield Paradox, that means an original trailer similar to the kind you'd see on YouTube, but for non-original fare that means a montage of moments from the show set to generic music that sounds like a sample from a GarageBand loop. The goal is always the same: To keep you streaming.
But, compared to some of the other less obtrusive cosmetic adjustments to the streaming experience, the auto-play trailers, which Netflix refers to as "video previews," have proven to be a source of frustration for some viewers. They were rolled out to all users in December of 2016 with a blog post and the above YouTube video following a lengthy testing period where the company was also considering pre-roll teaser ads. (Amazon Prime currently uses those; Netflix does not.)
Though the previews have been around for over a year, it feels like consumer and media crankiness about the feature has seen a slight uptick recently. In perhaps the most high-profile example of the criticism, Star Wars: The Last Jedi director Rian Johnson tweeted the following in March:
Johnson's playful ribbing of the feature was soon cited and amplified in pieces by multiple websites begging Netflix to abandon it: Polygon pleaded "Netflix, please stop with the autoplay" while Kotaku declared "Netflix's Auto-Playing Trailers Are Just The Worst." The most common argument against the previews is that they're not only annoying and but also redundant. "We're already paying for your service," writes Kotaku's Kirk Hamilton. "You don't need to advertise your own programming to us, and you definitely don't need to advertise to us in such an aggressive and unavoidable way."
Comments like this also litter threads on Reddit, where users have posted hacks to attempt to circumvent the previews. The most common work-around, which involves using uBlock or AdBlock Plus, is for Chrome users. If you're using Netflix on a TV app, you're left with few options. As one Redditor quipped, the "mute" button on your remote is still the most reliable way to get rid of the noise of a Stranger Things trailer from playing when you stop scrolling and get up to retrieve a bag of popcorn from the microwave. There's no way to turn off the feature within the settings of Netflix. (A representative for Netflix declined to comment to Thrillist about whether or not the autoplay function could become optional in the future.)
In fact, it's clear that Netflix is unconcerned with the recent criticism of the video previews. Why? Netflix being Netflix, they likely have a treasure trove of user data and behavioral research that backs up their tech decisions. When the feature was introduced in 2016, the company's director of product innovation Stephen Garcia told Fast Company that the video previews were designed with the goal of cutting down on your browsing time by providing more information about the viewing choice you're making. They want less scrolling. More watching.
In the same article, Garcia also argues that the quiet, serene Netflix browsing experience of the past was, in some ways, counterintuitive to how television typically functions. "Television has decades' worth of expectation that when you turn it on, the video and audio play," Garcia said. "So it's actually quite strange to have a silent experience."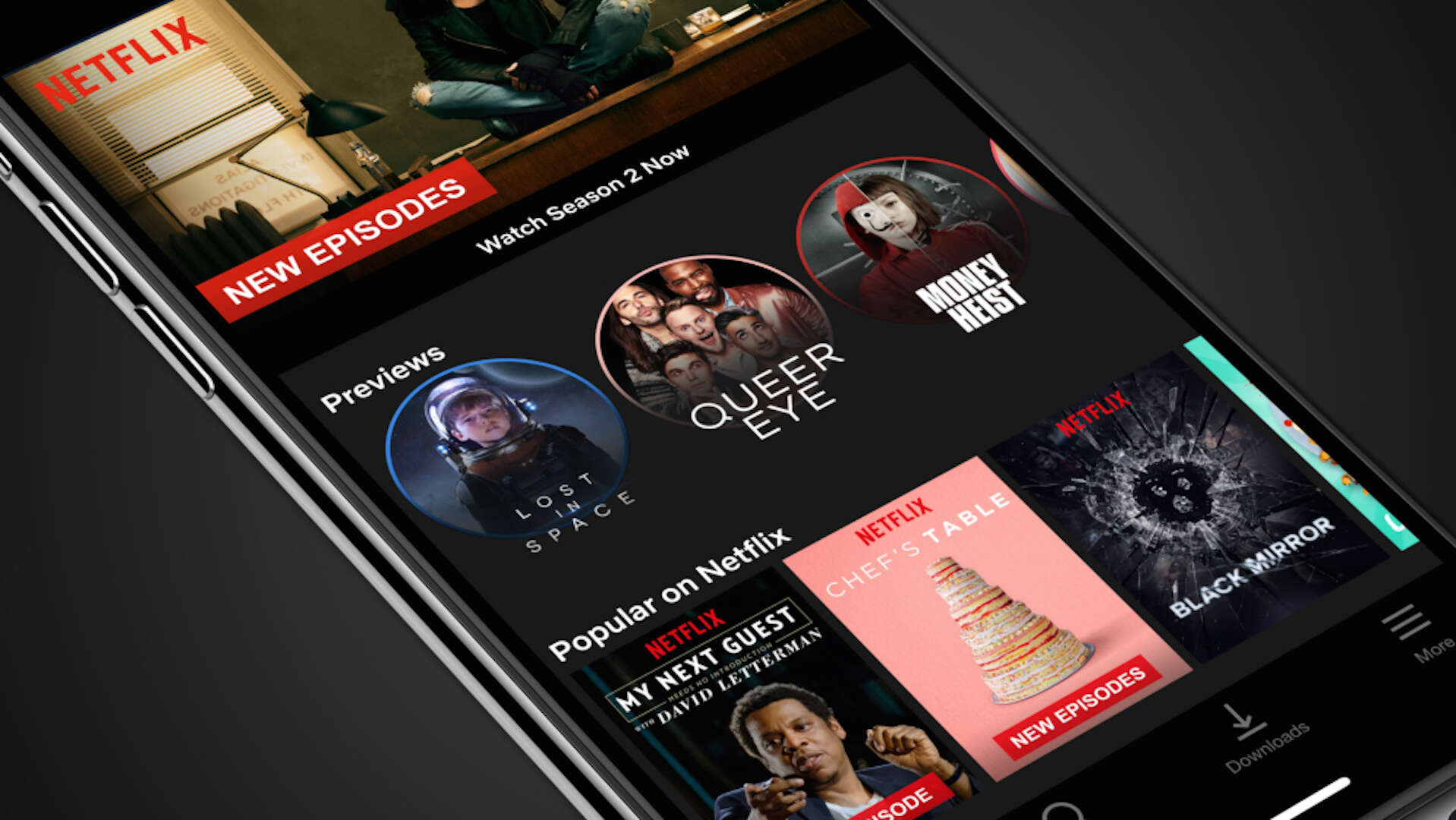 And yet, there's clearly a small contingent of people who are nostalgic for the way things used to be. There's even a Twitter account called "Stop Autopreview" that's devoted to advocating around this issue, encouraging users to make complaints to Netflix. The account currently has only 231 followers and a Change.org petition it has RT'ed asking Netflix to make auto-preview a "user controlled software setting" only has 394 signees. That's not a lot of people. For some context, a Change.org petition asking the company to renew the cancelled Kathy Bates comedy Disjointed has over 5,000 signatures, and there are 125 million global Netflix subscribers.
As these users howl into the digital void, Netflix continues to view video previews as the future of how it promotes its shows, movies, documentaries, and comedy specials. Earlier this month, the company announced it would be adding 30-second mobile previews to its iOS app, with plans to expand to Android soon. These previews, which are vertically cropped for your phone, do not autoplay. Instead, they're more like Snapchat or Instagram stories where you can swipe to the next preview. It's part of a mobile strategy that includes phone-friendly content, like 15-minute stand-up specials that will arrive on the service soon.
If the video previews are actually decreasing the browsing time of the average user, does that mean you're getting a "better" experience? It's possible critics of the feature miss the relative tranquility of gazing on your personal Netflix queue like it was a vast desert of options. As one of the remaining loyal users of Netflix's DVD.com, I still find comfort in mindlessly pursuing and reordering my (possibly unhealthy) queue of 498 movies. (That's in addition to a list of 118 "saved" movies that are currently unavailable by mail -- I have a problem, I know.) Staring at all the titles, the DVD, art, and the accompanying star rating is oddly calming. There's no music playing. No videos popping up. No need to keep moving. You get to luxuriate in your own selection process. Spending an extended amount of time looking at the queue feels like a retro experience.
It also feels like a ghost town.
Sign up here for our daily Thrillist email and subscribe here for our YouTube channel to get your fix of the best in food/drink/fun.