Does Netflix's New True Crime Series 'Captive' Hold Up to 'Making a Murderer'?
Mark Wolf/Netflix
Mark Wolf/Netflix
What if Netflix took a few true-crime tragedies like Making a Murderer, enlisted action-movie director Doug Liman (The Bourne Identity, Edge of Tomorrow) to produce dramatic B-roll reenactments, and bundled them into an anthology series, à la Black Mirror? That's your elevator pitch for Captive, a harrowing new docuseries exclusive to the streaming service.
So how is this show, whose eight-episode first season Netflix released today, different from all other shows? Let's examine the evidence, free of spoilers.
What's it about?
Season 1 of Captive consists of eight freestanding episodes about captives, each one set in a different country and centered on a specific hostage situation. In the two installments Netflix provided for review, "Lucasville" and "The Cola Kidnap," we get a full-scale look inside a prison riot and a financially motivated kidnapping, respectively. While the tales vary in length and format, each one sets out to understand every aspect of a given capture -- from victim to perpetrator to helpless bystander.
How does it work?
If you felt like the B-roll footage in Making a Murderer was too static, boy, is this the show for you. What sets Captive apart from other documentaries on Netflix or traditional examples of the format is its reenactments. Like an expensive, globally minded America's Most Wanted, talking-head interviews and authentic broadcast footage are intercut with arty shots of actors re-creating the action as it unfolded. Think My Roanoke Nightmare, sans recognizable actors with speaking parts.
When the roster of eyewitnesses retells the events of the episode, they tell their stories linearly, breaking down the period of captivity day by day. This organizational choice is consistent across the free-standing chapters, and lends a sense of immediacy to the proceedings.
Is it any good?
The two episodes Netflix provided for review zoomed in on high-profile victims: the prison guards held hostage by inmates attempting a violent form of leverage in an Ohio penitentiary; and an American Coca-Cola executive held for ransom by a professional kidnapper in Rio de Janeiro, Brazil. Thanks to the passage of time and access restrictions on death row inmates, "Lucasville" interview subjects often feel like they're speaking from an emotional remove; melodramatic audio flourishes in the reenactments -- the thud of a baseball bat, victims screaming and cursing -- inadvertently serve to heighten the sense of unreality.
"The Cola Kidnap," however, hinges upon multiple interviews with its victim's chief kidnapper, and his calm retelling of the events underscores the fact that the seizure of and barter for a human life was just another day of work. Here the reenactment actors look so similar to their subjects, I was convinced the victim was acting out her past trauma for a minute.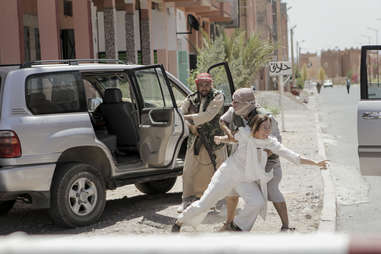 Should you binge it?
Not unless you want to burrow deep inside the mind of a kidnapper. These episodes provide a 360-degree view of their subjects' darkest days, and much like MaM before it, plowing through all the episodes in quick succession will immerse you in a very dark worldview. Besides, each narrative is self-contained, so there are no cliffs to hang off at the end of every hour.
No, this is a series best served spread out. Watch one episode, then turn off your TV to reflect, or go on a walk and acknowledge what a privilege it is to live life outside captivity. Because the last thing you'd want to be is a prisoner in your own home.
Sign up here for our daily Thrillist email, and get your fix of the best in food/drink/fun.