Everything Coming to Netflix for the Holidays in 2019
'The Knight Before Christmas'

| Netflix
'The Knight Before Christmas'

| Netflix
As Netflix continues to ramp up its original content, the streaming platform has begun to follow the Hallmark Channel's model for holiday entertainment: more is more. With holiday season commencing earlier and earlier each year, the streaming service is slated to release more than a few new original titles -- that may or may not exist in the same whimsical universe -- in addition to its collection of seasonal classics and cheesy made-for-TV movies.
But the holidays are a time of year when it's OK to enjoy the treacly joys of unlikely romance and reconnecting with who you really are playing out on screen. To help you feel the holiday cheer, we've rounded up every themed title that'll be available on Netflix for the 2019 holiday season.
Don't forget to check out the full list of Netflix original releases before the end of the year.
**Denotes Netflix original
A Christmas Prince**
Available: Now
Check out the first title in what has become Netflix's favorite holiday franchise (a third movie is on the way this year), and the movie that signaled Netflix's intention to outdo Hallmark. It follows a young journalist who's writing a profile on the prince of a fictional nation -- predictably, sparks fly as he prepares to become king.
A Christmas Prince: The Royal Baby**
Available: Thursday, December 5
Yet another installment in the Christmas Prince series arrives in 2019, along with the royal couple's first child. As they're getting ready for the new heir, Queen Amber and King Richard also have to deal with a curse brought on by a lost treaty with the neighboring kingdom of Penglia.
Available: Now
The follow-up to 2017's Netflix's popular original, picking back up with the starry-eyed writer ready to wed the recently crowned king -- that is, if she's able to come to terms with the responsibilities of being queen, which include (gasp!) giving up her blog.
A Dogwalker's Christmas Tale
Available: Now
When a high-maintenance young woman meets a free-spirited young man, she's tasked with helping him save a dog park from corporate developers.
A Russell Peters Christmas
Available: Now
Stand-up comic Russell Peters hosts a variety show inspired by the Christmas specials of the '70s.
A Very Murray Christmas**
Available: Now
During a blizzard, Bill Murray and a handful of his closest celebrity friends get snowed in at a Manhattan hotel and turn their night from an unfortunate, frigid storm into a sweet variety hour.
Angels in the Snow
Available: Now
A family that can't stop arguing with one another learns a bit about love when they take in another family stranded during a snowstorm.
BoJack Horseman: Christmas Special**
Available: Now
Everyone's favorite depressed horseman pretends not to care about Christmas -- but his friends know they can get him to quit putting up a front as long as they show him how to get into the spirit.
Chilling Adventures of Sabrina: A Midwinter's Tale**
Available: Now
This special installment of Netflix's Chilling Adventures of Sabrina finds the young witch and the Church of Night celebrating the Winter Solstice… with some uninvited supernatural visitors who decide to disrupt their longest night of the year festivities.
Christmas Break-In
Available: Friday, November 1
A classic kids' movie about a little girl who must save her elementary school janitor (Danny Glover) when he's kidnapped by a pair of intruders during a blizzard right before holiday break.
The Christmas Candle
Available: November 1
Set in a 19th-century English village, The Christmas Candles follows a young pastor who arrives in a small town and tries to teach others that they don't need their traditional, legendary candle to perform miracles. All they need is kindness, of course!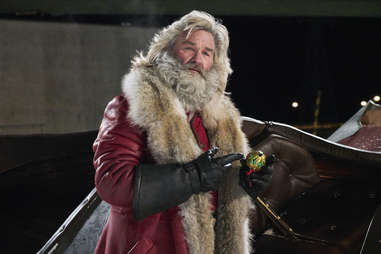 The Christmas Chronicles**
Available: Now
Kurt Russell plays Santa Claus in this adventure tale, taking two young siblings on a magical journey aboard his sleigh.
Christmas Crush
Available: Monday, November 4
Georgia never quite got over her high school crush, but when she attends a school reunion around holiday time, she finds that she may have a second chance at love.
Christmas in the Heartland
Available: Friday, November 1
A hint of Christmas magic allows two seemingly different teenage girls to swap places over Christmastime, and proves that they might have a lot more in common than they thought.
Christmas in the Smokies
Available: Now
A family in the Smoky Mountains tries to save their berry farm with the help of a famous country star.
Christmas Inheritance**
Available: Now
In order to inherit her father's company, a woman who grew up a spoiled city socialite must return to her dad's small town, ultimately learning what really matters the most in life.
The Christmas Project
Available: Now
Four young boys are forced to exchange gifts with bullies at school, and in doing so discover the importance of giving.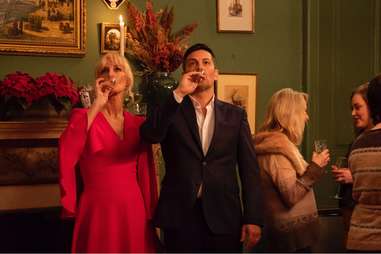 Christmas Survival
Available: Friday, November 1
A pair of adult sisters and their families reunite at their recently deceased parents' old country home and must endure the holidays where they grew up all altogether.
Christmas Wedding Planner
Available: Now
A hardworking wedding planner gets her biggest gig yet organizing her cousin's lavish holiday wedding -- but all goes wrong when an investor tries to meddle with her plans.
Christmas with a View
Available: Now
A ski resort restaurant manager can't stand the recently hired celebrity chef, though inevitably can't help but falling for him either.
Christmas with the Kranks
Available: Now
Jamie Lee Curtis and Tim Allen play a couple who planned to skip Christmas, but must throw a last-minute gathering when their daughter decides to return home.
Dear Santa
Available: November 4
A woman stumbles upon a little girl's letter asking Santa to find a new love interest for her single father -- and tries her hardest to make the wish come true by being that woman.
Get Santa
Available: Now
Santa Claus is accidentally arrested for trespassing when his sleigh crashes, so a father and son try to free him from jail.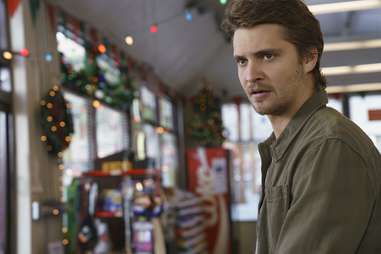 El Camino Christmas**
Available: Now
When a young man tries to find the father he never met, he gets caught up in a disastrous hostage situation in a liquor store. Dax Shepard, Luke Grimes, Tim Allen and more appear in this crime comedy.
A Family Reunion Christmas**
Available: Monday, December 9
The Tia Mowry-Hardrict sitcom Family Reunion is getting a Christmas special, following the McKellan family as they take on their own "ghosts of Christmas past."
Get Santa
Available: Now
When Santa's sleigh malfunctions and he crashes in a family's garage, a father and son decide to take on his Christmas Eve duties themselves.
Gilmore Girls: Year in the Life**
Available: Now
In the "Winter" episode of the Gilmore Girls revival, Rory returns to Stars Hollow to visit Lorelai and family friends over the holidays.
The Great British Baking Show: Holidays**
Available: Season 1 available now, Season 2 available Friday, November 8
Fan favorite bakers from the series return for a holiday-themed competition featuring all sorts of sugary confections.
The Holiday Calendar**
Available: Now
A photographer down on her luck inherits an advent calendar that seems to possess the magical ability to predict the future, and possibly the ability to show her how to find love.
Holiday in the Wild**
Available: Friday, November 1
The first new Hallmark-movie-like release of this season on Netflix is features Kristin Davis and Rob Lowe saving elephants at Christmastime. When Davis' character Kate's husband backs out of a planned trip, she decides to go to Africa alone and meets a charming pilot (Lowe) en route. Together they help out at a Zambian elephant sanctuary (because of course they do).
Holiday Rush**
Available: Thursday, November 28
When a single father/radio DJ's (Romany Malco) on-air show is canceled, he and his family are forced to downsize around the holidays while trying to keep his career afloat.
How Sarah Got Her Wings
Available: Now
A woman dies close to Christmas and is sent back to Earth as an angel-in-training who must perform good deeds in order to secure her spot in heaven.
How the Grinch Stole Christmas
Available: Now
The Jim Carrey-starring adaptation of the Dr. Seuss classic about the Christmas-hating Grinch who tries to ruin the holiday for the joyful town of Whoville.
Klaus**
Available: Friday, November 15
This animated Santa origin story comes from the co-creator of Despicable Me and features a stacked voice cast. The children's film follows a postal academy student in the Arctic (Jason Schwartzman) who meets a mystical toymaker (J.K. Simmons). Rashida Jones, Joan Cusack, and others star.
The Knight Before Christmas**
Available: Thursday, November 21
The brightest star in the Netflix holiday universe, Vanessa Hudgens, appears in this romance as a science teacher who must help a time-traveling knight (Josh Whitehouse) return home.
Let It Snow**
Available: Friday, November 8
Adapted from the popular young-adult book of the same name by John Green, Maureen Johnson, and Lauren Miracle, Let It Snow looks at the experiences of several high schoolers on Christmas Eve when a snowstorm hits their town and brings them together. Kiernan Shipka, Shameik Moore, Joan Cusack, and many more appear.
Mariah Carey's Merriest Christmas
Available: Now
Pop's queen of Christmas hosts a variety show featuring performances of beloved holiday songs.
Merry Happy Whatever**
Available: Thursday, November 28
Dennis Quaid stars in this holiday-themed sitcom as a traditional father reluctant to warm up to his daughter's (Bridgit Mendler) new musician boyfriend, whom she brings home from LA to Philadelphia for Christmas.
Merry Kissmass
Available: Now
A woman getting cold feet during her engagement shares a magical kiss with a stranger, putting her in a predicament.
Miss Me This Christmas
Available: Now
A couple whose divorce is set to be finalized on Christmas day starts to question whether or not they're ready for their marriage to end.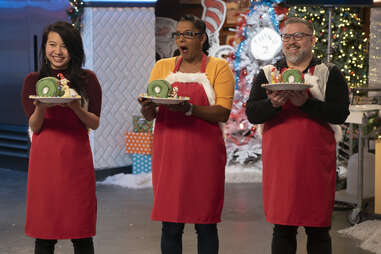 Nailed It! Holiday**
Available: Season 1 available now, Season 2 available November 22
Netflix's comedic baking show features holiday specials that call on terrible cooks to attempt to make beautiful holiday dish favorites for a cash prize.
Neo Yokio: Pink Christmas**
Available: Now
A special, although pessimistic, holiday episode of the Jaden Smith-voiced anime.
The Nutcracker and the Four Realms**
Available: Now
A Disney live-action telling of the classic ballet The Nutcracker, following Clara's journey from a holiday party to a magical realm full of fairies, enchanting soldiers, an army of mice, and more. Morgan Freeman, Keira Knightly, and others star.
Pee-wee's Playhouse: Christmas Special
Available: Now
Pee-wee Herman throws an outrageous Christmas party featuring guests like Oprah, Whoopi Goldberg, and others.
The Princess Switch**
Available: Now
A Prince and the Pauper-inspired story about a princess, played by none other than Netflix Christmas universe star Vanessa Hudgens, who trades places with a baker during Christmas.
Red Christmas
Available: Now
A holiday horror show about a family who lets an uninvited guest into their Christmas gathering, turning their evening into a nightmare.
The Spirit of Christmas
Available: Now
A lawyer must oversee the sale of a Vermont inn around Christmas, and happens to fall for the hotel's resident ghost while on her visit.
The Star
Available: Now
An animated telling of the Biblical Christmas story, told from the perspective of an eager donkey and his animal friends at the manger. Steven Yeun, Keegan-Michael Key, Gina Rodriguez, and more are among the voice talents.
Sugar Rush Christmas**
Available: Friday, November 29
A new six-episode, Christmas-themed edition of the baking competition series Sugar Rush is on the way.
Trailer Park Boys: Xmas Special
Available: Now
A look at all of the wild antics from Christmases past in Sunnyvale Trailer Park in this Trailer Park Boys one-off episode.
Tree Man
Available: Now
A documentary looking at the devoted arborists who sell their trees in New York City around Christmas.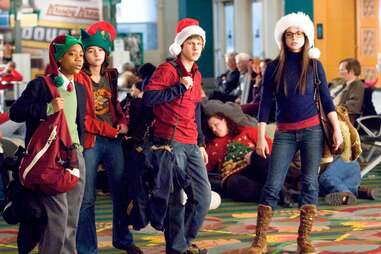 Unaccompanied Minors
Available: Now
When a blizzard causes a handful of flights to be canceled near Christmas, a group of tweenage, unaccompanied minors band together to make do while stranded at the airport.
Uncle Nick
Available: Now
Underachieving Nick attempts to ruin his over-the-top, successful brother's Christmas party.
White Christmas
Available: Now
The classic musical about two war buddies and talented performers who team up with a pair of sisters to save a Vermont resort owned by their former commanding officer.
You Can't Fight Christmas
Available: Now
A businessman who inherits his family's hotel clashes with their interior decorator -- until business conflicts lead to romance.
48 Christmas Wishes
Available: Now
When two young elves from Santa's workshop lose every single wish list from a town, they go there themselves and try to blend in to retrieve the letters in time.