Netflix's 'Come Sunday' Is a Tricky Movie About a Crisis of Faith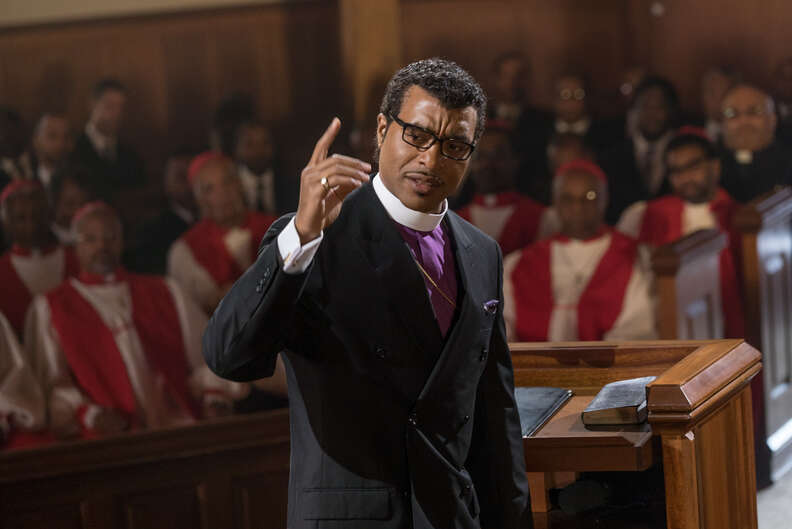 Adapting a true story into a film is an inherently difficult task. Real life rarely follows a neat, narrative structure, and though films aren't required to provide a moral arc, lacking one can make it a little harder to keep an audience's attention. Come Sunday, which tells the story of Bishop Carlton Pearson, is about a crisis of faith -- and goes through one, itself. Should it stick to the story or add a little extra something to make it pop?
At the peak of his career, Carlton Pearson (portrayed here by 12 Years a Slave Oscar-nominee Chiwetel Ejiofor), who founded the Higher Dimensions Evangelistic Center in Tulsa, Oklahoma, preached to audiences of thousands -- hundreds of thousands to millions, if you count his national television broadcasts. He counseled presidents, and even campaigned for them. Then he had a revelation.
In the early 2000s, Pearson found the experience of people suffering and dying in the Rwandan genocide weighing upon him. He wondered, Would God really send all of these people to hell just because they weren't Christian? Did hell really exist? And thus was born the Gospel of Inclusion.
Preaching that hell didn't exist met with significant pushback. Pearson's congregation shrunk rapidly, and his peers declared him a heretic. In other words, it's the kind of rise (and dilemma) and fall that's perfect for dramatization. Except for one thing: There's no real ending to the story.
Come Sunday director Joshua Marston (Maria Full of Grace) makes some attempt at giving the movie more shape by devoting parts of the film to Pearson's wife, Gina (Condola Rashad, who damn near steals the whole show), and to his gay accompanist, Reggie (Lakeith Stanfield), but neither storyline really gets the attention it deserves. Gina's arc comes close, as her reluctance to fully engage with her husband's work transforms into becoming his fiercest advocate, but Reggie gets left behind: The message of inclusivity that Pearson is preaching is never interrogated for rejecting homosexuality.
As Pearson, Ejiofor is the one thing holding the entire enterprise together. As a preacher in limbo, he carves out a space of conflict with every word, delivering a performance that has more nuance than the script. One of the film's plot points involves the racial makeup of Pearson's block. As a black preacher, it's no small feat that his congregation includes black and white worshippers alike, and no small loss when he begins to lose them. It's a point that's hammered home by Henry (Jason Segel), Pearson's business manager -- as well as a brief appearance by Martin Sheen as Pearson's mentor, who calls him his "black son" -- and then practically forgotten. As connective tissue, Ejiofor makes it easier to stomach. Pearson's struggles are centered in his faith, but ripple out beyond that to his wife, his peers, and his community. Ejiofor plays it all beautifully.
To that end, it's worth streaming Come Sunday on Netflix just for the performances. If you're looking for a telling of Pearson's story, you might be better off listening to the This American Life episode on which the movie is based. Though Come Sunday is the rare even-handed religious drama, the limits placed on it by its real-life origins put it in a bit of a bind, and one that it's obviously struggling against. To put it in this film's terms, the sermon is a mess, but the preacher, at least, is magnetic.
Sign up here for our daily Thrillist email and subscribe here for our YouTube channel to get your fix of the best in food/drink/fun.
Karen Han is a writer based in New York City. Her work appears on Vox.com, The Atlantic, SlashFilm, and New York magazine's Vulture.