Netflix's 'Disenchantment' Finds Its Groove in a Great Season 2 That Ends on a Huge Cliffhanger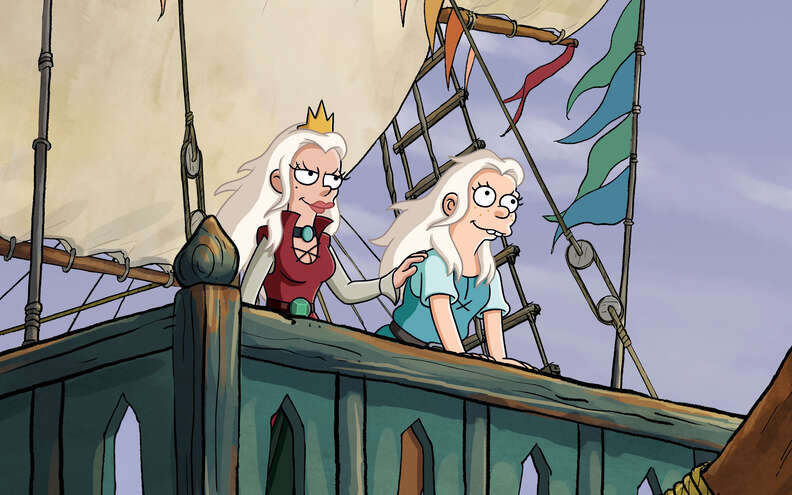 When Disenchantment premiered last August on Netflix, my initial excitement about Matt Groening's latest project dissipated after five episodes. Set in Dreamland, a fantastical medieval kingdom, the animated comedy centered on Bean (Abbi Jacobson), an alcoholic princess, and her two companions -- Elfo (Nat Faxon), a naïve elf, and Luci (Eric Andre), her personal demon from hell -- on what should have been a series of swashbuckling comedic quests. The show's misanthropic humor and character designs (Elfo is pretty much a green-skinned Bart) looked pleasingly familiar to fans of Groening's past shows Futarama and The Simpsons. Its fantasy elements were mined from The Brothers Grimm tales, The Lord of the Rings, and Monty Python and the Holy Grail; the sumptuous background artwork reflected Gustaf Tenggren and Hayao Miyazaki's stylistic influences.
The show had all the magic dust it needed to bewitch fans of high-concept drama and animated hijinks. Yet, the occasional zinger aside, Disenchantment was unambitious and formless, like a discarded script from Futurama. Strip the humor and heart and swap Bean for Fry, Luci for Bender, and Dreamland for any one of the delivery locations the Planet Express Ship lands on. I wished I was watching reruns of Futurama instead.
And then, like its unlikely heroine, Disenchantment proved its mettle. At the close of Season 1, the show invigorated itself by orchestrating a series of thrilling, dramatic twists. Elfo is killed (albeit temporarily). Bean resurrects Queen Dagmar, the dead mother she has mourned since childhood, who has more than a few nefarious tricks up her sleeve. A magic potion turns almost every citizen of Dreamland into stone. A show which amusingly featured a higher body count than Game of Thrones had suddenly found its Excalibur: stakes.
Season 2 doesn't fully follow on the brio the show displayed at the tail end of last season, but with a newfound pathos and lots of wit, Disenchantment has finally transmogrified into that rare beast of a TV show that leaves you asking for more. There's a noticeable tonal shift between the sombre premiere and finale and the middle batch of episodes that the show somehow pulls off like a charm. The season premiere follows Bean and her mother as they make their way to Maru, Dagmar's kingdom where she's welcomed by her brother and sister (the mysterious duo who kept a watch on Bean in Season 1 and sent Luci to retrieve her). The episode teases the show's intriguing mythology as Bean comes to learn of a prophecy involving her birth and her mother's real nature and caps it off with a surprisingly poignant sacrifice. There's also a nail-biting sequence in a Stygian library that might remind gaming nerds about a quest involving Filch in the Harry Potter and the Sorcerer's Stone video game. Penned by Shion Takeuchi, one of the show's only two female writers, it's Disenchantment at its best, encapsulating the show's heft and humor.
The second season is brimming with new worlds galore and, with a larger roster of recurring characters and callbacks, the show finally feels expansive. In Season 1, the show almost immediately gave up on the quest premise it teased in its trailer, presumably not for budgetary reasons (given Netflix must have opened up its coffers to Groening to do whatever he wanted). Viewers expected a show that followed Bean on the run from Dreamland and King Zog (John DiMaggio), the father who wants to marry her off to a prince for political reasons. Instead, it almost immediately transitioned, after a father-daughter reconciliation in the pilot, into a series of low-stake comedic shenanigans in the castle and taverns of Dreamland. In Season 2, Bean's horizons are wider. She literally goes to hell and back, in addition to visiting Maru, an ogre village, Mermaid Island, and Steamland, a steampunk kingdom akin to Futurama's New New York crossed with Victorian-era aesthetics.
While a majority of episodes involve seemingly inconsequential gags -- tavern merrymaking, a castle heist, roommate conflicts between an elf and a demon, an elf plague, King Zog falling in love with a selkie and a murderous sea monster on the loose -- they are balanced out by subverting character tropes and deepening the characters' relationships. King Zog, who feels like if Robert Baratheon existed in a sitcom, Queen Oona, Bean's reptilian stepmother, who becomes a pirate and divorces Zog, and Derek, her lonely stepbrother, all break out of their one-dimensional molds. And while she is only prominent in one episode, Queen Dagmar (Sharon Horgan), who shifts adeptly between maternal warmth and malevolent intensity, is a memorable antagonist. Only Horgan could deliver the line "What? No hug?" with such spine-chilling mockery.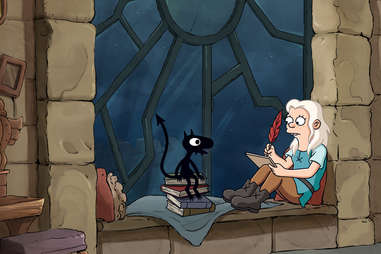 Notably, the friendship between the show's lead trio finally feels earned, not signposted. Bean, who initially came off as passive and personality-free despite Jacobson's spirited voice performance, has grown into a more formidable lead as the show leads into her melancholy. As Odval, Dreamland's Prime Minister, refers to her, "She's a modern woman… Positively 13th century." Luci, the demon turned friend to Bean, moves out of Bender's shadow to become a hilarious character in his own right. His sociopathic scheme to inherit the fortune of elves dying of plague is a dark delight. The show has also revamped Elfo, the weakest link of last season. The character had a promising introduction when he left his candy-making job in Elfland to explore the world outside. His optimism and wide-eyed innocence, a natural contrast to the cynical denizens of Dreamland, would have sufficed to make the character tick. Instead, the show leaned on a grating one-sided romance with Bean. Imagine if Olaf was a sadboi in love with Anna in Frozen. This season, Disenchantment smartly emphasizes Elfo and Bean's friendship and his feeling of betrayal at Bean choosing her mother and not him for resurrection.

The twists, character shading, and narrative stakes aside, Disenchantment is side-splittingly funny this time around. When Derek is told that he is to be crowned king, he protests pointing to his toys. "But these are just toy soldiers." Odvak retorts, "It's best if you think of the real ones as cheap and expendable too." Even the show's jarring topical references are employed in fun, surrealist ways. After a visitor of King Zog reveals he had to chop off his leg because of a gout infection, he remarks, "It's a shame anesthesia hasn't been invented yet."

The finale of Disenchantment builds on some surprising character motivations to a finish where our lead characters narrowly avoid being burned publicly at the stake, saved yet again by Bean's mother. It's an ending that mimics the beats of the first season's finale, culminating in a cliffhanger that puts the crew back to where they started, but this time underground, surrounded by elf-like creatures who appear to be hollowly revived, or replicas made through wizard magic. Though Disenchantment has been confirmed for Parts 3 and 4 to air between now and 2021, suffice to say, it's going to be a long wait for the next batch of episodes, full of a lot of lingering questions about where the show could be headed next. Where's Professor Farnsworth's forward time machine when you need it?