New Netflix True-Crime Doc Shows How 'Curb Your Enthusiasm' Saved a Man From Death Row
NBA
NBA
Maybe you've heard the story. In 2004, an episode of Curb Your Enthusiasm helped clear a man of murder charges by featuring the alleged killer in a scene shot during a Los Angeles Dodgers baseball game.
Now, in a bizarre kind of infinite content Möbius strip made possible by the proliferation of streaming platforms, there's a documentary about the whole saga, exclusively streaming on Netflix. Long Shot features Juan Catalan, the man whose innocence was proven, and Curb star Larry David among its interview subjects telling the tale of the fortunate happenstance.
The details of the murder are compelling in their own right, and without the coincidental help of David might have resulted a tragic entry on the long list of people executed for crimes they didn't commit. Catalan did have a motive for the execution-style killing of 16-year-old Martha Puebla, as she was a witness in his brother's trial for murder. There was also a bystander who identified Catalan as the killer.
But he had an alibi: he took his 6-year-old daughter to see the Dodgers take on the Atlanta Braves, a game that nobody was leaving early from, as it was tied up until the ninth inning.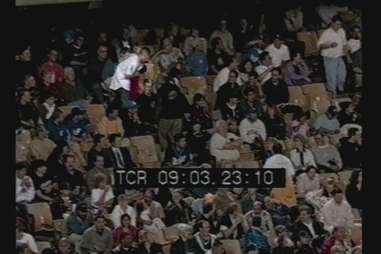 As it turned out, HBO's hit comedy series (which is returning this weekend) coincidentally shot some guerilla-style material for an episode at the live event, in the exact section where the accused and his little girl were seated. But contrary to the legend, that stroke of luck alone wasn't enough to prove Catalan's innocence. Leave it to a documentary to set the record straight, even if it dilutes the heroism and ego of a "mega-huge Hollywood star" like David -- as he's referred to as by defense attorney Todd Melnik.
Otherwise, though, there's not a whole lot of meat to the 40-minute film. Directed by Jacob LaMendola, Long Shot is a standard talking-head documentary that leans more on telling than showing. And the telling isn't very engaging. Given how much time has passed, it's not surprising that Catalan's account lacks emotional weight, and the rest of the interviewees are also rather straightforward in their narration. Some of them, in particular actress Kym Whitley, who appears in the Curb episode involved, and a Nextel employee, offer nothing of substance at all.
The most significant moment for the film comes near the end, when David admits to telling the story on occasion at parties or to impress a date. It's a neat story, for sure. Long Shot just fleshes it out a bit with first-person anecdotal detail and the necessary visual aids, including courtroom footage and clips from the miraculous episode. It plays out chronologically, so if you don't know the story you could be in for a nice surprise, but anyone interested in the film is likely already familiar with the incredible events. The movie plays more like a long advertisement for Curb Your Enthusiasm, rather than a revelatory work of documentary filmmaking.
As a tie-in to Curb's resurrection, and even as a long-winded promotion for Coca-Cola near the end, the documentary is fine. Even as a short, though, the film runs well over the amount of time needed to tell the tale or promote a TV show -- you'll save yourself a lot of time by reading an article about the case instead.
Sign up here for our daily Thrillist email and subscribe here for our YouTube channel to get your fix of the best in food/drink/fun.
Christopher Campbell is a freelance film editor and critic, and the founder of the documentary review site Nonfics. Follow him for opinions of all sorts of movies @thefilmcynic.