The One Thing That Isn't Evolving With Netflix & Hulu's Takeover of TV
Jason Hoffman/Thrillist
Jason Hoffman/Thrillist
At the 69th annual Primetime Emmy Awards, a digital platform ruffled the feathers of legacy networks -- then won big. Elisabeth Moss took home the Outstanding Lead Actress in a Drama Series prize for Hulu's The Handmaid's Tale, which also became the first streaming-service series to win Outstanding Drama Series. The show, adapted from Margaret Atwood's novel into a cable-worthy hour-long by The 100 writer Bruce Miller, beat out six other nominees, three of which aired exclusively on digital subscription services.
While Netflix couldn't beat Hulu to the history books (it settled for John Lithgow's Outstanding Lead Actor in a Drama Series win for The Crown), it's not for lack of trying. Once known as a DVD rental-by-mail service, Netflix is a breeding ground for innovative series that spotlight both developing talent and industry veterans. Until House of Cards -- Netflix's first original production -- debuted in 2013, binge-watching was reserved for playing catch-up on multi-season shows. The service now distributes over 50 original series ranging from comedies like Master of None to historical crime dramas like Narcos.
In four years, Netflix and its streaming siblings adequately changed the way viewers consume television. But one thing has remained consistent between the service and network and premium cable television shows: runtime. The average network "hour-long" drama runs 42 minutes. On cable, shows often inch to the full hour. Premium cable, like HBO, often fill the full 30- or 60-minute time slot, though there are outliers: Game of Thrones occasionally defies standards with 67-91 minute episodes, and the first two episodes of Curb Your Enthusiasm's new ninth season push the 30-minute mark at 40 and 37 minutes. In comparison, network comedies still range from 22 minutes to the full 30.
Streaming shows have, for the most part, have stuck with tradition. Episodes of 2016's The Crown, a drama chronicling Queen Elizabeth II's (Claire Foy) ascent and early years on the throne, range from 56 to 61 minutes. Episodes of Aziz Ansari and Alan Yang's comedy Master Of None fall between 21 and 36 minutes. Season 1 of the Hulu hit The Handmaid's Tale features 47-to-60-minute episodes. Although the storytelling unfolds in a more novelistic manner, the lengths of the chapters are relatively uniform. When there's no need to adhere to broadcast time slots or commercial breaks, why do so many streaming-only programs stick to traditional episode runtimes? What keeps creators back from breaking all the rules?
"With something like Netflix and like Hulu, when it's a database and you can pull up what you want to watch at any time, length doesn't matter," TV critic David Bianculli of NPR's Fresh Air and TV Worth Watching says. Even if conventions are ingrained in the industry -- Emmy rules state that comedies must have episodes that are 30 minutes or shorter while drama runtimes are over 30 minutes -- Bianculli says that existing classifications are loose enough that a show will often be submitted to the category where they'd have the best chance at winning: "It's interesting the freedom that suggests and people aren't taking full advantage of it yet."
There's a common notion that people won't watch what they don't know. While Nielsen studies have shown that viewers tend to multitask while watching TV, opting to pay attention to smartphones, laptops, and tablets while the television was on, data doesn't suggest that the length of a program drives viewers' attentions to other media. And despite the fact that the human attention span is only eight seconds, it doesn't change the fact that we love to binge TV; studies show the average marathon-viewer will go as long as five hours straight. Realistically, Netflix could produce an original show with 90-minute episodes and, if behavior held steady, audiences would sit through it.
"I do think binge-watching changes the way we tell the story," says Bill Kennedy, a writer on House of Cards, "and I think [it changes] the way we can be subtle, the way we can lay in things quietly, and pay them off later."
The art of the binge paired with the rhythm of a 60-minute story arc allows writers to put their own spin on a tried-and-true form. Writers don't feel locked into the traditional "five-act" narrative structure, Kennedy insists, but knowing how much information fits into an hour block is helpful in processing the sprawling stories. House of Cards episode lengths fall between the 42 and 58 minute range.
"Binge-watching changes the way we tell the story."
"The one-hour-per-episode format kind of works well for a reason," Kennedy says. "If we mess with it, it's five minutes on either side. We're not constrained in the same way as 'We've really got to crawl between 55 and 56 minutes.' It allows the director to make editing choices that are the best thing artistically, not necessarily hewing towards a particular running time standard." But if budgeting and proper planning allows for it, Netflix is definitely open to longer episodes, Kennedy mentions.
One of the most closely timed Netflix Original Series, 13 Reasons Why, doesn't, on average, stray far from the 60-minute mark. (The median episode runtime is 55 minutes.) One of the show's executive producers, Joy Gorman Wettels, credits that to taking reading Netflix's suggestions as marching orders. A condition in the contract stated the episodes should average about 54 minutes, but there was no hard demand.
"Being our first TV show, we took that very literally," she says. "Our executives were like, 'We just wanted to do the show, so if it needs to be 48 minutes or 65 minutes, we'll support that.' You do have that leeway and they just ask that the length suits the vision and makes sense."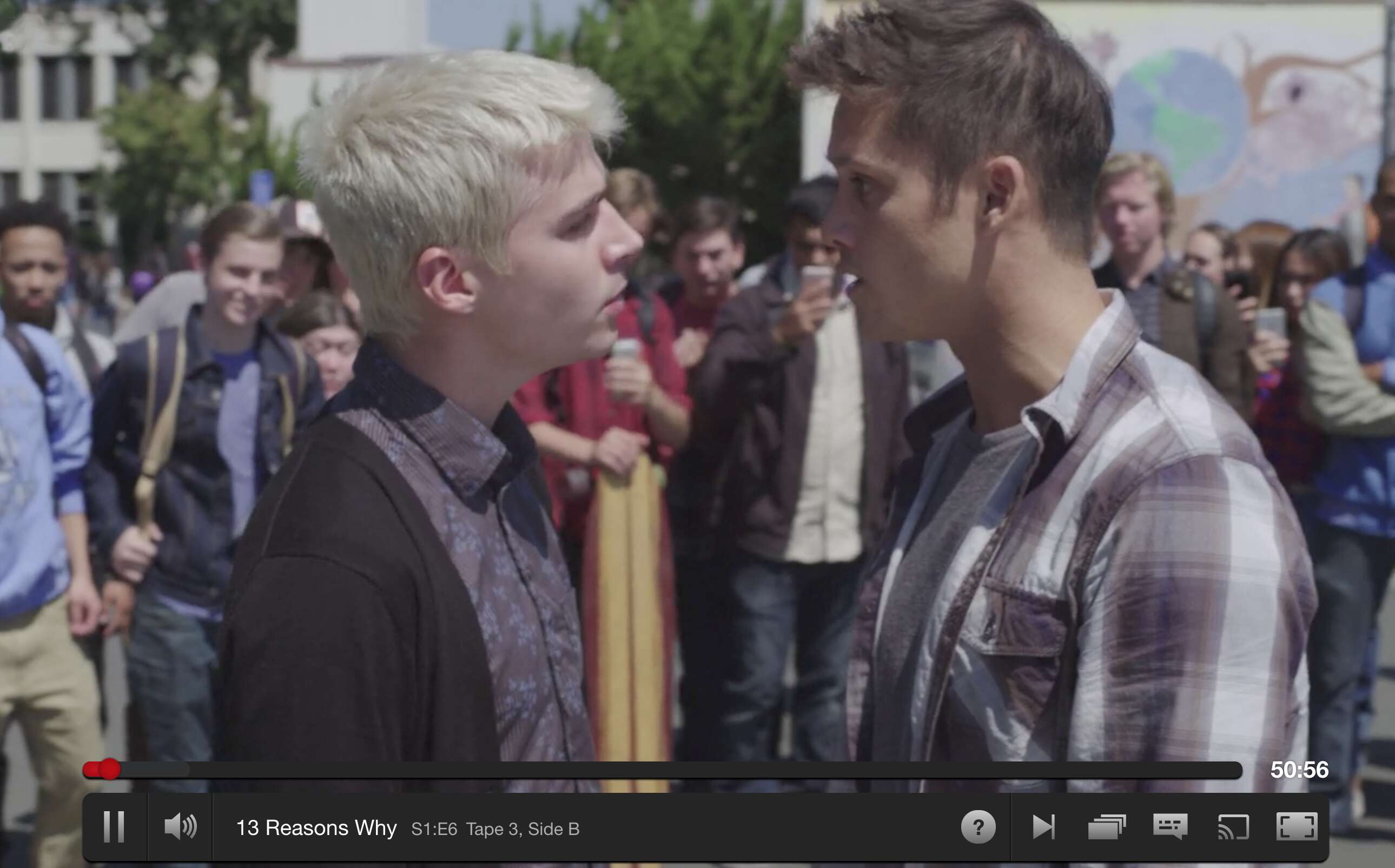 Throughout streaming television's rise, YouTube was and remains a haven for self-produced series done on a budget. The gems tend to be shorter in episodic length: Issa Rae's The Misadventures of Awkward Black Girl maxed at 15 minutes; the longest episode of The Gay and Wondrous Life of Caleb Gallo clocked in at 22 minutes. The "web series" eventually lured famous faces to the format. Jerry Seinfeld's Comedians in Cars Getting Coffee, initially distributed online by Sony's digital streaming platform Crackle, rattled the talk show conventions both in location -- Seinfeld interviews his friends while driving around New York in classic cars -- and time. The quality of the interview seems to dictate the length. Howard Stern's clip totals at 13 minutes; Steve Martin's is 23. A new season of Comedians in Cars will come exclusively to Netflix in 2018 -- it's unclear if the move signals a uniformity in episode length.
Similarly, the Vimeo web show High Maintenance, created by Ben Sinclair and Katja Blichfeld, which focuses on the experiences of a New York City weed dealer moved from web-only to HBO in 2016. With that, episode lengths jumped from bite-sized five-to-20 minutes to half-hour runtimes. Both Sinclair and Blichfeld mentioned the difficulty in maintaining the original's "intimacy" within a bigger production. "Sometimes it felt like it was an uphill battle," Blichfeld told the paper.
"If there's value to it down the line other than Netflix, it makes sense to keep it in the parameters of where it can be sold."
Sometimes it pays to go long. In 2008, The Writers Guild gained jurisdiction over digital and new media writing projects intended for the web or mobile devices. Original streaming programs weren't a factor a decade ago and online shows were thought of as low-budget "webisodes."
Since then, WGA contracts have adapted to meet the needs of writers working on streaming-only shows like those on Amazon, Hulu, and Netflix. Writers are paid a weekly rate, a per-episode fee, or a combination of both, according to Lowell Peterson, executive director of the Writers Guild of America, East. Writers are also paid a higher rate for a longer script.
"It's called the story and teleplay rate [and] for a short episode, [it] is definitely lower than an hour," Peterson says.
Despite technology's influence in morphing the medium, some old school conventions continue to prevail. The online network of screenwriters and buyers, The Black List's TV Script Standards guide advises writers to keep pilot scripts between 22 and 32 pages for half-hour comedies and 45 and 63 pages for one-hour dramas. "Page counts are essential to networks and executives because of that all-important advertising space, something that must be accounted for when writing for television," the guide reads.
The fact that there's still a "fall season" of TV -- a tradition which dates back to the 1960s where new networks would vie for viewers, and thus the advertising dollars of automakers marketing their new car models -- is proof that change comes slowly in Hollywood (though other networks are moving to a year-round schedule).
"TV is a 12-month, 52-week a year operation now, and networks are only one part of a mix," Bianculli says. "Cars aren't selling the way they were, networks aren't selling the way they were, and that's still there. Some of it takes awhile to adapt."
This unhurried move towards mold-breaking is why Bianculli thinks many Netflix Originals fit within network and cable time slots: syndication. Should House of Cards, for example, reach that circa-100-episode mark (they're at 65 now), the show might be able to be sold elsewhere, from HBO to USA Network, although there's no prior workable model for this yet.
"If there's value to it down the line other than Netflix, it makes sense to keep it in the parameters of where it can be sold to local stations to fill a one-hour slot," says Bianculli.
Of course, Netflix continues to break boundaries in many aspects of storytelling, from tackling difficult subjects, to experimenting with capsule episodes, and drawing big-name talent due to not-so-time-consuming shooting schedules. Two of the company's "Originals" straight-up break the runtime mold: The OA and a short-lived miniseries Residue. The former features episodes that are as long as 71 minutes and as short as 31. This was purposeful, creator and director Zal Batmanglij told SlashFilm.com earlier this year. The novelistic element of binge-watching allows for chapters to vary in length and the direction of the story dictated the episode runtime.
Residue was conceptualized and produced as a web series prequel to a larger story creator John Harrison hoped to get picked up. Only after he completed shooting was the story cut into three 45-minute episodes for television -- without the knowledge of where it was going to appear. Netflix took the show as it was and it debuted on the platform in 2015. Harrison -- who also adapted and directed the SyFy's TV miniseries Frank Herbert's Dune, which features three episodes ranging from 75 to 90 minutes -- is currently developing a new longform television series for an international audience called Stryx, based on the French graphic novel of the same name. Since neither network nor streaming has committed to the project, he's keeping the episode length within standard runtimes in the event that's where the buyer is interested.
"We'll either make it all and try to sell it to the highest bidder," Harrison says, "or we go on a network."
Because, after all, they call it a business for a reason.
Sign up here for our daily Thrillist email and subscribe here for our YouTube channel to get your fix of the best in food/drink/fun.

Allie Volpe is a writer based in Philadelphia. She has contributed to
Rolling Stone
,
The Washington Post
,
Glamour
, and more. She is a binge-watch obsessive. Follow her on Twitter @allieevolpe