Netflix Already Knows What You're Going to Watch Next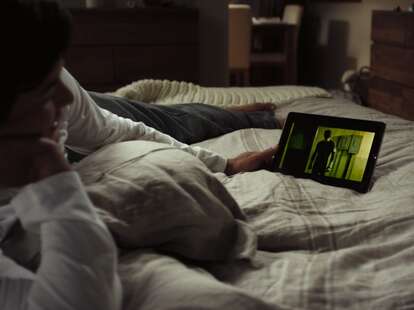 Netflix
Netflix
By now, Netflix has us all figured out: We watch a lot of TV. Bingeing is a skill we hone with pride. What we never realized, however, is how predictable our habits are after we make it through a given show.
Surveying over 30 million Netflix subscribers worldwide, the streaming service concluded that 59% of members take a three-day break before committing to a new show -- during which 61% seek out movies with very similar tones to the shows they just powered through. For example, many viewers chase a kid-centric adventure -- Stranger Things -- with a movie that follows mystery-solving friends (Zootopia); cartel drama Narcos leads to the opiate-heavy Pulp Fiction. After viewers power through Gilmore Girls, they tend to investigate the show's retro references through '80s classics like Sixteen Candles; those who finish Gossip Girl seek out teen comedies with the same sensibility. Fans of Marvel TV shows seek out more Marvel movies, and Making a Murderer obsessives gravitate toward more true-crime documentaries.
As we make more and more progress on our streaming to-do lists, this Netflix data can be interpreted as a recommendation guide of sorts: finish this, watch that! Click to expand the graphic below to see what your streaming brethren found to be the best digestif to the platform's most popular series, and check out the full list of TV-to-movie pairings below. Some of them make more sense than others, but who are we to argue with data that came straight from the source?
After American Horror Story:
Clueless
Mean Girls
The Babadook
After Arrow:
Crouching Tiger, Hidden Dragon: Sword of Destiny
London Has Fallen
The Fast and the Furious
After Bates Motel:
Cruel Intentions
Dope
Experimenter
After Better Call Saul:
Good Will Hunting
Reservoir Dogs
The Big Short
After Black Mirror:
After Porn Ends
Hot Girls Wanted
We Are Legion: The Story of the Hacktivists
After Bloodline:
Cold in July
Spotlight
The Machinist
After BoJack Horseman:
St. Vincent
Tony Robbins: I Am Not Your Guru
Wet Hot American Summer
After Breaking Bad:
Dope
Full Metal Jacket
Pulp Fiction
After Fuller House:
Chef
Grease
Serendipity
After Gilmore Girls:
Breakfast at Tiffany's
Dirty Dancing
Sixteen Candles
After Gossip Girl:
10 Things I Hate About You
Bring It On
Clueless
After Grace & Frankie:
August: Osage County
Philomena
The Fundamentals of Caring
After Grey's Anatomy:
American Beauty
Practical Magic
The Lovely Bones
After House of Cards:
American Beauty
Beasts of No Nation
The Usual Suspects
After How to Get Away With Murder:
Cruel Intentions
Lila & Eve
Save the Last Dance
After Jane the Virgin:
7 Años de Matrimonio
Clueless
Palm Trees in the Snow
After Making a Murderer:
Aileen: Life and Death of a Serial Killer
Josef Fritzl: Story of a Monster
The Hunting Ground
After Marvel's Daredevil:
Captain America: The Winter Soldier
He Never Died
The Punisher
After Marvel's Jessica Jones:
Lila & Eve
Dope
V for Vendetta (January 1st)
After Marvel's Luke Cage:
13TH
Beverly Hills Cop
The Siege of Jadotville
After Master of None:
Aziz Ansari Live at Madison Square Garden
Man Up
Meet the Patels
After Narcos:
Beasts of No Nation
Cartel Land
Narco Cultura
After Orange Is the New Black:
Spotlight
The Big Short
The Do-Over
After Pretty Little Liars:
Bring It On
Clueless
Mean Girls
After Scream:
Bring It On
Goosebumps
Minions
After Sense8:
He Never Died
Pulp Fiction
The Giver
After Stranger Things:
Big Daddy
Hot Fuzz
Zootopia
After The Crown:
Elizabeth
Jane Eyre
The Imitation Game
After The Ranch:
Iverson
Just Friends
The Do-Over
After The Walking Dead:
Coming to America
Saving Private Ryan
The Do-Over
After Unbreakable Kimmy Schmidt:
Ali Wong: Baby Cobra
Pleasantville
The Princess Bride
Sign up here for our daily Thrillist email, and get your fix of the best in food/drink/fun.