Last year, Netflix upped the number of new TV shows it would be releasing. In 2018, the content dams have apparently burst, and the streaming service is dramatically increasing its output of original and exclusive movies as well, with an aim to release as many as 80. "They range anywhere from the million-dollar Sundance hit," teased chief content officer Ted Sarandos, "all the way up to something on a much larger scale."
Fret not: The feature-length initiative doesn't mean you aren't getting new TV shows. It means you're getting an overwhelming amount of everything. See what we mean below, with this handy calendar of Netflix's 2018 originals we'll be updating all year long.
Recommended Video
The 'Black Mirror' Killer Pizza Truck Is Real Now, Thanks To Pizza Hut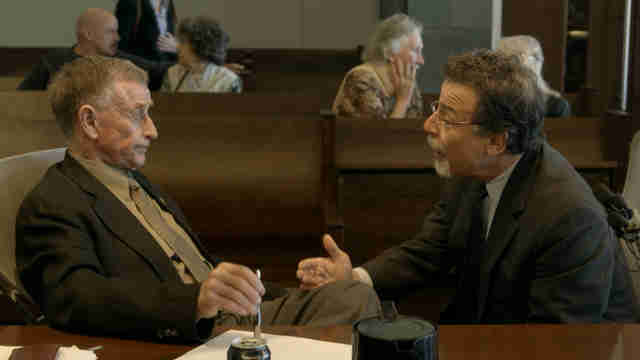 Available 6/8
Alex Strangelove
From Craig Johnson (The Skeleton Twins, Wilson), a teen comedy about a nerdy guy (Daniel Doheny) whose mission to lose his virginity leads "to a hilarious and heartbreaking exploration of modern manhood."
Ali's Wedding
An award-winning rom-com based on a true story -- that of Ali, the son of a beloved Muslim cleric from Iraq who leads a double life in Australia "that sees him attending medical school despite not being enrolled, and falling in love despite being promised to another." Writer Osamah Sami stars as Ali, and Jeffrey Walker directs.
Sense8 (Season 2 finale)
When Sense8 got canceled after Season 2, fans were understandably mad. The ambitious, trippy show had ended on a cliffhanger, and loud calls for a renewal went unanswered for what felt like an eternity. In other words, it was a bit of a clusterfuck. But fortunately, the persistent fans won in the end, making enough noise to encourage Netflix to give the series a proper send-off in the form of this two-hour series finale. GR8!
The Staircase
The popular true crime series -- which more than a decade ago chronicled the story of the crime novelist Michael Peterson, his wife's death, and the ensuing judicial battle -- hits the streaming service with a three-episode update.
Available 6/15
Lust Stories
An Indian anthology series of four short love stories, helmed by Karan Johar, Anurag Kashyap, Zoya Akhtar, and Dibakar Banerjee.
Set It Up
In this rom-com, two overworked assistants (played by Zoey Deutch and Glenn Powell) try to get their dumb, single bosses off their backs by setting them up on a date.
Queer Eye (Season 2)
The Fab 5 are just getting started with their "make-betters." While the first season already expanded the scope of the show a little (featuring a gay subject -- hence the absence of "for the Straight Guy" in the title), the second will go further (featuring a female and a transgender subject).
Voltron: Legendary Defender (Season 6)
Your heroes will keep working with Lotor, Honerva will continue to learn about her past, and there miiiiiight be some more mama drama.
Available 6/17
La Balada de Hugo Sánchez** (Season 1)
A Mexican dramedy, which you might recognize as a Club of Crows spinoff, that has Chava Iglesias' personal assistant trying his best to lead his boss' unruly football club to victory in Nicaragua.
Available 6/19
Hannah Gadsby: Nanette
Hailed by The New York Times as "a major new voice in comedy," Gadsby uses her latest special to discuss gender, sexuality, and her own comic persona.
Available 6/22
Cooking on High (Season 1)
I guess this was only a matter of time, but yes, this is a cannabis cooking competition show. YouTube phenom Josh Leyva hosts, and we'd be very surprised (and disappointed) if Seth Rogen didn't guest.
Marvel's Luke Cage (Season 2)
Remember Mike Colter's Marvel show? Well, there's more punch to be served.
Available 6/26
W. Kamau Bell: Private School Negro
The socio-political comedian (Totally Biased With W. Kamau Bell) cracks wise about "the current presidential administration, racism in America, parenting mixed-race daughters, and what it would be like if Michelle Obama still had a job in the White House."
Available 6/29
GLOW (Season 2)
Shit gets real as the Gorgeous Ladies of Wrestling start to grapple for airtime.
Paquita Salas (Season 2)
A mockumentary about a charismatic, but quirky, talent rep (the titular Paquita), who, in her show's sophomore run, will have to learn how to accept herself to get ahead.
Recovery Boys
From Oscar-nominated director Elaine McMillion Sheldon, a doc that follows four men as they get clean and attempt to re-enter society amid America's punishing opioid crisis.
Available 7/6
Sacred Games (Season 1)
One of Netflix's many Indian originals on the way, an adaptation of Vikram Chandra's book of the same name.
Somebody Feed Phil
More of that docuseries in which the creator of Everybody Loves Raymond eats and makes you watch! (This time in Venice, Dublin, Buenos Aires, Copenhagen, Capetown, and New York.)
The Legacy of a Whitetail Deer Hunter
From Jody Hill (Eastbound & Down, Vice Principals), a surely traumatic but funny movie about a hunter (Josh Brolin) and his cameraman (Danny McBride) who go out for a weekend to bond with the hunter's kid (Montana Jordan).
Available 7/20
Graduates
Relative newcomer Tyler Spindel (Chelsea Lately, Deported) directs this "sounds like a bad idea" comedy, about two college grads whose "my dad could beat your dad in a fight" jawing is taken seriously by one of the dads. Notable names (read: dads) include David Spade, Nat Faxon, and Kevin Nealon.
Available 7/27
The Bleeding Edge
A doc from Kirby Dick and Amy Ziering (The Invisible War, The Hunting Ground) that centers on America's $400 billion medical device industry, examines its foibles, and asks, "What life-saving technologies may actually be killing us?"
Orange Is the New Black (Season 6)
The fifth season of Jenji Kohan's OG Netflix drama followed Poussey's tragic death with a fast-crescendoing riot and ended in separation: some inmates boarded buses, some stood tall in their makeshift bunker. Where are those buses going? What's next for those left behind? What TV show is Pennsatucky going to binge first?!
Available 8/3
Like Father
Actress Lauren Miller's (Superbad, Sausage Party) feature directorial debut, about a workaholic (Kristen Bell) who's abandoned at the altar and spends her honeymoon not with her fiancé, but with her -- drumroll, please -- workaholic dad (Kelsey Grammer).
Available 8/10
La Casa de las Flores (Season 1)
A dark comedy about a family-run flower shop -- shit gets real when the dad agrees to take care of his late mistress' kids. Drama!
The Package
A Ben Stiller-produced dark comedy with a cringe-worthy logline: "When a teenager accidentally cuts off his penis during a camping trip, he and his friends rush to save the appendage before it's too late."
Available 8/17
Disenchantment (Season 1)
From Matt Groening, a series that should essentially play like the love child of The Simpsons and Game of Thrones -- or, the fantasy version of Futurama. It stars the oddball trio of Abbi Jacobson, Nat Faxon, and Eric Andre.
To All the Boys I've Loved Before
This movie, based on Jenny Han's popular YA novel, asks the very important question, "What if all the crushes you ever had found out how you felt about them all at once?"
Available 8/24
The Innocents (Season 1)
Sorcha Groundsell and Percelle Ascott co-star in this British saga, which some have teased as something of a sci-fi Romeo & Juliet. (Although Romeo & Mystique might be more like it because this Juliet is a freaking shape-shifter.)
Stay tuned for more updates.
Unscheduled 2018 Netflix movies and shows
The following titles are slated for this year, but don't have concrete release dates yet:
Dogs of Berlin (Season 1)
Netflix's second German production, after Dark, about two detectives forced to team up and tackle the Berlin underworld. (Sadly, not another Dogist documentary.)
Green Eggs and Ham (Season 1)
The popular Dr. Seuss book will stretch out into a full season of TV.
Maniac
Cary Fukunaga's next big project, about "two strangers (Emma Stone, Jonah Hill) who find themselves caught up in a mind-bending pharmaceutical trial gone awry." Looks weird!
Osmosis (Season 1)
Like a Black Mirror episode-turned-season, a TV show that grapples with soul-mate recognition software in the near future.
The Other Side of the Wind
Orson Welles' previously unfinished Hollywood satire, cut together by an Academy Award-winning post-production team.
Ozark (Season 2)
After barely surviving a stressful move to the Ozarks, Marty and his family will have to dig in their heels and learn how to run a riverboat casino.
Samantha! (Season 1)
Like BoJack Horseman but with Samantha! (and more humans).
Sierra Burgess Is a Loser
A modern retelling of Cyrano de Bergerac, starring Shannon Purser, aka Stranger Things' Barb!
The Umbrella Academy (Season 1)
A TV adaptation of Gerard Way and Gabriel Bá's popular graphic novels.
Sign up here for our daily Thrillist email and subscribe here for our YouTube channel to get your fix of the best in food/drink/fun.