Last year, Netflix upped the number of new TV shows it would be releasing. This year, the content dams have apparently burst, and the streaming service is dramatically increasing its output of original and exclusive movies as well, with an aim to release as many as 80. "They range anywhere from the million-dollar Sundance hit," teased chief content officer Ted Sarandos, "all the way up to something on a much larger scale."
Fret not: The feature-length initiative doesn't mean you aren't getting new TV shows. It means you're getting an overwhelming amount of everything. See what we mean below, with this handy calendar of Netflix's 2018 originals we'll be updating throughout the year.
Recommended Video
This Pizza Dip Lets You Throw a New Kind of Pizza Party
Available 10/8
Mo Amer: The Vagabond
Yet another standup special on Netflix, this one from Arab-American comedian Mo Amer, who at Austin, Texas' Paramount Theatre offers his unique take on all kinds of contemporary American political questions.
Available 10/9
Terrace House: Opening New Doors
Part four of the Japanese reality series about a group of strangers living together in a house in the woods. Basically The Real World, but in Japan. 
Available 10/10
22 July
This foreign crime drama documents the story of the most devastating terrorist attack in Norway's history, the 2011 attacks carried out by lone wolf right-wing extremist Anders Breivik.
Blood Pact
A Brazilian series about a television reporter determined to report on corruption and gang violence in Belém, no matter how great of lengths he must go to get the story.
Available 10/11
Salt Fat Acid Heat
Walk through approachable kitchen basics in this series from Samin Nosrat, based off her James Beard Award-winning informational cookbook of the same name. Instead of sitting in one prop kitchen, expect to bounce around the globe, from homes in Italy, Japan, the Yucatán, to Alice Waters' famed Chez Panisse in San Francisco.
Available 10/12
Apostle
Expect big, bloody scares from this new film by Gareth Evans, responsible for cult action classics The Raid and its sequel. When his sister goes missing on an island, her brother (Dan Stevens) goes on a search to get her back, which lands him into torturous cult territory.
The Haunting of Hill House
An extremely spooky miniseries based on Shirley Jackson's horror masterpiece of the same name about a family that must return to their family home that's haunted them for years. Haunting and horrors ensue! 
The Kindergarten Teacher
You'd never expect a kindergarten teacher to be dangerous, right? Well, in this drama Maggie Gyllenhaal plays a teacher who takes a particular interest in one of her students after hearing his poetry, eventually developing an obsession with him and his talents. It was one our favorite movies from Sundance, so it's worth checking out. 
The Curious Creations of Christine McConnell
Proto-goth baker and seamstress Christine McConnell makes Halloween-like creatures appropriate for any time of year with her spooky home goods in this how-to series.
Errementari: The Blacksmith and the Devil
A terrifying retelling of the classic European fable about a blacksmith who must face off with Satan himself.
FightWorld
Join Frank Grillo, a fight enthusiast, as he travels the globe to learn about a variety of fight cultures and traditions. 
ReMastered: Who Shot the Sheriff?
The latest installation of Netflix's musical mystery series looks at who may have been responsible for the assassination attempt against Bob Marley in 1976. 
Feminists: What Were They thinking? 
Silly women, fighting for equality? What a crazy idea! This documentary chronicles the feminist movement from the women's liberation of the '70s to today, because there's still a long way to go in the struggle to ensure women to receive equal treatment.
Boss Baby: Back in Business
The world can't get enough of this infant corporate overlord, who's back for Season 2 and is still learning how to navigate just your average baby vs. Baby Corp. CEO life balance. 
Tarzan and Jane
It's Tarzan, but as a teen with superpowers in a family-friendly animated series!
Available 10/15
The Seven Deadly Sins: Revival of the Commandments
Season 3 of the anime series following a princess and her rag-tag crew of evil knights on a quest to get her home safely to her rightful realm.
Available 10/16
Ron White: If You Quit Listening, I'll Shut Up
A comedy special from the cynical Ron "Tater Salad" White.  
Available 10/19
Daredevil (Season 3)
It's been a while since we checked in with Daredevil, a blind lawyer named Matt Murdock (Charlie Cox) who assumes his vigilante identity at night, using his supernaturally heightened senses to solve local crime. Season 3 will follow the events after the devastating blast at the end of Season 2, when Daredevil and Elektra barely made it out alive. 
Making a Murderer Part 2
The long-awaited follow-up to Netflix's first big true crime series arrives. Part 2 chronicles the fallout from the original docuseries' release and the attempt to overturn Steven Avery and Brendan Dassey's convictions in the murder of Teresa Halbach.
Wild District
This dramatic Spanish-language Colombian series sees Juan Pablo Raba (Narcos, 7 Años, Los 33, Six) as a former guerilla soldier trying to reintegrate himself back into the society of Bogotá, but seems to have a hard time staying out of trouble.
Best.Worst.Weekend.Ever
Everything that could possibly go wrong for three teenagers on their supposed-to-be-amazing trip to Comic-Con goes wrong. Nerds just can't catch a break!
Wanderlust
After a cycling accident, longtime married couple Joy (Toni Collette) and Alan (Steven Mackintosh) struggle to find a spark and chemistry in their marriage, forcing them to take drastic measures to reinvigorate their sex life. 
Haunted
Get seriously spooked ahead of Halloween as real individuals share their personal stories of paranormal encounters in this part-reenactment, part-documentary series.
Hip-Hop Evolution
Season 2 of this docuseries featuring interviews from essential MCs and hip-hop figureheads recounting the birth and evolution of the genre. 
The Night Comes For Us
An Indonesian action film about a former Triad enforcer on a mission to protect a young girl whose life he spared during a massacre as the two are targeted for murder by gangsters. 
Illang: The Wolf Brigade
A futuristic Korean sci-fi film seeing a police squad face off with a terrorist group opposing the planned unification of South and North Korea. 
Larva Island
A Korean children's series about two larva best buds and their adventures while trapped on an island. They may be creepy and crawly bugs, but they're also goofy and adorable!
Available 10/23
Adam Sandler: 100% Fresh
Now even Adam Sandler has his own Netflix comedy special! Expect lots of Sandler-style original singing. 
Available 10/24
Bodyguard
This BBC series stars Richard Madden of Game of Thrones fame as David Budd, a war veteran suffering from PTSD following a terrorist attack who's sent to act as the bodyguard for a politician he disagrees with on every level. 
Available 10/24
Robozuna
An inventive boy and his homemade robot attempt to take down the evil forces ruling their nation. 
Available 10/26
The Chilling Adventures of Sabrina
Sabrina: The Teenage Witch retold as a spooky story. Riverdale alum were part of the production crew, which tells us that this teen tale isn't going to be dabbling in lighthearted frivolities.
Castlevania
The video game-inspired anime about a vampire hunter tracking down Dracula's army of beastly demons is back for Season 2. 
Shirkers
In this documentary, filmmaker Sandi Tan goes on a search for her own lost film, an indie movie that she and friends made in Singapore in the '90s that mysteriously disappeared along with an American mentor who also worked on the piece. It's an auteur film lover's nightmare and dream come true.
Been So Long
Chewing Gum's Michaela Coel stars in this British musical about a single mother who finds herself falling for a stranger (Arinzé Kene) she meets on a night out in Camden. 
Dovlatov
A Russian biographical film chronicling the final days of legendary writer Sergei Dovlatov as he recounts the oppressive Soviet regime's effect on his life's work. 
Available 10/28
Patriot Act with Hasan Minhaj
The first episode of comedian Hasan Minhaj's exploration of what the hell is happening in America's political landscape premieres on 10/28, with a new episode each Sunday for a whopping 32 installments in all. 
Available 10/30
The Degenerates
A comedy special featuring six stand-up comedians exploring the darker side of their profession.
Available 10/31
Gun City
An international drama set in 1920s Barcelona, where a cop doubles as an anarchist as he attempts to discover who stole military weapons that have the potential to cause a civil war.
Available 11/2
House of Cards
The final season of House of Cards airs this November, seeing Claire Underwood wielding her power over Washington. Kevin Spacey, facing accusations of sexual misconduct, will not be returning.
The Other Side of the Wind
The world will finally see Orson Welles' previously unfinished Hollywood satire, cut together by an Academy Award-winning post-production team.
They'll Love Me When I'm Dead
The perfect hors d'oeuvre or chaser for The Other Side of the Wind -- this doc, directed by Morgan Neville (20 Feet from Stardom), chronicles the last 15 years of Orson Welles' life.
Available 11/9
Outlaw King
A bloody historical film about Robert the Bruce (William Wallace's compatriot) and the 14th-century Scottish war for independence against the English. But mostly, everyone's talking about Chris Pine's nude scenes.
Medal of Honor
An anthology series telling the stories of those in the military who have gone to exceptional lengths of personal sacrifice, later receiving the Medal of Honor for their service. 
Available 11/16
The Kominsky Method
Michael Douglas plays Sandy Kominsky, an aging actor who used to be a huge star, in this comedic yet earnest series about living out your third act in Los Angeles.
Ballad of Buster Scruggs
Another Western from the Coen Brothers -- this time an anthology film of shorts!
Narcos: Mexico
Expect to cover similar ground as the O.G. Narcos, but this time following the rise of the Guadalajara Cartel, a murder-happy and powerful bunch led by Félix Gallardo (Diego Luna), being investigated by undercover DEA agent played by Michael Peña.
She-Ra and the Princesses of Power
You may recall an '80s series of the same name from your childhood. Well, this magic-sword-wielding orphan-turned-evil-battling warrior is back for a reboot!
Available 11/22
Mystery Science Theater 3000
The cult classic show about a human and his robot friends trapped aboard a spacecraft, forced to watch B-list movies returns for its second season in rebooted form on Netflix.
Available 11/30
Baby
A group of Roman teenage girls forced into sex trafficking organize a plan to escape and search for their stolen identities in this Italian drama inspired by a true story. 
Available 12/5
Dogs of Berlin (Season 1)
Netflix's second German production, after Dark, about two detectives forced to team up and tackle the Berlin underworld. (Sadly, not another Dogist documentary.)
Available 12/14
ROMA
Netflix is throwing its hat in the Oscar ring with ROMA, Alfonso Cuarón's (Y Tu Mamá También, Gravity, Children of Men) latest effort, set in 1970s Mexico City. It's already be made the festival rounds, and early returns say the film looks stunning.
Available 12/18
Ellen Degeneres: Relatable
Ellen Degeneres may be one of America's most beloved talk show hosts/philanthropists/comedians, but it's been 15 years since she's performed a comedy special. Now that she's made a deal with Netflix, though, she'll be back with her first stand-up special in years this December. 
Springsteen on Broadway
Following in the footsteps of Oh, Hello!'s Nick Kroll and John Mulaney, The Boss is sending his concert residency from The Great White Way to The... Great Red Streamer? Yep.
Available 12/25
Watership Down
A very British miniseries adaptation about the classic story of a clan of rabbits whose home comes under threat.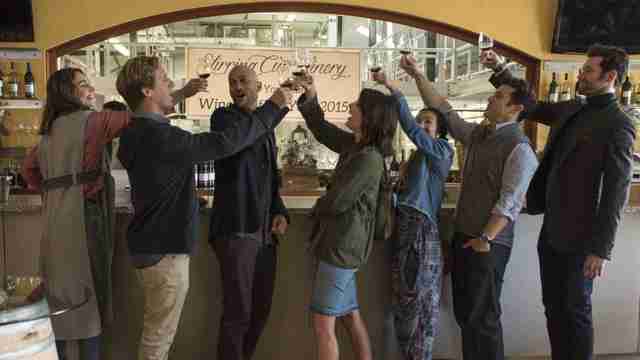 Unscheduled 2018 Netflix movies and shows
The following titles are slated for this year, but don't have concrete release dates yet:
Friends From College (Season 2)
Given what happened in last season's finale, they might have to change the name of this show... but Season 2's happening!
Génération Q
The French version of Avenue Q -- kidding, but not about the French part; this rom-com series is set in Paris!
Green Eggs and Ham (Season 1)
The popular Dr. Seuss book will stretch out into a full season of TV.
Hache (Season 1)
Inspired by real events, the story of Helena (Adriana Ugarte), a "woman catapulted to the heroin trafficking business in the Barcelona of the '60s." The Spanish thriller -- the country's fifth original -- will offer eight 60-minute episodes of European Breaking Bad-assery, hopefully filling the inevitable void Ozark will leave once you've binged all of that.
Madam C.J. Walker
Based on the book by A'Lelia Bundles, On Her Own Ground, this new limited series promises the "untold and highly irreverent story of black hair care pioneer and mogul Madam C.J. Walker," née Sarah Breedlove (played by Octavia Spencer), who become the first female, black, self-made millionaire in America with her beauty product line.
What/If
This new series hinges on a central question: Can one bad decision change your entire life? Who knows (but probably). Inspired by "culturally consequential source material," starring Renee Zellweger.
White Lines
Have we reached peak DJ story with this new mystery series, set in Ibiza, that follows a sister trying to piece together her DJ brother's death 20 years ago? Maybe!
Sunderland Til I Die 
A British docuseries looking at the Sunderland football club in their 2017/18 season.
Fate/Extra Last Encore
A new anime series about a man who wakes up amid a brutal war, and though he has no recollection of how he got to where he is, he must fight for his survival. 
Diablero
When a young girl goes missing in Mexico City, a priest enlists a demon hunter and paranormal expert to assist in his search for her, believing something darker might be responsible for her disappearance. 
Stay tuned for more updates.
Sign up here for our daily Thrillist email and subscribe here for our YouTube channel to get your fix of the best in food/drink/fun.