Every Netflix Movie & TV Show Premiering in 2018 (and Beyond)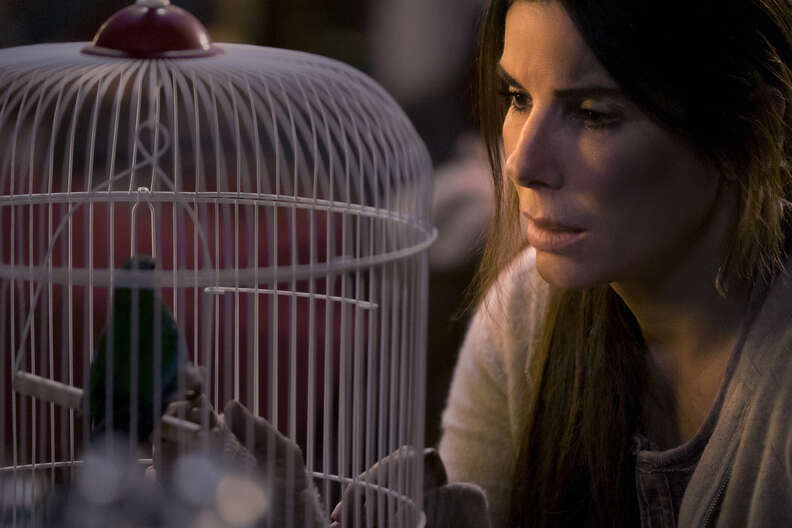 Sandra Bullock in 'Bird Box'

| Merrick Morton/Netflix
Sandra Bullock in 'Bird Box'

| Merrick Morton/Netflix
Last year, Netflix upped the number of new TV shows it would be releasing. In 2018, the content dams have apparently burst, and the streaming service has dramatically increased its output of original and exclusive movies as well, with an aim to release as many as 80. "They range anywhere from the million-dollar Sundance hit," teased chief content officer Ted Sarandos, "all the way up to something on a much larger scale."
Fret not: The feature-length initiative doesn't mean you aren't getting new TV shows. It means you're getting an overwhelming amount of everything. See what we mean below, with this handy calendar of Netflix's 2018 originals we'll update all year.
Available 12/7
5 Star Christmas
A comedic holiday film from Italy about everything that could possibly go wrong when the Italian prime minister stays at the same hotel as his political rival in Budapest over Christmas.
The American Meme
Unfortunately not about the best memes of the year, and instead a documentary about Paris Hilton, Josh Ostrovsky (the Fat Jew), and other social media stars' ridiculous rise to online fame.
Bad Blood
Based on the real life saga of the infamous Rizzuto family who ran the organized crime scene in Montreal for years.
Dogs of Berlin
Netflix's second German production, after Dark, about two detectives forced to team up and tackle the Berlin underworld. (Sadly, not another Dogist documentary.)
Dumplin'
Living under the shadow of a parent is never easy, especially for plus-sized Willowdean (Danielle Macdonald), who has to deal with her former pageant queen mother Rosie (Jennifer Aniston), who never grew out of her pageant days. So, in this comedy, Willowdean decides to shake things up by signing up for her mother's local pageant as an act of defiance and protest. Like Insatiable, Dumplin' has the potential to be very problematic, but let's hope its message is a bit more positive.
Free Rein: The Twelve Neighs of Christmas
A Christmas special from the children's series about a young girl and her friendship with a horse.
The Hook Up Plan (Plan Coeur), Season 1
A French romantic comedy about a young woman whose friends hire her a male escort to help her get over her recent break up.
Mowgli: Legend of the Jungle
Another CGI reimagining of the classic Rudyard Kipling tale, The Jungle Book. This version, coming from Andy Serkis, features voices by Christian Bale, Cate Blanchett, and others, and pretty creepy looking animals.
Nailed It! Holiday
Netflix's original comedic baking show features a special holiday-themed episode calling on terrible cooks to attempt to make beautiful holiday dish favorites for a cash prize.
Neo Yokio: Pink Christmas
While it's not a full second season of the Vampire Weekend frontman Ezra Koenig-created anime Neo Yokio, fans of the series will get a Christmas special about the Jaden Smith-voiced sad teen.
Pine Gap, Season 1
An Australian drama focused on the mysterious inner workings of the espionage-led defense facility Pine Gap.
The Ranch, Part 6
The latest season of the bro comedy featuring Ashton Kutcher as a failed pro-athlete who returns home to his family ranch.
ReMastered: Who Killed Jam Master Jay?
The latest installment of Netflix's true music mysteries series, this episode looking at Run-D.M.C. member Jam Master Jay and his unsolved murder.
Super Monsters and the Wish Star
In this special episode of Netflix's children's series about friendly monsters, each character is surprised to learn that all of their wishes are coming true on the night before Christmas.
Available 12/11
Vir Das: Losing It
Bollywood star Vir Das gets his own comedy special with bits on religion, travel, and his childhood.
Available 12/12
Back Street Girl: Gokudols, Season 1
An anime about three young men involved in organized crime make a huge mistake and must break into the J-Pop music scene in order to hide from the situation they got themselves into.
Out of Many, One: The Immigrant's Story
A variety of individuals tell their immigration stories as they work to pass the US citizenship in this documentary.
Available 12/13
Wanted, Season 3
The latest follow up to the Australian series following two women on the run after they witness bad cops committing a heinous crime.
Available 12/14
Chilling Adventures of Sabrina: A Midwinter's Tale
A special installment of Netflix's Chilling Adventures of Sabrina sees the Church of Night celebrating the Winter Solstice… with some uninvited supernatural visitors who decide to disrupt their longest night of the year festivities.
Cuckoo, Season 4
After marrying an American hippie (Andy Samberg), a young British woman's disapproving family slowly lightens up to their relationship as misadventures are only just beginning for the union.
Dance & Sing with True
A collection of upbeat children's songs paired with imaginative visuals to play when you're in the mood for something saccharine or need to entertain a small child.
The Fix
A panel talk show featuring comedians Jimmy Carr, D.L. Hughley, and Katherine Ryan as they discuss contemporary social issues with each other and guests.
Fuller House, Season 4
The Tanner girls are all grown up in this revival of Full House, which somehow is now on its fourth season. Have mercy!
The Innocent Man
Taking on the subject of John Grisham's only nonfiction novel, this documentary looks at two disturbing murder cases in rural Oklahoma in the '80s.
Inside the Real Narcos
You've watched Narcos, but you haven't watched the RealNarcos yet! In a documentary series focused on the real life cartels dramatized in Narcos, former Special Forces commando Jason Fox travels to the center of this criminal activity to interview cartel members about their experiences.
Inside the World's Toughest Prisons, Season 3
A continuation of a group of investigative journalists' look inside some of the world's most violent prisons.
Prince of Peoria: A Christmas Moose Miracle
The children's live action series about a prince who leaves behind his kingdom to get a regular high school experience gets its own holiday special as the Prince and his friends find themselves snowed in at the local bowling alley.
The Protector
Netflix's first series hailing from Turkey, The Protector is an action/fantasy drama about a young man who discovers he's related to a secret prophecy and is destined to save his home in Istanbul from an immortal enemy.
ROMA
Netflix is throwing its hat in the Oscar ring with ROMA, Alfonso Cuarón's (Y Tu Mamá También, Gravity, Children of Men) latest effort, set in 1970s Mexico City. It's already be made the festival rounds, and early returns say the film looks stunning.
Sunderland Til I Die
A British docuseries looking at the Sunderland football club in their 2017/18 season.
Tidelands
A young woman's Australian home was always humored to be haunted by sirens from the sea, and this fantastical mystery and other murderous secrets become even more real when she returns home after being away for some time.
Travelers, Season 3
The series following an FBI agent and his time traveling team returns, as they continue to attempt to save humanity from a dark, impending future, while maintaining their sanity now that their existence has leaked.
Voltron: Legendary Defender, Season 8
The final season of the anime series following five heroes and their robotic lions set out to save the universe.
Available 12/16
Springsteen on Broadway
Following in the footsteps of Oh, Hello!'s Nick Kroll and John Mulaney, The Boss is sending his concert residency from The Great White Way to The... Great Red Streamer? Yep.
Available 12/18
Baki
An anime featuring a martial arts champion who must fight a series of death row inmates to prove himself once he threatens to surpass his father's position as a legendary martial arts master.
Ellen Degeneres: Relatable
Ellen Degeneres may be one of America's most beloved talk show hosts/philanthropists/comedians, but it's been 15 years since she's performed a comedy special. Now that she's made a deal with Netflix, though, she'll be back with an original stand-up special this December.
Terrace House: Opening New Doors, Part 5
The Real World-like series from Japan about a group of strangers put together in a house as they navigate their young lives.
Available 12/21
3Below: Tales of Arcadia, Season 1
A sci-fi series for kids about a group of aliens whose spaceship crashes onto Earth and they're force to assimilate to human life in order to keep their identities secret.
7 Days Out
There's always excitement leading up to major events, so this documentary focuses on the highly anticipated lead up to celebrations like the Kentucky Derby and more.
Back With the Ex
An Australian reality show that gives individuals one final opportunity to attempt to patch things up with their ex and get back together.
Bad Seeds
A scam artist attempts to find redemption in his life by mentoring a group of young, difficult students in this international comedy.
Bird Box
In an apocalyptic future when creatures invade Earth, all you have to do to survive is avoid looking at the dark force, as seeing it takes your life. Easy, right? Not so much for Sandra Bullock's character in this thriller, as she must travel blindfolded to safety with her two children.
The Casketeers
While Fracis and Kaiora Tipene have supposedly depressing jobs working as funeral directors, they lead surprisingly heartwarming lives working with clients, which is documented in this reality series.
Diablero, Season 1
When a young girl goes missing in Mexico City, a priest enlists a demon hunter and paranormal expert to assist in his search for her, believing something darker might be responsible for her disappearance.
Last Hope, Part 2
Scientist Leon Lau accidentally brought humanity to near extinction with a failed experiment in this anime, and now must fight the natural disaster he thrust upon the world.
Perfume
A detective works diligently to reveal the truth behind a murder of a woman found with her scent glands mysteriously removed in this German crime drama.
Sirius the Jaeger, Season 1
An anime following undercover vampire hunters in imperial Tokyo.
Struggle: The Life and Lost Art of Szukalski
When a group of LA-based artists find the forgotten work of Polish sculptor Stanislav Szukalski, they begin to unravel his unique story to discover the real man behind the work.
Tales by Light, Season 3
The visually stunning docuseries continues to take daring photographers and filmmakers to new heights and locales as they attempt to capture never-befor-seen images.
Wolf (BÖRÜ)
Following the dangerous missions of a special operations law enforcement team in Turkey.
Available 12/23
Watership Down
A very British miniseries adaptation about the classic story of a clan of rabbits whose home comes under threat.
Available 12/24
Hi Score Girl
A gamer who believes his skills can't be matched finally has to put his skills to the test when he sees his classmate at the arcade and learns just how much they rival each other in this anime.
Available 12/26
Alexa & Katie, Season 2
Best friends Alexa and Katie continue to take on adolescence together in this sentimental kids' series about one preteen battling cancer and her friend at her side there to make things alright.
Available 12/28
Instant Hotel
Australian homeowners have the chance to take home the title of best Instant Hotel when they trade home rentals for the night with group of other renters.
La noche de 12 anos
A historical drama about the future president of Uruguay Jose Mujica's imprisonment by a military dictatorship in the '70s.
Selection Day
Although 14-year-old Manju's family are set on him playing cricket, he couldn't be less interested in the sport. When he starts at a new school and ultimately befriends his brother's rival in cricket, he learns that there's more to life, much to his family's chagrin.
Yummy Mummies
Following the over-the-top nesting of four wealthy mothers-to-be as they plan for the birth of their children.
Unscheduled 2018 Netflix movies and shows
The following titles are slated for this year, but don't have concrete release dates yet:
Black Mirror, Season 5
Bloomberg reported that the technology-is-terrifying anthology series would be back for its fifth season sometime this December, along with a choose-your-own-adventure episode, but a release date for the series had yet to be confirmed back in October.
More recently, fans have started speculating that the sci-fi show will return on Friday, December 28 after a now-deleted tweet from Netflix listed the show on a scheduling lineup next to that date, along with the title "Bandersnatch" as the first episode. Since then, no word from Netflix has confirmed whether or not new episodes will appear on your queue that date, but it seems likely since Black Mirror seasons in the past have been released in late December.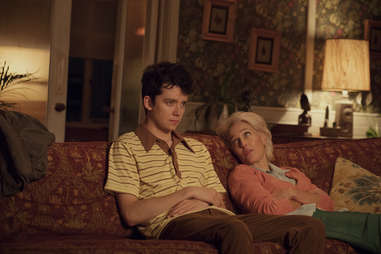 2019 Netflix movies and shows
Available 1/1
A Series of Unfortunate Events, Season 3
The third and final season will tackle the final four Lemony Snicket books. Kick 2019 off correctly by... sleeping in. But then wake up at 3pm or whenever and binge the seven-episode season.
Available 1/11
Friends From College, Season 2
Keegan Michael-Key and the gang return for more questionable shenanigans.
Sex Education
In this new series Asa Butterfield plays a teenager whose mom is a sex therapist, and rather than being uncomfortable with the subject, he uses her tools and knowledge to his advantage to open an underground sex therapy clinic out of his home to help other students (and meet girls). A win/win for pubescent teens!
Available 1/18
Grace and Frankie, Season 5
Dynamic comedy duo Jane Fonda and Lily Tomlin return as the titular characters in a family comedy about two women who discover their husbands are romantically involved.
Unbreakable Kimmy Schmidt, Season 4B
The final six episodes of Tina Fey's oddball sitcom about a woman who was once trapped in a cult moves to New York arrive this January. Will Ellie Kemper's endearing Kimmy finally find love and adjust to the 21st century? We can only hope!
Stay tuned for more updates.
Sign up here for our daily Thrillist email and subscribe here for our YouTube channel to get your fix of the best in food/drink/fun.

Follow the Thrillist Entertainment editors on Twitter @ThrillistEnt.