Last year, Netflix upped the number of new TV shows it would be releasing. This year, the content dams have apparently burst, and the streaming service is dramatically increasing its output of original and exclusive movies as well, with an aim to release as many as 80. "They range anywhere from the million-dollar Sundance hit," teased chief content officer Ted Sarandos, "all the way up to something on a much larger scale."
Fret not: The feature-length initiative doesn't mean you aren't getting new TV shows. It means you're getting an overwhelming amount of everything. See what we mean below, with this handy calendar of Netflix's 2018 originals we'll be updating throughout the year.
Recommended Video
The 11 Best Horror Death Scenes in Movie History
Available 11/9
Beat Bugs (Season 3)
This animated children series follows a group of creepy-crawly best friends learning about the outside world that they live in -- while also singing beloved songs by the Beatles. A musical series that (possibly) won't annoy parents!
The Great British Baking Show: Collection 6
Everybody's favorite wholesome baking show is back with a set of 12 new bakers and their delicious confections.
La Reina del Flow
In this Colombian telenovela, when a talented songwriter who was wrongfully imprisoned for nearly two decades is released, she seeks revenge on those who wronged her.
Medal of Honor
An anthology series telling the stories of those in the military who have gone to exceptional lengths of personal sacrifice, later receiving the Medal of Honor for their service. 
Outlaw King
A bloody historical film about Robert the Bruce (William Wallace's compatriot) and the 14th-century Scottish war for independence against the English. But mostly, everyone's talking about Chris Pine's nude scenes.
Spirit Riding Free (Season 7)
The Western adventures continue with Lucky and her wild horse best friend Spirit in this children's series adapted from the DreamWorks film Spirit.
Super Drags
When night falls, Patrick, Ralph, and Donizete transform into their alter-egos and embrace their inner divas, becoming crime-fighting drag queens, or the Super Drags, ready to take down any hate crimes that cross their path.
Treehouse Detectives (Season 2)
Bear siblings Toby and Teri always lend a helping hand when their animal friends are in need, putting their mystery-solving skills to test to see that everybody's safe. 
Westside
A reality series that takes a deep dive into the lives of nine up-and-coming musicians in L.A., focusing on both their creativity as songwriters and the struggles they face while pursuing fame. Think The Hills, but for pop music instead of fashion. 
Available 11/13
Loudon Wainwright III: Surviving Twin
Grammy-winning folk artist Loudon Wainwright's Judd Apatow-produced special, in which he gives insight into his relationship with his father and performs original songs.
Oh My Ghost
Once a young, timid chef finds herself possessed by a vivacious spirit, she finally gets the confidence she's been searching for to talk to another chef she's been crushing on. A very otherworldly premise for rom-com series! 
Warrior
A foreign drama following a war veteran still reeling from the trauma of his final mission who attempts to infiltrate a dangerous biker gang in Copenhagen. 
Available 11/15
The Crew
When a group of Parisian armed robbers make an unforgivable mistake on one of their heists, they're forced to take on an insanely risky job with one of the city's worst crime bosses in this foreign action thriller. 
May the Devil Take You
This dark Indonesian horror flick sees a young woman seeking answers to her father's mysterious illness, leading her to return to his old home where nightmarish truths come to light.
Available 11/16
Ballad of Buster Scruggs
Another Western from the Coen Brothers -- this time an anthology film of shorts!
CAM
When popular cam girl Alice (Madeline Brewer) logs online one day, she discovers that an identical double has stolen her identity and loyal followers, spiraling her into a psychological game to reclaim her identity. Long live the erotic thriller!
Dogs 
Literally just lots of heartwarming dogs!
The Kominsky Method
Michael Douglas plays Sandy Kominsky, an aging actor who used to be a huge star, in this comedic, yet earnest, series about living out your third act in Los Angeles.
Narcos: Mexico
Expect to cover similar ground as the O.G. Narcos, but this time following the rise of the Guadalajara Cartel, a murder-happy and powerful bunch led by Félix Gallardo (Diego Luna), being investigated by undercover DEA agent played by Michael Peña.
Ponysitters Club (Season 2)
A children's series for all the horse kids out there, about a group of friends who rehabilitate injured animals on their ranch. 
Prince of Peoria 
Life on the throne isn't all it's hyped up to be for a young prince, so he escapes his kingdom and takes up a new identity as a regular teen in this children's series. 
The Princess Switch
A classic Prince and the Pauper inspired story about a princess who trades places with a commoner -- except this film is set at Christmas time and one of Santa's helpers decides to meddle and plays matchmaker for both of the young women. 
She-Ra and the Princesses of Power
You may recall an '80s series of the same name from your childhood. Well, this magic-sword-wielding orphan-turned-evil-battling warrior is back for a reboot!
Available 11/19
The Last Kingdom (Season 3)
The British period epic following Saxon and Viking rulers returns as Saxon-born-Viking-raised Uhtred must take command of his birth-right-given kingdom and come to its defense against a Danish warlord. 
Available 11/20
The Final Table
Another cooking competition from Netflix, though this reality series features the best of the best as it is literally bringing together some of the greatest culinary artists from around to globe to face off for a coveted seat at the Final Table.
Kulipari: Dream Walker
An imaginative children's series documenting the fantastical missions of Darel the Blue Sky King.
Motown Magic
With a magical paintbrush in hand, Ben is able to transform his city streets, bringing to life street art and the Motown music of its past to learn about his neighborhood's rich history. 
Sabrina
Basically Indonesian Child's Play, this foreign horror film documents a family of toy makers terrorized by a demonic doll inhabited with the spirit of their adopted daughter's late mother. 
Trevor Noah: Son of Patricia
The Daily Show host is getting his own comedy special. 
Available 11/21
The Tribe
When an executive who found viral success loses his memory, his fame comes to an end, but he finds a new life meaning when he reconnects with his mother. 
Available 11/22
The Christmas Chronicles 
It's Kurt Russell as you've never seen him before -- as Santa Claus! Yikes. This is probably worth watching just to see Russell chuckle all kinds of ho-ho-hos and try to pull of Jolly St. Nick.  
Greenleaf (Season 3)
The Greenleaf family and their Memphis megachurch see a great deal of change and a subsequent altered leadership structure that affects their congregation in the third season of this familial drama.
Mystery Science Theater 3000
The cult classic show about a human and his robot friends trapped aboard a spacecraft and forced to watch B-list movies returns for its second season in rebooted form on Netflix.
Available 11/23
Frontier (Season 3)
Jason Momoa is at his best playing a man's man, brutally living off the land and fighting anything in his tracks, which is what he's done in Frontier and will probably continue to do in the fur trade period piece's third season.
Fugitiva
A Spanish drama following a woman whose family is threatened by her husband's illegal interests -- she organizes an escape plan masked as a kidnapping to ensure their safety.
Sick Note (Season 1, 2)
Rupert Grint stars as a man misdiagnosed with cancer who notices how much better people treat him when they think he's sick, causing him to come up with a plan to keep the lie going. Lindsay Lohan(!) also stars.
Available 11/27
Bumping Mics with Jeff Ross & Dave Attel
A comic roast led by two veterans of the harsh, hilarious craft. 
Available 11/30
1983
A terrorist attack that occurred in Poland in 1983 changed their course of history, but when a law student and cop start to look further into what really happened in present day, they find their country may truly be entrenched in conspiracy.
A Christmas Prince: The Royal Wedding
The sequel to Netflix's surprise Christmas hit from last year sees commoner Amber ready to wed Prince Richard -- that is, if she's able to quit second-guessing her eligibility to be queen. 
Baby
A group of Roman teenage girls forced into sex trafficking organize a plan to escape and search for their stolen identities in this Italian drama inspired by a true story. 
Death by Magic
Drummond Money-Coutts is a magician determined to attempt tricks that few other magicians could complete (or survive) in the past in this mystical reality series. Sounds safe!
F is for Family (Season 3)
The comedic animated series set in the '70s takes you back in time and into the dysfunctional family home of the Murphys. 
Happy as Lazzaro
This Italian drama and Cannes winner is coming to Netflix, illustrating the tumultuous relationship between a poor boy named Lazzaro and the son of a wealthy man he meets who inevitably changes Lazzaro's pace of life when he asks him to assist in planning his own kidnapping.
Rajama Chawal
Dads, they just don't get the internet. But in this comedy, one dad tries to figure out what social media is all about to reconnect with his son. 
Spy Kids: Mission Critical (Season 2)
A spinoff from the original Spy Kids films, this animated series shows two young super-spy siblings attempting to take down an evil organization all on their own.
Tiempo compartido
When a timeshare executive has a dark plan to kidnap families on vacation, two average fathers set out to rescue them. 
The World Is Yours
This thriller's got it all: A mobster on his last mission just for kicks, the Spanish underground, drugs, crime involving the Illuminati(?), and his elderly mother(???). 
Available 12/5
Dogs of Berlin (Season 1)
Netflix's second German production, after Dark, about two detectives forced to team up and tackle the Berlin underworld. (Sadly, not another Dogist documentary.)
Available 12/7
Dumplin'
Living under the shadow of a parent is never easy, especially for plus-sized Willowdean (Danielle Macdonald), who has to deal with her former pageant queen mother Rosie (Jennifer Aniston), who never grew out of her pageant days. So, in this comedy, Willowdean decides to shake things up by signing up for her mother's local pageant as an act of defiance and protest. Like Insatiable, Dumplin' has the potential to be very problematic, but let's hope its message is a bit more positive.
Neo Yokio: Pink Christmas
While it's not a full second season of the Vampire Weekend frontman Ezra Koenig-created anime Neo Yokio, fans of the series will get a Christmas special about the Jaden Smith-voiced sad teen. 
Available 12/14
Fuller House (Season 4)
The Tanner girls are all grown up in this revival of Full House, which somehow is now on its fourth season. Have mercy!
ROMA
Netflix is throwing its hat in the Oscar ring with ROMA, Alfonso Cuarón's (Y Tu Mamá También, Gravity, Children of Men) latest effort, set in 1970s Mexico City. It's already be made the festival rounds, and early returns say the film looks stunning.
Available 12/18
Ellen Degeneres: Relatable
Ellen Degeneres may be one of America's most beloved talk show hosts/philanthropists/comedians, but it's been 15 years since she's performed a comedy special. Now that she's made a deal with Netflix, though, she'll be back with an original stand-up special this December. 
Springsteen on Broadway
Following in the footsteps of Oh, Hello!'s Nick Kroll and John Mulaney, The Boss is sending his concert residency from The Great White Way to The... Great Red Streamer? Yep.
Available 12/21
Bird Box 
In an apocalyptic future when creatures invade Earth, all you have to do to survive is avoid looking at the dark force, as seeing it takes your life. Easy, right? Not so much for Sandra Bullock's character in this thriller, as she must travel blindfolded to safety with her two children. 
Available 12/25
Watership Down
A very British miniseries adaptation about the classic story of a clan of rabbits whose home comes under threat. 
Available 12/28
Selection Day
Although 14-year-old Manju's family are set on him playing cricket, he couldn't be less interested in the sport. When he starts at a new school and ultimately befriends his brother's rival in cricket, he learns that there's more to life, much to his family's chagrin.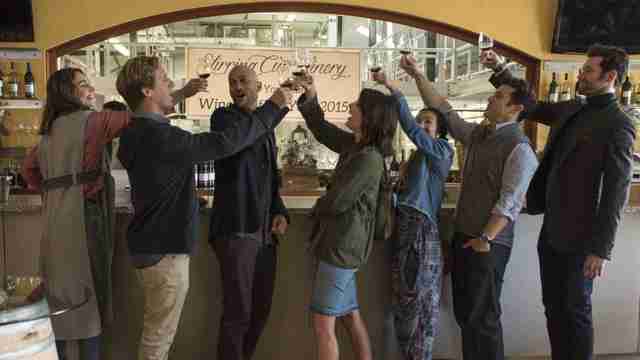 Unscheduled 2018 Netflix movies and shows
The following titles are slated for this year, but don't have concrete release dates yet:
Black Mirror
Bloomberg reported that the technology-is-terrifying anthology series would be back for its fifth season sometime this December, along with a choose-your-own-adventure episode, but a release date for the series has yet to be announced.
Diablero
When a young girl goes missing in Mexico City, a priest enlists a demon hunter and paranormal expert to assist in his search for her, believing something darker might be responsible for her disappearance. 
Fate/Extra Last Encore
A new anime series about a man who wakes up amid a brutal war, and though he has no recollection of how he got to where he is, he must fight for his survival. 
Friends From College (Season 2)
Given what happened in last season's finale, they might have to change the name of this show... but Season 2's happening!
Génération Q
The French version of Avenue Q -- kidding, but not about the French part; this rom-com series is set in Paris!
Green Eggs and Ham (Season 1)
The popular Dr. Seuss book will stretch out into a full season of TV.
Hache (Season 1)
Inspired by real events, the story of Helena (Adriana Ugarte), a "woman catapulted to the heroin trafficking business in the Barcelona of the '60s." The Spanish thriller -- the country's fifth original -- will offer eight 60-minute episodes of European Breaking Bad-assery, hopefully filling the inevitable void Ozark will leave once you've binged all of that.
Madam C.J. Walker
Based on the book by A'Lelia Bundles, On Her Own Ground, this new limited series promises the "untold and highly irreverent story of black hair care pioneer and mogul Madam C.J. Walker," née Sarah Breedlove (played by Octavia Spencer), who become the first female, black, self-made millionaire in America with her beauty product line.
Sunderland Til I Die 
A British docuseries looking at the Sunderland football club in their 2017/18 season. 
What/If
This new series hinges on a central question: Can one bad decision change your entire life? Who knows (but yes, probably). Inspired by "culturally consequential source material," starring Renee Zellweger.
White Lines
Have we reached peak DJ with this new mystery series, set in Ibiza, that follows a sister trying to piece together her DJ brother's death 20 years ago? Maybe!
Stay tuned for more updates.
Sign up here for our daily Thrillist email and subscribe here for our YouTube channel to get your fix of the best in food/drink/fun.