In 2017, Netflix upped its number of new TV shows. This year, because the content dams have apparently burst, the streaming service is doing the same with its stable of movies, aiming to release as many as 80. "They range anywhere from the million-dollar Sundance hit," teased chief content officer Ted Sarandos, "all the way up to something on a much larger scale."
Fret not: The feature-length initiative doesn't mean you aren't getting new TV shows; it means you're getting an overwhelming amount of everything. See what we mean below -- where we're compiling (and updating*!) a list of Netflix's 2018 originals -- and prepare to drown.
Recommended Video
'Are You Afraid of the Dark' Is Coming Back as a Movie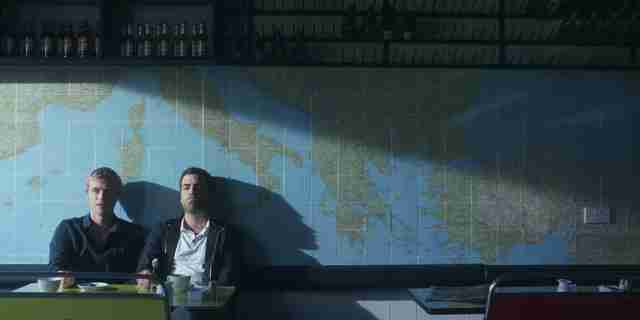 Coming to Netflix in January
Available 1/1
Lovesick (Season 3)
More of that show that used to be called Scrotal Recall.
Available 1/5
The End of the F**king World (Season 1)
Based on a graphic novel of the same name, this series is your typical "sociopathic, violent boy meets fatalistic, blissful girl" story.
DEVILMAN crybaby (Season 1)
A stunning anime adaptation of Go Nagai's legendary manga.
Rotten (Season 1)
Food gets the true-crime treatment in this doc, which dives "deep into the food production underworld to expose the corruption, waste and real dangers behind your everyday eating habits."
Available 1/12
The Polka King
A wild biopic about Polish émigré Jan Lewan (Jack Black), the man behind the world's only known polka Ponzi scheme.
Somebody Feed Phil (Season 1)
A six-episode docuseries in which the creator of Everybody Loves Raymond eats and makes you watch.
Tom Segura: Disgraceful
In his second stand-up special, Segura discusses fast food chains and the inherently selfish act of having a baby.
My Next Guest Needs No Introduction with David Letterman
He's back! With more interviews!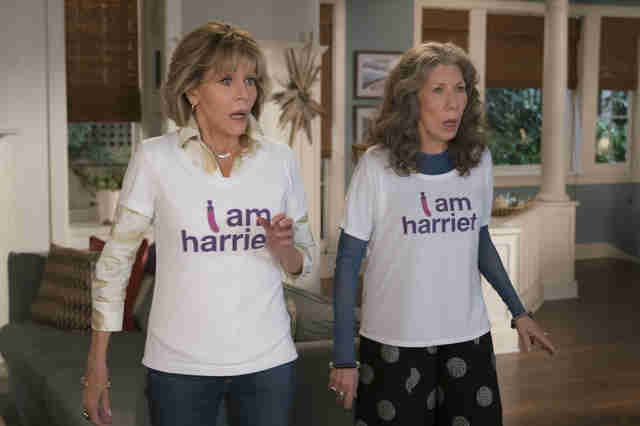 Available 1/16
Katt Williams: Great America
The comedian's back with material from his big 2017 tour of the same name.
Available 1/19
Grace and Frankie (Season 4)
One of our favorite Netflix original series, hilarious ladies Jane Fonda and Lily Tomlin can't stop, won't stop.
Step Sisters
From the director of Drumline, a promising-looking comedy about a black sorority president who teaches hard-partying white girls how to step.
Available 1/23
Todd Glass: Act Happy
The stand-up earns laughs with material ranging from House Hunters to heart attacks.
Available 1/26
A Futile and Stupid Gesture
Taking after Josh Karp's book, this movie, directed by David Wain (Wet Hot, Role Models), follows the life, career, and death of National Lampoon co-founder Doug Kenney.
Dirty Money (Season 1)
From Alex Gibney (Going Clear), this docuseries promises to investigate the world's biggest and baddest businesses -- including Trump's.
Coming to Netflix in February
Available 2/2
Altered Carbon (Season 1)
Based on the acclaimed cyperpunk novel by Richard K. Morgan, this murder mystery, set 500 years in the future, takes place in a world where death is impermanent.
Coach Snoop (Season 1)
Rapper Snoop Dogg coaches a youth football team and drops wisdom. Those who watched Snoop & Son: A Dad's Dream know this should be a treat.
Available 2/6
Fred Armisen: Standup for Drummers
The Portlandia star and SNL alum will bring, yes, drums, but also a surprising amount of impressions.
Available 2/7
Queer Eye (Season 1)
A reboot of Bravo's popular makeover series.
Available 2/9
Fate/Apocrypha
The war for the Holy Grail continues in Part 2 of this stunning anime, whose world is expansive and convoluted. (See: Fate/stay night and Fate/Zero, also available on Netflix.)
The Ritual
Four university friends reunite for a nice hike through the Scandinavian wilderness, but things become extremely not nice when they realize they're being stalked by an ancient evil. So, kind of like Friends From College, but more outdoors.
Seeing Allred
Roberta Grossman and Sophie Sartain's timely profile of women's rights attorney Gloria Allred.
The Trader (Sovdagari)
A documentary short about a Georgian trader that promises to challenge your perception on money.
When We First Met
Hmmm, Adam Devine stars in a movie that's like Groundhog Day, but with a guy who's constantly stuck in the friend zone.
Available 2/16
Everything Sucks! (Season 1)
A coming-of-age saga about the clashes of one high school's A/V and Drama clubs.
First Team: Juventus (Season 1)
A look behind the scenes of the popular Italian soccer club Juventus FC.
Irreplaceable You
Expect to cry lots -- "the heartwarming, romantic story of Abbie (Gugu Mbatha-Raw) and Sam (Michiel Huisman), best friends since childhood who are engaged to be married, and whose tranquil New York lives come crashing down when Abbie receives an unexpected diagnosis" -- and then laugh at Kate McKinnon.
Available 2/18
The Joel McHale Show With Joel McHale (Season 1)
Really, The Soup: The Sequel.
Available 2/23
Mute
From Moon and Warcraft director Duncan Jones, an original sci-fi movie about a mute bartender (Alexander Skarsgård) that searches Berlin for his missing girlfriend. Paul Rudd plays a funky surgeon. We're very here for this.
Seven Seconds (Season 1)
Mirroring our society's controversial relationship with law enforcement, race, and media, an anthological crime thriller that "gives viewers a glimpse into the human stories behind the headlines."
Ugly Delicious (Season 1)
Momofuku's David Chang travels the world to discuss food as a bridge between cultures. Guests include: Jimmy Kimmel, comedienne Ali Wong, and former Walking Dead star Steve Yuen.
Available 2/27
Marlon Wayans: Woke-ish
Filmed in Washington D.C., the comedian tackles the reality show that has become the Trump administration, how rappers age with their music, and conversations he's had with his teenage children.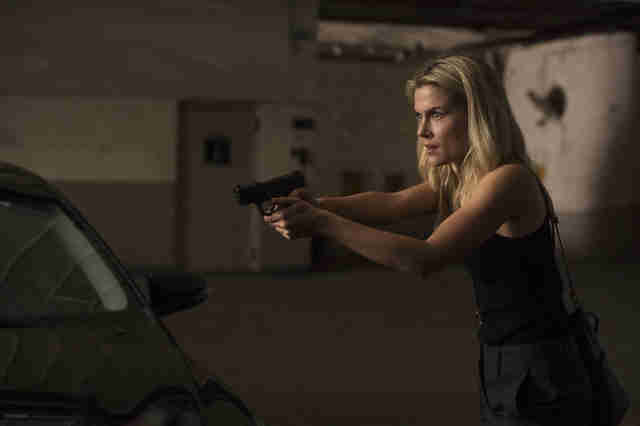 Coming to Netflix in March
Available 3/2
B: The Beginning (Season 1)
A future-set anime in which a serial killer runs rampant and "new humans" are kidnapped for evil purposes.
Flint Town (Season 1)
Coming in the wake of its 2014 water crisis, when thousands of residents were exposed to lead, this eight-episode series evaluates the Michigan city and its efforts to rebound.
Available 3/8
Marvel's Jessica Jones (Season 2)
Trish really likes guns this season.
Ladies First
This documentary chronicles the unlikely rise of world-famous archer Deepika Kumari.
Available 3/9
Love (Season 3)
The third run of this Judd Apatow comedy will sadly be its last.
Available 3/13
Ricky Gervais: Humanity
A new special in which the comedian chats about aging, becoming spoiled, and having kids. (Likely no sign of David Brent.)
Available 3/16
Edha (Season 1)
Betrayals and hidden agendas fuel this engrossing story about a trendsetting designer and her untraditional muse in Buenos Aires.
On My Block (Season 1)
Another of the red streaming service's new teen series -- this one about a group of kids coming of age and navigating the pressures of a rough inner city high school. It comes from Awkward creator Lauren Iungerich and All Eyez On Me writers Eddie Gonzalez and Jeremy Haft, so you can expect a good balance of heart and humor.
Take Your Pills
This documentary will discuss the rise of Adderall and other prescription stimulants.
Wild Wild Country (Season 1)
The Duplass brothers helped produce this crazy docu-series -- which came highly recommended from Sundance -- about Indian guru Bhagwan Shree Rajneesh, The New Man, and a bunch of pissed-off Oregon cowboys.
Available 3/23
Alexa & Katie (Season 1)
The first multi-cam comedy produced by Netflix is about two BFFs entering high school and trying to stay positive in light of one girl's cancer treatment. Teen Vogue promises it's a "heartwarming tale of friendship."
Available 3/30
A Series of Unfortunate Events (Season 2)
Get ready for a trip to The Austere Academy.
Rapture (Season 1)
An eight-part docuseries focusing on hip-hop and its major players, featuring such artists as Nas and TI.
Coming to Netflix in April
Available 4/6
Ram Dass, Going Home
A short doc about the spiritual guru, Ram Dass, as he nears the end of his life.
Available 4/13
Chef's Table: Pastry (Season 1)
Fans of the original Chef's Table will find plenty to love in this four-part descent into (pastry) food porn.
Available 4/20
Game Over, Man!
The Workaholics guys star in a movie about a group of friends trying to finance their video game.
The Week Of
Something that has nothing to do with The Night Of, and everything to do with Adam Sandler, Chris Rock, and their kids' wedding.
Coming to Netflix in May
Available 5/4
End Game
A doc short about how the medical community is changing what we know about life and death.
Coming to Netflix in 2018
The following titles are slated for this year, but don't have concrete release dates:
Cargo
Martin Freeman stars in this Australian post-apocalyptic thriller about a father and his child fighting for survival at all costs.
Come Sunday
A biopic about Carlton Pearson, his rise as internationally renowned pastor, and his fall as a modern-day heretic.
Dogs of Berlin (Season 1)
Netflix's second German production, about two detectives forced to team up and tackle the Berlin underworld. (Sadly, not another Dogist documentary.)
Eggplant Emoji
A Ben Stiller-produced dark comedy with a cringeworthy logline: "When a teenager accidentally cuts off his penis during a camping trip, he and his friends rush to save the appendage before it's too late."
Green Eggs and Ham (Season 1)
The popular Dr. Seuss book will stretch out into a full season of TV.
Lost in Space (Season 1)
A dark reboot of the classic '60s TV series.
Osmosis (Season 1)
Like a Black Mirror episode-turned-season, a TV show that grapples with soul-mate recognition software in the near future.
Sign up here for our daily Thrillist email and subscribe here for our YouTube channel to get your fix of the best in food/drink/fun.