'Okja' is the Best Movie Netflix Has Ever Made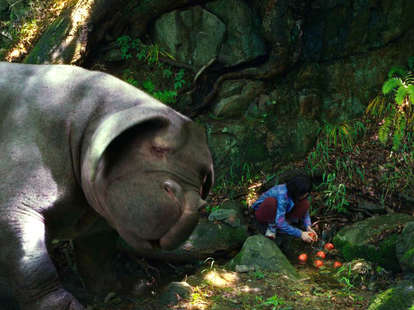 Earlier this year, Netflix got serious about movies. Though they may not pop up in your feed with the same frequency as the streaming service's flagship TV shows, like House of Cards or Orange is the New Black, the last six months have seen the company release about an original film a week, including in-house productions and indies plucked from festivals like Sundance and SXSW. Despite the volume of projects, which have ranged from broad comedies to brainy documentaries, they've never had a great one. Until now.
This week, the company released Okja, the new film from Snowpiercer director Bong Joon-Ho, and it is the first Netflix Original film that's truly spectacular.
Okja's surface-level plot reads like one of Pixar's animated fables: A young peasant girl named Mija (Ahn Seo-hyun) attempts to rescue her genetically-modified pig from harm. But that disarmingly cute creature is also being pursued by an image-obsessed CEO (Tilda Swinton), a fanatical animal-rights terrorist group lead by a soft-voiced true-believer (Paul Dano), and a washed-up zoologist (Jake Gyllenhaal) who screams (and sweats) like he's constantly melting. As Jordan Hoffman pointed out when he reviewed the film for Thrillist at Cannes, the movie draws heavily from the Spielberg playbook -- but it also eats that playbook and farts it out in little cute bubbles.
More importantly for Netflix: It blows the rest of their films out of the water. That's not to say that there haven't been worthwhile Netflix movies already. This year's Jake Johnson and Joe Swanberg slacker-poker character study Win It All was an ideal afternoon treat; Brad Pitt's ambitious and mischievous military drama War Machine made for decent dinnertime conversation fodder; Macon Blair's swampy noir I Don't Feel at Home in This World Anymore was a twisted midnight snack. Okja, with its wild tonal shifts and spray-paint on a billboard approach to satire, feels like a feast.
Bong Joon-ho makes movies that nourish you. The South Korean filmmaker -- who first broke through with genre-tweaking foreign-language dramas like Memories of Murder, The Host, and Mother -- has the formal control of a director like David Fincher, Kathryn Bigelow, or James Cameron, but he's not just looking to fill you with dread, excitement, or wonder. The script for Okja, which he penned with non-fiction writer Jon Ronson (So You've Been Publicly Shamed), feels tethered to the contemporary world in a way that films rarely do. The topics it takes comic shots at -- the good food movement, corporate publicity fiascos, faux-wokeness -- are some of the same issues that send shockwaves through your social media feed every day. Somehow, Bong Joon-ho renders them funny and buoyant, instead of simply maddening.
As thrilling and weird as his first English language film Snowpiercer could be -- that bone-chilling sing-along scene with Alison Pill's schoolteacher remains etched in my dreams -- its gloomy dystopian bent occasionally cramped Joon-ho's style. That train was just so damn dark and grimy. By comparison, Okja, particularly in its pastoral bliss opening and rowdy chase sequences, is brimming with color and life. It's not a portrait of a fallen world. It's a plea to save the one we live in.
And, what company embodies all the messy complexities and thorny contradictions of modern corporate America better than Netflix? While there will understandably be some disappointed fans who'd rather see it in a theater -- unless you live in New York, it's probably not playing anywhere near you -- there's also something oddly fitting about a movie like Okja emerging from Netflix's cinematic factory. They've been trying to engineer the perfect entertainment specimen for years. By letting Bong Joon-ho trash their laboratory, they may have finally succeeded.
Sign up here for our daily Thrillist email and subscribe here for our YouTube channel to get your fix of the best in food/drink/fun.