Netflix's 'On My Block' Season 2 Ends on Another Major Cliffhanger
This article contains spoilers for the end of On My Block Season 2.
With its latest season, Netflix teen dramedy On My Block continues driving home its governing tenet: some kids just don't get to be kids. Its first season solidified as much with its cliffhanger ending, where a member of Santos' rival gang, The Prophets, shoots at Olivia's (Ronni Hawk) quinceañera, hitting her and Ruby (Jason Genao). Season 2 begins with a sweeping montage around the neighborhood's memorials for kids killed in gun violence before addressing the hanging question of whether or not Ruby and Olivia lived. It's a reminder that the show's setting, the fictional Los Angeles neighborhood of Freeridge, is a place where everyone is touched in some way by the trauma of gun violence. Ruby, whom we soon learned is indeed still alive, becomes the embodiment of that, as the Season 1 shooting gives way to his battle with PTSD.
Season 2 of the series, co-created by Eddie Gonzalez, Jeremy Haft, and Lauren Iungerich, ends on a similarly unresolved note during a symbolic show of the four friends -- Ruby, Jamal (Brett Gray), Cesar (Diego Tinoco), and Monse (Sierra Capri) -- entering the next stage of their lives. Monse tells the others that she has grown past their friendship, is tired of the violence plaguing the neighborhood, and has decided to go to an all-girls boarding school 3,000 miles away. She stands literally on one side, having experienced perhaps the most growth this season, and the boys on the other, convinced friendship means she'll always come back. The season's weaving storylines get us to that point, each character having evolved since episode one, with the exception, perhaps, of Jamal, who rarely moves beyond comic relief. Nevertheless, neighborhood violence is the one thing that never changes. In the Season 2 cliffhanger (now officially a show tradition) Monse's breakup with her friends is clipped short when masked kidnappers snatch the friends off the sidewalk, throwing black hoods over their heads.
Coming after Cesar and Spooky's (Julio Macias) very real setup of the Prophets gang that eventually leads their arrest, the Season 2 ending seems to be just another escalation of unnecessary violence in these teens' volatile lives. But unlike the end of Season 1, where we know who pulls the trigger, the anonymity of the kidnappers make the seriousness of this scene more difficult to parse. Signs point to the kidnapping being retaliation from the Prophets, but with the entire gang in jail, the scene may be introducing a brand new curveball altogether.
Despite the gravity of its subject matter, On My Block has always played with the line between wackiness and solemnity. After Olivia's murder, those experiments with genre have become even more pronounced, and harder to reconcile. For example, though Cesar's homelessness is a central storyline of Season 2, so is Jamal's infatuation with a buxom lawn gnome. Though the cast of characters includes the endearing Jasmine (Jessica Marie Garcia) and Ruby's abuela (Peggy Blow), who rarely fall out of comedic stance, there is also Spooky, and Ruby's shooter Latrelle (Jahking Guillory), who reside firmly on the drama side of the show's dramedy universe. Meanwhile, the kidnapping scene itself is wrung for a final laugh. As Monse walks away, her friends are hooded and swept into an unmarked van that drives away in the background. All the while, she engages in a frantic monologue trying to convince herself not to turn around and look at their reaction to her moment of triumph. "It's way more badass once you set off a bomb that you just walk away. You don't wait for it to explode. It just explodes behind you," she says before giving in to curiosity, turning around, and finding her friends have disappeared before being swept off by the same captors herself.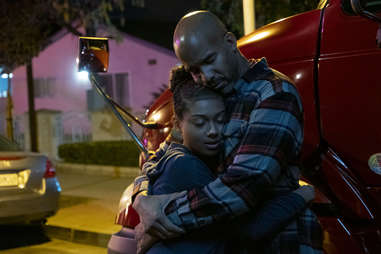 On the whole, though the question of tone plagues On the Block, its narrative progression manages to drive the series forward. A group of teens struggling with how to launder money that they found buried in a football field pushes the limits of believability, but the socioeconomic hurdles and interpersonal conflicts at the heart of the show offer a welcome flipside to the longstanding insistence that the problems teens deal with are trivial. Akin to how On My Block was evidently never going to kill off Ruby, this latest ending serves as insurance that the central foursome won't separate. This, even though this season's more fascinating evolutions -- Monse's coming to terms with her mother's abandonment and her multiracial identity and Ruby's survivor's guilt and lingering trauma -- point to their growing apart. If Season 2 is any indicator, Season 3 will have the group learning exactly what lies at the root of their bond (along, hopefully, with more compelling storylines for Jamal and Jasmine). But as Ruby, Jamal, Jasmine, and Cesar's volatile history together in Freeridge shows, there are few guarantees or easy lessons for them when it comes to growing up.