Netflix is hellbent on producing an absurd amount of original TV shows and movies -- in addition to the many acquired shows (like Friends) and movies the service has in its library -- and we're dead set on consuming a whole lot of them. But how to keep track of it all? Check out our helpful calendar below, which documents everything Netflix has in store for us in 2019, a schedule we'll be updating throughout the year as more titles and release dates are announced.
Recommended Video
Big Boi From OutKast Introduces Cliff to Atlanta's Food Scene
June 25
Mike Epps: Only One Mike (Comedy special)
A special from legendary stand-up comedian Mike Epps, offering wisdom he's gained throughout his life and career. Watch the trailer.
June 27
Answer for Heaven (New series)
An angel is sent to Earth to work alongside a work-obsessed reporter to help investigate crimes in this Thai drama. 
Family Business (New series)
A French-language comedy about a man who turns his family butcher shop into a weed dispensary. Watch the trailer.
June 28
7SEEDS (New anime)
An anime about a teenage girl who learns she belongs to a secret society and is destined to unite with them in order to save the world. Watch the trailer.
Dope, Season 3
The docuseries about the war on drugs around the globe and its effects on dealers and addicts returns for a third installment, focusing on Los Angeles and Rotterdam this season.  
Exhibit A (New docuseries)
A new true-crime series looking at how innocent people have been accidentally convicted based on the flaws of forensics. 
Instant Hotel, Season 2 
More lavish properties to ogle at in Season 2 of this Australian reality series about hoteliers.  
Paquita Salas, Season 3
On this season of the Spanish mockumentary about a washed-up talented agent, the title character discovers the wonders of social media and continues to work on herself and her career. 
The Chosen One (New series)
A group of doctors are tasked with bringing the Zika vaccine to a remote village in Brazil, where they learn a mysterious cult leader has a hold on community members. Watch the trailer.
July 1
Designated Survivor: 60 Days (New series)
A Korean version of the popular American political drama of the same name. Following a similar premise, this foreign drama sees a scientist quickly elevated from Minister of Environment to President after an explosion kills most of the government. While he struggles to acclimate to his new role, he also begins to investigate the true cause of that fatal attack. Watch the teaser. 
Katherine Ryan: Glitter Room (Comedy special)
A follow up to her first Netflix special In Trouble, stand up comic Katherine Ryan is back with another special about her experience in parenting. Watch the trailer.
July 2
Bangkok Love Stories: Objects of Affection (New series) 
A new installment in the anthology, this one about relationships in Bangkok follows a computer repairman who falls for a graffiti artist experiencing trauma after witnessing a murder. 
Bangkok Love Stories: Plead (New series)
Another new story in the series, this time about a marketing executive and a fortune teller who fall for one another, until a premonition shows their relationship is destined to end tragically. 
July 3
The Last Czars (New series)
A dramatization about the political and social life of Czar Nicholas II in Russia in the leadup to the Russian revolution. 
Yummy Mummies, Season 2
The Australian reality show about a group of wealthy new mothers returns with a new expectant mother cast member and the women looking for ways to liven up their sex lives.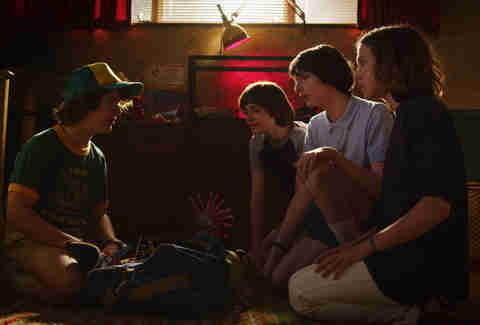 July 4
Stranger Things (Season 3)
Ever wonder what the summer of 1985 was like in Hawkins, Indiana, after a mega-monster from the Upside Down nearly destroyed the town? Well, now you'll know. Watch the trailer.
July 10
Parchís: El documental (New docuseries)
A look at the success and lives of the members of Parchís, an iconic children's band from 1980s Spain. Watch the trailer.
Cities of Last Things (Film)
Told in reverse chronology, this Chinese action film is about a man whose life was altered by a series of dramatic events, and is now seeking revenge on those who impacted his life. 
4 Latas (Film)
A group of friends take a road trip from Spain to Mali with hopes of visiting their dying friend and reuniting him with his daughter in this Spanish comedy. 
Blown Away (New reality series) 
A competition series in which artists complete glassblowing and sculpture-making challenges with the prospect of winning a cash prize. 
Bonus Family, Season 3
A continuation of the Swedish dramedy about a blended family and the challenges they face with their children and exes. 
Extreme Engagement (New reality series)
Engaged couples put their relationship to the test in this new reality series that finds them traveling the globe and trying out various marriage customs to see if they're really ready to take the leap to marriage. 
Kidnapping Stella (Film)
When a woman is kidnapped and held for ransom, she fights to survive and escape in this German thriller. 
Point Blank (Film)
Anthony Mackie and Frank Grillo star in this action flick about an ER nurse and a criminal/potential murder suspect who tag team in order to face a group of corrupt cops infringing on the safety of both of their families. Watch the trailer.
Taco Chronicles (New docuseries)
This new food series looks at the history of tacos, their many varieties, and the dish's influence on Mexican and global culture. 
July 16
Frankenstein's Monster's Monster, Frankenstein (Comedy special)
This short comedy is inspired by Stranger Things star David Harbour's discovery of old footage from his actor father's hilarious production of a play titled Frankenstein's Monster's Monster, Frankenstein. The new short sees the actor delving into the vintage footage and a reenactment of it starring comedic stars like Kate Berlin and Alfred Molina. 
July 18
Secret Obsession (Film)
Brenda Song and Mike Vogel star in this thriller about a woman who survives a near fatal accident and wakes up with amnesia, failing to remember who in her life she can and cannot trust. 
July 19
Comedians in Cars Getting Coffee: New 2019: Freshly Brewed, Season 6
Jerry Seinfeld's got some more coffee dates to go on with the best names in comedy. 
Last Chance U: INDY, Part 2
The docuseries about college athletes looking to reinvent their lives returns, continuing to follow Coach Brown and his team at Independence Community College as they attempt to reassemble after a tough season.  
Money Heist, Part 3
The third part of this Spanish series about professional criminals who plan an elaborate robbery of the Royal Mint of Spain is due out later this year. Watch the trailer.
Queer Eye, Season 4
The Fab Five are headed back to Kansas City, Missouri for more tear-inducing makeovers! 
Saint Seiya: Knights of the Zodiac (New anime)
A remake of the classic '80s anime about a group of knights sworn to defend the goddess Athena and fight on her side in a battle against evil forces threatening to destroy humanity. Watch the trailer.
Typewriter (New series)
This Indian horror series follows the adventure of three teenage friends and their obsession with a rumored haunted house  in their neighborhood. Once a new family moves into the spooky home, the friends feel compelled to hunt the ghost that lives there before it terrorizes its new residents. 
July 24
The Great Hack (Documentary)
An investigation into the data company Cambridge Analytica and its effect on the 2016 election. 
July 25
Another Life (Film)
Katee Sackhoff stars in this sci-fi thriller about an astronaut leading a mission to investigate evidence of alien life -- an exploration that seems to be a suicide mission when danger seems imminent. 
Workin' Moms, Season 2
Now back at work after maternity leave, three close friends continue to balance the challenges of raising toddlers and their relationships. 
July 26
Boi (Film)
Fresh on the job as a chauffeur, a young man is thrown into a high stakes adventure escorting two foreign businessmen on a trip around Barcelona as they attempt to secure a risky multimillion-dollar deal. 
Girls With Balls (Film)
A dark comedy is about a girls volleyball team who ends up stranded in the woods after their van breaks down -- which is only the first of their problems when they discover that a group of sick hunters are on their tracks and looking to kill. 
My First First Love, Season 2
The Korean drama about college friends living together under one roof is back for Season 2, as they continue to explore new feelings and burgeoning relationships. 
Orange is the New Black, Season 7
The popular, long-running dramedy about the lives of inmates at a women's prison is officially coming to an end this summer with its seventh season, which finds Piper Chapman attempting to assimilate to life on the outside. Watch the teaser.
The Son (Film)
This Argentinian drama focuses on a painter and his pregnant wife who falls into malicious, obsessive behavior as they expect the birth of their new child. 
Sugar Rush, Season 2
The baking competition series following serious cake makers creating wild confections is back for more race-against-the-clock challenges. 
July 30
Whitney Cummings: Can I Touch It? (Comedy special)
The comedian returns with her fourth Netflix special, this time around with a batch of new jokes about being a woman today and gender dynamics. 
July 31
Kengan Ashura: Part I (New anime)
A regular businessman is called upon by his boss to become a gladiator and fight battles against other fighters in defense of his company. Watch the teaser.
The Letdown, Season 2
The Australian comedy about a new mother who joins a parenting support group is back for its second installment. 
The Red Sea Diving Resort (Film)
This star-studded drama features the talents of Chris Evans, Ben Kingsley, Michael Kenneth Williams, Michiel Huisman, and others to tell the true story of an '80s rescue mission of thousands of Ethiopian Jewish immigrants and their journey from hiding in a Sudan resort to Israel. 
August 2
Otherhood (Film)
Angela Bassett, Patricia Arquette, and Felicity Huffman play three longtime friends and middle-aged mothers who travel together to NYC to visit their grown-up sons and reconnect. 
August 9
GLOW, Season 3
The GLOW girls have finally made it to the lavish Vegas strip in the forthcoming Season 3 of this hit Netflix series. Watch the trailer.
August 30
The Dark Crystal: Age of Resistance (New series)
Jim Henson's legendary fantasy about the world of Thra is picking back up in a new series for Netflix to satisfy all of your childhood nostalgia. Big names like Helena Bonham Carter, Taron Egerton, Andy Samberg, and more voice the puppet cast. Watch the trailer.
September 20
Between Two Ferns: The Movie (Film)
Funny or Die is producing a full-length movie version of Zach Galifianakis' popular interview web series, and it's coming to Netflix. The flick sees Galifianakis as a laughing stock after his DIY show goes viral, inspiring him to trek across the country on a road trip and talk to celebs to redeem himself. 
Disenchantment, Season 2
Adult animation duo Matt Groening and Josh Weinstein's creation for Netflix about a medieval princess voiced by Abbi Jacobson, who's looking for mischief, is set on a quest for more magical shenanigans in Season 2. 
September 27
The Politician (New series)
Ryan Murphy makes his Netflix debut with The Politician! His first series for the streamer, which has already renewed for Season 2, is a dark comedy that focuses on the ambitious rise of a young, aspiring politician played by Ben Platt, beginning with his determined pursuit to win student body president of his high school. Jessica Lange, Gwyneth Paltrow, Bette Midler, Zoey Deutch, and other Murphy regulars also star.
September TBD
Vagabond (New series)
When a stuntman survives a plane crash in this Korean thriller, he finds the tragedy may have been at the hands of a corrupt government, placing him at the center of a dangerous conspiracy theory. 
Unscheduled Upcoming Releases
13 Reasons Why (Season 3)
The controversial teen drama that has now expanded well past the novel it's based on to cover other issues plaguing high schools is set for a third season, on its way for a 2019 release date.
A Christmas Prince: The Royal Baby (Film)
Yet another installment in the Christmas Prince universe! This time: A baby is on the way! And at Christmas, no less.
Ares (New series)
A horror series from the Netherlands about a teenage secret society that accidentally unleashes a demonic group from the past onto present-day Amsterdam.
Bard of Blood (New series)
The popular Indian espionage novel of the same name by Bilal Siddiqui is being adapted into a series, following a former agent who must revisit one of his dangerous missions from 10 years prior and its repercussions today. Watch the teaser.
Brotherhood (New series)
When a lawyer discovers that her brother, who's been missing for years, has actually been in jail all along and is the leader of a criminal group, she becomes a police informant to undermine him until she discovers the truth about his past and herself. 
Dolly Parton's Heartstrings (New series)
A theatrical anthology series tailor-made for Dolly Parton fans everywhere, Dolly Parton's Heartstrings brings to life stories inspired by some of the singer's classic songs, giving tracks like "Jolene" and others their own episodic plot. 
Eli (Film)
A horror film about a young boy with a rare medical disease whose parents have thrust him into the experimental treatments of an unconventional doctor.
Falling Inn Love (Film)
A woman surprisingly wins ownership of an Inn that she must flip in order to run, falling for one of her contractors along the way, in this rom-com from New Zealand.
Fracture (Film)
Sam Worthington and Lily Rabe star as a couple on the road in this thriller that turns dark after their daughter injures her arm and she's checked into a hospital. When Worthington's character takes a brief nap, he wakes up to find his daughter missing and the hospital claiming that they have no record of her ever being checked in. 
The Gift (New series)
A young painter in Istanbul's life is turned upside down when an archeologist makes a discovery in an ancient temple that may be connected to family secrets. 
Hache (New series)
Inspired by true events, Hache illustrates the trials and tribulations faced by a woman thrown into high-profile heroin trafficking in 1960s Barcelona.
Holiday in the Wild (Film)
Netflix is pumping out even more Hallmark-like movies for Christmas 2K19! In this flick, when a woman's husband can no longer join her on their planned trip to Africa, she decides to go on her own and celebrate Christmas on a safari. 
Holiday Rush (Film)
A cheesy but heartfelt Christmas movie about a single dad/radio DJ whose on-air show is canceled, forcing him to downsize around the holidays while trying to keep his career afloat. 
In the Shadow of the Moon (Film)
Michael C. Hall stars in this psychological thriller about a detective in '80s Philadelphia on the case of a mysterious serial killer who resurfaces every nine years and is back on his brutal killing spree. 
In the Tall Grass (Film)
Another Stephen King adaptation is headed to the streamer, this one an eerie story about a brother and sister who pull over while driving through rural Kansas when they hear frightening cries coming from the plains. As they look for the source in the weeds, they realize something paranormal has taken over. 
Invader Zim: Enter the Florpus (Film)
Remember that creepy cult alien show from Nickelodeon in the early '00s? Well, Netflix is releasing a full-length movie version of it sometime this year. 
The Irishman (Film)
The highly anticipated old-school mob movie from Martin Scorsese stars the likes of Robert De Niro, Al Pacino, Joe Pesci, and others, and it's coming to Netflix later this year. 
Klaus (Film)
An animated Santa Claus origin story from filmmaker Sergio Pablos, featuring a star-studded voice cast with the likes of J.K. Simmons, Jason Schwartzman, Rashida Jones, and Joan Cusack, among others.
The Knight Before Christmas (Film)
Vanessa Hudgens exists in multiple realms of the Netflix Christmas movie universe! Here, she's a disillusioned teacher with whom a time-traveling knight falls in love. 
Raising Dion (New series)
When Nicole (Alisha Wainwright) loses her husband (Michael B. Jordan), she fears how challenging raising her son Dion as a single mother will be. Soon that challenge reveals itself to be more complex than she could have imagined, as her child begins developing superhuman capabilities, forcing her to uncover the truth of where they came from, while keeping him safe.
Rattlesnake (Film)
Carmen Ejogo stars as a woman who accepts the help of a mysterious stranger when her daughter is bitten by a rattlesnake, but soon finds that she must face strange consequences for asking for aid.
Rocko's Modern Life: Static Cling (Film)
To keep in line with the '90s Nick nostalgia coming to Netflix (see: the Invader Zim movie), there's also an animated feature coming that revives the series about an anxious wallaby who moved to America.
Seis Manos (New anime)
Following the adventures of a group of orphaned martial artists in Mexico in the '70s as they work with the DEA to fight crime in their border town. 
Spectros (New Series)
A folklore-inspired horror series from Brazil about a group of teenagers who find themselves drawn to the supernatural in São Paulo. 
Tall Girl (Film)
A comedy about a very tall high schooler named Jodi who feels insecure about her height until she meets and falls for an equally tall foreign exchange student who arrives at her school.
Unbelievable (New series)
A dramatic deep dive into the true story of a teenage girl who was charged with lying about surviving a sexual assault and the investigation that uncovered the reality of what really happened. Kaitlyn Dever and Toni Collette star.
The Witcher (New series)
Henry Cavill stars in this adaptation of the popular fantasy series about monster hunter Gerald of Rivia, who unites with a sorceress and princess in order to fight an impending darkness. 
Be sure to check back for more updates as additional series and films are announced.