Netflix is hellbent on producing an absurd amount of original TV shows and movies -- in addition to the many acquired shows (like The Office) and movies the service has in its library -- and we're dead set on consuming a whole lot of them. But how to keep track of it all? Check out our helpful calendar below, which documents everything Netflix has in store for us for the rest of 2019, a schedule we'll be updating as more titles and release dates are announced.
Recommended Video
Tackle 7 Pounds of Seafood in One Sandwich
October 28
A 3 Minute Hug (Documentary)
Documenting the moving reunions between families separated in the Mexican-American border crisis. Watch the trailer.
Little Miss Sumo (Documentary)
A young, female sumo wrestling prodigy named Hiyori attempts to make it in a sport dominated by men and revolutionize its rules. Watch the trailer.
October 29
Arsenio Hall: Smart & Classy (Comedy special)
Comic legend Arsenio Hall is bringing a new stand-up special to Netflix, offering career-encompassing anecdotes and his perspective on comedy today. Watch the trailer.
October 30
Flavorful Origins: Yunnan Cuisine (New docuseries)
The food docuseries' latest edition travels to China's Yunnan province to learn about its regional cuisine. 
October 31
Kengan Ashura: Part II 
The gladiator battle anime is back. 
Nowhere Man (New series)
A Taiwanese thriller about a notorious gang member attempting to break out of prison to save someone close to him. Watch the teaser.
November 1
American Son (Film)
The popular Broadway play American Son is getting a film adaptation, featuring the original stage cast of Kerry Washington, Steven Pasquale, Jeremy Jordan, and Eugene Lee in a story about an investigation into a missing teenage boy and the race politics at play. Watch the trailer.
Atypical, Season 3
The heartwarming dramedy about a teenage boy on the autism spectrum and his family returns just as Sam sets off for his freshman year of college. Watch the trailer. 
Drive (Film)
A Bollywood movie about a thief who teams up with a talented drag racer to plan an elaborate con on the authorities. Watch the trailer.
Fire in Paradise (Documentary)
Chronicling the most devastating wildfire in California history, Camp Fire, and the consequences of the tragedy. Watch the trailer.
Hache (New series)
Inspired by true events, Hache illustrates the trials and tribulations faced by a woman thrown into high-profile heroin trafficking in 1960s Barcelona. Watch the trailer.
Holiday in the Wild (Film)
Netflix is pumping out even more Hallmark-like movies for Christmas 2K19! The first of this season's releases is this flick about a woman (Kristin Davis) who decides to take a trip to Africa around Christmastime, even when her husband can't join her, and meets a charming pilot played by Rob Lowe along the way. Watch the trailer.
The King (Film)
Hollywood's reigning heartthrob Timothée Chalamet is now the king of Netflix per his latest film The King, about a prince who leaves his kingdom to live among commoners but is forced to take over the crown after his father's death. The period piece from David Michôd also stars Joel Edgerton and Robert Pattinson, all with beautiful haircuts. Watch the trailer.
The Man Without Gravity (Film)
An Italian comedy about a man who was born with the ability to defy gravity and, after growing up in isolation, decides to show the world who he is. Watch the trailer.
Queer Eye: We're in Japan! (Special)
In this four-part special of Queer Eye, the Fab Five take a plane to Japan to learn more about the culture and to help a new group of people improve their lives. Watch the trailer.
We Are the Wave (New series)
A German series about teenagers who plan a revolt against their government when a mysterious new student arrives at their school. Watch the trailer.
November 4
The Devil Next Door (Documentary)
A look into the trial of an elderly man from Cleveland who was called to Germany and accused of actually being a former Nazi concentration camp guard. Watch the trailer.
November 5
The End of the F***ing World, Season 2
This British dark comedy based on a graphic novel was supposed to be done after just one season, ending with quite the cliffhanger… but it's finally f***ing back!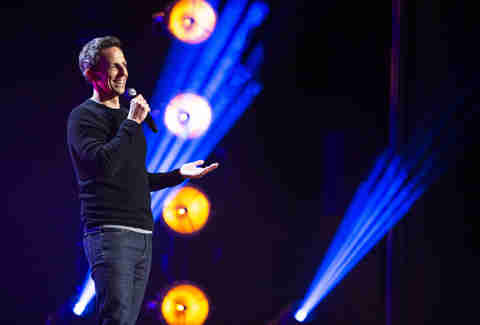 Seth Meyers: Lobby Baby (Comedy special)
After his wife gave birth to their second child in their apartment lobby in 2018, Seth Meyers is back with a new comedy special featuring funny anecdotes about his recent experiences in fatherhood. Watch the teaser.
Tune in for Love (Film)
A Korean romance about a couple who first met in the '90s and tries to reconnect over time. Watch the trailer.
November 6
SCAMS (New series)
A young man desperate for money takes a gig working for a phone scam, becoming increasingly caught up in the illegal operation. 
November 8
Busted!, Season 2
The Korean game show featuring regular people trying to crack a murder mystery returns. Watch the trailer.
The Great British Baking Show: Holidays, Season 2 (Netflix original)
To get you in the holiday spirit, another Christmas-y special of the beloved GBBS is on the way.
Greatest Events of WWII in HD Colour (New docuseries)
This historical docuseries features enhanced, colorized footage of some of the most important turning points in WWII.
Let It Snow (Film)
Adapted from the popular young adult book of the same name by John Green, Maureen Johnson, and Lauren Miracle, Let It Snow looks at the experiences of several high schoolers on Christmas Eve when a snowstorm hits their town, derailing their plans and inadvertently bringing them together. Kiernan Shipka, Shameik Moore, Joan Cusack, and many more appear. Watch the trailer.
Paradise Beach (Film)
When a career criminal gets released from prison for a robbery he and his friends committed 15 years ago, he tracks said friends down on an island where they're hoarding the money they stole and goes to get his own cut of the loot. 
Wild District, Season 2 (New series)
The Colombian crime drama is back for a second season. JJ is still forced to work undercover as a hitman, while trying to assimilate back to normal life.
November 9
Little Things, Season 3
In this season of the Indian rom-com series, the leading couple must deal with the complications of a long-distance relationship for the first time. Watch the trailer.
November 10
Patriot Act with Hasan Minhaj, Volume 5
The comedic news/variety show returns, with new episodes airing every Sunday. 
November 11
Chief of Staff, Season 2 
The Korean political drama about the newly appointed National Assembly leader is onto its second season. 
November 12
Jeff Garlin: Our Man in Chicago (Comedy special)
The comic and Curb Your Enthusiasm regular has a new stand-up special, recorded in his hometown of Chicago. 
November 13
Maradona in Mexico (New docuseries)
Retired Argentinian soccer player Diego Maradona's journeys to Culiacán, Mexico, a city overrun by cartel activity, where he tries to revive their local soccer team. 
November 14
The Stranded (New series)
Netflix's first-ever Thai series is about students at an elite school on an island who must fend for themselves after a major tsunami hits. 
November 15
Avlu, Part 2
The second half of this crime drama about a mother sent to prison after a domestic dispute is fighting for an appeal for the sake of her daughter. 
The Club (New series)
Young people in Mexico try and fail at selling ecstasy and end up getting in trouble with the cartel in this gritty teen drama. 
Earthquake Bird (Film)
Alicia Vikander and Riley Keough star in this twisty crime drama about an ex-pat living in Tokyo (Vikander) who gets caught up in a strange love triangle and eventually becomes a prime murder suspect when Keough's character goes missing. Watch the trailer.
House Arrest (Film)
An offbeat Indian rom-com about an agoraphobic man, who refuses to leave his house, and his reluctant relationship with an inquisitive journalist. Watch the trailer.
I'm with the Band: Nasty Cherry (New reality series)
A reality show about the formation and road to success of the band Nasty Cherry, a group of four women hand-picked by pop star Charli XCX. Watch the trailer.
Klaus (Film)
An animated Santa Claus origin story from filmmaker Sergio Pablos featuring a star-studded voice cast with the likes of J.K. Simmons, Jason Schwartzman, Rashida Jones, and Joan Cusack, among others. Watch the trailer.
The Toys That Made Us, Season 3 
This season, the docuseries looks into the creation of My Little Pony, Power Rangers, Teenage Mutant Ninja Turtles, and more.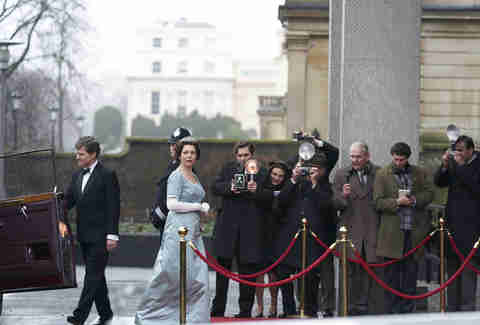 November 17
The Crown, Season 3
All hail your new queen: Olivia Colman! The popular series about the British monarchy is continuing with an all-new cast, focusing on 1964-1977. Tobias Menzies and Helena Bonham Carter also join the ensemble. Watch the trailer.
November 19
Iliza: Unveiled (Comedy special)
Iliza Shlesinger's latest Netflix special about all of the planning that went into her recent wedding.  
No hay tiempo para la vergüenza (New docuseries)
A biographical docuseries about the life and career of fashion designer Santiago Artemis. 
November 20
Bikram: Yogi, Guru, Predator (Documentary)
An investigative look into the controversial pioneer of hot yoga, Bikram Choudhury. 
Lorena, la de pies ligros (Documetry)
A doc about Lorena Ramírez, a member of the Mexican indigenous Rarámuri tribe, and her athletic career as one of the fastest marathon runners in the world. 
November 21
The Knight Before Christmas (Film)
Vanessa Hudgens exists in multiple realms of the Netflix Christmas movie universe! Here, she's a disillusioned teacher with whom a time-traveling knight (Josh Whitehouse) falls in love. Watch the trailer.
Mortel (New series)
While searching for her missing brother, a teenage girl and her friend strike a deal with a supernatural force who gives them mystical powers to help find him in this French series. Watch the trailer.
November 22
Dolly Parton's Heartstrings (New series)
A theatrical anthology series tailor-made for Dolly Parton fans everywhere, Dolly Parton's Heartstrings brings to life stories inspired by some of the singer's classic songs, giving tracks like "Jolene" and others their own episodic plot. 
High Seas, Season 2
A handful of new mysterious passengers join the cast in Season 2 of this thriller set aboard a '40s ship traveling to Rio de Janeiro. 
Mon frère (Film)
A boy who escapes with his little brother from an abusive home is accused of killing his father, and must navigate life and the charges against him alone. 
November 27
Broken (New docuseries)
An investigative docuseries from the creators of Anthony Bourdain: Parts Unknown that delves into the corruption behind some of the most popular consumer products. 
Nailed It! Holiday!, Season 2
Another installment of the cooking competition featuring mediocre bakers creating holiday-inspired confections. Watch the trailer.
Narcoworld: Dope Stories (New docuseries)
An examination of illegal drug trades around the world. 
Nobody's Looking (New series)
A Brazilian comedy about a rebellious angel sent to Earth. 
Singapore Social (New reality series)
A reality show about a group of Singaporean socialites. 
November 26
Mike Birbiglia: The New One (Comedy special)
The popular one-man Broadway show is coming to Netflix. 
The Irishman (Film)
The highly anticipated old-school mob movie from Martin Scorsese stars the likes of de-aged Robert De Niro, Al Pacino, Joe Pesci, and others. Watch the trailer.
November 28
Holiday Rush (Film)
A cheesy but heartfelt Christmas movie about a single dad/radio DJ (Romany Malco) whose on-air show is canceled, forcing him to downsize around the holidays while trying to keep his career afloat. 
John Crist: I Ain't Prayin For That (Comedy special)
Comedian John Crist jokes about his childhood as the son of a pastor and his relationship with religion today. 
Merry Happy Whatever (New series)
Dennis Quaid stars in this holiday-themed sitcom as a father reluctant to warm up to his daughter's (Bridgit Mendler) new boyfriend who she brings home for Christmas. 
Mytho (New series)
In this twisted French drama, a woman vies for her family's attention by lying about being seriously ill, which brings more consequences than she had originally thought. 
November 29
Atlantics (Film)
Set in a Senegalese suburb, a romance unfolds between a teenage girl and a young man who returns home after presumably disappearing at sea. Watch the trailer.
I Lost My Body (Film)
This unique animated French film follows the journey of a severed hand and its escape from a lab to find the body it belongs to: a pizza delivery boy named Naoufel who is set on pursuing a young librarian. Watch the trailer.
The Movies That Made Us (New docuseries)
Actors and filmmakers reflect on the making of major blockbusters to share insight into the biggest movies that defined pop culture. 
Sugar Rush Christmas (New reality series)
A new special version of the popular baking competition Sugar Rush with Christmas-inspired challenges. 
December 1
Soundtrack (Film)
A musical drama set in LA following a number of love stories of people brought together by music. 
December 5
A Christmas Prince: The Royal Baby (Film)
Yet another installment in the Christmas Prince universe! This time: A baby is on the way! And at Christmas, no less.
December 6
Magic for Humans, Season 2
More surprising shenanigans from professional magician Justin Willman. 
Marriage Story (Film)
The latest film from Noah Baumbach (Francis Ha, The Squid and the Whale, The Meyerowitz Stories), this drama is a snapshot of the trials and tribulations of a crumbling marriage, the couple played by Scarlett Johansson and Adam Driver. Laura Dern, Ray Liotta, and others also appear. Watch the trailer.
December 13
6 Underground (Film)
A Michael Bay-directed action flick starring Ryan Reynolds is coming to Netflix. 6 Underground follows a team of six vigilantes, who are all pretending to be dead to protect their identities, on a covert mission. Watch the trailer.
December 20
The Two Popes (Film)
City of God director Fernando Meirelles explores the true events about the transition of power in the Vatican in 2012 when Cardinal Bergoglio asked Pope Benedict for permission to retire. Jonathan Pryce and Anthony Hopkins star. Watch the teaser.
December 24
Lost In Space, Season 2
Danger, Will Robinson. A continuation of the Robinson family and their robot friend's journey in outer-space to make it back to their planet colony. Watch the trailer.
December 31
Ares (New series)
A horror series from the Netherlands about a teenage secret society that accidentally unleashes a demonic group from the past onto present-day Amsterdam. Watch the trailer.
Dead Kids (Film)
Inspired by a true story, this Filipino thriller focuses on a group of outcast teenagers who plot to kidnap the popular, wealthy students at their school. 
The Gift (New series)
A young painter's life in Istanbul is turned upside-down when an archeologist makes a discovery in an ancient temple that may be connected to family secrets. 
Spectros (New Series)
A folklore-inspired horror series from Brazil about a group of teenagers who find themselves drawn to the supernatural in São Paulo.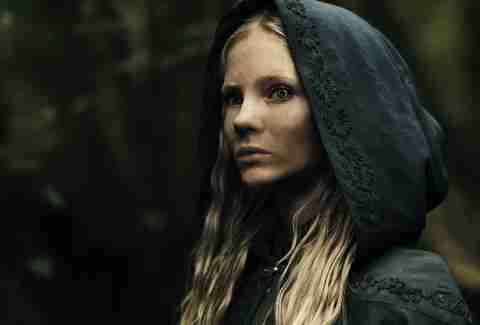 Unscheduled Upcoming Releases
Levius (New anime)
A former soldier with a prosthetic arm takes up boxing in this anime, due out sometime in November.
The Witcher (New series)
Henry Cavill stars in this adaptation of the popular fantasy series about monster hunter Geralt of Rivia, who unites with a sorceress and princess in order to fight an impending darkness. Watch the trailer.
Be sure to check back for more updates as additional series and films are announced.