Netflix is hell bent on producing an absurd amount of original TV shows and movies -- as well as the many acquired shows (like Friends) and movies the service has in its library -- and we're dead set on consuming a whole lot of it. But how to keep track of it all? Check out our helpful calendar below documenting everything Netflix has in store for us in 2019, a schedule we'll be updating throughout the year as more titles and release dates are announced.
Recommended Video
Surviving Marvel's 59-Hour Movie Marathon
Available 4/12
A Land Imagined (Film)
After a Chinese construction worker known for playing a string video game goes missing from a Singapore land reclamation site, an investigator works tirelessly to discover what happened to him. 
Huge in France (New series)
A wildly popular French comedian moves to LA in an attempt to form a stronger connection with his estranged son, and must come to terms with not being quite so famous abroad. Watch the trailer.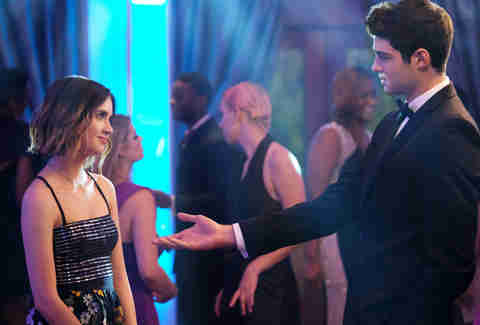 The Perfect Date (Film)
Netflix's rom-com king Noah Centineo (To All The Boys I've Loved Before, Sierra Burgess Is a Loser) returns! In the teen flick, he plays a struggling college kid who develops an app where anyone can pay him to pretend to be their perfect date for the night. Watch the trailer.
The Silence (Film)
From horror filmmaker and the director of 2014's Annabelle, John R. Leonetti, comes an apocalyptic horror flick that… sounds a lot like the premise of A Quiet Place. In the movie, Kiernan Shipka stars as a teenager named Ally who lost her hearing during her early adolescence who, along with her family, must try their best to stay safe from beastly creatures with a heightened sense of hearing threatening humanity. That is, until their larger threat becomes a cult looking to exploit Ally. Watch the trailer.
Special (New series)
Based on Ryan O'Connell's book I'm Special: And Other Lies We Tell Ourselves comes a semi-autobiographical telling of his experience as a gay man with cerebral palsy and his experience dating and living on his own. Watch the trailer.
Who Would You Take to a Deserted Island? (Film)
This Spanish dramedy centers on one night in the lives of a group of flatmates who, on their last night living together, reveal secrets to each other that change everything about their relationships. Watch the trailer.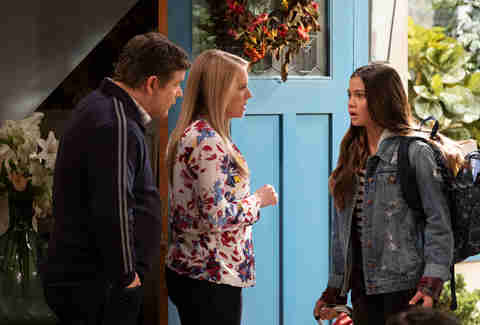 April 15
No Good Nick (New series)
When a young stranger claiming to be a distant relative shows up on the doorstep of a family, they must make adjustments to their lives when they decide to take her in. Watch the trailer.
April 17
Homecoming: A Film by Beyoncé (Documentary)
A documentary/concert film is coming from Queen Bey herself about the road to her iconic "Beychella" performance at Coachella 2018. Watch the trailer.
April 18
My First First Love (New series)
After a group of friends move in together in this Korean drama, the new roommates all begin to fall for one another and experience love for the first time. Watch the trailer.
April 19
A Fortunate Man (Film)
A Danish period piece about an ambitious engineer who moves to Copenhagen in hopes of finding success among the city's elite, until his own pride and status derails him from the positive work he set out to do. 
Brené Brown: The Call to Courage (Documentary)
Inspirational author Brené Brown shares insight into her own personal story and path to bravery, while revealing what it takes to be courageous and move past fear, in this documentary. Watch the trailer.
Cuckoo (Season 5)
The British comedy about a woman who comes home to the UK with her off-the-wall, American hippie boyfriend returns with the family reaping the benefits of discovering their father has a wealthy half-sister, until those plans are derailed.
Lunatics (New series)
A mockumentary from comedian Chris Lilley looking at the lives of several fictional, eccentric people who lead unconventional lives. Watch the trailer.
Music Teacher (Film)
An Indian film about a music instructor who never left his small town and is determined to reconnect with his now-famous former student when he returns home. 
The Ruthless (Film)
An old school gangster film written and directed by Italian director Renato De Maria about Santo Russo, a Calabrian man who embraces a life of criminal activity by moving to Milan. Watch the trailer.
Samantha! (Season 2)
A continuation of the misadventures of former child star Samantha! as she attempts to hold onto the fringes of fame in Season 2 of this Brazilian comedy. Watch the trailer.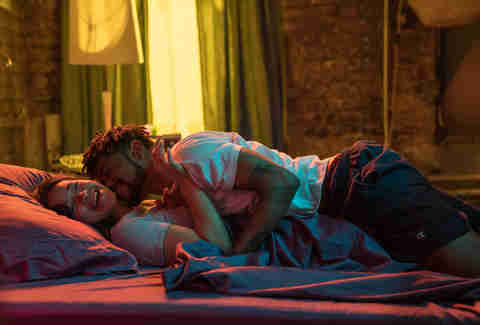 Someone Great (Film)
Ahead of her move to San Francisco and after a messy breakup with her longtime boyfriend (Lakeith Stanfield), a woman (Gina Rodriquez) and her two best friends head to NYC for one last hurrah together. Watch the trailer.
April 20
Grass is Greener (New docueries)
Just in time for 4/20, this docuseries looks at America's complex relationship with marijuana.
April 22
Selection Day (New episodes)
Additional episodes are set to be released in this Hindi-language, teen series about two young cricket prodigies, and their relationships with each other and their father. Watch the trailer.
April 23
I Think You Should Leave with Tim Robinson (New reality series)
A sketch comedy series featuring Tim Robinson where he and guests drive people to the point of feeling compelled to leave certain scenarios.
April 24
Bonding (New series)
Two former high school best friends reunite in NYC years later, and with one of them moonlighting as a dominatrix, she enlists her friend to be her new assistant. 
April 26
Chambers (New Series)
When a young woman undergoes a heart transplant surgery, she begins to develop intriguing personality traits, causing her to become obsessed with the donor who saved her and uncovers their frightening history in this medical horror series. Watch the trailer.
The Protector (Season 2)
The Turkish fantasy continues to increase in drama as hero Hakan and his team of the Loyal Ones continue to fight off an Immortal threat from taking over humanity. Watch the trailer.
ReMastered: Devil at the Crossroads (New docuseries)
Because of how talented blues musician Robert Johnson was, it was often rumored he made a pact with the Devil. This installment of the music/crime docuseries dives into that dark legend.   
She-Ra and the Princess of Power (Season 2)
The imaginative animated series is back with new episodes as the brave Princess She-Ra continues to face the threat of Hordak and new struggles for power. Watch the trailer.
Street Food (New docuseries)
The latest food series from the creators of Chef's Table, Street Food is a global journey looking at cultures and their renowned dishes from around the world with Season 1 exploring nine Asian countries. Watch the trailer.
Yankee (Film)
An American entrepreneur crosses the border from Texas to Mexico where he becomes an infamous drug lord via attempts to take care of his family.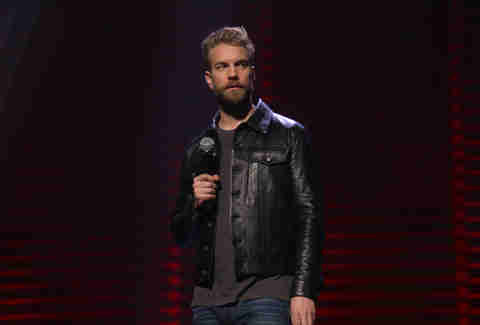 April 30
Anthony Jeselnik: Fire in the Maternity Ward (New comedy special)
A follow-up to his first Netflix special, Thoughts and Prayers, comedian Anthony Jesselnik returns with another stand-up feature about societal taboos. 
Baki: Part 2 (New anime series)
A convict-turned-bounty-hunter travels to Tokyo on a mission to arrest several heinous criminals who escaped from jail. Watch the trailer.
Ingress: The Animation (New anime series)
When scientists discover a strange substance that has the capability to influence minds, a dangerous battle for mind control between several groups ensues. 
May 1
Knock Down The House (Documentary)
A look at four women including US Representative Alexandria Ocasio-Cortez who organized grassroots campaigns and are now trailblazing politics.
May 3
A pesar de todo (Film)
A Spanish film about four sisters who learn at their mother's funeral that the man they grew up believing was their father is not actually their birth father, inspiring them to set out to find who their real dads are. 
Dead to Me (New series)
Christina Applegate and Linda Cardellini star in this dark comedy produced by Will Ferrell and Adam McKay about a grieving widow and her newfound friendship with a free-spirited women. Watch the trailer.
Extremely Wicked, Shockingly Evil and Vile (Film)
From the director of The Ted Bundy Tapes comes a film starring Zac Efron as the infamous serial killer in a feature about his relationship with his longtime girlfriend (Lily Collins) who clung to her belief that her boyfriend was innocent for years. Watch the trailer.
The Last Summer (Film)
Starring names like KJ App, Maia Mitchell, Tyler Posey, and others, this teen flick follows a group of friends who spend their last summer together following high school graduation. Watch the trailer.
Tuca & Bertie (New series)
From Lisa Hanawalt of BoJack Horseman comes a new, comedic animated series about two "bird women" and their friendship, starring Tiffany Haddish and Ali Wong as Tuca the toucan and Bertie the songbird. Watch the teaser.
May 10
Easy, Season 3
The anthology series about modern love in Chicago will wrap up with one last, third season this May. 
Wine Country (Film)
Amy Poehler's directorial debut is a forthcoming comedy featuring her Saturday Night Live co-stars Tina Fey, Maya Rudolph, Rachel Dratch, and others, inspired by a wild weekend she and her girlfriends shared. Watch the trailer.
May 21
Wanda Sykes: Not Normal (New comedy special)
Legendary comedian Wanda Sykes gets her first ever Netflix special treatment in which she explores the current political climate. Watch the teaser.
May 24
The Perfection (Film)
This visually stunning thriller/horror movie focuses on a musical prodigy (Girls' Allison Williams) and her rival (Dear White People's Logan Browning) competing in the cutthroat world of professional cellists.
She's Gotta Have It (Season 2)
After a long hiatus, Netflix drops a new installment of its adaptation of the 1986 feature-film debut of freshly minted Oscar-winner Spike Lee. Watch the trailer.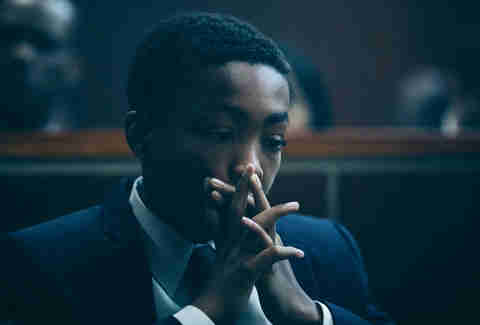 May 31
When They See Us (Miniseries)
Ava DuVernay is behind this four-episode series about the Central Park Five, black teenagers from Harlem who were wrongly convicted and later exonerated on charges that they brutally raped a woman in New York City in the late 1980s. Michael K. Williams, Vera Farmiga, and John Leguizamo round out an all-star cast. Watch the trailer.
May TBD
Terrace House Tokyo 2019-2020 (New series)
The next seasons of the popular reality series returns with a set of new housemates in Tokyo.
June 7
Armistead Maupin's Tales of the City (New series)
A 10-episode reboot of the Laura Linney starring series about a woman named Mary Ann Singleton and her interesting friendships upon moving to San Francisco in the '70s. While revisiting Linney's character, the series will also focus on her daughter, played by Ellen Page, in contemporary times. Watch the trailer.
July 4
Stranger Things (Season 3)
Ever wonder what the summer of 1985 was like in Hawkins, Indiana, after a mega-monster from the Upside Down nearly destroyed the town? Well, now you'll know. Watch the trailer.
September 27
The Politician (New series)
Ryan Murphy makes his Netflix debut with The Politician! His first series for the streamer, which has already renewed for Season 2, is a dark comedy that focuses on the ambitious rise of a young, aspiring politician played by Ben Platt, beginning in Season 1 with his determined pursuit to win student body president in high school. Jessica Lange, Gwyneth Paltrow, Bett Midler, Zoey Deutch, and many others also star.
Unscheduled Upcoming Releases
13 Reasons Why (Season 3)
The controversial teen drama that has now expanded well past the novel it's based on to cover other issues plaguing  high schools, from gun violence to sexual assault, is set for a third season, on its way for a 2019 release date.
Ares (New series)
A horror series from The Netherlands about a teenage secret society that accidentally unleashes a demonic group from the past onto present-day Amsterdam.
Bard of Blood (New series)
The popular Indian espionage novel of the same name by Bilal Siddiqui is being adapted into a series, following a former agent who must revisit one of his dangerous missions from 10 years prior and its repercussions today.
Black Mirror (Season 5)
Despite the attention-grabbing release of "Bandersnatch," an interactive installment that has wowed and vexed people in equal measure, Netflix says Season 5 is still on the way for some time in 2019.
Brotherhood (New series)
When a lawyer discovers that her brother who has been missing for years has actually been in jail all along and the leader of a criminal group, she becomes a police informant to undermine her brother until she discovers the truth about his past and herself. 
Dolly Parton's Heartstrings (New series)
A theatrical anthology series tailor-made for Dolly Parton fans everywhere, Dolly Parton's Heartstrings brings to life stories inspired by some of the singer's classic songs, giving tracks like "Jolene" and others their own episodic plot. 
Eli (Film)
A horror film about a young boy with a rare medical disease whose parents have thrust him into the experimental treatments of an unconventional doctor.
Family Business (New series)
A foreign comedy about a man who turns his family butcher shop into a weed dispensary. 
Hache (New series)
Inspired by true events, Hache illustrates the trials and tribulations faced by a woman thrown into high-profile heroin trafficking in 1960s Barcelona.
Jinn (New series)
An Arabic-language series about a group of teenagers who accidentally bring a supernatural force into their world and are forced to come to terms with the ramifications of their newfound powers. 
Klaus (Film)
An animated Santa Claus origin story from filmmaker Sergio Pablos featuring a star-studded voice cast with the likes of J.K. Simmons, Jason Schwartzman, Rashida Jones, and Joan Cusack, among others.
Money Heist (Part 3)
The third part of this Spanish series about professional criminals who plan to an elaborate robbery of the Royal Mint of Spain is due out later this year.
Neon Genesis Evangelion (Season 1)
Though it's not a brand-new Netflix original, the cult classic responsible for reviving the anime industry in the '90s was acquired by Netflix. The heady, mecha-trope skewering, divisive, not-for-kids anime series about a teenage boy charged with piloting a robot hybrid to protect humanity is supposed to drop in the spring.
Raising Dion (New series)
When Nicole (Alisha Wainwright) loses her husband (Michael B. Jordan), she fears how challenging raising her son Dion as a single mother will be. Soon that challenge reveals to be more complex than she could have imagined, as her child begins developing superhuman capabilities, forcing her to uncover the truth of where they came from, while keeping him safe.
See You Yesterday (Film)
Produced by Spike Lee, this teenage sci-fi film looks at a pair of high schoolers who attempt to engineer a time machine in order to reverse the police shooting of one of their older brothers. 
Seis Manos (New anime)
Following the adventures of a group of orphaned martial artists in Mexico in the '70s as they work with the DEA to fight crime in their border town. 
Still Laugh-In: The Stars Celebrate (Special)
Looking back on the popular sketch comedy show Laugh-In from the '60s and '70s, this special brings together comic legends like Lily Tomlin and Billy Crystal, as well as new comedy stars like Tiffany Haddish, to reflect on the series.
Tall Girl (Film)
A comedy about a very tall high schooler named Jodi who feels insecure about her height until she meets and falls for an equally tall foreign exchange student who arrives at her school.
Undercover (New series)
A Dutch/Belgian series about one of the largest ecstasy producers in the world who discovers cops are on his tail when they move into his territory and go undercover to infiltrate him. 
What/If (New series)
This series hinges on a central question: Can one bad decision change your entire life? Who knows (but yes, probably). The first season stars Renee Zellweger and focuses on a woman's mysterious easy money plan to a pair of a newlyweds in San Francisco. 
Be sure to check back for more updates as additional series and films are announced.