Netflix is hellbent on producing an absurd amount of original TV shows and movies -- in addition to the many acquired shows (like The Office) and movies the service has in its library -- and we're dead set on consuming a whole lot of them. But how to keep track of it all? Check out our helpful calendar below, which documents everything Netflix has in store for us for the rest of 2019, a schedule we'll be updating as more titles and release dates are announced.
Recommended Video
Viral Granny Rips Shots With Grandson, Gives Relationship Advice
October 2
Living Undocumented (New docuseries)
An intimate look at the lives of eight undocumented immigrant families and their experiences trying to find stability in America. 
Ready to Mingle (Solteras) (Film)
A Mexican comedy about a woman who gets dumped by the man she thought was the love of her life and joins a group for single women to cope. 
Rotten, Season 2 
This revealing anthology docuseries about the food industry returns to look at the reality behind the production and sale of chocolate, avocados, wine, and more. Watch the trailer.
October 3
Seis Manos (New anime)
Following the adventures of a group of orphaned martial artists in Mexico in the '70s as they work with the DEA to fight crime in their border town. Watch the trailer.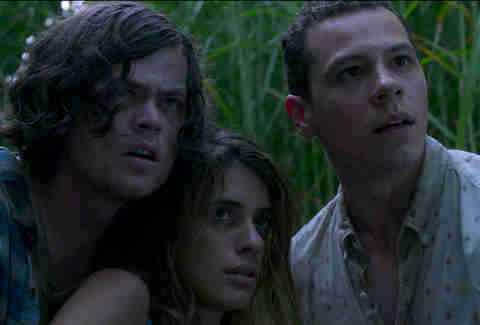 October 4
Big Mouth, Season 3
Everyone's favorite uncomfy, horny animated comedy is back. Season 3 of the Nick Kroll-helmed show focuses on what puberty is like in the digital age, and Ali Wong joins the cast as a new seventh grader. Watch the trailer.
In the Tall Grass (Film)
Another adaptation from Stephen King (and his son!) is headed to the streamer, this one an eerie story about a brother and sister who pull over while driving through rural Kansas when they hear frightening cries coming from the plains. As they look for the source in the weeds, they realize something paranormal has taken over.
Peaky Blinders, Season 5
Exclusive to Netflix, but not technically a Netflix original, Peaky Blinders is Steven Knight's mob tale starring Cillian Murphy returns, this time finding the fam getting into political contretemps following the the stock market crash of 1929. Watch the trailer.
Raising Dion (New series)
Based on the comic book by Dennis Liu, this new sci-fi series focuses on a single mother who's bewildered once her young son begins to develop special powers. Alisha Wainwright and Michael B. Jordan star. Watch the trailer.
October 7
Match! Tennis Juniors (New series)
A new Chinese teen series about a tennis prodigy trying to exceed in the sport and high school. 
October 8
Deon Cole: Cole Hearted (Comedy special)
The Chicago-based comedian's first-ever Netflix special in which he cracks jokes about his awkward, everyday struggles. Watch the trailer.
October 9
Rhythm + Flow (New series)
It was only a matter of time before Netflix launched a music competition series of their own. Cardi B, Chance the Rapper, and T.I. lead the search in this hip-hop focused reality show looking for the next greatest rap star across the nation. Watch the teaser.
October 10
Ultramarine Magmell (New anime)
An imaginative anime about a skilled rescuer who attempts to help others exploring a mysterious, newly formed continent. 
October 11
Haunted, Season 2
Just in time for Halloween, there's a new installment coming of the reality series featuring real people explaining their supernatural experiences.
Insatiable, Season 2
Netflix's most problematic series (you know, the one about a girl who lost a significant amount of weight and sought brutal revenge on her classmates for making fun of her) is, in fact, back for a second season.
La influencia (Film)
A nurse returns home to look after her ill mother and must face whatever dark force haunts her childhood home that she thought she had escaped in this Spanish thriller.
The Awakening of Motti Wolenbruch (Film)
A Swiss comedy about an Orthodox Jewish man who starts to fall for a woman outside of his religion, despite his mother constantly trying to set him up with potential matches.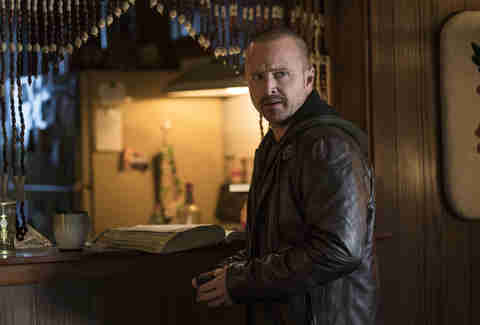 El Camino: A Breaking Bad Movie (Film)
A long-awaited Breaking Bad movie is finally on its way, focusing on Aaron Paul's iconic character Jesse Pinkman and what happened after the popular drama's finale when he escaped from captivity. Watch the trailer.
The Forest of Love (Film)
Inspired by a true story, this Japanese horror film focuses on an odd man who convinces a group of aspiring filmmakers to make a movie about him, which gets increasingly strange over the course of shooting. 
Fractured (Film)
Sam Worthington and Lily Rabe star as a couple on the road in this thriller that turns dark after their daughter injures her arm and she's checked into a hospital. When Worthington's character takes a brief nap, he wakes up to find his daughter missing and the hospital claiming that they have no record of her ever being checked in. Watch the trailer.
PLAN COEUR, Season 2
The French comedy about a woman's friends who set her up with a male escort is back for more dating shenanigans. 
October 12
Banlieusards (Film)
Examining the lives of three brothers, in particular the path the youngest of them follows in order to stay afloat in his gritty suburb, and whether or not he will fall into a life of crime like his older sibling. 
October 16
Ghosts of Sugar Land (Documentary)
A look into the disappearance of a young Muslim American by his close friends, following their suspicion that he may have fallen into extremist thought and joined ISIS.
October 18
Baby, Season 2
The teen drama about young women dabbling in the Roman underground is back. Watch the trailer.
Eli (Film)
A horror film about a young boy with a rare medical disease whose parents have thrust him into the experimental treatments of an unconventional doctor. 
The House of Flowers, Season 2
The telenovela returns to jump back into the wealthy de la Mora family's controversial affairs and plots of revenge. 
Interior Design Masters (New reality series)
This home-makeover series doubles as a reality competition as aspiring interior designers are challenged with renovating spaces in exchange to get a contract to design a major hotel.
The Laundromat (Film)
Steven Soderbergh's latest feature stars Meryl Streep as a woman on vacation who ends up following an insurance scheme to uncover the scandal of the 2016 Panama Papers. The film also stars Gary Oldman, Antonio Banderas, Jeffrey Wright, and many others. Watch the trailer.
Living With Yourself (New series)
Paul Rudd stars in this fantasy comedy series about a man who undergoes a mysterious self-improvement treatment, and ends up accidentally replacing himself with a second new and improved version. Watch the trailer.
MeatEater, Season 8
Steven Rinella is traveling to Mexico and Alaska in Season 8 of his outdoor series. 
Seventeen (Film)
A drama about a 17 year old who breaks out of juvie in hopes of tracking down his beloved therapy dog.
Tell Me Who I Am (Documentary)
A dark exploration of a man who loses his memory and leans on his twin brother to learn the truth about his past, realizing over time that a traumatic family secret had been glossed over. 
Toon (New series)
A comedy about an awkward recluse who accidentally becomes an overnight star when a video of him playing music goes viral without him noticing. 
Unnatural Selection (New docuseries)
Leading scientists in genetics and artificial intelligence discuss the ethical problems they are on the cusp of facing as technologies continue to rapidly change.
Upstarts (Film)
An Indian dramedy about three recent graduates from a small town in India determined to find success in the world of startups and the challenges they face together as friends and entrepreneurs. 
The Yard (Avlu) (New series)
A Turkish drama about a woman who is arrested after a domestic dispute is willing to do whatever it takes to get out and be reunited with her child. 
October 22
Jenny Slate: Stage Fright (Comedy special)
Actress/comedian Jenny Slate is sharing an inside look at her hilarious life in this comedy special largely about her childhood experiences, which features home video clips and interviews with her family members.
October 23
Breakfast, Lunch & Dinner (New docuseries)
David Chang hosts this upcoming food docuseries in which he joins a celebrity guest on a trip to a unique city to explore its culture and cuisine. 
Dancing with the Birds (New docuseries)
A nature series about the often flamboyant mating rituals of birds.
October 24
Daybreak (New series)
A graphic, post-apocalyptic dark comedy about teenagers fighting for their lives after a nuclear blast hits the world and forces everybody left standing into fierce survival mode. The series primarily follows a 17-year-old loner searching for his lost girlfriend, and Matthew Broderick, Austin Crute, and Colin Ford star. Watch the trailer.
October 25
BoJack Horseman, Season 6A
The beloved animated series about a depressed former sitcom star horseman is coming to an end with its sixth season. The final installment is concluding in two parts, with the first half dropping in late October and the final few episodes airing sometime in January 2020. Watch the trailer.
Brigada Costa del Sol (New series)
A period piece set in '70s Spain about four cops who team up to form a new narcotics team and crack down on the increasing amounts of drug trafficking in their country.
Brotherhood (New series)
When a lawyer discovers that her brother, who's been missing for years, has actually been in jail all along and is the leader of a criminal group, she becomes a police informant to undermine him until she discovers the truth about his past and herself. 
Dolemite Is My Name (Film)
A biopic starring Eddie Murphy as the iconic '70s comedian and pioneer of the Blaxploitation film style, Rudy Ray Moore, who's best known for his alter-ego Dolemite. Watch the trailer.
The Kominsky Method, Season 2
Michael Douglas' Sandy Kominsky has some more improv to teach! The show's second season was inevitable, given its surprising sweep at last year's Emmys. Watch the teaser.
Monzon (New series)
A series based on the true story of Argentinian boxer Carlos Monzón who was convicted of brutally murdering his wife Alicia Muñiz in 1989.
Nailed It! France (C'est du gâteau!) (New reality series)
The popular baking competition series finding terrible chefs forced to make insane confections is launching a new season based in France. 
Nailed It! Spain (Niquelao!) (New reality series)
Along with the French special of Nailed It!, a Spanish one is on the way, too.  
Prank Encounters (New reality series)
A hidden camera prank show hosted by Stranger Things star Gaten Matarazzo where people's jobs are interrupted by what appears to be some sort of supernatural encounter. 
Rattlesnake (Film)
Carmen Ejogo stars as a woman who accepts the help of a mysterious stranger when her daughter is bitten by a rattlesnake, but soon finds that she must face strange consequences for asking for aid.
It Takes a Lunatic (Documentary)
A documentary profile of famed acting teacher Wynn Hardman who influenced the careers of stars like Denzel Washington, Christopher Walken, and others. 
October 28
A 3 Minute Hug (Documentary)
Documenting the moving reunions between families separated by the Mexican-American border crisis. 
Little Miss Sumo (Documentary)
A young, female sumo wrestling prodigy named Hiyori attempts to make it and revolutionize the rules in a sport dominated by men. 
October 29
Arsenio Hall: Smart & Classy (Comedy special)
Longtime comic legend Arsenio Hall is bringing a new stand-up special to Netflix, offering anecdotes that span his career and his perspective on comedy today.
October 30
Flavorful Origins: Yunnan Cuisine (New docuseries)
The food docuseries' latest edition turns to China's Yunnan to learn about cuisine from the region. 
October 31
Kengan Ashura: Part II 
The gladiator battle anime is back. 
Nowhere Man (New series)
A Taiwanese thriller about a notorious gang member attempting to break out of prison to save someone close to him. Watch the teaser.
November 1
American Son (Film)
The popular Broadway play American Son is getting the film treatment, featuring the original stage cast of Kerry Washington, Steven Pasquale, Jeremy Jordan, and Eugene Lee reprising their roles to tell a story about an investigation into a missing teenage boy and the race politics at play. Watch the teaser.
The King (Film)
Hollywood's reigning heartthrob Timothée Chalamet is now the king of Netflix, per his latest film The King, about a prince who leaves his kingdom to live among commoners and is forced to take over the crown upon his father's death. The period piece from David Michôd also stars Joel Edgerton and Robert Pattinson, all with beautiful haircuts. Watch the trailer.
Queer Eye: We're in Japan! (Special)
In this four-part special of Queer Eye, the Fab Five are going on a trip to Japan to both learn about the culture and work with a new group of people to improve the well-being of their lives. 
November 15
Earthquake Bird (Film)
Alicia Vikander and Riley Keough star in this twisty crime drama about an ex-pat living in Tokyo (Vikander) who finds herself caught up in a strange love triangle and eventually becomes the prime suspect for murder when Keough's character goes missing.  
I Lost My Body (Film)
This unique animated French film follows the journey of a severed hand and its escape from a lab to find the body it belongs to: a pizza delivery boy named Naoufel who is set on pursuing a young librarian. 
Klaus (Film)
An animated Santa Claus origin story from filmmaker Sergio Pablos featuring a star-studded voice cast with the likes of J.K. Simmons, Jason Schwartzman, Rashida Jones, and Joan Cusack, among others.
November 17
The Crown, Season 3
All hail your new queen: Olivia Colman! The popular series about the British monarchy is continuing with an all-new cast, focusing on 1964-1977. Tobias Menzies and Helena Bonham Carter also join the ensemble. Watch the teaser.
November 27
The Irishman (Film)
The highly anticipated old-school mob movie from Martin Scorsese stars the likes of de-aged Robert De Niro, Al Pacino, Joe Pesci, and others. Watch the trailer.
December 6
Marriage Story (Film)
The latest film from Noah Bambach (Francis Ha, Mistress America), this drama is a snapshot of the trials and tribulations of a crumbling marriage, the couple played by Scarlett Johansson and Adam Driver. Laura Dern, Ray Liotta, and others also appear. Watch the trailer.
December 20
The Two Popes (Film)
City of God director Fernando Meirelles explores the true events about the transition of power in the Vatican in 2012 when Cardinal Bergoglio asked Pope Benedict for permission to retire. Jonathan Pryce and Anthony Hopkins star. Watch the teaser.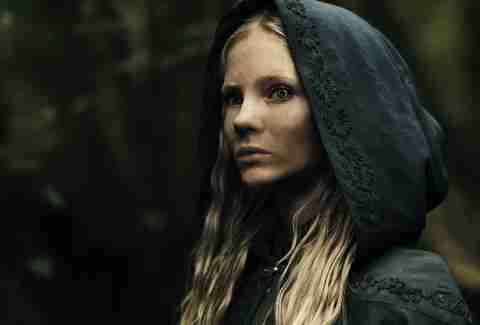 Unscheduled Upcoming Releases
A Christmas Prince: The Royal Baby (Film)
Yet another installment in the Christmas Prince universe! This time: A baby is on the way! And at Christmas, no less.
Ares (New series)
A horror series from the Netherlands about a teenage secret society that accidentally unleashes a demonic group from the past onto present-day Amsterdam.
Dolly Parton's Heartstrings (New series)
A theatrical anthology series tailor-made for Dolly Parton fans everywhere, Dolly Parton's Heartstrings brings to life stories inspired by some of the singer's classic songs, giving tracks like "Jolene" and others their own episodic plot. 
The Gift (New series)
A young painter in Istanbul's life is turned upside down when an archeologist makes a discovery in an ancient temple that may be connected to family secrets. 
Hache (New series)
Inspired by true events, Hache illustrates the trials and tribulations faced by a woman thrown into high-profile heroin trafficking in 1960s Barcelona. Watch the trailer.
Holiday in the Wild (Film)
Netflix is pumping out even more Hallmark-like movies for Christmas 2K19! In this flick, when a woman's husband can no longer join her on their planned trip to Africa, she decides to go on her own and celebrate Christmas on a safari. 
Holiday Rush (Film)
A cheesy but heartfelt Christmas movie about a single dad/radio DJ whose on-air show is canceled, forcing him to downsize around the holidays while trying to keep his career afloat. 
The Knight Before Christmas (Film)
Vanessa Hudgens exists in multiple realms of the Netflix Christmas movie universe! Here, she's a disillusioned teacher with whom a time-traveling knight falls in love. 
Spectros (New Series)
A folklore-inspired horror series from Brazil about a group of teenagers who find themselves drawn to the supernatural in São Paulo. 
The Witcher (New series)
Henry Cavill stars in this adaptation of the popular fantasy series about monster hunter Gerald of Rivia, who unites with a sorceress and princess in order to fight an impending darkness. Watch the trailer.
Be sure to check back for more updates as additional series and films are announced.