Now more than ever, Netflix is devoted to producing an absurd amount of original content. While you'll still be able to watch your favorite licensed shows and movies (at least for the time being), the streaming giant is committed to upping the ante of just how many new scripted and reality TV series and films it's capable of producing. Below, check out the calendar of what Netflix has in store for 2019, which we'll be updating throughout the year as more titles and their release dates are announced.
Recommended Video
The 11 Best Horror Death Scenes in Movie History
Available 1/1
A Series of Unfortunate Events (Season 3)
The third and final season of the star-studded, gothic young adult series tackles the final four Lemony Snicket books. What (unfortunate) fates await the very sad Baudelaire children now?! Watch the trailer.
Comedians of the World (New reality series)
Netflix is turning the comedy special format on its head by featuring the stand-up acts of not just one, but 47 comedians from around the globe in this new reality series. In the show, the likes of Nicole Byers, Neal Brennan, and more show off their hilarious skills in a number acts about what's funny in their part of the world. Watch the trailer.
Tidying Up with Marie Kondo (New reality series)
Famous organizer Marie Kondo now has her own reality show in which she helps clients clean up their homes and rid their lives of clutter. Like Netflix's Queer Eye, this series is likely going to be a lot more emotional than you'd expect a homemaking show to be. Watch the trailer.
Available 1/4
And Breathe Normally (Film)
An international drama about a single mother from Iceland and a refugee from Guinea-Bissau who meet and find an unexpected connection in their lives. Watch the trailer.
Call My Agent! (Season 3)
The latest season in the French comedy series about high-profile celebrity agents and their drama-filled careers. This year, French stars Isabelle Huppert, Jean Dujardin, and others appear.
Lionheart (Film)
An inspiring dramedy, and Netflix's first Nigerian film, about a young girl who must look after the family business once her father becomes too sick to keep it up, ultimately teaching herself how strong of a worker she is in a male-dominated industry. Watch the trailer.
Available 1/9
GODZILLA The Planet Eater (Film)
Another adaptation featuring the classic Japanese mega-monster Godzilla, this time as an international animated feature about a dark future when a cult is summoning a monster that has the power to destroy the world. Watch the trailer.
Available 1/10
When Heroes Fly (New series)
When four estranged Israeli veterans learn that a woman they once know and assumed to be dead may be alive, they travel together to Colombia in hopes of reuniting with her. Watch the trailer.
Available 1/11
Friends From College (Season 2)
The friendship comedy about a group of former college pals (played by Keegan-Michael Key, Cobie Smulders, Fred Savage and others) who now, settled into their adult lives, don't really like each other returns for more questionable shenanigans, including an upcoming wedding.
(Watch the trailer)
The Last Laugh (Film)
A retired talent agent (played by Chevy Chase) rekindles his relationship with a former client, a comedian named Buddy (Richard Dreyfuss) who gave up on his dreams too soon, and convinces him to get back into stand-up once again.
(Watch the trailer)
ReMastered: Massacre at the Stadium (New episode)
The music mystery docuseries' latest installment looks at an official from Pinochet's army who was accused of murdering Chilean musician Victor Jara, and now attempts to face exoneration.
Sex Education (New series)
In this bingeworthy British series that everyone will be talking about, Asa Butterfield plays a teenager whose mom (played by Gillian Anderson) is a sex therapist. Rather than being uncomfortable with the subject, he uses her knowledge to his advantage to open an underground sex therapy clinic out of his home to help other students (and meet girls, while working through his own personal issues). A win/win for pubescent teens!
Solo (Film)
Not the Star Wars spin-off movie of the same name (which itself confusingly arrives on Netflix on January 9) but instead a tale inspired by incredible true events, Solo focuses on a surfer who falls off a cliff in a remote locale of the Canary Islands and his fight for survival.
Available 1/15
Revenger (Film)
Like the title suggests, this action film focuses on a character who can't get his mind off revenge. A detective hunts down a former criminal on a remote island where inmates are sent in hopes of getting seeing his vengeance through.
(Watch the trailer)
Sebastian Maniscalco: Stay Hungry (Comedy special)
A comedy special brought to life by the memoir of the same name from Sebastian Maniscalco about his journey as an emerging comedic star.
Available 1/18
Carmen Sandiego (New series)
Millennials' favorite geography CD-ROM, board game, and '90s series Where in the World is Carmen Sandiego? is getting a revamp as an animated Netflix series. Starring Gina Rodriguez as the voice of the titular globetrotting criminal and Finn Wolfhard (Stranger Things, IT) as her accomplice, the series is set to give more context into her thieving background.
Close (Film)
An action film following the mission of an advanced security guard who must work hard to keep an heiress safe from highly trained kidnappers.
FYRE: The Greatest Party That Never Happened (Documentary)
Remember the disaster that was Fyre Festival, the luxury event that spectacularly crashed and burned, leading to a lawsuit? Yeah, yikes. How could you forget? This doc, made by the team behind Jim & Andy: The Great Beyond, looks at just what went down to lead to such a travesty for Instagram influencers and B-list celebs. Watch the trailer.
GIRL (Film)
A 15-year-old transgender girl named Laura intensely trains to become a ballerina while undergoing her gender confirming transition. Watch the trailer.
Grace and Frankie (Season 5)
Dynamic comedy duo Jane Fonda and Lily Tomlin return as the titular characters in a family comedy about two women who discover their husbands are romantically involved.
IO (Film)
A teen apocalyptic, sci-fi flick starring Margaret Qualley and Anthony Mackie about a young woman who attempts to save an infected planet Earth in a near apocalyptic future before all of humanity escapes to outer space.
Soni (Film)
An international crime drama following the work of a policewoman investigating crimes committed against women in Delhi.
Trigger Warning with Killer Mike (New reality series)
Rapper Killer Mike is going behind the camera for an all-new documentary series in which he explores social issues in today's political climate. Watch the trailer.
Available 1/21
Justice (New series)
In a classic tale of following your own heart and not what your parents expect of you, this international drama follows a young woman who pursues a career as a defense attorney on her own rather than joining her father's firm.
Available 1/24
Conversations with a Killer: The Ted Bundy Tapes (New docuseries)
While you may think you know everything there is to know about Ted Bundy, one of history's most infamous serial killers, this documentary digs through his own, archival accounts to give more insight into who he was. Watch the trailer.
Available 1/25
Animas (Film)
A horror movie about a young woman who, after her friend experiences a disturbing accident, finds herself in an inescapable supernatural state where what is real and fake is blurred. Watch the trailer.
Black Earth Rising (New series)
The American debut of the BBC series of a woman, played by Michaela Coel, who was orphaned during the Rwandan genocide and later raised by an adoptive mother in London. Now as an adult, her lawyer mother takes on a case surrounding the crimes of an African militia leader that causes her to examine her past and where she came from more closely. Watch the trailer.
Club de Cuervos (Season 4)
The latest season of the Mexican comedy about a family fighting over ownership of a renowned soccer team.
Kingdom (New series)
A prince sets out to save his kingdom once it falls ill to a mysterious plague, while trying to uncover the truth what evil is causing the disaster in this Korean drama. Watch the trailer.
Medici: The Magnificent (Season 2)
A follow-up to 2016's Medici: Masters of Florence, which starred Richard Madden and Dustin Hoffman as members of the influential Florentine clan during the Italian Renaissance, this fresh eight-episode installment pushes forward a generation to focus on Lorenzo the Magnificent (played by Daniel Sharman) and a plot led by Sean Bean's Jacopo de' Pazzi. Watch the trailer.
Polar (Film)
An assassin thriller starring Mads Mikkelsen and Vanessa Hudgens about the number one killer in the world, The Black Kaiser, who believes that his career is coming to an end… until he's forced to face off with a new class of younger, more cunning assassins as they plot to end him.
Unbreakable Kimmy Schmidt (Season 4, Part 2)
The final six episodes of Tina Fey's oddball sitcom about a woman who was once trapped in an underground cult arrive this January. Will Ellie Kemper's endearing Kimmy finally find love and adjust to New York City in the 21st century? We can only hope! Watch the trailer.
Available 1/29
Gabriel "Fluffy" Iglesias: One Show Fits All (Comedy special)
The third Netflix comedy special from Gabriel "Fluffy" Iglesias, now discussing his life with his teenage son, and more.
Available 2/1
Always a Witch (Film)
A foreign film about a witch who escapes being burned at the stake by time traveling, but must learn to adjust to life in contemporary Colombia in order to maintain her safety.
Velvet Buzzsaw (Film)
A star-studded thriller featuring the likes of Jake Gyllenhaal, Toni Collette, and others as artists and collectors in the L.A. art scene, paying extremely high prices for status and commodity.
Available 2/8
One Day at a Time (Season 3)
The sincere family sitcom starring Rita Moreno and Justina Machado returns as the three generation Alvarez family continues navigate loss and life together.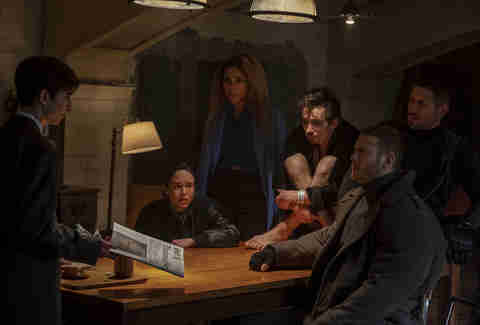 Available 2/15
The Umbrella Academy (New series)
Based on the graphic novel created by Gerard Way of My Chemical Romance fame, The Umbrella Academy is about 43 babies randomly and miraculously born to unconnected women in 1989, some of whom are later taken in by a man who trains them in what he calls The Umbrella Academy, hoping they'll one day save the world from apocalypse. Eventually becoming estranged, the children reunite as adults upon their adoptive father's death, and attempt to discover the mystery of their existence. Watch the trailer.
Available 3/1
The Boy Who Harnessed the Wind (Film)
Based on the memoir of William Kamkwamba, this film looks at his time as a 13-year-old boy in Malawi and the plan he comes up with to save his family and village from famine.
Available 3/22
The Dirt (Film)
Another musical biopic is on the way, and this time metal is getting its own treatment. The Dirt chronicles Mötley Crüe's rise from young kids trying to make it in Hollywood to the musical legends of the '80s they became, featuring the likes of Machine Gun Kelly, Douglas Booth, Iwan Rheon, and Daniel Webber as the band. 
Available 4/1
ULTRAMAN (New series)
A new anime series about a boy who learns he is connected to a line of heroes meant to fight alien invaders. Watch the trailer.
Available 4/5
Chilling Adventures of Sabrina (Season 2)
The dark, witchy drama is already back for its second season, just a little over six months after its initial premiere, finding the titular witch (Kiernan Shipka) uncovering the truth behind her family's mysterious, supernatural past. Watch the trailer.
Our Planet (New docuseries)
It's Netflix's own version of Planet Earth! And it's narrated by Sir David Attenborough! Watch the trailer.
Available 4/19
Rilakkuma and Kaoru (New series)
An anime about a young woman and her adventures with a new roommate, who just so happens to be a fluffy bear. Watch the trailer.
Unscheduled Upcoming Releases
Armistead Maupin's Tales of the City (New series)
A 10-episode reboot of the Laura Linney starring series about a woman named Mary Ann Singleton and her interesting friendships upon moving to San Francisco in the '70s. While revisiting Linney's character, the series will also focus on her daughter, played by Ellen Page, in contemporary times. 
13 Reasons Why (Season 3)
The controversial teen drama that has now expanded well past the novel it's based on to cover other issues in high schools, from gun violence to sexual assault, is set for a third season, which is on its way for a 2019 release date.
Bard of Blood (New series)
The popular Indian espionage novel of the same name by Bilal Siddiqui is being adapted into a series, following a former agent who must revisit one of his dangerous missions from 10 years prior and its repercussions today.
Black Mirror (Season 5)
Despite the attention-grabbing release of "Bandersnatch," an interactive installment that has wowed and vexed people in equal measure, Netflix says Season 5 is still on the way.
Central Park Five (New series)
Ava DuVernay is set to adapt a mini-series dramatization of the infamous true crime story known as the Central Park Five, in which five black teens from Harlem were wrongly convicted for the brutal rape of a woman in Central Park in the '80s. Michael K. Williams, Vera Farming, and John Leguizamo are set to appear. 
Eli (Film)
A horror film about a young boy with a rare medical disease whose parents have thrust him into the experimental treatments of an unconventional doctor.
Hache (New series)
Inspired by true events, Hache illustrates the trials and tribulations faced by a woman thrown into high-profile heroin trafficking in 1960s Barcelona.
Klaus (Film)
An animated Santa Claus origin story from filmmaker Sergio Pablos featuring a star-studded voice cast with the likes of JK Simmons, Jason Schwartzman, Rashida Jones, and Joan Cusack, among others.
The OA (Season 2)
Brit Marling and Zal Batmanglij's very odd sci-fi series about a blind woman named Prairie (Marling) who went missing and comes home years later with the ability to see returns. Expect more otherworldly mysteries uncovered, a lot more of those movements. 
Marvel's The Punisher (Season 2)
One of Netflix's remaining Marvel series, this military thriller is set to return sometime in January 2019, but a date has yet to be confirmed.
Russian Doll (New series)
Set for a release sometime in February, Natasha Lyonne stars in this upcoming comedy about a woman experiencing her own Groundhog Day-like symptoms, dying repeatedly and waking up again in the bathroom of a wild party in lower Manhattan. 
Stranger Things (Season 3) 
Fans will get a taste of what summertime is like in Hawkins, Indiana, as Stranger Things 3 is reportedly set in the summer of 1985… and appropriately accompanied by a yet-to-be-announced summer 2019 release date.
Wine Country (Film)
Amy Poehler's directorial debut is a forthcoming comedy starring her Saturday Night Live co-stars Tina Fey, Maya Rudolph, Rachel Dratch, and others, inspired by a wild weekend she and her girlfriends shared. 
Be sure to check back for more updates as additional series and films are announced.
Sign up here for our daily Thrillist email and subscribe here for our YouTube channel to get your fix of the best in food/drink/fun.