The Best Netflix Original Shows and Movies Coming in 2020 (and Beyond)
Plot your next binge-watch.
'The Midnight Sky'

| Netflix
'The Midnight Sky'

| Netflix
Netflix is never going to stop churning out massive amounts of new and returning original movies and shows. Yes, there's a lot of trash (The Last Days of American Crime! The Wrong Missy!) but the good news is that the highs are getting higher (Da 5 Bloods! The Witcher—yes, The Witcher!). The remainder of the year is no exception: Over the next two weeks, several familiar favorites return, as well a few new shows and movies of significance. Here's a curated list of what's left to come on Netflix in 2020—and we've gotten a head start on 2021 with a quick run-down of what's scheduled to hit the streaming service in January and beyond.
December 21
Ariana Grande: Excuse Me, I Love You (New documentary)
Ariana Grande is giving her fans a Christmas treat before the year is through. Just the other week Netflix announced this surprise concert documentary that features the pop star on and off stage during 2019's Sweetener tour.
December 23
The Midnight Sky (New movie)
George Clooney is getting in the director's chair to adapt Lily Brooks-Dalton's novel Good Morning, Midnight. He also stars in the film, playing a (heavily bearded) scientist, isolated in the Arctic in a post-apocalyptic world, who sets out to stop a space crew led by Felicity Jones from returning to a catastrophic Earth.
Your Name Engraved Herein (New movie)
A Taiwanese romance between two young men who fall in love despite family and societal pressure in late '80s Taiwan at the end of martial law.
December 25
Bridgerton (New series)
Shonda Rhimes is finally coming to Netflix. The showrunner's first release is an adaptation of Julia Quinn's romance novel series about the wealthy, English Bridgerton family and their affairs. Julie Andrews is among the stars.
We Can Be Heroes (New movie)
A sequel to The Adventures of Sharkboy and Lavagirl is something we never asked for, but also didn't know that we needed. This movie which sees Taylor Dooley putting back on her fiery pink suit (even though Taylor Lautner is nowhere to be found), but the real hero here is their daughter—yes, they're old enough to have a child now—who is supposed to save the world when aliens invade and kidnap all of the superheroes.
December 26
DNA (New movie)
When the patriarch grandfather of a family dies, a woman who distanced herself from her family must return home where she finds herself getting more in touch with her Algerian roots.
December 27
Death to 2020 (New comedy special)
Another season of Black Mirror didn't hit Netflix in 2020—but the year itself was nightmarish enough that the show's creators, Charlie Brooker and Annabel Jones, teamed up to create an all new special about the hellish past 12 months. Death to 2020 is a star-studded mockumentary reflecting on (and saying good riddance) to the year.
December 30
Best Leftovers Ever! (New reality series)
Do you just nuke your leftovers in the microwave, or otherwise let them go to waste? Then you could learn a thing or two from the cooks on this competition series who are masters in leftover cooking and take on challenges that give new life to old meals.
Equinox (new series)
This Danish mystery's got a hint of sci-fi to it, about a woman who, 20 years ago, saw a school bus full of children inexplicably disappear, and sets out in the present to find out what happened when she runs into someone from the incident for the first time since witnessing the confounding event.
December 31
Chilling Adventures of Sabrina, Part 4
In the final eight episodes of this spooky teen series, it's quite literally the end of the world in Greendale and up to Sabrina and her coven to stop it.
NETFLIX SCHEDULE 2021
January 1
Dream Home Makeover, Season 2
If your new year's resolution is to finally take on those home renovations you've been meaning to do, some reality TV house porn is on the way to get your inspiration gears turning. Realtor duo Shea and Syd McGee are back to help families find their perfect house, no matter their requests with the second season of Dream Home Makeover.
Headspace Guide to Meditation (New series)
Start the new year off right: with a clear head, and totally zen. The meditation guide app Headspace now has its own show on Netflix, which includes eight 20 minute animated episodes with mindfulness and relaxation techniques.
The Minimalists: Less Is Now (New documentary)
A look at how public speakers Joshua Fields Millburn and Ryan Nicodemus promote and find meaning in a minimalist lifestyle.
January 2
Asphalt Burning (New movie)
A groom whose wedding plans veered off course competes in a drag race at the iconic Nürburgring tracks in Germany to win back his runaway bride's hand in marriage in this German film. If that's not love, hard to say what is.
January 5
History of Swear Words (New docuseries)
Ever wonder what the origins of your favorite frowned upon words are? Ever wish none other than Nicolas Cage instructed you of that history? Well, you can get all of that in this Funny or Die docu- comedy series starring the infamously unhinged actor.
January 6
Surviving Death (New docuseries)
Netflix is about to tackle one of life's biggest questions: What happens when we die? This six-part docuseries, inspired by Leslie Keen's book of the same name, delves into the possibility of an afterlife by interviewing scientists, mediums, and those who've experienced near death experiences.
January 7
Pieces of a Woman (New movie)
Vanessa Kirby is being called an awards contender for her role in this devastating indie in which she stars as a woman struggling with grief and a rocky relationship with her husband after an at-home birth ends in tragedy.
January 8
Cobra Kai, Season 3
The Karate Kid follow-up Cobra Kai became an instant hit when it moved over from YouTube Premium to Netflix in summer 2020, and fans won't have to wait too long for more episodes. Season 3 arrives early within the new year.
Lupin (New series)
A modern retelling of the crime-filled adventures of French writer Maurice Leblanc's classic early 20th century character, the gentleman thief Arsène Lupin.
Stuck Apart (New movie)
A Turkish film from popular directing duo the Taylan Brothers about a middle-aged man in a mid-life crisis, stuck living at home, who becomes a pathological liar.
January 11
Crack: Cocaine, Corruption, & Conspiracy (New documentary)
This documentary tracks not only the origin of crack and the subsequent crisis the drug plagued on American cities in the '80s and '90s, but the long-term effect it's had on marginalized communities.
January 13
Night Stalker: The Hunt for a Serial Killer (New docuseries)
Netflix always has a true-crime doc up its sleeve. First up in 2021 is Night Stalker: The Hunt for a Serial Killer. The four-episode docuseries chronicles the search for Richard Ramirez across LA during the summer of 1985, the year of a record-breaking heat wave.
January 15
Disenchantment, Season 3
Time to get on your gallant steed and head back to Dreamland: Disenchantment is coming back for Season 3. The latest installment of Matt Groening's (The Simpsons, Futurama) medieval animated comedy finds Abbi Jacobsen's Princess Bean gearing up to take over the throne—if her own kingdom stops conspiring against her.
Double Dad (New movie)
In what's essentially Brazilian Mamma Mia, a teenage girl, who's lived on a hippie commune her whole life and doesn't know who her father is, sneaks away when her mother is away to find out who her biological dad is.
Outside the Wire (New movie)
Anthony Mackie leads the cast in this futuristic sci-fi thriller as an android who teams up with a young drone pilot to look for doomsday device before it's too late.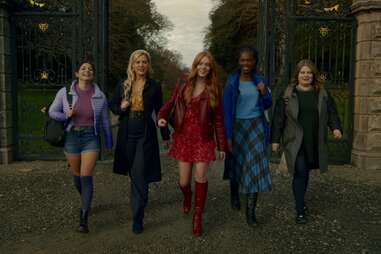 January 22
Fate: The Winx Club (New series)
Kids who grew up with Nickelodeon in the '00s should be familiar with The Winx Club, a colorful animated series about a group of teenaged fairies. They're getting the live action treatment by Netflix, but coming from The Vampire Diaries showrunner Brian, the new show set at the fairies' supernatural school looks a lot less splashy and fun and a whole lot darker.
Jurassic World: Camp Cretaceous, Season 2
DreamWorks Animations' Jurassic World-inspired series is back for a colossal second installment.
The White Tiger (New movie)
Based on Aravind Adiga's award-winning novel of the same name, The White Tiger is about a driver in India who, after experiencing one night of betrayal, decides to revolt against the class system in his country and try to rise to his own success.
January 27
50M2 (New series)
A Turkish thriller series about a hitman who hides out in a tailor shop while escaping his bosses, and ends up assuming the identity of the former owner of the store's son, taking on a new life in hiding.
Penguin Bloom (New movie)
Prepare to get emotional because a tear-jerker of an interspecies relationship story is on the way! Based on the memoir of the same name, Penguin Bloom tells the heartwarming story of a woman (played by Naomi Watts) whose spirits are revived after a tragic accident when her family adopts a wounded magpie.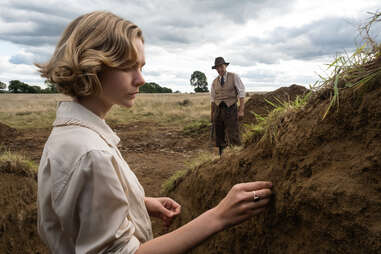 January 29
The Dig (New movie)
Carey Mulligan and Ralph Fiennes star in this historical drama based on a true story about a woman who hires an archeologist to excavate the burials on her English estate at the dawn of World War II.
Finding 'Ohana (New movie)
Two siblings from Brooklyn's summer vacation turns into an adventure when they discover a journal that may lead to a hidden treasure while staying in a rural town on the island of O'ahu.
We Are: The Brooklyn Saints (New docuseries)
A four-part docuseries about the Brooklyn Saints, a youth football program for boys between the ages of 7-13 based in East NY, Brooklyn, and the community it fosters.
February 3
Firefly Lane (New series)
Get the tissue box ready. Firefly Lane is an adaptation of Kristin Hannah's popular book of the same name that chronicles a pair of best friends (played by Katherine Heigl and Sarah Chalke) over three decades as they deal with their personal hardships.
February 5
Malcolm & Marie (New movie)
There may be a handful of goofy or made-in-poor-taste pandemic movies in the works, but this one from Euphoria creator Sam Levinson seems like an intriguing drama. Filmed during quarantine, it stars just Levinson's collaborator Zendaya and John David Washington as a couple at home who make a number of revelations about their relationship.
February 19
I Care A Lot (New Movie)
Rosamund Pike plays a scammer who cons elderly people into making her their legal guardian in this dark comedy. When she takes on a new client who has an equally ruthless living relative played by Peter Dinklage, though, she finally meets her match.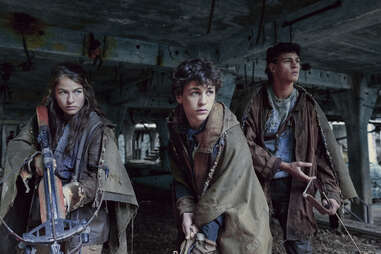 Tribes of Europa (New series)
According to this upcoming fantasy teen series, in just 70 years Europe will be broken up into microstates that operate like tribes fighting for dominance. The German post-apocalyptic follows three siblings who set out to course-correct the continent's fate and bring it back together.
February 26
Call Me Crazy (New movie)
A dark Spanish comedy about a man who checks himself into a psychiatric hospital in order to spend more time with a woman who lives there, after he spends one special night with her.
March 15
Struggle Alley (New movie)
Set in Istanbul, this drama follows a man who works in a waste warehouse and one day discovers a young boy hiding out there, becoming determined to reunite him with his family.
April TBA
Shadow and Bone (New series)
Move over The Witcher, Netflix has another big budget fantasy series on the way. This one's inspired by Leigh Bardugo's popular books, the Grisha trilogy, and set in a frightening world of perpetual darkness, where one teenaged orphan discovers she has a power that may be able to help save her nation.
2021 TBA Releases
Atypical, Season 4
The thoughtful dramedy about a now-freshman college student on the autism spectrum is wrapping up its run with a final season.
Bonding, Season 2
Netflix's investment in bite-sized content of 12-18 minute episodes seems to have been successful, because this comedy about a dominatrix and her best friend is coming back for a second season.
Country Comfort (New series)
This show sounds like the country western version of The Sound of Music. TV musical fave Katharine McPhee of Smash fame plays a struggling country singer who takes a job as a nanny for a cowboy named Beau, and finds hope again when she forms a band with his kids. Yeehaw!
Hit and Run (New series)
This thriller series from the creators of the Israeli crime drama Fauda follows a man who goes on an intense mission to track down the person who killed his wife in a hit and run.
Into the Deep (New documentary)
This documentary began as filmmaker Emma Sullivan's attempt to profile Danish inventor Peter Madsen in 2016, but became something much bigger after Madsen shockingly murdered journalist Kim Wall aboard his self-made submarine the following year.
Midnight Mass (New series)
Director Mike Flanagan can't stop churning out that creepy Netflix content. Post this year's release of The Haunting of Bly Manor, watch for this new original series about a desolate island community that starts to experience disturbing occurrences once a mysterious young priest arrives on shore.
Night Teeth (New movie)
Alfie Allen stars in this thriller as a chauffeur who drives two young women (Debby Ryan, Lucy Fry) to parties in LA, and follows his night that turns into a twisty ride as he learns his passengers are not who they claim to be.
Pieces of Her (New series)
Toni Collette leads the cast in this adaptation of Karin Slaughter's popular thriller about a woman who tries to stop an active shooter, and the effects it has on her relationship with her daughter who feels she witnesses a change in her mother after the traumatic interference.
Red Dot (New movie)
A Swedish thriller about a couple whose hiking trip turns into a nightmare when a laser shines through their tent and they find out they're being hunted.
Robin Robin (New movie)
Okay, cute: Gillian Anderson and Richard E. Grant voice little critters in a tail about a bird raised by mice who sets off to discover more about her own kind in Robin Robin.
A Week Away (New movie)
Hallelujah! The Lord hath brought Netflix a Christian teen movie musical. A Week Away stars Kevin Quinn as a young man who is forced to choose between either going to juvie or a religious summer camp, and in choosing the camp meets a summer regular (Bailee Madison) who changes his life.
Need help finding something to watch? Sign up here for our weekly Streamail newsletter to get streaming recommendations delivered straight to your inbox.