The Best Netflix Original Shows and Movies Coming in 2020
Plot your next binge-watch.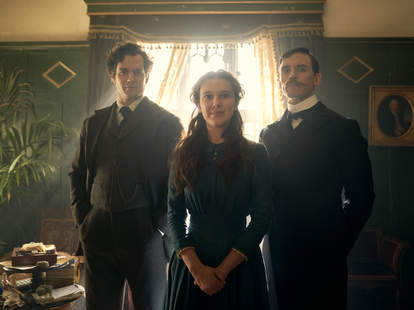 Netflix is never going to stop churning out massive amounts of new and returning original movies and shows. Yes, there's a lot of trash (The Last Days of American Crime! The Wrong Missy!) but the good news is that the highs are getting higher (Da 5 Bloods! The Witcher -- yes, The Witcher!). In the remainder of the year, several familiar favorites are returning, as well a bunch of shows and movies of significance. Here's a curated list of the most interesting and best stuff coming to Netflix in 2020 -- and check back, as we'll be updating this whenever new shows and films are added to the calendar.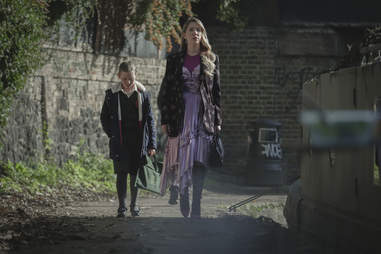 'The Duchess'

| Simon Ridgway/Netflix
September 11
The Duchess (New series)
Comedian Katherine Ryan wrote and stars in this upcoming British comedy about a woman based in London struggling with single motherhood.
Family Business, Season 2
The French comedy about a failed entrepreneur who turns his father's kosher butcher shop into a weed dispensary is about to blaze up for its second season.
September 15
Hope Frozen: A Quest to Live Twice (New documentary)
A look at one family from Bangkok who has put all of their faith in science by preserving the remains of their daughter, Einz, who died of brain cancer at just 2 years old, in an American cyro-preservation lab with the hopes of reviving her someday. 
Izzy's Koala World (New series)
This heartwarming animal reality series produced by our colleagues at The Dodo follows 11-year-old Izzy, who lives on an island in Australia and works alongside her mother to care for koalas in need of rehabilitation.
Taco Chronicles, Volume 2
Who doesn't love tacos? Netflix loves tacos so much that a second collection of episodes about them is headed to the streamer.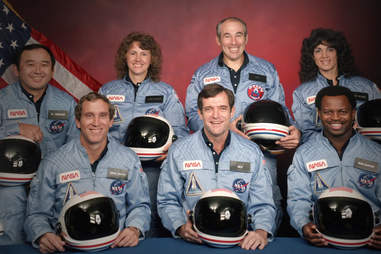 'Challenger: The Final Flight'

| Public Domain/NASA/Netflix
September 16
Challenger: The Final Flight (New docuseries)
The explosion of the Challenger space shuttle is one of the most recounted tragedies of the '80s, and this four-part docuseries delves into what exactly happened to lead to the shuttle's explosion.
Criminal: UK, Season 2
The innovative, anthology British procedural that's stuck within the confines of the interrogation room returns with four new episodes. 
The Devil All the Time (New movie)
Director Antonio Campos wrangled quite the star-studded cast for this highly anticipated '60s period piece about an Ohio town reeling from WWII and finds a young man (played by Tom Holland) suspecting the town preacher -- the latest hot priest on the prowl, played by Robert Pattinson -- is up to something dangerous. Riley Keough, Sebastian Stan, Bill Skarsgård, and others fill out the ensemble cast. 
The Paramedic (New movie)
A Spanish thriller about a man who works for an ambulance service gets into an accident that puts him in a wheelchair, he seeks revenge on those wronged him.
Sing on! (New reality series)
A handful of international versions of this new reality show have already aired on Netflix, but now the competition talent series is making its stateside debut, and only this version is hosted by Tituss Burgess. Tailormade for karaoke fans, it's basically one big karaoke competition where participants win big based on their ability to hit the notes and match the original vocal performances of the songs they take on.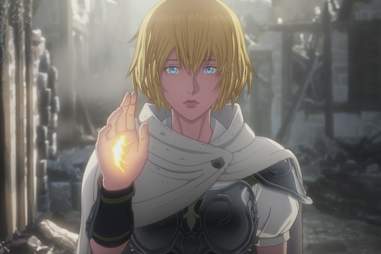 'Dragon's Dogma'

| Netflix
September 17
Dragon's Dogma (New anime)
Based on the popular video game of the same name, this anime follows one man's quest for vengeance against the dragon that stole his heart while still holding onto his final bits of humanity.
The Last Word (New series)
A German comedy about a woman who unexpectedly finds a new lease on life in the wake of her husband's death by becoming a funeral eulogist. 
September 18
American Barbeque Showdown (New reality series)
Like a second course to Chef's Table: BBQ, this new food competition series is also all about the 'cue. The show pits pitmasters against one another to face off in cooking challenges involving unique meats or eclectic methods. 
Jurassic World: Camp Cretaceous (New series)
Now that Netflix is streaming three of the Jurassic Park movies, it's dropping an animated series that sends teenagers to the infamous amusement park for summer camp to round out your dino marathon. As with all of the films, chaos will probably ensue.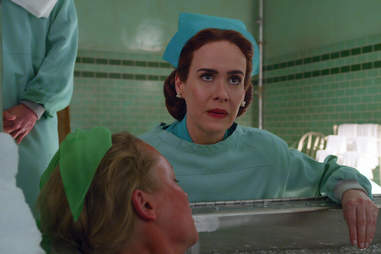 'Ratched'

| Netflix
Ratched (New series)
Sarah Paulson is taking on the infamous role of the wicked Nurse Ratched from One Flew Over the Cuckoo's Nest in a prequel series from Ryan Murphy about her experience working in a mental institution that led her to be so hateful. 
September 21
A Love Song for Latasha (New documentary)
An examination of the tragic murder of 15-year-old Latasha Harlins, who was killed by a convenience store worker who was found guilty but never faced jail time in the early '90s. 
September 22
Jack Whitehall: Travels With My Father, Season 4
The Whitehalls are back for another round of unfiltered, hysterical travels together. 
The Playbook (New documentary)
The Playbook features a collection of in-depth interviews with renowned coaches across the sports world, like Jill Ellis, who's brought two World Cup championship titles home to the US, Serena Williams' coach Patrick Mouratoglou, and others. 
September 23
Enola Holmes (New movie)
Did you know Sherlock Holmes has a kid sister? According to this YA book series from Nancy Springer, he does, and Millie Bobby Brown is bringing her to life in this movie about the young detective-in-training who goes on a hunt for their mother when she disappears. Henry Cavill, Sam Claflin, and Helena Bonham Carter round out the cast as the rest of the Holmes fam.
'The Chef Show' Season 2

| Netflix
September 24
The Chef Show, Season 2
Jon Favreau tried to make it known with his 2014 movie, Chef, which he starred in and directed, that he loves to cook -- and now he's really drilling it home with a second season of his cooking and culture show that teams him up with LA chef Roy Choi. 
September 25
A Perfect Crime (New documentary)
A deep dive into the confounding cold case of Detlev Rohwedder, the head of Treuhand, the East German Privatization and Restructuring Agency, and how the terrorist group the Red Army Faction claimed responsibility for his assassination, but no killer was ever caught. 
Country-Ish (New reality series)
Giddy up for this reality show about country singer Coffey Anderson and his wife Criscilla, a hip-hop dancer, and their clashing parenting styles as they try to raise their kids in LA. 
The School Nurse Files (New series)
A young nurse has the ability to see monsters, and when she gets a job at a school, she begins to uncover its spooky secrets in this K-drama. 
Sneakerheads (New series)
A comedy about a former sneakerhead who gets himself in a financial jam and enlists his friend on a mission to find a coveted shoe and win back the lost cash before his wife finds out. 
September 28
Whose Vote Counts, Explained (New docuseries)
Already frustrated and overwhelmed by the election? Get even more frustrated and overwhelmed by this series that delves into America's election process, from the ins and outs of the electoral college to issues of voter suppression that persist still today. 
September 30
American Murder: The Family Next Door (New documentary)
This true-crime documentary focuses on the tragic, headline-making 2018 disappearance of Shanann Watts and her two daughters.
'The Boys in the Band'

| Scott Everett White/Netflix
The Boys in the Band (New movie)
A movie adaptation of Mart Crowley's play about a group of gay men who spend a night in to celebrate their friend's birthday, which turns to chaos when the host's potentially closeted college roommate crashes the party. Jim Parsons, Zachary Quinto, Matt Bomer, and Andrew Rannells are among the cast members. 
October 1
Oktoberfest: Beer and Blood (New series)
Oktoberfest isn't just about celebrations and good beer, it's also about some good old brutality. At least, it is in this German series set in 1900 about a mobster who comes to Munich and starts his own brewery, turning to violence when his daughter falls for the son of his rival brewer. 
October 2
The Binding (New movie)
Netflix has a freaky possession movie coming down the line! This Italian horror movie is about a woman fighting a dark force that overcomes her daughter when they travel to Southern Italy to visit with her soon-to-be mother-in-law. 
Dick Johnson Is Dead (New documentary)
Director Kirsten Johnson's genre-breaking film grapples with losing loved ones -- specifically, her 86-year-old father. To do so, she wrote a series of scenarios about how her dad might die, which he stars in. It's a movie unlike any other, and its Sundance premiere had audiences floored. 
Emily in Paris (New series)
If Carrie had stayed in Paris at the end of Sex and the City, this might've been the result. Emily in Paris is the latest from Sex and the City and Younger writer Darren Star, but it seems to figure a much sunnier look at an American abroad than the SATC character's final season, featuring Lily Collins as a Midwestern gal who lands a dream job and uproots to Paris. 
Vampires vs. The Bronx (New movie)
Gentrification isn't the only threat to the Bronx in this upcoming horror comedy. Vampires are literally ravaging the NYC borough and it's up to a group of young friends to save their neighborhood from blood-sucking beasts. Method Man and The Kid Mero are among the cast members.
'Hubie Halloween'

| Netflix
October 7
Hubie Halloween (New movie)
Adam Sandler threatened to make a really bad movie if he was snubbed of an Oscar for Uncut Gems. Well, he was snubbed, and this could be the terrible movie he so promised. The goofy Halloween feature stars the Sandman as a guy who just loves the spooky season a whole lot, but has to take on some real-live monsters himself when no one else believes him that they exist. Joining Sandler is Julie Bowen, Kenan Thompson, Maya Rudolph, Steve Buscemi, and a lot of other random famous people. 
To the Lake (New series)
Haven't spent enough time this year fearing a deadly virus? To the Lake is based on the novel Vongozero by Czechoslovakian-Russian author Yana Vagner and set in a desolate version of Moscow after it's been destroyed by a foreign virus, following a man who tries to lead his girlfriend and ex-wife to safety. 
October 9
The Haunting of Bly Manor (New series)
For the follow-up to last year's spooky success The Haunting of Hill House, showrunner Mike Flanagan is offering his take on the classic gothic novel The Turning of the Screw with The Haunting of Bly Manor. While an anthology, he's recycling cast members from the first season to take on new roles, with Victoria Pedretti and Oliver Jackson-Cohen as the leads. 
The 40-Year-Old Version (New movie)
Radha Blank wrote, directed, and stars in this dramedy about a 40-year-old woman who thought she would be a great playwright but struggled to find any success, so she turns to pursue her one true passion: rapping. Lena Waithe is one of the producers of the film, and it premiered to acclaim at Sundance. 
October 14
BLACKPINK: Light Up the Sky (New documentary)
K-pop stans, rise. This documentary gives an inside look at the extremely popular girl group BLACKPINK, who've recently collaborated with Lady Gaga and Selena Gomez, and their journey toward fame. 
A Babysitter's Guide to Monster Hunting (New movie)
Laurie Strode isn't the only babysitter who had a tough break staying home with the kiddos on Halloween. This adaptation of Joe Ballarini's book of the same name finds a high schooler, watching a little boy on Halloween, thrown into a secret society of teens who are tasked with protecting the children they watch from otherworldly monsters. Tom Felton and Indya Moore appear.
'Grand Army'

| Netflix
October 16
Grand Army (New series)
A drama about the lives of students at Brooklyn's largest public school as they come of age and come to terms with their identities in the process. 
Someone Has to Die (New series)
From Manolo Caro, creator of The House of Flowers, comes a new telenovela about a family in 1950s Spain who request their son living in Mexico come home to meet his arranged fiancé, but are shocked when he returns with a male dancer.
The Trial of the Chicago 7 (New movie)
Aaron Sorkin's latest political thriller dramatizes the trial that unfolded following the riots that broke out at the 1968 Democratic National Convention. The stacked cast includes the likes of Eddie Redmayne, Jeremy Strong, Joseph Gordon Levitt, Yahya Abdul-Mateen II, and many others. 
October 19
Unsolved Mysteries, Volume 2
Netflix's reboot of Unsolved Mysteries proved to be a mega hit when it dropped its first six episodes this July, and to satisfy internet sleuths even more, another six installments are on the way this fall. 
October 21
Rebecca (New movie)
"Last night, I dreamt I went to Manderley again." Based on the iconic, gothic novel by Daphne du Maurier, Lily James and Armie Hammer star as a pair of newlyweds, with James' character struggling to live in the shadow of her new husband's deceased first wife, Rebecca. This story was originally adapted by Alfred Hitchcock back in 1940. 
October 22
Cadaver (New movie)
A few years ago, theater fans were obsessed with Sleep No More, the NYC immersive experience where productions unfolded around audiences. This Norweigen movie sounds like that, except way creepier. The film follows a family in a post-nuclear-apocalyptic world who are invited to a charitable theater event at a hotel that soon turns dark when audience members disappear.
'The Queen's Gambit'

| Phil Bray/Netflix
October 23
The Queen's Gambit (New miniseries)
Anya Taylor Joy (The Witch) leads this miniseries adaptation of the book of the same name by Walter Tevis about an orphan who turns out to be an incredible chess prodigy.
October 28
Nobody Sleeps in the Woods Tonight (New movie)
If you aren't scared of being too online yet, this Polish horror flick should do the trick. It takes place at a camp where teens are sent for cell phone addiction which soon turns nightmarish when an evil force takes control of the camp and forces them to fight for survival. 
October 30
The Day of the Lord (New movie)
Another exorcism movie to scare the shit out of you, The Day of the Lord is about a priest with an eerie past who is visited by an old friend desperate for his clergy pal to save his daughter from being possessed by the devil. 
His House (New movie)
When a couple manages to escape from war-torn South Sudan, they find themselves caught up in another frightening situation, as their new English town appears to be haunted. 
October TBA
La Révolution (New series)
A reimagining of the French Revolution in which it was not actually a proletariat uprising that caused the historical event but… a strange virus? Real-life guillotine investor Joseph Guillotin appears in this show, but here he discovers a disturbing disease that infects the aristocracy and drives them to murder the poor. Viva la révolucion!
November 15
The Crown, Season 4 
Olivia Colman is sticking around for one more season of Peter Morgan's historical drama, but as history continues to progress in the show, now moving into the '80s, a few new, exciting faces are joining Season 4. Make way for Maggie Thatcher and Princess Diana, played by Gillian Anderson and newcomer Emma Corrin, respectively.
'A Week Away'

| Netflix
2020 TBA Releases
A Week Away (New movie)
Hallelujah! The Lord hath brought Netflix a Christian teen movie musical. A Week Away stars Kevin Quinn as a young man who is forced to choose between either going to juvie or a religious summer camp, and in choosing the camp meets a summer regular (Bailee Madison) who changes his life. 
Alice in Borderland (New anime)
From the director of Netflix's live adaptation of Bleach comes another live adaptation of the popular manga about a man stuck in an alternate, game-like version of Tokyo. 
Atypical, Season 4
The thoughtful dramedy about a now-freshman college student on the autism spectrum is wrapping up its run with a final season. 
Bonding, Season 2
Netflix's investment in bite-sized content of 12-18 minute episodes seems to have been successful, because this comedy about a dominatrix and her best friend is coming back for a second season. 
Bridgerton (New series)
Shonda Rhimes is finally coming to Netflix. The showrunner's first release is an adaptation of Julia Quinn's romance novel series about the wealthy, English Bridgerton family and their affairs. Julie Andrews is among the stars. 
Country Comfort (New series)
This show sounds like the country western version of The Sound of Music. TV musical fave Katharine McPhee of Smash fame plays a struggling country singer who takes a job as a nanny for a cowboy named Beau, and finds hope again when she forms a band with his kids. Yeehaw!
David Attenborough: A Life on Our Planet (New documentary)
Few people have explored the natural world quite like broadcaster David Attenborough. His latest isn't exactly another Planet Earth, but it is a call to action and feature about the ways in which he's seen the world affected by climate change over his decades-long career by examining the world so closely.
Hillbilly Elegy (New movie)
An adaptation from Ron Howard of J.D. Vance's popular memoir about his experience returning to his hometown, recounting the values of three generations of his Appalachian family. Amy Adams, Glenn Close, and Haley Bennett lead the cast. 
Hit and Run (New series)
This thriller series from the creators of the Israeli crime drama Fauda follows a man who goes on an intense mission to track down the person who killed his wife in a hit and run. 
Into the Deep (New documentary)
This documentary began as filmmaker Emma Sullivan's attempt to profile Danish inventor Peter Madsen in 2016, but became something much bigger after Madsen shockingly murdered journalist Kim Wall aboard his self-made submarine the following year. 
Jingle Jangle (New movie)
A holiday movie musical about a toymaker and his granddaughter who build a magical invention. The cast features Keegan-Michael Key, Forest Whitaker, and others. 
The Life Ahead (New movie)
Italian film legend Sophia Loren is returning to the screen with her new Netflix movie. In The Life Ahead, she's directed by her son, Edoardo Ponti, and plays a Holocaust survivor who takes in a young boy after he tries to steal from her in this adaptation of Romain Gary's novel The Life Before Us.  
Ma Rainey's Black Bottom (New movie)
Director George C. Wolfe (The Immortal Life of Henreitta Lacks) is bringing this famous August Wilson play to the screen. Viola Davis takes on Ma, a blues singer who starts to experience tensions between her and her team over the course of recording a record in 1920s Chicago. The late Chadwick Boseman also appears in what is his last on-screen role. 
'Mank'

| Netflix
Mank (New movie)
More David Fincher is coming to Netflix. The director's latest focuses on the story of how the legendary classic Citizen Kane was written, featuring Gary Oldman, Amanda Seyfried, and Lily Collins in the leading roles. 
Midnight Mass (New series)
Director Mike Flanagan can't stop churning out that creepy Netflix content. The Haunting of Bly Manor may be due out this year, but so is a new, original series about a desolate island community that starts to experience disturbing occurrences once a mysterious young priest arrives on shore. 
Night Teeth (New movie)
Alfie Allen stars in this thriller as a chauffeur who drives two young women (Debby Ryan, Lucy Fry) to parties in LA, and follows his night that turns into a twisty ride as he learns his passengers are not who they claim to be. 
Pieces of Her (New series)
Toni Collette leads the cast in this adaptation of Karin Slaughter's popular thriller about a woman who tries to stop an active shooter, and the effects it has on her relationship with her daughter who feels she witnesses a change in her mother after the traumatic interference. 
The Prom (New movie)
Ryan Murphy is giving a recent, popular Broadway show the feature film treatment, bringing on Meryl Streep and Nicole Kidman to do it. It follows the drama that unfolds as a lesbian teenager is banned from going to the prom with her girlfriend in a small Indiana town.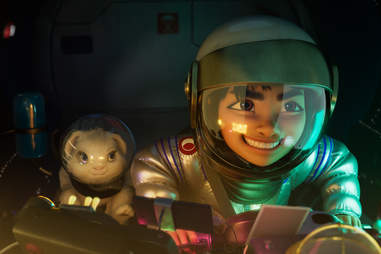 'Over the Moon'

| Netflix
Over the Moon (New movie)
Famous Disney animator (Tarzan, Pocahontas) Glen Keane is making his directorial debut in a heartfelt animated feature about a girl who tries to travel to the moon to prove the existence of the Moon Goddess. 
The Princess Switch: Switched Again (Film)
The Princess Switch! Switched Again! Is there anything else to say?! Netflix Christmas movie queen Vanessa Hudgens is stepping back into both of her lookalike roles again -- and taking on a third, party girl Fiona, who comes to the kingdom to shake things up!
Selena: The Series (New series)
A biographic series about the life and rise to superstardom of Selena Quintanilla, the legendary Tejano singer. Christian Serratos of The Walking Dead fame will portray the star in the series, which will drop Part 1 sometime this year. 
Need help finding something to watch? Sign up here for our weekly Streamail newsletter to get streaming recommendations delivered straight to your inbox.