The Best Netflix Original Shows and Movies Coming in 2020
Plot your next binge-watch.
Another year, another year of Netflix churning out a ton of original movies and shows. Yes, there's a lot of trash (The Dirt! The I-Land!) but the good news is that the highs are getting higher (The Irishman! The Witcher -- yes, The Witcher!). In 2020, several familiar favorite titles are returning (and at least one is ending -- R.I.P., BoJack), as well as far more than a handful of new shows and movies of significance. Here's a curated list of the most interesting and best stuff coming to Netflix in 2020 -- check back, we'll be updating this whenever new shows and films are added to the calendar.
'The Big Flower Fight'

| Netflix
May 18
The Big Flower Fight (New reality series)
To brighten up your spring spent indoors, Netflix is dropping a new reality competition series that pits florists and sculptors against one another as they're tasked with designing larger-than-life structures out of flowers and greenery. 
May 19
Patton Oswalt: I Love Everything (Comedy special)
In his latest comedy special, the comedian reflects on the joys of middle age, from his daughter's elementary school pursuits to buying a new home. 
Sweet Magnolias (New series)
Based on the Sweet Magnolias book series from Sherryl Woods, this new show follows three South Carolina woman who've been best friends since high school as they each navigate love, family, and their careers in their adult lives. 
May 20
Ben Platt Live From Radio City Music Hall (Concert special)
Broadway's golden boy Ben Platt has a special coming to the streamer that features him hitting the stage at Radio City to perform songs off his solo album Sing To Me Instead. 
Blood & Water (New series)
This twisty teen thriller hailing from South Africa follows a teenage girl who uncovers a family secret and has reason to believe the star of her school's swim team is her long-lost sister who was abducted at birth. 
May 22
Control Z (New series)
It would be pretty catastrophic if a hacker released an entire high school student body's secrets online. That, and one girl's search for the hacker's identity, is the subject of this new Mexican teen drama.
The Lovebirds (New movie)
This comedy starring Kumail Nanjiani and Issa Rae was originally supposed to premiere at SXSW and get a wide release in theaters, but those plans were snubbed due to the COVID-19 pandemic. Netflix swooped in and scooped the film up, though, so you'll be able to join the titular lovebirds on their wacky hunt for a criminal when they get caught up in a murder from the comfort of your couch. 
'Hannah Gadsby: Douglas'

| Ali Goldstein/Netflix
May 26
Hannah Gadsby: Douglas (Comedy special)
Acclaimed Australian writer/comedian Hannah Gadsby's Nanette was a groundbreaking comedy special for Netflix, and now she's returning for another in which she delves into identity and popularity. 
May 27
Jeffrey Epstein: Filthy Rich (New docuseries)
If you haven't been able to stop doing conspiracy theory deep dives about disgraced billionaire and sex offender Jeffrey Epstein and his suspicious death in prison, Netflix is offering even more to wrap your head around with this docuseries, inspired by James Patterson's book of the same name.
May 28
Dorohedoro (New anime)
Based on a manga series original published in the late '90s, this anime is about a world of sorcerers and humans, and the revenge-fueled conquest of one reptilian-headed human suffering from amnesia as he searches for the sorcerer who cursed him.
May 29
Space Force (New series)
Created by Greg Daniels (The Office, Parks and Recreation) and Steve Carell comes a new workplace comedy about a group of government officials tasked with creating a sixth branch of the military for outer-space, the Space Force. Carell also stars, along with Ben Schwartz, John Malkovich, and many others.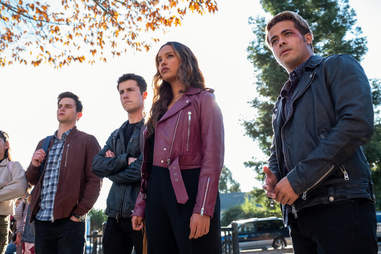 '13 Reasons Why' Season 4

| David Moir/Netflix
June 5
13 Reasons Why, Season 4
Somehow this teen drama, despite all of the controversy it's caused throughout its run, has lasted this long. The fourth season, which will also be its final, airs this June to see how all of the scandals that Clay and his friends at Liberty High have had to deal with will affect them as they move towards graduation.
June 12
Da 5 Bloods (New movie)
The latest from Spike Lee follows the expedition of a group of Black Vietnam War veterans, including one played by Chadwick Boseman, who return to Vietnam as tourists to search for the remains of their troop leader and to look for rumored treasure. 
The Woods (New series)
Creepy title, creepy series. Like The Stranger before it, Netflix is adapting yet another one of mystery writer Harlan Coben's novels. The Woods is a thriller told in two time periods, 1994 and today, following a prosecutor who revisits the disappearance of his sister, who went missing from summer camp years ago, when he learns of the recent homicide of the boy who disappeared with her. 
June 18
Feel the Beat (New movie)
Long live the dance movie! Netflix is turning out a new addition to the genre with Feel the Beat, a movie about a failed Broadway dancer, played by Disney Channel star Sofia Carson, who tries to organize a new competitive dance troupe when she's forced to return to her small hometown. 
A Whisker Away (New movie)
Directed by Junichi Satoh of Sailor Moon fame, this sweet Japanese animated movie is about a young girl who is so desperate to get noticed by her crush that she shape-shifts into a cat to get his attention. 
June 19
Father Soldier Son (New documentary) 
The New York Times produced this doc about the relationships between a father who spent most of his two son's young lives deployed in Afghanistan, and how their dynamic and values change when he returns home injured. 
'The Politician' Season 2

| Giovanni Rufino/Netflix
The Politician, Season 2
Ryan Murphy's campy comedy was greenlit for multiple seasons before the first even aired, always meant to follow an ambitious young man (Ben Platt) and his lifelong pursuit of becoming President by documenting a different political race each season. The first installment started small, looking at his class president race in high school, and Season 2 is amping things up as he tries to unseat a New York senator (Judith Light).
June 24
Athlete A (New documentary)
Last year, HBO released Heart of Gold, a documentary about Larry Nassar, the national gymnastic team's doctor who had abused athletes for years -- and now Netflix is telling another story about the case. This feature explores the work of the Indianapolis Star journalists who reported out the original story, chronicling it from the beginning and hearing testimonies from gymnasts who were affected. 
June 26
Eurovision Song Contest: The Story of Fire Saga (New movie)
Will Ferrell co-wrote and stars in this comedy opposite Rachel McAdams as a pair of aspiring singers presented with the opportunity to appear in Eurovision, the massive European singing competition show. 
June TBD
Dark, Season 3
It's time for another cycle -- the third and final one -- of this mind-bending German sci-fi drama, as it's wrapping up with one last season this summer.
July 3
The Baby-Sitters Club (New series)
The Baby-Sitters Club is back in business. The beloved YA book series, which was previously adapted as both a series and a movie in the '90s, is returning with an all-new cast on Netflix. 
Ju-On: Origins (New series)
That creepy ghost from The Grudge isn't done haunting you yet. The franchise that began in the '90s is actually a pretty big deal in Japan, having launched 13 total movies, including several American remakes, and now it's getting a Netflix series. The Japanese show will explain the disturbing incidents that took place in the classic haunted house decades ago. Happy haunting!
July 8
Mucho Mucho Amor: The Legend of Walter Mercado (New documentary)
Mucho Mucho Amor is a playful bio-documentary that celebrates Puerto Rican celebrity astrologer Walter Mercado, his star-making qualities, and message of peace and love that truly made him an icon.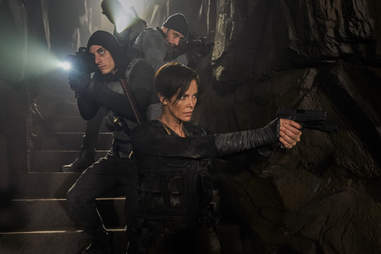 'The Old Guard'

| Netflix
July 10
The Old Guard (New movie)
An adaptation of the fantasy comic book of the same name that stars Charlize Theron as Andromache of Scythia, the leader of an immortal army struggling to survive in the 21st century when their special powers are exposed. Kiki Layne also stars, and Love and Basketball director Gina Prince-Bythwood directs.
July 31
The Umbrella Academy, Season 2
The angsty, superpowered teens from the mind of My Chemical Romance's Gerard Way, who wrote the comics this series is based on, are back.
July TBA
Street Food: Latin America (New docuseries)
The first installment of this food docuseries explored street vendors in Asia, and now it's hopping across the globe to Latin America to look at the chefs and their cuisine there. 
'A Week Away'

| Netflix
2020 TBA Releases
A Week Away (New movie)
Hallelujah! The Lord hath brought Netflix a Christian teen movie musical. A Week Away stars Kevin Quinn as a young man who is forced to choose between either going to juvie or a religious summer camp, and in choosing the camp meets a summer regular (Bailee Madison) who changes his life. 
Alice in Borderland (New anime)
From the director of Netflix's live adaptation of Bleach comes another live adaptation of the popular manga about a man stuck in an alternate, game-like version of Tokyo. 
Atypical, Season 4
The thoughtful dramedy about a now-freshman college student on the autism spectrum is wrapping up its run with a final season. 
Bonding, Season 2
Netflix's investment in bite-sized content of 12-18 minute episodes seems to have been successful, because this comedy about a dominatrix and her best friend is coming back for a second season. 
The Boys in the Band (New movie)
A movie adaptation of Mart Crowley's play about a group of gay men who spend a night in to celebrate their friend's birthday, which turns to chaos when the host's potentially closeted college roommate crashes. Jim Parsons, Zachary Quinto, Matt Bomer, and Andrew Rannells are among the cast members. 
Bridgerton (New series)
Shonda Rhimes is finally coming to Netflix. The showrunner's first release is an adaptation of Julia Quinn's romance novel series about the wealthy, English Bridgerton family and their affairs. Julie Andrews is among the stars. 
Country Comfort (New series)
This show sounds like the country western version of The Sound of Music. TV musical fave Katharine McPhee of Smash fame plays a struggling country singer who takes a job as a nanny for a cowboy named Beau, and finds hope again when she forms a band with his kids. Yeehaw!
'Cursed'

| Netflix
Cursed (New series)
A fantasy series that reimagines King Arthur's quest to find Merlin's sword as he meets a young sorceress (Thirteen Reasons Why's Katherine Langford) along his journey. 
David Attenborough: A Life on Our Planet (New documentary)
Few people have explored the natural world quite like broadcaster David Attenborough. His latest isn't exactly another Planet Earth, but it is a call to action and feature about the ways in which he's seen the world affected by climate change over his decades-long career by examining the world so closely. 
Dick Johnson Is Dead (New documentary)
Director Kirsten Johnson's genre-breaking film grapples with losing loved ones -- specifically, her 86-year-old father. To do so, she wrote a series of scenarios about how her dad might die, which he stars in. It's a movie unlike any other, and its Sundance premiere had audiences floored. 
Enola Holmes (New movie)
Did you know Sherlock Holmes has a kid sister? According to this YA book series from Nancy Springer, he does, and Millie Bobby Brown is bringing her to life in this movie about the young detective-in-training who goes on a hunt for their mother when she disappears. Henry Cavill, Sam Claflin, and Helena Bonham Carter round out the cast as the rest of the Holmes fam. 
The Haunting of Bly Manor (New series)
For the followup to last year's spooky success The Haunting of Hill House, showrunner Mike Flanagan is offering his take on the classic gothic novel The Turning of the Screw with The Haunting of Bly Manor. While an anthology, he's recycling cast members from the first season to take on new roles, with Victoria Pedretti and Oliver Jackson-Cohen as the leads. 
Hillbilly Elegy (New movie)
An adaptation from Ron Howard of J.D. Vance's popular memoir about his experience returning to his hometown, recounting the values of three generations of his Appalachian family. Amy Adams, Glenn Close, and Haley Bennett lead the cast. 
Hit and Run (New series)
This thriller series from the creators of the Israeli crime drama Fauda follows a man who goes on an intense mission to track down the person who killed his wife in a hit and run. 
I'm Thinking of Ending Things (New movie)
Charlie Kaufman's (Eternal Sunshine of the Spotless Mind, Being John Malkovich) bringing Iain Reid's popular thriller to the screen with Jessie Buckley, Toni Collette, and Jesse Plemons leading the cast. I'm Thinking of Ending Things follows the journey of a woman who agrees to take a road trip to visit her boyfriend's parents' secluded farm house, and the strange detour that makes her rethink their relationship. 
Into the Deep (New documentary)
This documentary began as filmmaker Emma Sullivan's attempt to profile Danish inventor Peter Madsen in 2016, but became something much bigger after Madsen shockingly murdered journalist Kim Wall aboard his self-made submarine the following year. 
Jingle Jangle (New movie)
A holiday movie musical about a toymaker and his granddaughter who build a magical invention. The cast features Keegan-Michael Key, Forest Whitaker, and others. 
The Kissing Booth 2 (New movie)
The sequel to the popular teen romance picks up where the first left off as Noah (Jacob Elordi) heads off to college and he and Joey King's Elle have to face a long-distance relationship. 
The Last Days of American Crime (Film)
Based on the Rick Remender and Greg Tocchini graphic novel of the same name, this political action movie imagines a near future where the government is able to make all illegal activity impossible, and one week before they do it, one career criminal (Edgar Ramírez) plans to execute one final heist.
The Life Ahead (New movie)
Italian film legend Sophia Loren is returning to the screen with her new Netflix movie. In The Life Ahead, she's directed by her son, Edoardo Ponti, and plays a Holocaust survivor who takes in a young boy after he tries to steal from her in this adaptation of Romain Gary's novel The Life Before Us.  
Mank (New movie)
More David Fincher is coming to Netflix. The director's latest focuses on the story of how the legendary classic Citizen Kane was written, featuring Gary Oldman, Amanda Seyfried, and Lily Collins in the leading roles. 
Midnight Mass (New series)
Director Mike Flanagan is churning out that creepy Netflix content. The Haunting of Bly Manor may be due out this year, but so is a new, original series about a desolate island community that starts to experience disturbing occurrences once a mysterious young priest arrives on shore. 
Night Teeth (New movie)
Alfie Allen stars in this thriller as a chauffeur who drives two young women (Debby Ryan, Lucy Fry) to parties in LA, and follows his night that turns into a twisty ride as he learns his passengers are not who they claim to be. 
Pieces of Her (New series)
Toni Collette leads the cast in this adaptation of Karin Slaughter's popular thriller about a woman who tries to stop an active shooter, and the effects it has on her relationship with her daughter who feels she witnesses a change in her mother after she interferes. 
The Prom (New movie)
Ryan Murphy is giving a recent, popular Broadway show the feature film treatment, bringing on Meryl Streep and Nicole Kidman to do it. It follows the drama that unfolds as a lesbian teenager is banned from going to the prom with her girlfriend in a small Indiana town. 
Over the Moon (New movie)
Famous Disney animator (Tarzan, Pocahontas) Glen Keane is making his directorial debut in a heartfelt animated feature about a girl who tries to travel to the moon to prove the existence of the Moon Goddess. 
The Princess Switch: Switched Again (Film)
The Princess Switch! Switched Again! Is there anything else to say?! Netflix Christmas movie queen Vanessa Hudgens is stepping back into both of her lookalike roles again -- and taking on a third, party girl Fiona, who comes to the kingdom to shake things up!
Ratched (New series)
Sarah Paulson is taking on the infamous role of the wicked Nurse Ratched from One Flew Over the Cuckoo's Nest in a prequel series from Ryan Murphy about her experience working in a mental institution that led her to be so hateful. 
Rebecca (New movie)
Lily James and Armie Hammer star as a pair of newlyweds, with James' character struggling to live in the shadow of her new husband's deceased first wife. Based on the novel by Daphne du Maurier, this story was originally adapted by Alfred Hitchcock back in 1940. 
Selena: The Series (New series)
A biographic series about the life and rise to superstardom of Selena Quintanilla, the legendary Tejano singer. Christian Serratos of The Walking Dead fame will portray the star in the series, which will drop Part 1 sometime this year. 
Unsolved Mysteries (New docuseries)
"This is a true story, from the files of Unsolved Mysteries." You're about to hear that classic phrase again, now that Stranger Things showrunner Shawn Levy is rebooting the Unsolved Mysteries for the streamer. As you may remember, the series explores cold cases and paranormal events, and it'll continue to follow that format in a reenactment documentary format with 12 new episodes. 
The 40-Year-Old Version (New movie)
Radha Blank wrote, directed, and stars in this dramedy about a 40-year-old woman who thought she would be a great playwright but struggled to find any success, so she turns to pursue her one true passion: rapping. Lena Waithe is one of the producers of the film, and it premiered to acclaim at Sundance. 
Need help finding something to watch? Sign up here for our weekly Streamail newsletter to get streaming recommendations delivered straight to your inbox.