Another year, another year of Netflix churning out a ton of original movies and shows. Yes, there's a lot of trash (The Dirt! The I-Land!) but the good news is that the highs are getting higher (The Irishman! The Witcher -- yes, The Witcher!). In 2020, several familiar favorite titles are returning (and at least one is ending -- R.I.P., BoJack), as well as far more than a handful of new shows and movies of significance. Here's a curated list of the most interesting and best stuff coming to Netflix in 2020 -- check back, we'll be updating this whenever new shows and films are added to the calendar.
Recommended Video
Tuna Eyeball with Timothy DeLaGhetto and Ben Sinclair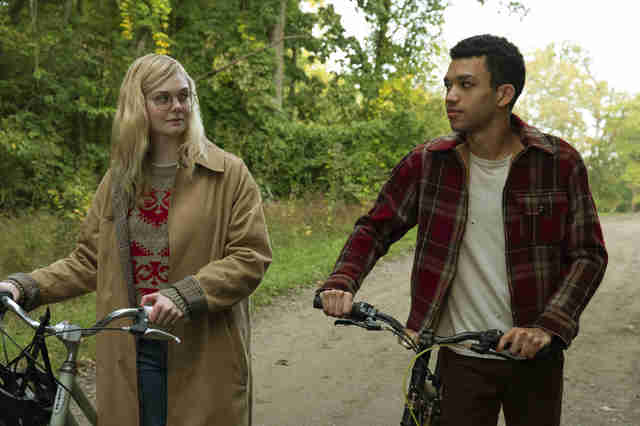 February 26
I Am Not Okay With This (New series)
I Am Very Okay With This new series. The team behind The End of the F***ing World are back for another adaptation of a Charles Forsman graphic novel. It should be just as melodramatic, following a teenage girl (Sophia Lillis) grieving the recent death of her father and coming to terms with her sexuality… as well as newfound superpowers. Bring on the angst. 
February 27
Altered Carbon, Season 2
Time for your re-sleeving process to wrap up because soon you can tune into the second season of Altered Carbon. The sci-fi series, about a future where human consciousness transcends death by being transferred to different bodies, returns with the main character Takeshi Kovacs waking up in a new sleeve (now played by Anthony Mackie instead of Joel Kinnaman), finding his planet's now at war.
February 28
All The Bright Places (New movie)
An adaptation of the popular Jennifer Niven young adult novel about a pair of teenagers who meet and fall in love, supporting each other through their struggles with mental illness. Elle Fanning and Justice Smith star.
Queen Sono (New series)
A South African spy series about a secret agent about to embark on her most dangerous mission.
March 5
Castlevania, Season 3
Bloody good news: This horror anime about a vampire hunter is coming back for a third installment.
March 6
Spenser Confidential (New movie)
Inspired by the classic detective novel character Spenser from Ace Atkins' books, Mark Wahlberg takes on the role here as an ex-felon who moves in with an aspiring MMA fighter played by Winston Duke, and together they venture back into the Boston underground to try to solve a murder on their own. Alan Arkin and Post Malone are also among cast members. 
March 19
Feel Good (New series)
This semi-autobiographical, six-episode series stars Canadian comedian Mae Martin as herself, more or less, as she meets a new girlfriend (Charlotte Ritchie) who's just coming to terms with her queerness, deals with her addiction issues, and video chats with nosy parents (Lisa Kudrow and Adrian Lukis).
March 20
The Letter for the King (New series)
With The Witcher a hit and Cursed on the way, it looks like Netflix is really getting in on the Medieval fantasy space. The Letter for the King is based on Tonke Dragt's Dutch fantasy epic about kingdoms at war and a young aspiring knight named Tiuri (Amir Wilson from His Dark Materials) while on a simple quest of delivering a letter discovers the prophecy of a hero destined to return their home to peace.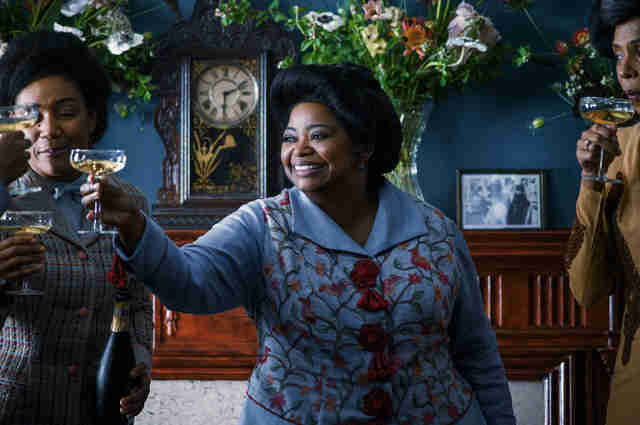 Self Made: Inspired by the Life of Madam C.J. Walker (New series)
A four-part biographic series about Madam C.J. Walker, the African American woman who revolutionized the haircare industry and became America's first female self-made millionaire. Octavia Spencer will play the titular role with Tiffany Haddish, Carmen Ejogo, and others supporting. 
March 24
After Life, Season 2
Did you know Ricky Gervais has a Netflix show? Well, he does, and it's actually approaching the release of its second season. The dramedy finds the comedian continuing to grieve the loss of his wife, attempting to forge his lost friendships in Season 2. 
March 27
Ozark, Season 3
Marty and Wendy Byrde are back for more money-laundering fun.
March TBA
Elite, Season 3
There's never shortage of drama for the hot, wealthy teens of Las Encinas private school in Elite. Season 1 was about a murder investigation and Season 2 was about a handful of sex scandals and the disappearance of a student, so buckle up because Season 3 is on the way and should be just as crazy.
April 3
Money Heist, Season 4
Return of the Spanish action series about a group of robbers.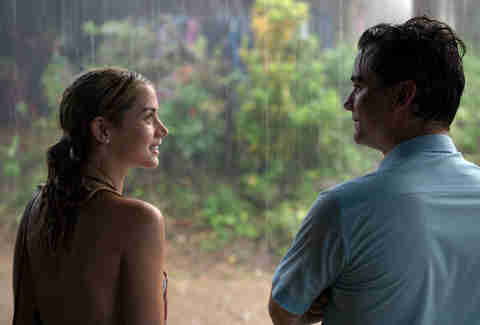 April 17
Sergio (New movie)
A historical drama about UN diplomat Sergio Vieira de Mello's (Wagner Moura) experience on his final assignment in Baghdad amidst the US' invasion of Iraq. 
April TBA
Ghost in the Shell: SAC_2045 (New anime)
A follow-up to the popular anime Ghost in the Shell debuts this April. The new series doesn't have Scarlett Johannson in the lead role like the 2017 film did, but it does have an all-new computerized design and is set in 2045 amid what's known as the "Sustainable War." 
2020 TBA Releases
The 40-Year-Old Version (New movie)
Radha Blank wrote, directed, and stars in this dramedy about a 40-year-old woman who thought she would be a great playwright and has struggled to find any success, so she turns to pursue her one, true passion: rapping. Lena Waithe is one of the producers of the film, and it premiered to acclaim at Sundance. 
Alice in Borderland (New anime)
From the director of Bleach comes an adaptation of the popular manga about a man stuck in an alternate, game-like version of Tokyo. 
Bonding, Season 2
Netflix's investment in bite-sized content of 12-18 minute episodes seems to have been successful, because the comedy of this kind about a dominatrix and her best friend is coming back for a second season. 
The Boys in the Band (New movie)
A movie adaptation of Mart Crowley's play about a group of gay men who spend the night in to celebrate their friend's birthday, which turns to chaos when the host's potentially closeted college roommate crashes. Jim Parsons, Zachary Quinto, Matt Bomer, and Andrew Rannells are among the cast members. 
Bridgerton (New series)
Shonda Rhimes is finally coming to Netflix. The showrunner's first release is an adaptation of Julia Quinn's romance novel series about the wealthy, English Bridgerton family and their affairs. Julie Andrews is among the stars. 
Coffee & Kareem (New movie)
A buddy cop comedy starring Ed Helms as a Detroit cop who works with his girlfriend's (Taraji P. Henson) 11-year-old son on an exciting case tracking down a criminal. 
Country Comfort (New series)
More or less, this show sounds like the country western version of The Sound of Music. TV musical fav Katharine McPhee of Smash fame plays a struggling country singer who takes a job as a nanny for a cowboy named Beau, and finds hope again when she forms a band with his kids. It doesn't sound real, but it is. Yeehaw!
Crip Camp (New documentary)
Produced by Barack and Michelle Obama, this documentary looks at a prolific camp for disabled youth in the '70s.
Cursed (New series)
A fantasy series that reimagines King Arthur's quest to find Merlin's sword as he meets a young sorceress (Thirteen Reasons Why's Katherine Langford) along his journey. 
Cuties (New movie)
A French film about an 11-year-old named Amy who befriends a group of young girls at school who call themselves "the cuties" at the behest of her mother. 
DA 5 Bloods (New movie)
The latest from Spike Lee follows the expedition of a group of black Vietnam War veterans including Chadwick Boseman who revisit Vietnam after they've come home to search for the remains of their troop leader and to look for rumored treasure. 
Dick Johnson Is Dead (New documentary)
Director Kirsten Johnson's genre-breaking film grapples with losing loved ones -- specifically, her 86-year-old father. To do so, she wrote a series of scenarios about how her dad might die, which he stars in. It's a movie unlike any other, and its Sundance premiere had audiences floored. 
Eurovision (New movie)
Will Ferrell co-wrote and stars in this comedy opposite Rachel McAdams as a pair of aspiring singers presented with the opportunity to appear in Eurovision, the massive European singing competition show. 
The Half of It (New movie)
A teen comedy about a shy, studious girl named Ellie who gets hired by a jock to help him get a date with a girl, who unbeknownst to Ellie, is the same girl she's crushing on. 
The Haunting of Bly Manor (New series)
For the follow-up to last year's spooky success The Haunting of Hill House, showrunner Mike Flanagan is offering his take on the classic gothic novel The Turning of the Screw with The Haunting of Bly Manor. While an anthology, he's recycling cast members from the first season to take on new roles, with Victoria Pedretti and Oliver Jackson-Cohen as the leads. 
Hillbilly Elegy (New movie)
An adaptation from Ron Howard of J.D. Vance's popular memoir about his experience returning to his hometown, recounting the values of three generations of his Appalachian family. Amy Adams, Glenn Close, and Haley Bennett lead the cast. 
Hit and Run (New series)
This thriller series from the creators of crime drama Fauda follows a man who goes on an intense mission to track down the person who killed his wife in a hit and run. 
Hollywood (New series)
Ryan Murphy tapped one of his go-to leading men, Darren Criss, for a limited series, period piece about young people working in film and the sex industry in the Golden Age of Hollywood. While no official release date has been announced, it's tapped for sometime in May 2020. 
I'm Thinking of Ending Things (New movie)
Charlie Kaufman's (Eternal Sunshine of the Spotless Mind, Being John Malkovich) bringing Iain Reid's popular thriller to the screen with Jessie Buckley, Toni Collette, and Jesse Plemons leading the cast. I'm Thinking of Ending Things follows the journey of a woman who agrees to take a road trip to visit her boyfriend's parents' secluded farm house, and the strange detour that makes her rethink their relationship. 
Into the Deep (New documentary)
This documentary began as filmmaker Emma Sullivan's attempt to profile Danish inventor Peter Madsen in 2016, but became an examination of what the signs and complicity surrounding a killer can be after Madsen's tragically murdered journalist Kim Wall the following year. 
Jingle Jangle (New movie)
A holiday movie musical about a toymaker and his granddaughter who build a magical invention. The cast features Keegan-Michael Key, Forest Whitaker, and others. 
The Kissing Booth 2 (New movie)
The sequel to the popular teen romance picks up where the original left off as Noah (Jacob Elordi) heads off to college and he and Joey King's Elle have to face long-distance. 
The Life Ahead (New movie)
Italian film legend Sophia Loren is returning to the big screen (or your TV/phone/laptop screen) with her new Netflix movie. In The Life Ahead, she's directed by her son, Edoardo Ponti, and plays a Holocaust survivor who takes in a young boy after he tries to steal from her in an adaptation of Romain Gary's novel The Life Before Us.  
Lost Girls (New movie)
Based on the Robert Kolker book, this thriller follows a mother (Amy Ryan) on the hunt for her missing daughter when police fail to help, discovering a string of murdered sex workers as she takes the investigation into her own hands.  
Mank (New movie)
More David Fincher is coming to Netflix. The director's latest focuses on the story of how the legendary classic Citizen Kane was written, featuring Gary Oldman, Amanda Seyfried, and Lily Collins in the leading roles. 
Midnight Mass (New series)
Director Mike Flanagan is churning out that creepy Netflix content. The Haunting of Bly Manor may be due out this year, but so is a new, original series about a desolate island community that starts to experience disturbing occurrences once a mysterious, young priest arrives on shore. 
Night Teeth (New movie)
Alfie Allen stars in this thriller as a chauffeur who drives two young women (Debby Ryan, Lucy Fry) to parties in LA, and follows his night that turns into a twisty ride as he learns his passengers are not who they claimed to be. 
Pieces of Her (New series)
Toni Collette leads the cast in this adaptation of Karin Slaughter's popular thriller about a woman who tries to stop an active shooter, and the effects it has on her relationship with her daughter who feels she witnesses a change in her mother when she interferes. 
The Platform (New movie)
A Spanish, dystopian thriller about a society where the incarcerated are held captive on stacked cells and must fight to survive. 
The Prom (New movie)
Ryan Murphy is giving a recent, popular Broadway show the feature film treatment, Meryl Streep and Nicole Kidman-starring cast included. It follows the drama that unfolds as a lesbian teenager is banned from going to the prom with her girlfriend in a small Indiana town. 
Out of the Fire (New movie)
When the son of high profile crime boss becomes the kidnapped pawn in a drug war, an underground mercenary played by Chris Hemsworth is hired to bring him home safely in this high-action thriller. 
The Old Guard (New movie)
An adaptation of the fantasy comic book of the same name that stars Charlize Theron as Andromache of Scythia, the leader of an immortal army struggling to survive in the 21st century when their special powers are exposed. Kiki Layne also stars, and Love and Basketball director Gina Prince-Bythwood is on to direct. 
Over the Moon (New movie)
Famous Disney animator (Tarzan, Pocahontas) Glen Keane is making his directorial debut in a heartfelt animated feature about a girl who tries to travel to the moon to prove the existence of the Moon Goddess. 
Ratched (New series)
Sarah Paulson is taking on the infamous role of the wicked Nurse Ratched from One Flew Over the Cuckoo's Nest in a prequel series from Ryan Murphy about her experience working in a mental institution that led her to be so hateful. 
Rebecca (New movie)
Lily James and Armie Hammer star as a pair of newly weds, with James' character struggling to live in the shadow of her new husband's deceased, first wife. Based on the novel by Daphne du Maurier, this story was originally adapted by Alfred Hitchcock back in 1940. 
Selena: The Series (New series)
A biographic series about the life and rise to superstardom of Selena Quintanilla, the legendary Tejano singer. Christian Serratos of The Walking Dead fame will portray the star in the series, which will drop Part 1 sometime this year. 
Space Force (New series)
Created by Greg Daniels (The Office, Parks and Recreation) and Steve Carell comes a new workplace comedy about a group of government officials tasked with creating a sixth branch of the military for outer-space: The Space Force. Carell also stars, along with Ben Schwartz, John Malkovich, and many others. 
Tigertail (New movie)
Alan Yang (Master of None) wrote and directed this drama that chronicles generations of a Taiwanese family, beginning with a factory worker in the '50s who moves to America. 
Uncorked (New movie)
Prentice Penny's (Insecure, Brooklyn Nine-Nine) directorial debut about a young man (Mamoudou Athie) who wants to become a sommelier despite his father's (Courtnery B. Vance) expectation that he'll take over their family BBQ restaurant. 
The Willoughbys (New movie)
An animated feature about four siblings who send their parents away so they can raise themselves, leaving them to their own mischievous devices. Maya Rudolph, Jane Krakowski, and Will Forte are among the voice talents. 
Need help finding something to watch? Sign up here for our weekly Streamail newsletter to get streaming recommendations delivered straight to your inbox.