The Best Netflix Original Shows and Movies Coming in 2020
Plot your next binge-watch.
Netflix is never going to stop churning out massive amounts of new and returning original movies and shows. Yes, there's a lot of trash (The Last Days of American Crime! The Wrong Missy!) but the good news is that the highs are getting higher (Da 5 Bloods! The Witcher—yes, The Witcher!). In the remainder of the year, several familiar favorites are returning, as well a bunch of shows and movies of significance. Here's a curated list of the most interesting and best stuff coming to Netflix in 2020—and check back, as we'll be updating this whenever new shows and films are added to the calendar.
'Hillbilly Elegy'

| Lacey Terrell/Netflix
November 24
Hillbilly Elegy (New movie)
An adaptation from Ron Howard of J.D. Vance's popular memoir about his experience returning to his hometown, recounting the values of three generations of his Appalachian family. Amy Adams, Glenn Close, and Haley Bennett lead the cast.
Notes For My Son (New movie)
A tearjerker about a woman who puts together a special notebook for her young son with hopes that he'll remember her once she's diagnosed with a terminal disease.
November 25
The Christmas Chronicles: Part Two (New movie)
Two years ago, a pair of meddling kids and Kurt Russell (as daddy Santa) saved Christmas in one of Netflix's biggest holiday originals to date,
The Christmas Chronicles
. Well, they've got to save the holiday again—this time from a "mysterious, magical troublemaker named Belsnickel."
Great Pretender, Season 2
In the second season of this con-man anime, even as Makoto tries to leave Laurent's nefarious team, he finds they're still connected in unexpected ways and keeps getting pulled back in for bold heist jobs.
November 26
Mosul (New movie)
The true story of a renegade unit known as the Nineveh SWAT team who stood up to ISIS with hopes of defending their home of Mosul after the terrorist group had taken everything else from them.
November 27
The Beast (New movie)
A soldier suffering from PTSD tries to find his daughter once she's kidnapped while facing accusations that he himself is a suspect.
'The Call'

| Netflix
The Call (New movie)
Have you ever been curious who lived in your home before you? The woman in this movie gets the chance to meet them, sort of, when she finds a phone in her new place that mystically rings up the past residents... with freaky consequences.
Dance Dreams: Hot Chocolate Nutcracker (New docuseries)
This series documents the lead-up to renowned choreographer/dancer Debbie Allen and her troupe of young dancers' annual production of the
Hot Chocolate Nutcracker
.
Don't Listen (New movie)
Following the mysterious death of his young son, a man starts to hear strange noises in his home and hires a paranormal expert for help to try to get to the bottom of the spooky happenings in his home.
The Fabulous Lives of Bollywood Wives (New reality series)
Are you caught up on all of the Real Housewives and looking for another reality show to binge? This Hindi-language series follows the lives of four women and friends as they juggle their personal lives and careers while living in the public eye.
Over Christmas (New miniseries)
This miniseries from Germany stars one of the nation's most popular comedians, Luke Mockridge, who plays a a down-on-his-luck dude who travels back home around the holidays, only to find out his brother is now dating his ex.
Sugar Rush Christmas, Season 2
If you think you're stressed in the kitchen around the holidays, you haven't felt the pressure of time quite like these bakers working against the clock on Sugar Rush. The competition series' Christmas-themed iteration returns with another slate of episodes featuring all new whimsical, wintery desserts.
'Virgin River' Season 2

| Netflix
Virgin River, Season 2
Your mom's favorite show is back! The series about a widowed nurse and all of the happenings in her newly relocated small town home of Virgin River is back for more melodrama—this time around including "engagement, babies, heartbreak, and murder."
November 30
A Love So Beautiful (New series)
Originally a hit Chinese drama, this is the Korean remake of the love story of a high schooler who falls for her next door neighbor and childhood best friend for the first time.
Finding Agnes (New movie)
Set in Morocco, a man embarks on a journey to be reunited with and forgive his estranged mother who once abandoned him, and now has another child she adopted.
December 1
The Holiday Movies That Made Us (New docuseries)
Why watch holiday movies you've seen 100 times when you can watch a docuseries that talks about them?
The Movies That Made Us
returns with a new special that delves into the significance of some of the most beloved Christmas movies.
December 3
Just Another Christmas (New movie)
A Brazilian movie that's basically
Groundhog Day
but on Christmas Eve. It follows a man who wakes up after taking a tumble one year later on Christmas Eve with no memory of the past year, and keeps waking up that same o, holy night until he forces himself to face his mistakes.
'Christmas Crossfire'

| Netflix
December 4
Christmas Crossfire (New movie)
If you wish more Christmas movies were like
Die Hard
instead of
Love Actually
, this might be the Netflix holiday release that's for you this year. The German action comedy is about a regular man en route with his new lover to her hometown for Christmas who stumbles upon an attempted murder, and ends up in the crosshairs of the crime when the man the nearly killers were trying to off escapes with him.
The Great British Baking Show: Holidays, Season 3
Eight fan favorite bakers return to craft Christmas-y confections in the latest season of this themed GBBS spinoff.
Leyla Everlasting (New movie)
A Turkish movie about the tumultuous love triangle between a man and his wife, who just broke up after 20 years of marriage, and their relationship therapist.
Mank (New movie)
More David Fincher is coming to Netflix (and probably headed to the Oscars with a handful of nominations). The director's latest focuses on the story of how the legendary classic Citizen Kane was written, featuring Gary Oldman, Amanda Seyfried, and Lily Collins in the leading roles.
'Selena: The Series'

| Michael Lavine/Netflix
Selena: The Series (New series)
A biographic series about the life and rise to superstardom of Selena Quintanilla, the legendary Tejano singer. Christian Serratos of The Walking Dead fame will portray the star.
A Week Away (New movie)
Hallelujah! The Lord hath brought Netflix a Christian teen movie musical. A Week Away stars Kevin Quinn as a young man who is forced to choose between either going to juvie or a religious summer camp, and in choosing the camp meets a summer regular (Bailee Madison) who changes his life.
December 5
Detention (New series)
A new student to a Taiwanese high school encounters supernatural forces who introduce her to the school's dark past of students and teachers trying to prevent censorship in the '60s.
December 8
Emicida: AmarElo - It's All For Yesterday (New documentary)
A music documentary about the making of prolific Brazilian rapper Emicida's recent album
AmarElo
.
Mr. Iglesias, Season 3
School is back in session. The sitcom starring comedian Gabriel Iglesias as a high school history teacher is returning for a third season.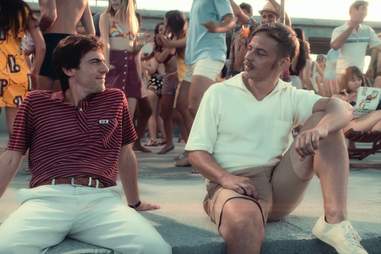 'Rose Island'

| Netflix
December 9
Rose Island (New movie)
You know how people often joke that if they were extremely wealthy, they'd own a private island? Well, this Italian film based on a true story is about an engineer who sort of did that, building his own island and declaring it a nation off the coast of Italy in the '60s.
The Surgeon's Cut (New docuseries)
This docuseries places you in the operation room alongside some of the greatest, most accomplished surgeons across the globe to examine their practice and scientific discoveries.
December 10
Alice in Borderland (New anime)
From the director of Netflix's live adaptation of
Bleach
comes another live adaptation of the popular manga about a man stuck in an alternate, game-like version of Tokyo.
December 11
Giving Voice (New documentary)
Viola Davis is among producers of this close look at the August Wilson Monologue Competition, an event that sees thousands of aspiring actors reciting the famed playwright's work for a chance to appear on Broadway.
'The Prom'

| Melinda Sue Gordon/Netflix
December 11
The Prom (New movie)
Ryan Murphy is giving a recent, popular Broadway show the feature film treatment, bringing on Meryl Streep and Nicole Kidman to do it. It follows the drama that unfolds as a lesbian teenager is banned from going to the prom with her girlfriend in a small Indiana town.
December 14
Hilda, Season 2
It's time to travel back to Trolberg! This very cute animated series about a girl named Hilda and her various mystical friends is back for Season 2.
Tiny Pretty Things (New series)
Based on the YA novel by Sona Charaipotra and Dhonielle Clayton, Tiny Pretty Things is a teen drama set at an elite ballet school where, when the star student is attacked, her replacement enters a community where competition is intense and everything is not what it seems.
December 16
Anitta: Made in Honório (New docuseries)
This docuseries gives an unprecedented, behind the scenes look at the life of Anitta, a mega-famous funk star from Brazil.
How to Ruin Christmas: The Wedding (New movie)
A Christmas movie hailing from South Africa about a woman who finally comes home for the holidays for the first time in years, and manages to ruin her sister's wedding in the process, trying to pick up the pieces before the big day arrives.
December 18
Home For Christmas, Season 2
The Norwegian rom-com series returns for another heartwarming installment.
'Ma Rainey's Black Bottom'

| David Lee/Netflix
Ma Rainey's Black Bottom (New movie)
Director George C. Wolfe (The Immortal Life of Henrietta Lacks) is bringing this famous August Wilson play to the screen. Viola Davis takes on Ma, a blues singer who starts to experience tensions between her and her team over the course of recording an album in 1920s Chicago. The late Chadwick Boseman also appears in his last on-screen role.
December 23
The Midnight Sky (New movie)
George Clooney is getting in the director's chair to adapt Lily Brooks-Dalton's novel
Good Morning, Midnight
. He also stars in the film, playing a (heavily bearded) scientist, isolated in the Arctic in a post-apocalyptic world, who sets out to stop a space crew led by Felicity Jones from returning to a catastrophic Earth.
December 25
Bridgerton (New series)
Shonda Rhimes is finally coming to Netflix. The showrunner's first release is an adaptation of Julia Quinn's romance novel series about the wealthy, English Bridgerton family and their affairs. Julie Andrews is among the stars.
2020 TBA Releases
Atypical, Season 4
The thoughtful dramedy about a now-freshman college student on the autism spectrum is wrapping up its run with a final season.
Bonding, Season 2
Netflix's investment in bite-sized content of 12-18 minute episodes seems to have been successful, because this comedy about a dominatrix and her best friend is coming back for a second season.
Country Comfort (New series)
This show sounds like the country western version of The Sound of Music. TV musical fave Katharine McPhee of Smash fame plays a struggling country singer who takes a job as a nanny for a cowboy named Beau, and finds hope again when she forms a band with his kids. Yeehaw!
Hit and Run (New series)
This thriller series from the creators of the Israeli crime drama Fauda follows a man who goes on an intense mission to track down the person who killed his wife in a hit and run.
Into the Deep (New documentary)
This documentary began as filmmaker Emma Sullivan's attempt to profile Danish inventor Peter Madsen in 2016, but became something much bigger after Madsen shockingly murdered journalist Kim Wall aboard his self-made submarine the following year.
Midnight Mass (New series)
Director Mike Flanagan can't stop churning out that creepy Netflix content. The Haunting of Bly Manor may be due out this year, but so is a new, original series about a desolate island community that starts to experience disturbing occurrences once a mysterious young priest arrives on shore.
Night Teeth (New movie)
Alfie Allen stars in this thriller as a chauffeur who drives two young women (Debby Ryan, Lucy Fry) to parties in LA, and follows his night that turns into a twisty ride as he learns his passengers are not who they claim to be.
Pieces of Her (New series)
Toni Collette leads the cast in this adaptation of Karin Slaughter's popular thriller about a woman who tries to stop an active shooter, and the effects it has on her relationship with her daughter who feels she witnesses a change in her mother after the traumatic interference.
Need help finding something to watch? Sign up here for our weekly Streamail newsletter to get streaming recommendations delivered straight to your inbox.