Everything Coming to Netflix in 2021
So many new shows and movies coming in the near year.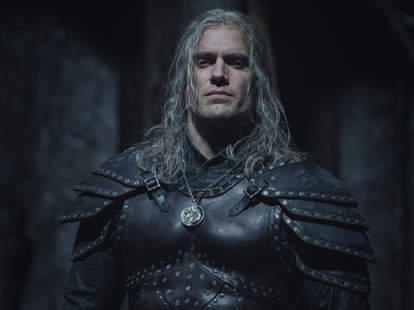 Netflix never stops. The streaming service has never been in the business of "less is more"—instead favoring pumping out original series, movies, and documentaries by the dozen—and 2021 is no different. A not insignificant number of movies, as well as new and returning series, are already slated for a 2021 premiere, and many more will inevitably be on the way.
Its model of cracking out releases, on top of licensing popular shows and movies has its flaws, since not everything can be an Emmy or an Oscar contender (see duds like The Last Days of American Crime or hate-watches like Emily in Paris), but it does pull impressive talents to the streamer (David Fincher! Spike Lee! Shonda Rhimes!) which allows for more than a few binge-worthy gems (including The Queen's Gambit) to find a massive audience. Here's a regularly updated list of what to look out for on Netflix in 2021, from true-crime docuseries to highly anticipated movies, so you know what to add to your queue.
'Jupiter's Legacy'

| Steve Wilkie/Netflix
May 7
Jupiter's Legacy (New series)
There can never be enough superhero shows, am I right?! Jupiter's Legacy is Netflix's latest, adapted from Mark Millar and Frank Quitely's comics about a legacy generation of superheroes who first came into their powers in the early 1900s and their super teenage kids, just coming into their powers today. Josh Duhamel is among the cast.
Monster (New movie)
This adaptation of Walter Dean Myer's novel follows a teenage boy from Harlem (Kelvin Harrison Jr.) as his world is shaken when he's convicted of murder. The film is the feature film directorial debut from famed music video director Anthony Mandler and sees an all-star supporting cast of Jennifer Hudson, John David Washington, Jeffrey Wright, A$AP Rocky, and others.
May 8
Mine (New series)
This K-drama focuses on two woman in a manipulative, secretive conglomerate family trying to find their way out.
May 11
Money, Explained (New docuseries)
It's money… explained! The show breaks down everything you've ever wanted to know about the ins and outs of student loans, credit cards, and even scammers.
May 12
Dance of the 41 (New movie)
A historical drama based on a true scandal that unfolded in Mexican politics in the early 1900s when a closeted congressman married President Porfirio Díaz's daughter but continued having affairs at a secret club.
The Upshaws (New series)
Wanda Sykes and Mike Epps lead this Netflix sitcom about a working class Black family living in an Indiana town.
Oxygen (New movie)
Horror filmmaker Alexandre Aja's (Crawl, The Hills Have Eyes) latest moves into sci-fi territory for a claustrophobic film about a woman (Mélanie Laurent) who wakes up in a cryogenic pod with no recollection of how she got there and must find a way out before she runs out of air.
'Castlevania' Season 4

| Netflix
May 13
Castlevania (Season 4)
Ready to joint he Belmont clan on another vampire-slaying journey? The popular, acclaimed anime returns this May with more bloodthirsty episodes as Belmont and Sypha plan to resurrect Dracula.
May 14
Ferry (New movie)
A prequel to the Belgian-Dutch Netflix series Undercover, focusing on pre-cartel boss Ferry Bouman as he embarks on a revenge mission.
Haunted (Season 3)
Another installment of Netflix's reality series finding people iterating their paranormal experiences. For Season 3, expect stories about creepy cats, haunted mansions, and more.
Halston (New series)
The Ryan Murphy-ification of Netflix has been in full force since his major deal with them took off in 2018. His latest is a limited series starring Ewan McGregor as iconic fashion designer Halston, who built an empire in the '70s and '80s.
I Am All the Girls (New movie)
Based on real events that took place in South Africa in the '80s, I Am All the Girls follows a detective's investigation into bringing down a human trafficking ring.
Love, Death & Robots (Volume 2)
David Fincher may no longer be putting his energy into his Netflix hit Mindhunter, but he is (thankfully) still executive producing this gem of an anthology series. The animated sci-fi show returns with a handful of new (probably mind-bogging, explicit) episodes this May.
Move to Heaven (New series)
A new K-drama adapted from a book that focuses on a man with Aspergers and his former con artist uncle who form a forensics clean up company.
The Woman in the Window (New movie)
Amy Adams hive: Assemble. The actress stars in this thriller based on the novel of the same name about a woman with agoraphobia who witnesses a disturbing crime in the window across from her apartment.
May 19
Who Killed Sara? (Volume 2)
Have you caught this foreign Netflix hit since it arrived on the streamer earlier this year? It's held a steady position as one of the platform's top 10 most popular shows for quite awhile—and now all those fans hungry for more episodes will get them. In the upcoming episodes, the vengeful Álex continues to learn more about his sister's dark history.
May 20
Special (Season 2)
LGBTQIA and disabled activist Ryan O'Connell's comedy that he created and stars in is wrapping up this spring with its second and final season. Although the short form show featured brief 15 minute episodes in its first installment, this time around there will be eight 30 minute episodes.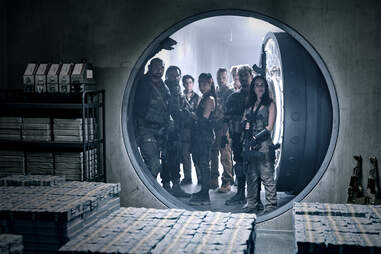 'Army of the Dead'

| Netflix
May 21
Army of the Dead (New movie)
Zack Snyder has made more than a few action epics and superhero blockbusters, and now he's venturing into the zombie movie zone. It's not just any zombie movie, though. It's a zombie heist movie in which Dave Bautista and Tig Notaro plan to orchestrate a full-blown Las Vegas-set heist in the midst of a zombie apocalypse.
May 23
Master of None (Season 3)
For awhile it was unclear whether or not this series helmed by Aziz Ansari, who faced allegations of sexual misconduct, was coming back. It is, though, with this season focusing more so on fellow cast member Lena Waithe and her marriage. Naomi Ackie joins the cast.
May 24
Mad For Each Other (New series)
When a man and woman keep crossing tracks, finding out they're neighbors and share the same therapist, they slowly realize fate might have a bit to do with their union in this rom-com K-drama.
May 26
High on the Hog: How African American Cuisine Transformed America (New docuseries)
Inspired by Jessica B. Harris' book of the same name, this docuseries finds chef and writer Stephen Satterfield on a culinary journey across the US to illustrate the influence of African American history and cuisine on today's food.
Nail Bomber: Manhunt (New documentary)
This true crime documentary focuses on the 1999 bombings that terrorized London and targeted minority communities.
May 27
Black Space (New series)
This Israeli crime series follows the investigation of an unconventional detective into a massacre perpetrated by a group wearing unicorn masks at a high school.
Blue Miracle (New movie)
Get emotional: This family film is based on a true story about a Mexican boys home that teamed up with a struggling fisherman (Dennis Quaid) to try to win an international fishing competition to raise funds for their home.
Eden (New anime)
This highly anticipated anime series from Fullmetal Alchemist: Brotherhood director takes place 1,000 years in the future where the idea of humanity has become an ancient myth to a world populated by sentient robots, until two of them encounter a human child and decide to raise her in secret.
Ragnarok (Season 2)
The Scandanavian teen series that combines mythology and environmental disaster is back for more.
'The Kominsky Method' Season 3

| ERIK VOAKE/NETFLIX
May 28
The Kominsky Method, Season 3
Your parents' favorite comedy starring Michael Douglas that has, for some reason, garnered quite a bit of awards attention is indeed coming back.
Lucifer (Season 5B)
Lucifer fans can finally rest easy because after a long wait the second half of Season 5, which features eight more episodes (including one that is a musical), is finally hitting Netflix.
June 3
Dancing Queens (New movie)
This heartwarming Swedish film arrives just in time for Pride month, following a young aspiring dancer who gets a job at a drag club where she forms a relationship with the queens and choreographer.
Pretty Guardian Sailor Moon Eternal The Movie (New movie)
Sailor Scouts, in the name of the moon, it's time to unite! In this two part movie, Sailor Moon and all of the Scouts are back to try to bring light back to Earth after a total solar eclipse turns everything to darkness. The movies aired in Japan earlier this year and are a continuation of the 2014 reboot of the '90s classic—this time around with Chiaki Kon (The Way of the Househusband) on as director.
June 4
Sweet Tooth (New series)
Fall Out Boy's "Sugar, We're Goin Down" music video would like to have a word. This series, adapted from the Jeff Lemire DC comic, follows a half-boy-half-deer navigating a world where a number of humans have mutated into animal hybrids who are feared by others. Robert Downey Jr. is among the executive producers.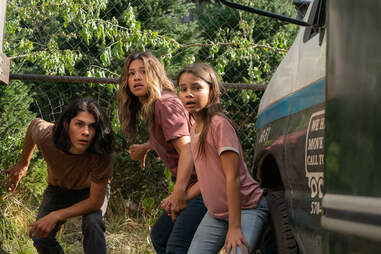 'Awake'

| Peter H. Stranks/Netflix
June 9
Awake
(New movie)
Set set in a world where electronics have been wiped out and humans have lost the ability to sleep, Gina Rodriguez leads this sci-fi movie as a former soldier who, along with her daughter, thinks she can solve the humanitarian crisis.
June 11
Wish Dragon (New movie)
Sony Pictures Animation already has Wish Dragon on deck to follow up this year's hit The Mitchells vs The Machines. This fantasy film joins a college student Din (Jimmy Yang) on an adventure with a wish-granting pink dragon (John Cho) as they soar through Shanghai in search of Din's long-lost friend.
June 18
Elite (Season 4)
School and scandal are back in session at Las Encinas. Everyone's favorite guilty pleasure from Spain is now onto Season 4.
Fatherhood (New movie)
Kevin Hart hasn't gotten too many chances to show off his serious side throughout his career, but this drama, an adaptation of a memoir by the writer Matthew Logelin, should give the actor a chance to show his range as a father dealing with a painful loss. Director Paul Weitz, who co-directed 2002's Hugh Grant coming-of-age story About A Boy and directed 2015's charming comedy Grandma, clearly knows his way around stories of familial struggle.
June 23
Good on Paper (New movie)
Comedian Iliza Schlesinger wrote and stars in this madcap rom-com as a comic who's always struggled with finding the one until she meets a seemingly perfect guy named Dennis. When her friends are unconvinced that he's flawless, she learns herself the hard way that he's definitely not who he seems.
'The Ice Road'

| Netflix
June 25
The Ice Road (New movie)
What is action star Liam Neeson facing off with in this movie? Ice, ice, baby. The disaster movie is set in Northern Canada where a diamond mine collapses and his ice road driver must try to save the miners in a frigid winter storm.
June 30
America: The Motion Picture (New movie)
You might remember some of the details of America's Revolutionary War from history class, but we're guessing that version didn't include a robot-centaur and laser blasters. This R-rated, animated retelling of America's founding comes from Matt Thompson, who worked on Archer and co-created Adult Swim's Sealab 2021, so expect lots of wild imagery, ridiculous action, and barbed wit. Channing Tatum and Jason Mantzoukas are among the voice cast.
June TBA
Too Hot To Handle, Season 2
It's getting hot in here! Netflix's bonkers reality show that puts a bunch of hot people on an island and begs them not to hook up with each other is coming back.
July 21
Trollhunters: Rise of the Titans (New movie)
Guillermo Del Toro and DreamWorks Animation's Trollhunters series is getting the feature film treatment. The movie takes place after the events of the three-part Tales of Arcadia series and follows the young heroes as they face off with the evil Arcane Order who plans to summon ancient demons to destroy the modern world.
'The Last Letter from Your Lover'

| StudioCanal/Netflix
July 23
The Last Letter from Your Lover (New movie)
The romance bestseller of the same name from Jojo Mayes is getting the movie treatment. Have a tissue box ready when you watch this one, as it follows a London-based journalist (Felicity Jones) who discovers and becomes obsessed with a series of love letters from the '60s written by a madly in love, but tragic couple (played by Shailene Woodley and Joe Alwyn).
July 29
Resort to Love (New movie)
What's summer without a random rom-com? Christina Milian stars in this one as an aspiring singer who takes a gig performing at weddings—one of which ends up being for her ex fiancé (Jay Pharoah). Chaos, obviously, ensues!
July TBA
Beastars, Season 2
Currently airing in Japan, the second season of the popular Netflix acquisition Beastars furthers the high school saga of anthropomorphic Carnivores and Herbivores fighting against their animalistic natures to co-exist.
The Last Mercenary (New movie)
Hell yeah: Jean-Claude Van Damme's got an action movie coming down the pipeline. He stars in this French film as a former secret service agent who must defend his son against false accusations of smuggling drugs and illegal arms as a part of scheme cooked up by the mob.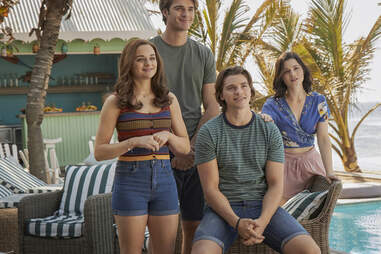 'Kissing Booth 3'

| Marcos Cruz/Netflix
August 11
Kissing Booth 3 (New movie)
To All the Boys… isn't the only Netflix teen rom-com series wrapping up this year. The final Kissing Booth movie is also on the way, so fans will finally find out which of the Flynn brothers really has Elle's heart.
August 20
Sweet Girl (New movie)
A Jason Momoa gritty action movie always sounds like a good time. Here, he plays a father who's angry with a vengeance, out to find the people responsible for killing his wife (Marisa Tomei) and protect his daughter.
August 27
He's All That (New movie)
The '90s teen classic that started the strange she takes off her glasses and now she's hot trend, She's All That, is getting a roles reverse remake. Instead of Freddie Prinze Jr. making over Rachel Leigh Cook, this time around TikTok phenom Addison Rae plays a social media savvy gal who bets she can make an uncool male classmate (Cobra Kai's Tanner Buchanan) into prom king. Rachel Leigh Cook will make an appearance, though, playing Rae's character's mother.
'Beckett'

| Yannis Drakoulidis/Netflix
Summer TBA
Beckett (New movie)
Luca Guadagnino is among the producers of this upcoming thriller starring John David Washington and Alicia Vikander as a couple on vacation in Greece who get wrapped up in a dangerous conspiracy. Midsommar 2.0? But in Greece? We'll see!
Bob Ross: Happy Accidents, Betrayal, and Greed (New documentary)
Bob Ross warmed your heart with his show The Joy of Painting, but do you know much about the man, other than how he can bring life to a serene waterfall on a canvas? This documentary gives an inside look at his life, career, and who he really was.
Carnaval (New movie)
Should there continue to be movies in which the protagonist is an influencer? Maybe not, but that's not stopping Hollywood. This comedy joins a group of friends on a trip to a major festival where the social media star of the bunch is hoping to make a name for herself at the event
Fear Street (New movie)
Horror fans, get excited: An adaptation of R. L. Stine's book series of the same name about a group of teenagers in a small Ohio town investigating a string of murders that seem to be connected is coming to Netflix. Fear Street and its sequels were originally supposed to be released in theaters with years in between them, but because the movies were all shot at once, Netflix will release them with one month a part sometime in 2021.
La Casa De Las Flores: La PelÍcula (New movie)
Even though the popular telenovela wrapped up last year, the De la Mora family has one more adventure left in them, returning for a full-length movie.
Vivo (New movie)
It's a big summer for Lin Manuel Miranda. Not only is his musical In the Heights getting a big screen adaptation, he stars in and contributed music to this Sony Pictures Animation musical. In Vivo, he voices a kinkajou who travels from Havana to Miami with the hopes of delivering a love song.
Release date TBA
Afterlife of the Party (New movie)
It's Victoria Justice's party and she can definitely cry if she wants to in this comedy, considering her popular girl character dies the week of her birthday. She is given one more chance to right her wrongs, though, before the big guy upstairs decides if she's worthy of coming to Heaven.
Atypical, Season 4
The thoughtful dramedy about a now-freshman college student on the autism spectrum is wrapping up its run with a final season.
Back to the Outback (New movie)
Koalas, kangaroos, platypuses, wombats! Some of the most interesting animals on Earth definitely come from the land Down Under. In this animated movie, a group of those cuddly and not-so-cuddly critters are making a run for it out of one of Australia's zoos and into the outback. Appropriately, Aussie stars like Isla Fisher, Guy Pearce, and Keith Urban contribute to the voice cast.
Beauty (New movie)
Lena Waithe wrote this drama about a talented Black singer who starts to lose her identity and finds her relationship taking a hit when she's offered a high-profile recording contract.
Blonde (New movie)
Smash fans—a more definitive Marilyn Monroe biopic is in the works. Ana de Armas is taking on the iconic movie star in this biopic. Based on Joyce Carol Oates' book of the same name, the film is said to chronicle her life and rise, starting out with her humble beginnings as Norma Jean.
Blood Red Sky (New movie)
This genre-defying German thriller sounds like... a lot. Set on a transatlantic flight, it finds one woman (with some sort of illness that may or may not stem from supernatural powers she's suppressing) springing into action as the flight is hijacked by terrorists.
Bruised (New movie)
Halle Berry is getting behind the camera for her first-ever film as a director. She's getting in front of it too, as she's also starring in this film about a former MMA star athlete trying to regain custody of her daughter and career.
Clickbait (New series)
If social media wasn't already overwhelming enough, now there's a whole subgenre of shows about how social media is bad. Clickbait, a new miniseries featuring Zoe Kazan and Adrian Grenier is one of those, about eight different perspectives that provide clues into who might have committed a disturbing crime fueled by social media.
Dead to Me, Season 3
It's time for Ben's (James Mardsen) dark secrets to take front-and-center in the upcoming season of this addictive series. Stock up on plenty of wine before the Thelma and Louise of streaming—Judy (Linda Cardellini) and Jen (Christina Applegate)—come crashing back onto your screens with their sometimes murderous intent.
Dear White People, Season 4
It's senior year for Justien Simien's Dear White People series and the Black students fighting the embedded institutional racism at the mostly white Winchester University. Before graduation day (er, the finale), radio host Sam White (Logan Browning), Troy Fairbanks (Brandon P. Bell), investigative journalist Lionel Higgins (DeRon Horton), and co. clash with the mysterious secret order that maintains the university's prestige at all costs.
Don't Look Up (New movie)
Adam McKay's (Anchorman, The Big Short) latest is as star-studded a blockbuster as they come. Jennifer Lawrence and Leonardo DiCarprio lead the cast as two astronomers tasked with informing the public that a destructive comet is approaching Earth, and supporting them is an ensemble featuring the likes of Timothée Chalamet, Cate Blanchett, Meryl Streep, Jonah Hill, Chris Evans, music stars Ariana Grande and Kid Cudi, and many others.
Escape from Spiderhead (New movie)
Based on a short story by George Saunders, Escape from Spiderhead is set in a near-future where an organization conducts experiments on the incarcerated by manipulating their emotions with drugs. Chris Hemsworth, Miles Teller, and Jurnee Smollett star.
Godzilla Singular Point
(New anime)
More destruction from entertainment's favorite kaiju is on its way in this anime adaptation from the same studio behind
Beastars
. The big boy himself is designed by the Studio Ghibli artist, Eiji Yamamori, who worked on everything from
Princess Mononoke
to
Mary and the Witch's Flower
.
The Guilty (New movie)
True Detective creator Nic Pizzolatto is bringing his twisty procedural writing talents to the big screen in this English-language adaptation of a popular Danish film of the same name. Jake Gyllenhaal leads the cast, playing a police officer demoted to desk duty who feels conflicted when he receives a 9-1-1 call from a kidnapped woman.
The Harder They Fall (New movie)
Idris Elba, LaKeith Stanfield, and Regina King are heading west. The three lead the cast in this highly anticipated Western about a man out for revenge against the man who murdered his parents.
Hit and Run (New series)
This thriller series from the creators of the Israeli crime drama Fauda follows a man who goes on an intense mission to track down the person who killed his wife in a hit and run.
I Think You Should Leave, Season 2
What delights could the second season of Tim Robinson's dare-we-say comedy masterpiece contain? Honestly, we couldn't even begin to predict, but if it's anything like the first set of sketches, it will be absolutely incredible.
Into the Deep (New documentary)
This documentary began as filmmaker Emma Sullivan's attempt to profile Danish inventor Peter Madsen in 2016, but became something much bigger after Madsen shockingly murdered journalist Kim Wall aboard his self-made submarine the following year.
Intrusion (New movie)
Prepare to feel claustrophobic by this one: As the title suggests, it follows a woman (Frieda Pinto) who recently moved to a small town who becomes the target of a home invasion.
Kate (New movie)
Mary Elizabeth Winstead will appear as a bonafide action star in Kate. She's playing the titular role, an assassin who has just 24 hours left to live and is using that time to track down her murderer and get back at him. Woody Harrelson and Michael Huisman also star.
Midnight Mass (New series)
Director Mike Flanagan can't stop churning out that creepy Netflix content. Before
The Haunting of Bly Manor
even hit the streamer in October 2020, the spooky filmmaker started shooting his latest new series in August. Taking place on a desolate island, it follows disturbing events that start to unfold among the community there when a mysterious young priest arrives.
Night Teeth (New movie)
Alfie Allen stars in this thriller as a chauffeur who drives two young women (Debby Ryan, Lucy Fry) to parties in LA, and follows his night that turns into a twisty ride as he learns his passengers are not who they claim to be.
Ozark, Season 4
The final season of the tense Missouri-set money laundering saga will be nothing short of shocking, we expect. The Byrdes keep getting deeper in bed with dangerous people—now, the cartel boss Omar Navarro and the FBI—and it's only a matter of time until the blocks crumble beneath them, sending their family and associates into a free fall.
Peaky Blinders, Season 6
Our Peakies! The biggest question at hand after a doozy of a fifth season in Steven Knight's English mob series is: Who betrayed Tommy Shelby and caused his plan to take out political rival and literal fascist Oswald Mosley to fail? (We have some thoughts.) This will be the last season of Peaky Blinders.
Pieces of Her (New series)
Toni Collette leads the cast in this adaptation of Karin Slaughter's popular thriller about a woman who tries to stop an active shooter, and the effects it has on her relationship with her daughter who feels she witnesses a change in her mother after the traumatic interference.
The Power of the Dog (New movie)
Oscar-winner Jane Campion is on as writer-director of this adaptation of Thomas Savage's novel about a pair of rivaling brothers who own a ranch and tensions start to rise between them when one gets married. Real-life couple Kirsten Dunst and Jesse Plemons lead the cast, as well as Benedict Cumberbatch, Thomasin McKenzie, and others.
Red Notice (New movie)
Dwayne Johnson, Gal Gadot, and Ryan Reynolds all star in this action film that follows an Interpol agent tracking down the world's most-wanted art thief.
Resident Evil: Infinite Darkness (New anime)
Resident Evil is being adapted into a new limited anime series, said to follow the canonical storyline of the zombie-slaying game franchise.
Robin Robin (New movie)
Okay, cute: Gillian Anderson and Richard E. Grant voice little critters in a tale about a bird raised by mice who sets off to discover more about her own kind.
Sex Education, Season 3
Class will be back in session for the horny high schoolers of Moordale Secondary, and there's plenty of unfinished drama waiting for us, including Jean's unexpected pregnancy, Eric and Adam's relationship, Maeve's tragic home life, and whatever the hell Otis is up to.
Stranger Things, Season 4
The Hawkins crew has to figure out how to get Hopper out of Russia in the next season of Stranger Things, presumably digging into its '80s-ness with its own interpretation of the Cold War.
tick, tick… BOOM (New movie)
Lin Manuel Miranda may be known for penning and starring in Broadway hits In the Heights and Hamilton, but now he's heading behind the director's chair, too. Tick, tick… BOOM, which stars Andrew Garfield, marks Miranda's directorial debut and tells the story of an aspiring theater composer in NYC with his sights set on writing the next great musical.
The Witcher, Season 2
Toss another coin to your local Witcher: Henry Cavill's brooding, wandering monster hunter Geralt of Rivia is coming back this year with all the Hmm's and Fuck's you could hope for. Video game and book series fans should be in for a little treat—we're betting Season 2 is adapting the first book of the main Witcher series, Blood of Elves. Ciri could be much older; Yennifer should still be on a mission to become the greatest sorcerer; Jaskier, without a doubt, will still be penning his annoyingly catchy bard songs. You can't escape destiny, Geralt.

You, Season 3
Murderous creep Joe (Penn Badgley) sets his eyes on a new target of obsession, blonde neighborwoman Natalie, who he peeped engrossed in a book he almost certainly has at least five opinions on. Such wandering eyes when his girlfriend, the equally bloodlusting Love (Victoria Pedretti), is so pregnant! For shame, Joe. Season 3 will also feature an ensemble of the finest LA stereotypes, including a wellness guru, "momfluencer," and tech venture capitalist.