Recommended Video
This Pop-Up is Serving Real-Life Bob's Burgers
Ozark is gritty, gripping, and probably the last thing you'd call a Jason Bateman vehicle. Yet the actor's front and center in the series as Marty Byrde, the brilliant Chicago-based financial advisor turned money launderer, a mix of John Rayburn and Walter White, with a hint of that lovable smart-ass Michael Bluth. In other words, Bateman's Netflix's latest anti-hero, and he looks poised to stick around.
In the pilot, Marty receives a life-or-death assignment to wash a few million bucks for Mexico's second biggest drug cartel. He's broken bad by the season finale, discarding his last shred of ethics and endangering the lives of his loved ones to meet his crime lord boss's deadline.
It's a tense 10 hours of TV, but if you made it through the season finale, you know that all the Ozark madness ends with what appears to be a happy ending. "I'm really, really happy with the way the writers wrapped things up in a really restrained way and didn't leave any obnoxious cliffhangers or bait into Season 2," Bateman told Collider. "They just ended it."
OK, but not really.
The last scenes of the finale find Marty's wife and kids fleeing the Ozarks because of mounting dangers with the cartel and the Snell family -- both want Marty dead. As part of one last life-saving plan, the patriarch introduces his two enemies and proposes that Omar Navarro's cartel become the sole buyer of the Snells' heroin. This would solve the Snells' distribution problem, and "would put you about seven hours from your central hub in Chicago," Marty tells Camino Del Rio, pointing out that Omar loses roughly 20% of his product to seizure at the border. A riverboat casino would handle everyone's money laundering needs.
It's a clever plan. Everyone likes it. A new partnership forms. But unfortunately, things fall apart as quickly as they come together after cartel envoy Del calls the Snells "a bunch of rednecks," prompting Darlene Snell to shoot Del in the head. The Snells promise to clean up the mess. A panicked Marty heads home to call his wife, Wendy, and tell her to run with the kids. If it wasn't safe in the Ozarks before, it's definitely not now. Marty's stuck again -- with two lunatic bosses.
"There has to be a solution here," Wendy says over the phone.
"There is," Marty says. "You're doin' it."
Through tears, Marty hangs up, believing that his wife and kids are now on the run to a safer place with new identities. The problem, as his daughter, Charlotte, points out, is that place doesn't exist. "You made us adults the second you told us about what dad was doing," she says. This family is in too deep. "You can't take it all back now."
As the episode ends, Marty and his family reunite, throwing caution to the wind, group-hugging, smiling by their trampoline.
Where does the show go from there?
"This season was really about, on a plot level, Can this family survive? And on an emotional level: Can this family come back together?" Ozark's head writer Chris Mundy told us after the show premiered. The closing shot is as close to a happy ending as the Byrdes are going to get. But it's not really happy. Consider all the people who still pose a threat to their status quo:
The Snells
Marty avoided these crazy heroin dealers' crosshairs by essentially becoming one of their employees, a development that's more a curse than a blessing. As we've seen, Darlene's prone to overreacting, her husband is a lot less forgiving than Del, both have something on the local law enforcement, and Ash isn't the kinda guy you want knocking on your door (mostly because he doesn't knock). If Marty doesn't please his new bosses, the Byrdes will have a special kind of hillbilly nightmare on their hands.
The cartel
Marty's problems in Mexico are just beginning. Though the cartel's leader, Omar, agreed to a new deal with Marty, Del, now dead, was his most valuable Stateside envoy. And remember how mad Del was when Garcia went missing? This predicament is like that... but a thousand times worse. Also, Marty doesn't know it yet, but Rachel stole a shitload of the cartel's money.
The Langmores
Ruth appears to be more friend than enemy by season's end, but according to Mundy, "There's a potential for that to turn into anger and resentment toward Marty." Her dad, Cade, true leader of the Langmores, has wanted Marty dead ever since learning of the shoobie's existence, and Mundy added that "there is a very, very strong chance that he is gonna get paroled in Season 2." Three and Wyatt don't seem like much of a threat now, but the latter is well aware his dad had plans to kill Marty. You wouldn't be crazy for expecting multiple Langmore revenge plots in the making.
The FBI
If you thought that undercover fed Roy Petty (Jason Butler Harner) had a good reason to bust Omar's operation (see: his mom), now he has a second (see: the death of an innocent lover). Catching Marty is now the key to catching Omar and mending his conscience.
Rachel Garrison
The longtime Blue Cat Lodge owner, played by Jordana Spiro, left town with lots of dirty money. What's she going to do with it? "With the money and her understanding of what's going on, she has leverage and power," Mundy told us. "We always thought of the Byrde family as an invasive species on that place. Rachel's not a criminal like the Langmores, but we want her to extract whatever she wants from the situation after the Byrdes have messed with her life so much."
The preacher
Michael Mosley's boat-loving preacher, Mason, lost his wife to the Snells. Or, in his eyes, did he lose her because of Marty, who came to town and flipped his world upside down with promises of a church? "He's definitely going to show back up," Mundy told us. "He hates Marty. The minute Marty came into his life everything fell apart," added Mosley, who's not convinced Mason will continue on a purely Christian path. "He has this craziness about him. He doesn't seem like he's afraid of much. There's some kind of bizarre death wish that he's got going on."
The other Byrdes
It's great Marty's family is reunited, but Jesus, they do not make life easier for him. Ever. Remember when Wendy emptied their bank accounts in the pilot? Or when Charlotte stole a boat with Wyatt and Three? Or when Jonah left his dad's super-important luggage unattended? Marty, Charlotte, Jonah, and Wendy will all hopefully be smarter in Season 2, but if Season 1 taught us anything, expect goofs until this family doesn't have any more toes to shoot.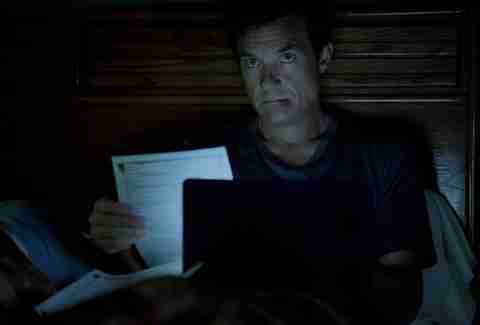 Despite claims of finality, Bateman always seemed open to doing something like "a second movie." Good. Another season should go a long way toward cementing his standing as a top-notch dramatic actor (see also: The Gift), seeing as one of the richest aspects of the show's first season was his character's lack of choice. 
The family man frequently found his hands tied (sometimes literally) in thrilling predicaments, and any solutions he conjured as a step in the right direction usually moved him two steps back. The Byrdes might have found a moment of peace with Del gone, but as Marty's enemies multiply, their future could hold many more, and far worse, troubles. (In fact, Mundy has something resembling a five-year plan, with the next run tackling "capitalism and what you do to win.")
Instead of providing closure, Ozark's Season 1 finale provides strategic closure -- you know, the kind that would've allowed the show to stand as a one-off if it didn't get renewed. Netflix's other big hit this year, 13 Reasons Why, similarly came as a multiple-season saga wearing one-off camouflage. Prompt fan reactions made the YA adaptation 2017's most-tweeted-about show and Netflix's most popular show to date, helping it earn a second season roughly one month after premiering. It's not a huge surprise Ozark followed suit.
Sign up here for our daily Thrillist email and subscribe here for our YouTube channel to get your fix of the best in food/drink/fun.