The Netflix Party Chrome Extension Will Make Watching TV at Home a Little Less Lonely
You don't have to watch your favorite movies and TV shows alone anymore.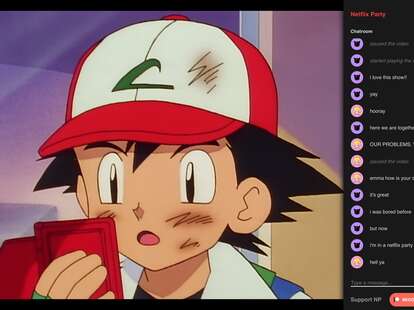 Yes, that's the original 'Pokemon' series.

| Screencap via Thrillist
Yes, that's the original 'Pokemon' series.

| Screencap via Thrillist
Check out more options for group watching movies and TV shows with your friends and family.
More and more people are going to be stuck at home as the coronavirus spreads across the country, and while it's absolutely a good idea to quarantine yourself so you don't spread the virus around, being home alone with no outside world interaction suuuuucks. Because everyone's watching A LOT more TV than usual, the Chrome extension Netflix Party is here to help make social isolation feel a little less isolated. Just download the extension (for now, only available for Chrome browsers, and only accessible through Netflix), log in to Netflix, send your friends the Netflix Party code, and start watching together.
When you download the extension, it'll show up at the top right of your browser bar as a little "NP" next to your other extensions, if you have them. When you open Netflix and pick a show or movie to watch, you can click on the NP and it'll generate a unique link to send to your friends, as well as the ability to be the only one to control the video feed, or not, if you'd rather let everyone pause and press play when they want. When everyone has joined, you can talk in a text chat sidebar as the video plays. (Netflix Party doesn't have the ability to video chat yet, though why you'd want to do that when you're watching TV or a movie, I don't know.) You can even change your icon and add a username in the extension's settings so not everyone looks the same. All in all, it's easy to use, and takes less effort than setting up a text thread and making sure you all press play on Gossip Girl all at the same time.
Need help finding something to watch? Sign up here for our weekly Streamail newsletter to get streaming recommendations delivered straight to your inbox.
Emma Stefansky is a staff entertainment writer at Thrillist. Follow her on Twitter @stefabsky.