Four hundred seventy-four days. That's how long you'll spend, on average, searching for something to watch on Netflix, cable, or whatever your binge-watching platform of choice may be over the course of your life. That's approximately 1.3 years wasted, when you could instead be matching with the perfect piece of content in a matter of minutes.
All you need to do is make one simple change: Start rating everything you watch.
It's understandable that the last thing you have on your mind after wrapping a movie, documentary, comedy special, or TV show is to decide exactly how good it was. Odds are you're either asleep, boning, or hungover -- none of which is an ideal situation to put on your critic's hat. However, this one simple act can -- when adhered to -- dramatically improve your recommendations, and also expose you to content you may not have otherwise discovered during your awkwardly long browse-a-thon. If you don't rate anything, the Netflix algorithm will by default only recommend content based on everything you've ever watched, weighing the stinkers you slogged through as equally as a movie you absolutely loved. And that means many more misfires than necessary.
It's now idiot-proof
Recently, Netflix ditched its star-rating system for a simple thumbs-up or thumbs-down setup in an effort to get users to be more honest about what they like. The logic behind the change is that viewers were interacting with the service's longstanding star-rating system in a more performative manner, which was resulting in a less accurate portrait of what they actually like to watch.
In other words, rather than honestly rate how much they enjoyed something, users were more likely to assign a star rating according to how they wanted others to perceive their tastes. A sense of subconscious snobbery, if you will. A binary choice, on the other hand, forces people to be brutally honest, which in turn arms Netflix with the intel it needs to surface stuff that'll truly tempt you to hit play.
The simplified, Tinder-style approach isn't only compelling people to be more honest, it's actually led to more users rating what they watch. During its beta testing of the updated system, Netflix saw a staggering 200% uptick in user engagement.
It's good for all of us
Rating what you watch isn't only important to improve your own recommended viewing, it can make a big difference for your fellow Netflix subscribers. That's because the service's algorithm takes into account a number of factors beyond our own control, including the combined ratings of all Netflix members who have similar tastes.
In short, Netflix lumps us into groups based on our similar viewing habits, and uses the collective ratings from us all to better predict how well we'll like something. This is why, for example, the percentage rating you see for 13 Reasons Why may be dramatically different from the one your teenage cousin sees. You have vastly different tastes, and so your rating is based on how people who tend to watch the same stuff as you rated 13 Reasons Why, versus how people who tend to watch what your cousin does rated it. Therefore, the more we're all rating what we watch, the more accurate these percentages will become for everyone.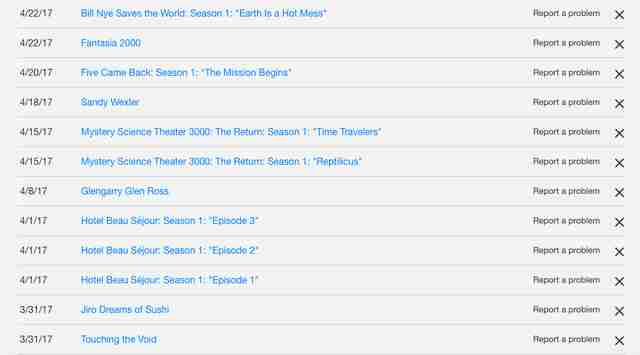 You can easily go back and rate what you've already watched
While starting to rate things going forward is critical, you can also go back and retroactively rate everything you've watched previously to further refine how things are filtered. To do this, go to Your Account and scroll down to Viewing Activity (or just click here while signed in).
Here, you'll be able to click through to anything you've ever watched and give it a thumbs-up or -down rating. Perhaps more importantly, you can also strip out any record of things you've watched -- which could be hugely helpful if what you like has somehow dramatically shifted lately, or, more likely, the roommate/sister/Airbnb guest also using your account was watching some straight-up trash and you want to ensure it doesn't interfere with your subsequent recommendations.
Sign up here for our daily Thrillist email and subscribe here for our YouTube channel to get your fix of the best in food/drink/fun.