How to Make Sense of 'Requiem's Wild Ending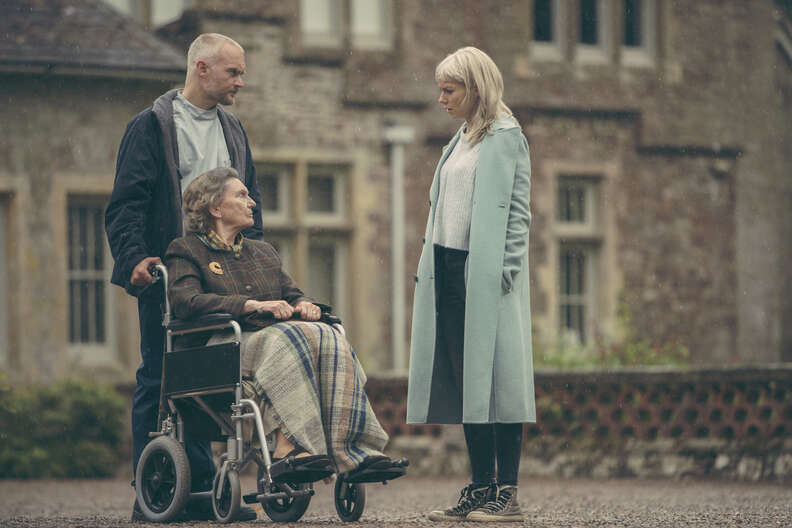 Netflix
Netflix
This story contains spoilers for all episodes of Netflix's Requiem.
Requiem, Netflix's new horror series (which first aired on BBC One in the U.K.) is a lot of things: a gothic ghost story, a Welsh fairytale, a seething indictment of how police handle missing person cases, a slow-burn story in the vein of Shirley Jackson's The Haunting of Hill House or Henry James' The Turn of the Screw. After her mother's suicide, a young cellist named Matilda Grey (Lydia Wilson) retreats to the Welsh village of Penllynith to investigate the disappearance of a young girl named Carys Howell, who vanished decades ago and who has a mysterious link to her mother's death. In Penllynith, Matilda stays at a spooky old mansion called Dean House, a place she's convinced holds the key to finding Carys's whereabouts. As the series progresses, Matilda and her best friend Hal (Joel Fry) find themselves lost in Penllynith's labyrinthine web of darkness, battling the locals, and uncovering an otherworldly conspiracy that ties directly to Matilda and her family.
The series comes to a head in a shocking finale that sheds light on hints and allusions dropped in the introductory episodes. For those who have finished the series, here's an explainer on everything that happened in the show's final minutes, along with a tease of what might be to come.
Who is Carys Howell?
As we learn in the premiere episode, Matilda believes that she's the real Carys, and that her mother, Janice (Joanna Scanlan), kidnapped her as a child for reasons unknown. Matilda dreams of being a young girl lost in some sort of underground crook, which she discovers in the basement of Dean House. Her steadfast belief that she's Carys gets her into all sorts of trouble in Penllynith. Locals despise her for digging up old secrets; she drives Carys's mother Rose (Claire Rushbrook) to a suicide attempt; and she annoys local police constable PC Graves (Clare Calbraith), who's spent her career dealing with dead ends in the Carys case.
For much of the series, we're meant to wonder if Matilda is right or if her memories are faulty. But as we learn in the finale, she is indeed the real Carys Howell, and she was lured back to Penllynith to complete a spiritualist ritual that would possess her body with that of an archangel. The original ritual, carried out by a cult comprised of several prominent townsfolk, didn't work; the cult accidentally killed their first young subject -- a boy they buried in the woods -- and Carys was snatched away by a local police woman, Matilda's mother, who whisked her off to London, changed her name, and hid her away.
Years later, cult leader Sylvia Walsh (Tara Fitzgerald) saw Matilda in a television interview about her musical career, and hatched a plan to draw her back to Penllynith: summon the spirits (who travel through mirrors) to kill the owner of Dean House and Janice, thus luring Matilda into their trap. Then they could finally use her as the vessel for the archangel they hope to summon.
Who's in the cult and what do they want?
The cult's members are Sylvia, a local antiques dealer; social worker Lloyd Satlow (Simon Kunz); his wife Verity (Pippa Haywood), a psychiatrist; and Stephen Kendrick (Brendan Coyle), a former Detective Inspector who worked on Carys' missing person case. They also temporarily lure in Nick Dean (James Frecheville), a distant relative of the Dean family who inherits Dean house after his uncle's death and has a sexual relationship with Matilda. Nick didn't know about the cult or its capabilities, but joins because he believes it will help him gain access to his inheritance. (If you're getting John Cassavetes in Rosemary's Baby vibes, you're not alone.)
Sylvia, whom Stephen later confirms is a powerful occultist, was drawn to Penllynith and Dean House because of its mystical properties. "This area has always been special," Sylvia tells Matilda of the land surrounding Dean House. "Milk tastes better, soil's richer, water's clearer. The druids certainly thought so. Maybe Theodorus Dee did, too." Silvia's ultimate goal is to summon an archangel so she can act as its second-hand, although it remains unclear what she hopes to achieve. It seems she's lured the others into the cult with promises of the divine; Stephen, for instance, claims that Sylvia will be able to save his sick son.
The exact history of the cult is shrouded in mystery, though Sylvia explains the significance of a mysterious symbol that appears throughout Dean House. It's a glyph that was created by a man named John Dee, a prominent English alchemist and occultist. Dee is a real person, and his glyph -- known as the Monas Hieroglyphica -- is also real: its true significance has been a source of contention in mystic circles since the 1500s. In Requiem, the Dee family has connections to Penllynith (a fictional village); Sylvia notes that John's son Theodorus might have founded the Dean family, and filled his home with the Monas Hieroglyphica as if it were a family sigil.
What happens to Matilda?
It wasn't just her removal from Penllynith that disrupted the ceremony when Matilda/Carys was a child; the cult also realized that to be a proper archangel vessel, the subject must come "with pure heart," meaning she must willingly enter the ceremony. The cult tricks Matilda into coming back to Dean House to save her little brother, David, whom they've taken. Because she came with pure intent, she's ripe for possession.
Sylvia shows Matilda into a crook in the Dean House basement, and the archangel does indeed take over Matilda's body. Her bones snap, her eyes glow black, and she hovers in the air beneath a full moon. The cult carries her body back into their circle, and Sylvia seems pleased that she pulled it all off, though she hints that Verity and Nick are becoming problems, and that she plans get rid of them.
But then Matilda's eyes snap open and we cut to two separate scenes: Verity and Stephen are tending to David when a door swings open and they look on in terror; Nick puts the kettle on in the kitchen and Matilda approaches him. Before we can see what happens to him, PC Graves comes to the house and finds Matilda and David -- and no one else. At the hospital, Matilda confesses that she isn't sure what happened. She blacked out at the mansion and doesn't remember a thing. She is reunited with her real mother, who is recovering from her suicide attempt, and her father, who was driven mad by the cult after Carys's disappearance.
Matilda excuses herself to the restroom, where she suddenly flashes back to images of herself viciously stabbing someone at Dean House. Her bones then crack and her eyes go black as we realize the archangel is still inside of her -- images of a tidied-up Dean House and four fresh graves in the surrounding woods reveal the extent of the archangel's violence. Stephen is one of the bodies buried there, as we see his watch sticking out of the ground, but it's unclear who Matilda spared, as there were five cult members. Nick is the most likely answer, as he wasn't directly involved in the prior events, but it's still anyone's guess.
Will there be a season 2 of Requiem?
Because the ending doesn't offer clear-cut answers about the fate of each character, it's certainly conceivable a second season is in play, though nothing official has been confirmed. Requiem creator and writer Kris Mrksa told Digital Spy that he conceived the story in two parts, and intentionally left some dangling threads for a potential second season. One of the other key mysteries not addressed in this piece is what happened to Matilda's friend, Hal, who disappeared in episode five only to turn up in the finale in a wrecked state, eating lambs in a field. Mrksa confirmed that Hal has been consumed by the same spirits that drove Janice and Nick's uncle to suicide, and that tormented Carys's father.
"There's no doubt that what's happened to Hal is way more profound and he's been more subsumed by them, more reduced to some kind of bestial state," Mrksa said. "He's more deeply communed with them and there is an answer to why that's occurred, but that's another thing we'll be answering in the second season."
As for the final shot with Matilda, Mrksa admitted it was a Twin Peaks reference. Recall that in that series, Agent Cooper is possessed by BOB, which is revealed to us when he sees his reflection in a bathroom mirror. Could the Twin Peaks revival offer up some sort of clue as to what a second season of Requiem might look like? Will it involve Matilda, possessed by the archangel, murdering more unwitting subjects, or carrying out some sort of divine plan?
All that remains to be seen -- here's hoping BBC One and Netflix have plans to bring the show back.
Sign up here for our daily Thrillist email and subscribe here for our YouTube channel to get your fix of the best in food/drink/fun.
Lindsey Romain is a writer and editor living in Chicago. She covers politics for
Teen Vogue
and has also appeared in
Vulture
, Birth.Movies.Death, and more. Follow her on Twitter @lindseyromain.